Are you planning a family camping trip, hiking, or camping alone? Whether it's for keeping food fresh, drinking a glass of chilled water or beverages, or even satisfying your midnight cravings, investing in a reliable cooler brand will not only save you money and space but also handle your extended trips.
However, among the other cooler brands, RTIC is one you should consider. RTIC coolers are known for their rugged construction, exceptional ice retention, and competitive pricing. However, the majority of first-timers become confused about where to buy RTIC coolers at the best price.
Relax; you're in the right place.
In this post, we'll cover the top places to buy RTIC coolers, both online and in-store. We'll also provide some tips to help you choose the right RTIC cooler for your needs, as well as some information on the different types of coolers RTIC offers.
So, let's dive in and find out where you can buy RTIC coolers and start enjoying the great outdoors in style!
A Quick Review of RTIC Coolers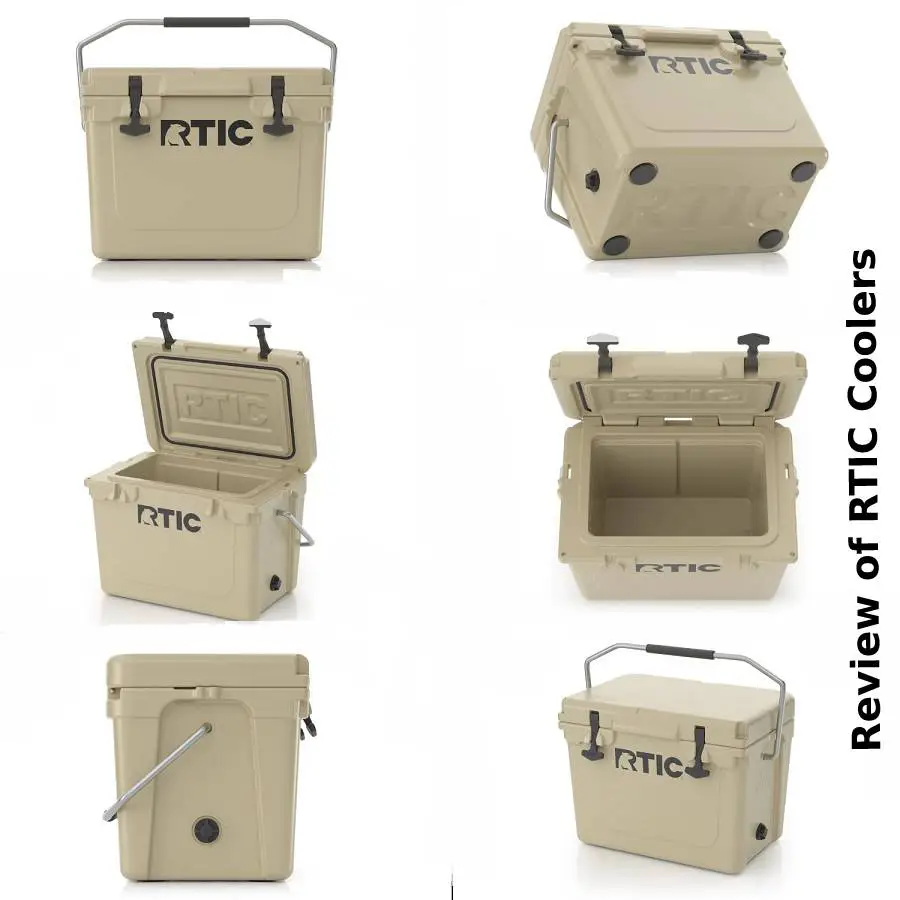 RTIC dominates the market for high-quality coolers at a competitive price. RTIC outdoor cooler products stand up against some of the other popular brands like Otterbox, Igloo, Yeti, and so forth. So let's take a quick look at why they are good and whether they are worth the money or not.
There are several sizes of RTIC coolers available on the market, but when you shortlist the coolers, make sure to choose based on their uniqueness and your needs. They are manufactured from premium materials that can withstand the worst conditions.
Apart from those things, RTIC coolers have amazing features, among which we would prefer to pick one for you. These are-
Their rotomolded construction makes them incredibly strong, impact-resistant, and bear-resistant.
The coolers are durable.
The coolers are ideal for outdoor activities like camping, fishing, and hunting.
Their exceptional ice retention keeps ice for days, even in hot weather, which means that your food and drinks will stay fresh for longer.
Their thick walls and tight-fitting lid help trap the cold.
Our next concerning factor is, 'Are they worth the money?'
When it comes to price, RTIC coolers are definitely worth the money. While they're not the cheapest option on the market, they're significantly cheaper than other high-end cooler brands without sacrificing quality or features. They offer great value for money and are an excellent investment for anyone who spends a lot of time outdoors.
Another thing to note is that RTIC coolers are made in the USA, which is a big selling point for many customers. The company is based in Texas, and all of its coolers are manufactured in the USA. This means that you can trust the quality of their products and feel good about supporting an American company.
Without RTIC coolers' pros and cons, how can we move forward, So, now take a closer look:
Made in the USA
Excellent ice retention
Great value for money
Durable and rugged construction
Heavier than some other coolers on the market
Overall, RTIC coolers are an excellent choice for anyone who needs a reliable, high-quality cooler for outdoor activities. And with their made-in-the-USA construction, you can trust that you're getting a quality product that's built to last.
RTIC Coolers: Exploring the Different Types of RTIC Coolers for Your Outdoor Adventures!
Before discussing where to buy RTIC coolers, let's understand the various types of RTIC coolers available. Understanding the types of coolers will help you make a better choice. But if you're already aware of these types, you may just skip this section entirely!
RTIC coolers can mainly be categorized into two types-
Hard RTIC Coolers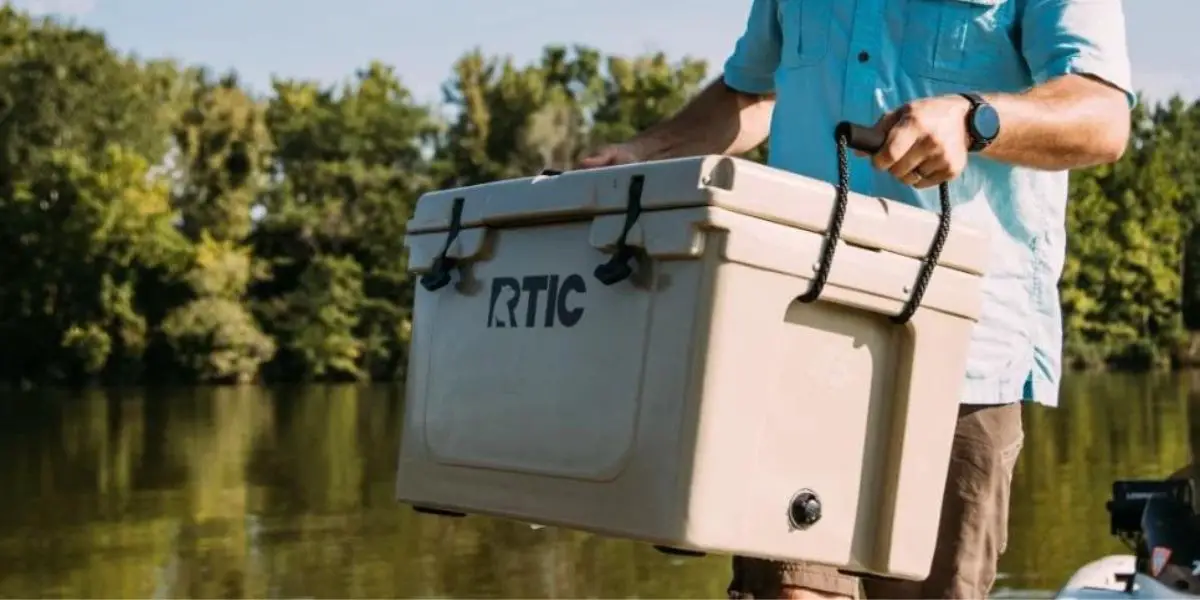 Hard coolers are hyper-rugged containers that keep anything cool for an extended period of time. Food, beverages, ice creams—anything and everything you can think of!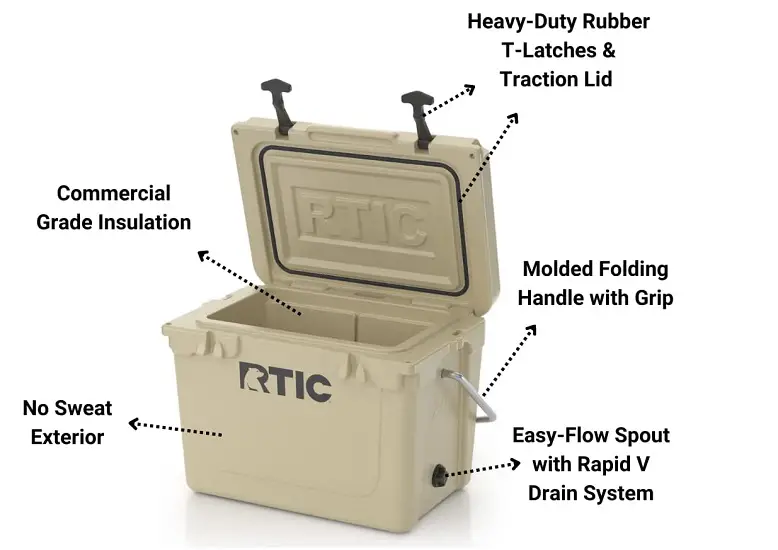 If we jump into their features we can find those things that are-
Secure, and robust while also being lightweight.
Durable and even portable if you can buy smaller sizes
Come in six sizes, starting from a tiny 20 QT cooler to a chunky 145 QT cooler
Ideal for everyday use, taking to work, camping, hunting, boating, or fishing.
Soft RTIC Coolers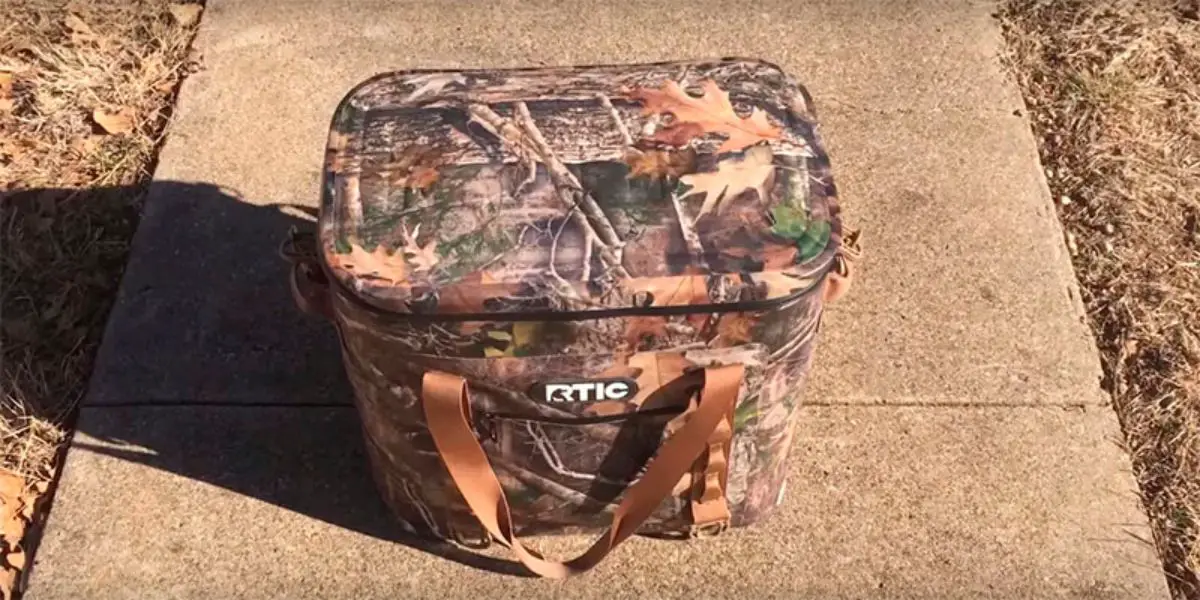 Each and every RTIC soft cooler is built with portability in mind. Smaller hard coolers are transportable, but not as easily as a soft cooler. These coolers are also used for carrying mostly beverages, not food.
Now we've jumped into the soft RTIC coolers features, these are-
Versatile
In-built robust
Come in six different sizes
Can be made for a specific purpose.
100% leakproof
Puncture-resistant
Designed to carry on your back hiking, travel, or trips.
Ideal coolers to stick to their specific functionalities
RTIC Soft Cooler vs Hard Cooler – Which one should you buy?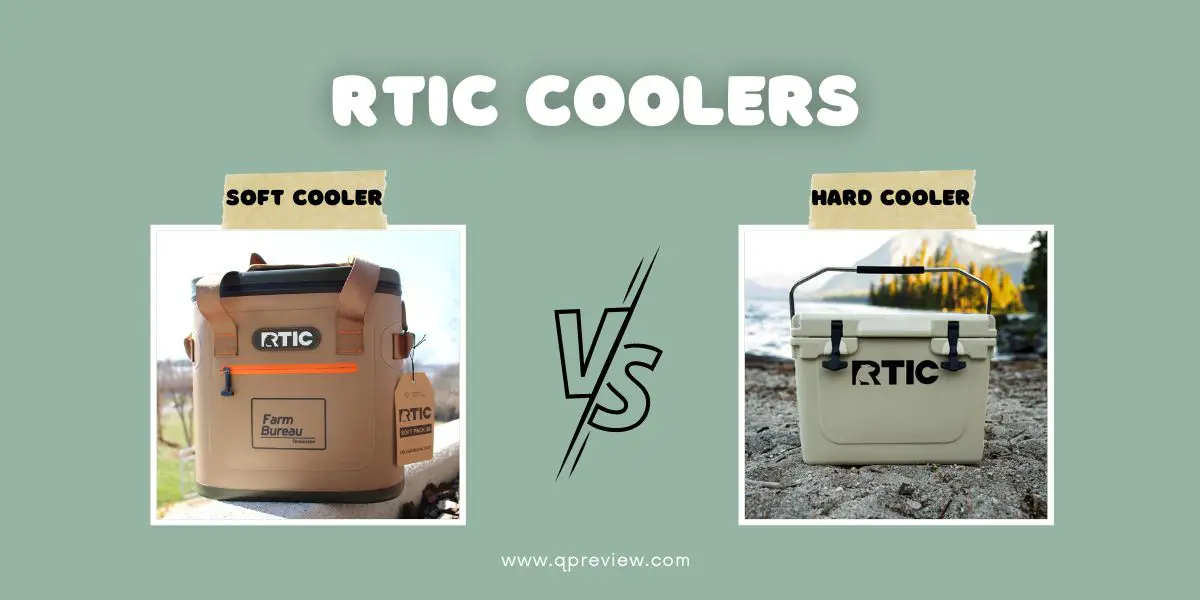 If you're in the market for a high-quality cooler that can keep your food and drinks cold for days, RTIC is a brand that should be on your radar.
But should you buy a soft cooler or a hard cooler? Let's compare RTIC soft coolers and hard coolers and help you decide which one is the right choice for you.
Here's a comparison table to help you choose between RTIC soft coolers and hard coolers:
| | | |
| --- | --- | --- |
| Feature | RTIC Soft Cooler | RTIC Hard Cooler |
| Construction | Soft-sided, insulated design | Rotomolded construction, bear-resistant |
| Sizes | 8-40 quarts | 20-145 quarts |
| Ice Retention | Good for a day or two | Exceptional, can keep ice for days |
| Portability | Lightweight and easy to carry, many models come with comfortable shoulder or backpack straps | Heavy and less portable, may require wheels |
| Durability | Less durable than hard coolers, not bear-resistant | Extremely durable and resistant to impact |
| Best Uses | Day trips, picnics, hikes, boating and beach outings | Camping, hunting, fishing trips, backyard BBQs, tailgating parties |
Pro Tips:
Ultimately, the choice between an RTIC soft cooler and an RTIC hard cooler will depend on your specific needs and preferences.

Choose an RTIC soft cooler if you need a portable, lightweight option for day trips or outdoor activities, or an RTIC hard cooler if you need a cooler that can withstand the harshest outdoor conditions and maintain ice for days.
Where to Buy RTIC Coolers? Your Guide to Finding the Best Deals on RTIC Coolers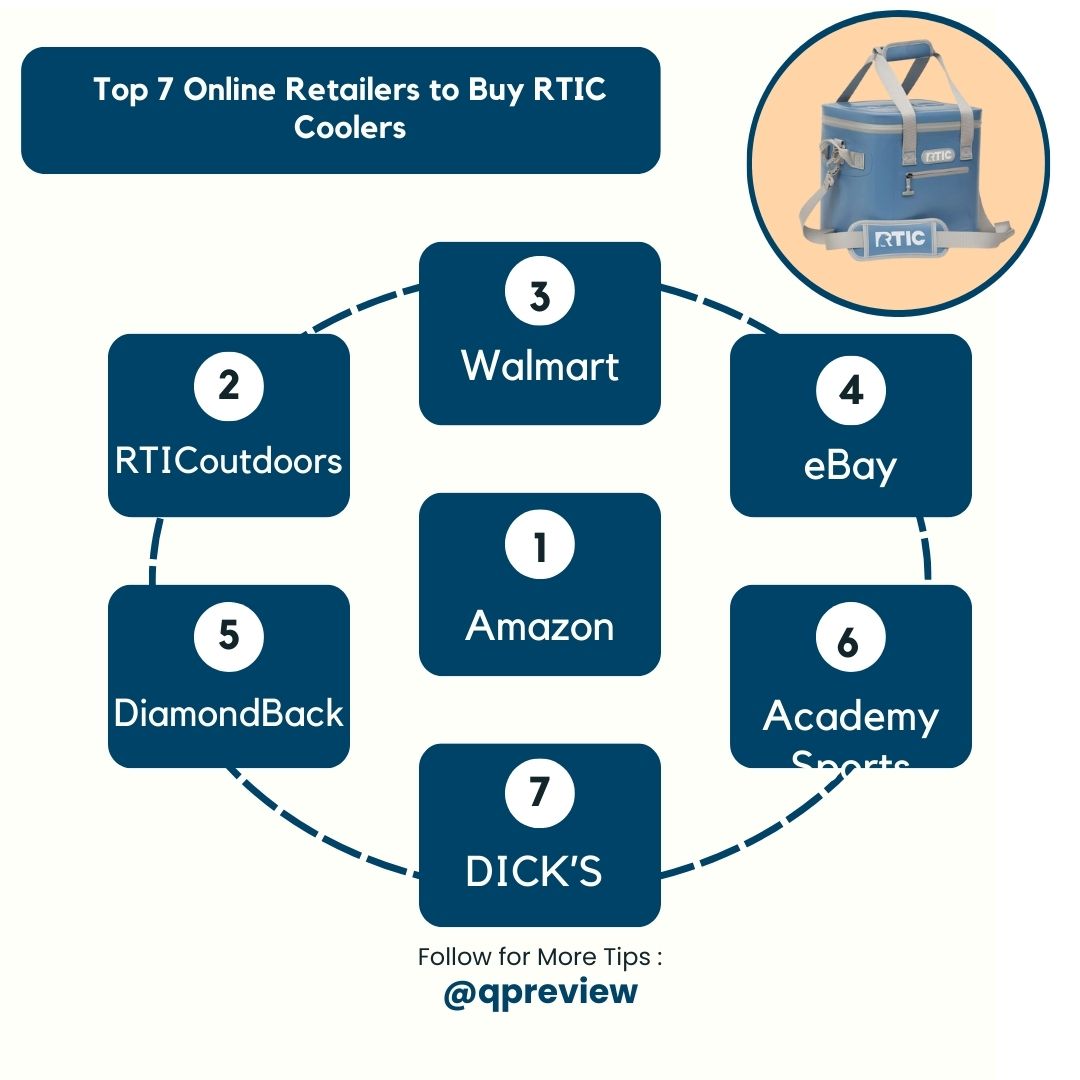 We have now reached our most anticipated and important topic—where to buy an RTIC cooler—in this blog post.
As you know, these coolers have gained so much popularity in the USA and around the world. You may be able to purchase RTIC coolers from an online retail eCommerce store or a home or outdoor appliance store close to you.
However, we have compiled a complete list of the shops where you can buy RTIC coolers. Each store has its own perks; that's why we prepared a well-rounded list so that you have the freedom to choose whichever store is most convenient for you.
1. RTIC Coolers at Amazon
Anything and everything you can think of—Amazon sells it. So no doubt it has a wide range of goods related to coolers, camping gear, or unrelated items. It offers a seamless online shopping experience, with almost the entire world as its delivery region, so it can be easier to get your desired RTIC cooler easily.
For non-USA consumers, Amazon can be a great choice to get the product at hand. Our main recommendations for purchasing an RTIC cooler from Amazon are-
Global shipping options
Earning commissions from their influencer or associate programs
Viewing alternative or relevant coolers and accessories without having to search for it
Checking a high amount of detailed reviews and videos on these coolers before purchase
2. RTIC Coolers at RTICoutdoors
RTIC has been a pioneer in the development of outdoor and camping gear. Luckily, RTIC has its own website where it can sell its coolers.
Purchasing from RTICoutdoors.com will be a good choice for US residents. You can just skip this section as it doesn't ship outside the USA. Otherwise, RTICoutdoors.com is great for-
Getting custom-printed logos from RTIC's custom shop
Receiving direct warranties without the hassle of a secondary source
Getting direct customer support for understanding cooler guides or for queries
Purchasing other RTIC products like cooler accessories, bags, camp equipment, etc.
Registering for the RTIC Affiliate Program and/or Getting Military & First Responder Discounts
3. RTIC Coolers at Walmart
Walmart is the world's largest company by revenue, and for good reasons. It has the upper edge in many aspects over most other cooler stores on this list.
Walmart is suitable only for US residents, as they don't ship elsewhere. To elaborate, Walmart is great for-
Getting same-day or 2-day deliveries on coolers and all products
Touching, feeling, and checking every product before purchasing
Ordering and picking up the cooler from a nearby Walmart store instantly
Buying other RTIC, cooler, or household accessories with both online and in-store option
4. RTIC Coolers at eBay
eBay has faced a lot of controversy in the distant past. However, it has developed a lot as the years passed by. Now, eBay is a multi-billion dollar e-commerce business.
Why do we recommend eBay for RTIC Coolers? It has been the go-to place for finding ridiculously cheap deals with decent quality. It also ships globally, which is great news for all you non-US readers! Additionally, eBay is great for-
Getting significant discounts on bulk purchases
Global shipping options, even for used products
Getting the lowest prices on RTIC coolers and other cooler accessories
Purchasing coolers and other outdoor gear through sales and auctions
Purchasing used RTIC coolers and accessories in good condition with return policies
5. RTIC Coolers at DiamondBackBranding
DiamondBackBranding is a unique store with a fresh concept. Its unique feat is that it provides custom logos and brand titles/taglines on every product.
Why do we recommend DiamondBackBranding for RTIC Coolers? First, we should mention that this store is also just for US residents. Even though RTIC's official website provides custom branding, DiamondBackBranding provides a more lucrative price for the same service.
Purchasing a wide variety of RTIC drinkware other than coolers
Purchasing other top-branded coolers and drinkware like YETI, Grizzly, Igloo, etc.
Getting your own logo, title, and/or quote printed in high-quality on every product.
6. RTIC Coolers at Academy Sports + Outdoors
Academy Sports and Outdoors is a discounted fitness and outdoor products retailer. With such attractive pricing and excellent customer service, their premium sports and outdoor gear offers the best value.
Why do we recommend Academy Sports + Outdoors for RTIC Coolers? Their products are undervalued, and you can get every size and type of RTIC cooler. Since they don't offer international shipping, it can be unfortunate for non-US residents.
Apart from this, Academy Sports +Outdoors is great for –
Customer focus
Getting premium outdoor RTIC coolers with practical designs
Solid sports, fitness, and outdoor coolers collections with great value
7. RTIC Coolers at DICK'S Sporting Goods
Dick's Sporting Goods is one of the largest sporting goods retail companies in America, with 854 stores. Their products provide great value with their coolest collection of sports and outdoor goods.
They offer their fantastic collection to US residents only. But their latest premium quality However Dick's sporting goods are great for-
Wide collection of all types of gears
Weekly ads deal option where customers can get up to 50% discount on every sport, camping related products
Excellent customer services
Finest quality RTIC products at competitive price points
RTIC vs YETI coolers: Are RTIC coolers as good as Yeti?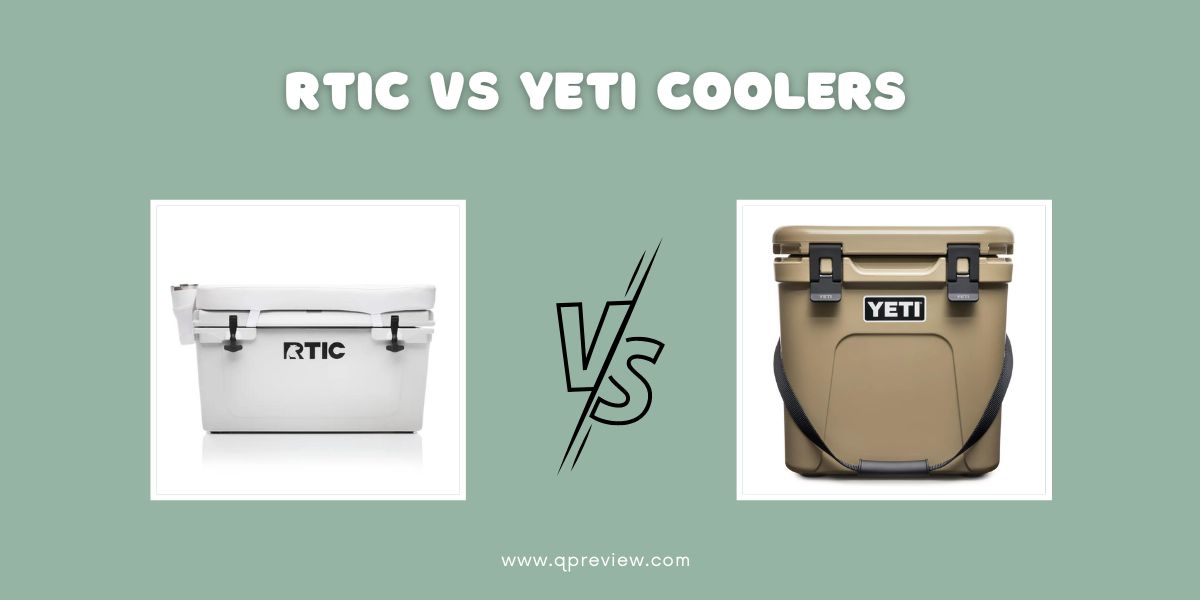 When it comes to talking about high-end coolers, two brands that often come to mind are RTIC and Yeti. Although both brands are renowned for their tough designs, superior ice retention, and affordable prices, many people wonder whether RTIC coolers are on par with Yeti coolers in terms of quality.
The short answer is yes, RTIC coolers are as good as Yeti coolers in terms of quality and performance. In fact, RTIC coolers are often compared to Yeti coolers as a more affordable alternative without sacrificing quality or features.
Both RTIC and Yeti coolers are made of high-quality materials, with a rotomolded construction that is designed to withstand the toughest conditions. They also feature thick walls and a tight-fitting lid that helps to trap in the cold and keep ice for days, even in hot weather.
When it comes to ice retention, RTIC coolers are known to perform just as well as Yeti coolers. Both brands offer exceptional ice retention, and you can expect your food and drinks to stay cold for days with either option.
One area where RTIC coolers have an advantage over Yeti coolers is price. RTIC coolers are significantly cheaper than Yeti coolers, without sacrificing quality or features. This makes them a great option for anyone who wants a high-end cooler without breaking the bank.
In terms of design and features, both brands offer a range of sizes and styles to choose from, including hard-sided coolers, soft-sided coolers, and backpack coolers. They also both offer accessories like cup holders, bottle openers, and dry baskets.
Ultimately, the choice between the two brands will come down to personal preference and budget.
Frequently Asked Questions about RTIC Coolers
Who makes RTIC coolers?
RTIC Outdoors LLC, a well-known American manufacturer of outdoor gear, is the brains behind the widely popular RTIC coolers. Owned by twin brothers and entrepreneurs Jhon and Jim Jacobsen, RTIC has earned a reputation for producing exceptional cooling, cooking, and camping gear. With their commitment to quality and affordability, RTIC has become a household name in the cooler industry and has been a go-to for outdoor enthusiasts.
Where are RTIC coolers made and manufactured?
RTIC Coolers are made in USA and also manufactured in the USA.
Are RTIC coolers bear-proof?
RTIC coolers are not officially certified as bear-proof. However, they are designed with durable materials and sturdy construction that can resist animal attacks.
Do RTIC coolers float?
Yes, RTIC coolers are designed to float in water, thanks to their sturdy construction and thick insulation.
How long do RTIC coolers hold ice?
The amount of time that an RTIC cooler can hold ice will depend on various factors, such as the size of the cooler, the amount of ice used, and the ambient temperature. Generally, RTIC coolers can keep ice for up to 10 days, making them ideal for long camping trips or outdoor adventures.
Can you buy RTIC coolers in a store?
Yes, RTIC coolers are available for purchase in some stores. You can check with your local outdoor or sporting goods store to see if they carry RTIC products.
Do any stores sell RTIC coolers?
Yes, some stores carry RTIC coolers, including Walmart, Academy Sports + Outdoors, and DICK'S Sporting Goods. You can also purchase RTIC coolers on the official RTIC website and on Amazon.
Do RTIC coolers have a warranty?
Yes, RTIC coolers come with a warranty. The exact terms of the warranty will depend on the specific product, but typically, RTIC offers a one-year limited warranty on its coolers.
What are RTIC coolers made of?
RTIC coolers are made of durable materials, such as rotomolded plastic, stainless steel, and high-quality insulation foam. The exact materials will vary depending on the specific product.
Conclusion
After figuring out all the factors of RTIC coolers, we've reached the point that RTIC's manufactured products are comparatively customer-oriented and anyone can buy them easily because of their flexible price points.
Some people might still be unsure of the value of RTIC products. Now I'll let you decide if you want to tick it off your list as accomplished or not. Try one RTIC cooler; I hope that'll not disappoint you!
If this article has helped you, don't forget to share!