There are two reasons why you should be looking to use a leveling kit in your Tundra. Either you want to level your front or rear wheels, or you're hoping to raise your front wheel for better off-road handling. In both cases, you have to have the best leveling kit for Tundra.
Why? Well, firstly, because you don't want to wreck your daily driver by getting a weak-fitted, less durable kit.
Ensuring your kit lasts long in every type of road condition and delivers a smooth driving experience is tough. It's tough, especially if you don't know the market and the options in front of you. This article will try to give some clarity.
Best Leveling Kit for Tundra in 2023 – Compatible with (2011-2022) Models
Here, we have compared and reviewed the recommended kits for Tundra. They are at the top of their class. Take a look at their pros and cons to make a learned decision.
1. KSP Lift Kit Front 2″ Leveling Lift Kit – Compatibility (2007-2019)
This particular lift kit is the perfect fit for the production model years 2007 through 2019, including both 2WD and 4WD of the Tundra. It will raise the front of your truck by 2 inches. But if you have the Rock Warrior Edition, this is not the right match for you.
Talking about safety, this kit will support you in extreme riding conditions. As it is forged from aircraft-grade Aluminum billet, it ensures your safety. The four U-bolts are made for high strength, which is zinc-plated. Grade 10.9 bolts are manufactured for 160,000 PSI yields.
Furthermore, the color of this kit is black to match the factory coating of Tundra's suspension system. The rear lift blocks are also black powder-coated, specially fabricated, and steel tapered.
Additionally, this coating makes this better in corrosion resistance. Other contents of this kit, two front strut spacers are also CNC machined from aircraft billet Aluminum.
In terms of the afterlook, your Tundra will look aggressive! As it will gain extra ground clearance, you can use a larger tire/rim for your riding companion.
Considering all of the good things about this kit, there is one downside too. As the lift height and kit thickness ratio is not 1:1 due to suspension geometry, you have to do an alignment after installing the kit. If you want to install the kit by yourself, it comes with an easy installation guide.
Grade 10.9 U-bolts
Corrosion resistance
All the parts are CNC machined

High-quality material (Aircraft billet Aluminum)
Lift height and kit thickness is not 1:1
2. KSP Front 2″ Leveling Lift Kit fit for Tundra – Compatibility (1999-2006)
This product in hand is compatible with the manufacturing year 1999 through 2006 model of Toyota Tundra, including the two driving systems 2WD and 4WD. Remember, it is not a fit for Tundra Rock Warrior or TRD suspension package. Also, the Tacoma model is not going to match it.
Like other KSP-manufactured leveling kits, this particular one is also forged from aircraft billet Aluminum. That ensures you a safer ride in different road conditions. For allowing a tension-free ride, all the parts of this kit are CNC machined. Those are easy to fit without any hassle.
You will see a significant change in the look of your Tundra. Adding more space between the wheel and body makes the truck even more aggressive. In case you want to include a bigger tire/rim now, you can do it. You can try different looks for your truck.
Additionally, the whole kit is coated in a special black powder that will provide resistance to mud and corrosion. Furthermore, this color allows it to blend in with the built-in suspension system of Tundra.
The package comes with a mounting bolt. The grade 10.9 U-bolts can withstand up to 160,000 PSI yields. It can also be associated with grade 12.9 bolts with a lock washer.
In the end, you have to keep in mind that the ratio of lift height and kit thickness is not 1:1. That's why you have to make an alignment to prevent any problems while driving in the future.
Easy to install
CNC machined parts
High-quality material
No loss in ride quality
3. KSP 3″ Front and 2″ Rear Leveling lift kit – Compatibility (2007-2019)
How about you lift the rear of your vehicle instead of the front? This product from KSP will give a total upgrade of your Tundra. It is compatible with the manufacturing model of 2007 through 2019. Both variants 2WD and 4WD are under its service range.
Like the other leveling and lift kits from this same manufacturer, the ratio of the thickness of the kit and the lift height is not 1:1 due to the suspension geometry of Tundra. Same thing again! Do an alignment test after installing this kit.
One thing you will notice is that the kit thickness is not 3 inches, but it will raise the truck front by 3 inches. As it is forged from aircraft billet Aluminum, your riding adventure will remain the same. Adding a bigger rim and an aggressive tire is now an easy task for you.
The package includes 2 front lift spacers, 2 rear lift blocks, and 4 U-bolts. You don't have to cut, weld, or do any vehicle modification as it is fast and easy to install. All the spacers and blocks have an anodized black powder coating. Furthermore, the U-bolts are zinc plated.
Additionally, the rear lift block has a cross-gusset plate-locked design to make the system firmer and stronger. The grade 10.9-leaf spring U-bolts are longer than the original bolts.
Longer U-bolts
Anodized black coating
High-quality material
More space for bigger wheel
Lift in both front and rear side
No vehicle modification required

Cross gusset plate locked design
4. Readylift 66-5001 – Compatibility (1999-2021)
Let's talk about Readylift's 1-inch rear block leveling kit. Unlike others, this one will just lift the rear of the truck. Thus, this offers extra benefits to you. It will put a slight rake back in your truck. That will make hauling or towing a level better.
This kit is ready to go with the manufacturing model of the year 1999 through 2021 Tundras. In the package, you will receive 2 1-inch rear blocks, 4 E-coated U-bolts, 8 nuts, and washers. That will lift your rear end by 1 inch.
Furthermore, based on OEM (Original Equipment Manufacturer) designs, and as the building material is cast iron, there will not be any second thoughts about safety.
Along with that, you don't have to compromise on the look of your suspension system. The black powder-coated feature on it makes it blend with the original suspension system. It's compatible with Readylift's front-end leveling kit.
Moreover, you will be able to install bigger wheelsets. And you can play with custom-built wheels too.
With easy bolt-on installation, you can do the work by yourself just in one and a half hours. The instructions that come with the kit are easy to follow. So, for a rear-end lift, this could be the ultimate solution for your Tundra.
OEM design
Easy to install
Built from cast iron
Great tow upgrade package
Good for hauling or towing
Costly
Not a full package
5. ReadyLift 69-5175 – Compatibility (1999-2021)
Here, we have the one-lift kit with a complete solution for your Tundra. It contains a powder-coated steel strut extension, front differential drop spacers, skid plate spacers, and a new 1-inch rear lift block.
ReadyLift has introduced SST (Smart Suspension Technology) for you to have a better solution to your lifting need. As for compatibility, this one will work with the manufacturing models from the year 2007 to year 2021 for both 2WD and 4WD versions.
The new 1-inch rear block that comes with this kit will provide most TRD / SR5 / Rock Warrior trucks with approximately a near-level stance. Also, the SST strut extension and differential drop brackets have been designed to give your truck a 3-inch of front suspension lift while the OEM suspension geometry remains safe.
This SST kit will aid you to get rid of that stink bug stance while lifting the truck from both front and rear. And that means your riding experience will not go anywhere but up.
There is no need for extravagant tools to cut your suspension. Instead, this kit is just a bolt-on system that keeps your Toyota's standard suspension system intact, performing better. Step-by-step instruction is there if you want to do it yourself.
A note to keep in mind, as a complete package, this one is going to cost you more than any other lift or leveling kit. That being said, the experience after installing this package may make you forget about the extra dollars that you have spent.
Why wouldn't you? Because you will have the chance to install a larger rim and tire combination up to 35 inches in diameter.
Safe
Easy to install
A complete package
High-quality material
Specially coated finish
A larger wheel can be used
6. Supreme Suspensions – Full Lift Kit – Compatibility (1999-2006)
Supreme Suspensions produces some of the best tools for Toyota Tundra. You can count it as a complete package for your vehicle. It's a good fit for the manufacturing models from the year 1996 through to the year 2006 except for the Rock Warrior edition and TRD suspensions.
The package contains 2 front lift strut spacers, 2 rear lift tapered blocks, 4 square bends U-bolts, and a brake proportioning valve relocation bracket. Easy installation is one of the best things about it. The Supreme Suspension pro pack with proper hardware is there to help you, which comes with the package.
Especially, the strut spacers and tapered blocks are built from T6 aircraft billet Aluminum. Other components are made from high-strength steel. That makes the whole thing lightweight without compromising strength.
Your truck will have an uplift of 3 inches at the front end and by 2 inches at the rear side. So, you can have a better riding experience throughout the lifetime of your Tundra. Along with that, you will have the extra space to use a bigger and better rim and tire, and who doesn't love that?
Talking about precision, the whole pack is designed and made by following the latest metal casting technology. All of the components are well-coated during production, so they are durable enough to last even in rough and tough riding conditions.
You have to keep in mind that strut spacer installation alters the angle of the lower arm control. This accounts for an additional lift beyond the actual thickness of the spacers. That's why the manufacturer recommends you check the alignment.
Easy to install
Corrosion-resistant
High-quality material
Maintains factory ride quality
Latest metal casting technology

Complete package (both front and rear lift)
Costly

Alignment is required after installation
7. Supreme Suspensions – Front Leveling Kit – Compatibility (2007-2021)
Talking about this product might tilt you towards the best leveling kit for your Tundra. It's precisely engineered from the 6061-T6 aircraft billet Aluminum that brings strength without adding any noticeable weight to the suspension system.
This 2-inch lift kit is compatible with the models from the year 2007 to 2021. Along with that, you can use it in the Toyota Sequoia vehicles that came out at the same time. Both the 2WD and 4WD versions are suitable for this multi-functional design.
The design is simple enough for you to install it within one or two hours just by using a simple hand tool. When you're done, your driving experience will change! But it's a change for the better.
By associating with the latest metal fabrication and casting technology, the manufacturer made a durable kit. The spacers are tempered to have a yield strength of not less than 35,000 PSI, which is enough to last you a lifetime.
The supreme suspension kit is not 1:1 in the ratio of the thickness of the spacers and the amount of lift each one provides to the front end. Due to this, you should check the alignment before and after using this leveling kit.
Overall, this will allow you to use a custom build rim or wheel to make your vehicle even more attractive without putting your safety at risk. Additionally, they are coated in special black powder, making them highly resistant to corrosion.
Better performance
Resistant to corrosion
Easy, bolt-on installation
Allows installing bigger wheelsets

Made from aircraft billet Aluminum
Alignment is needed after installment
What to Look for Before Buying Leveling Kit for Toyota Tundra?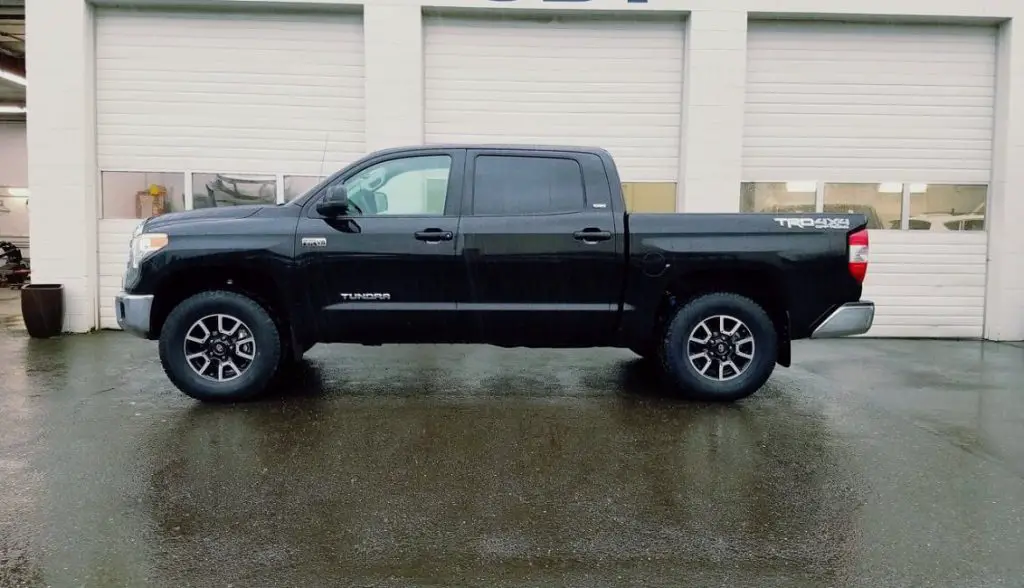 This is the buying guide to know and understand completely about leveling kits and what makes the best Tundra leveling kit for you.
Before you go and buy a kit, you need to know some basics and some necessary properties of a good leveling kit. There are different types of leveling kits; which one is for you?
Coil Spring Spacer Leveling Kit
A coil spring spacer kit is as the name suggests. It works with coil springs. So, if your vehicle has coil springs, then this is suitable for you.
These leveling kits are supposed to be placed on the lower or upper spring seats. By adding the spacers, you raise the level of your vehicle's body. You might need to use shock extensions with this type.
They are similar to the strut extension leveling kits. The difference between them is the placing of the spacer. With some coil springs, you'll have to detach and re-attach the springs for the spacer to fit in perfectly.
Torsion Key Leveling Kit
The second type of leveling kit is the torsion key leveling kit. It looks like a key, which is where it gets its name from. And the fact that it works with a torsion bar suspension system gives it the name torsion leveling kit. If your vehicle has a torsion bar, then this will work.
Your torsion bar already has stock keys in place. You just need to replace those keys with this torsion key, and they'll automatically raise your vehicle's suspensions. These keys are better than stock keys from the factory in every way.
A good torsion key has to be forged and should come with a powder coating. So, when you try to lift the vehicle, it won't damage the keys.
Strut Extension Leveling Kit
If your vehicle's suspension system incorporates a coil over strut at the front, then this 3rd type of leveling kit is suitable for you. Most half-ton and mid-size SUVs and trucks fall in this category. So, your Tundra should fall right around here.
Using a strut extension kit is simple. Just place it on the upper or lower side of your factory strut, and it'll automatically raise the suspension of the vehicle. With a strut extension kit, you don't replace the original stock struts, unlike the torsion key kits.
The strut spaces are usually made with steel, aluminum, or PPA plastic. All of them should be chemical, heat, and corrosion-resistant.
If you want to have height adjustability options, you can consider the adjustable strut extension kits. After installing the kit, you can change its height however you prefer.
Kit Size
Before buying a leveling kit, first, determine the size of the kit you need. Leveling kits are used to increase the front wheels to either level both front and rear, or they raise the wheels more than the rear.
Either way, you will need to measure the existing or your preferred difference between the front and rear wheels and buy a kit accordingly.
With an adjustable type of leveling kit, you don't need to measure. Also, if you take it to a professional, they can do everything for you.
So, you see, there are many variables before buying a kit. Don't rush; take time to examine your needs and choices.
Frequently Asked Questions
Is a leveling kit a good idea?
By installing a leveling kit, you will improve your vehicle's on and off-road driving capabilities by a lot. It also allows you to use bigger tires. With these in mind, it's understandable if a leveling kit sounds good to you.
What size tires can I put on my Tundra with a leveling kit?
It all depends on what gen is your Tundra and how much lift you're giving your vehicle with a leveling kit. On a first-gen Tundra, you can go up to 17-inch rims with a bigger width than factory tires if you get a 3-inch kit. Then, on a second-gen Tundra, you will have the option to add 20-inch rims with a much wider size if you go with a 3-inch kit.
Will a 2.5-leveling kit hurt my truck?
In short, No is the answer. If you install the kit properly, there's no reason why it would hurt your truck. It's the opposite, especially in off-road driving.
How much does it cost to level a Tundra?
The installation cost is much higher than the price of a leveling kit. A good leveling kit might cost you $350 at max. But you might also need to get some calibration and alignment done along with installing bigger tires. After everything, it might cost you up to $2000-$2500 if you take it to a professional.
Which type of leveling kit is the best?
Among the three types of leveling kits, we think the Coil Spring Spacer leveling kits are the best at doing the job.
What is the best leveling kit for Tundra?
Picking a single kit is tough. But the Supreme Suspensions leveling kit comes close.
Final Words
There you go, you have all the information you need to make a learned decision. Each of the kits on this list has the potential to be the best leveling kit for Tundra. It's up to you to decide which one fits the bill.