Schluter Kerdi is a great option when you think about shower pans for remodeling or building your shower. When getting a shower pan from Schulter, the most important factor to consider is the Kerdi shower pan sizes as they come in different variants.
Choosing the right pan size is crucial to make it fit the dimensions of your shower setup. Here, we will be diving deep into the details of these shower pan sizes and will give you a little insight into how good Schluter Kerdi shower pans can be.
Without wasting any more time, let's jump right into it.
What is a Schluter Kerdi Shower Pan?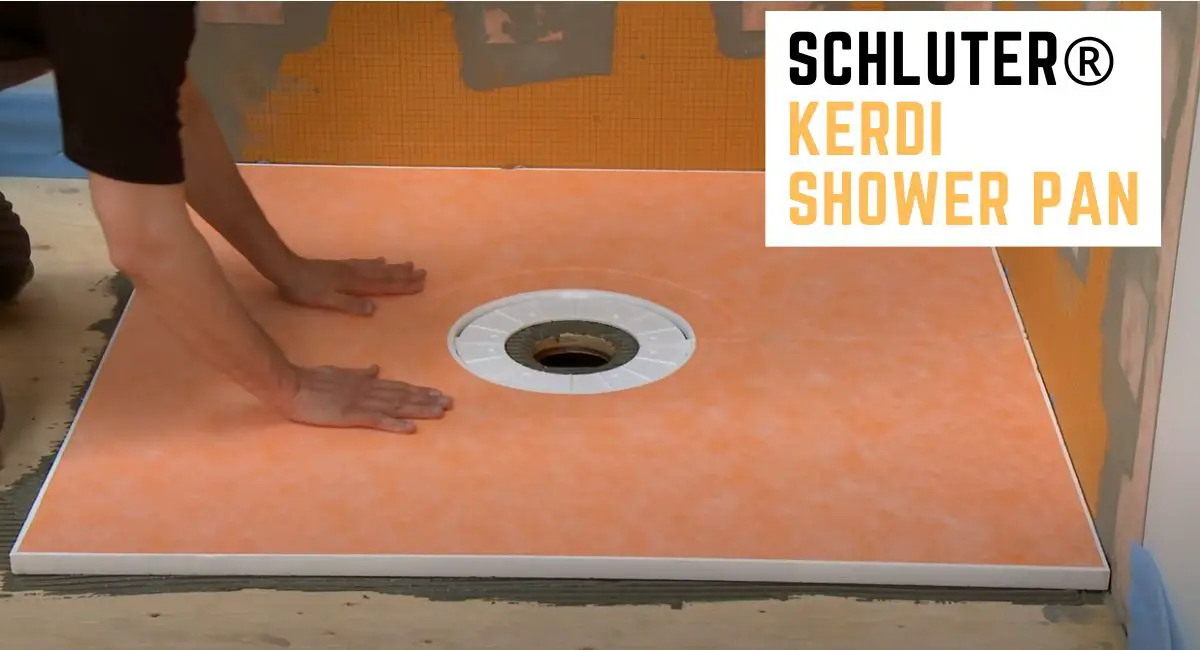 The Schluter Kerdi shower pan is basically a shower tray from Schluter that has a prefabricated slope on it. In the Kerdi lineup of Schluter, they tried to ensure your shower gets the perfect water enclosure and doesn't let the issue of water leaking even exist in the shower.
These pans are very lightweight and come in a variety of designs and styles. Also, there are lots of sizes available which makes it great for almost any size of shower setup.
If you incorporate the shower pan with a complete Schluter Kerdi shower system, the results can be immaculate.
Is the Schluter Kerdi Shower Pan Worth It?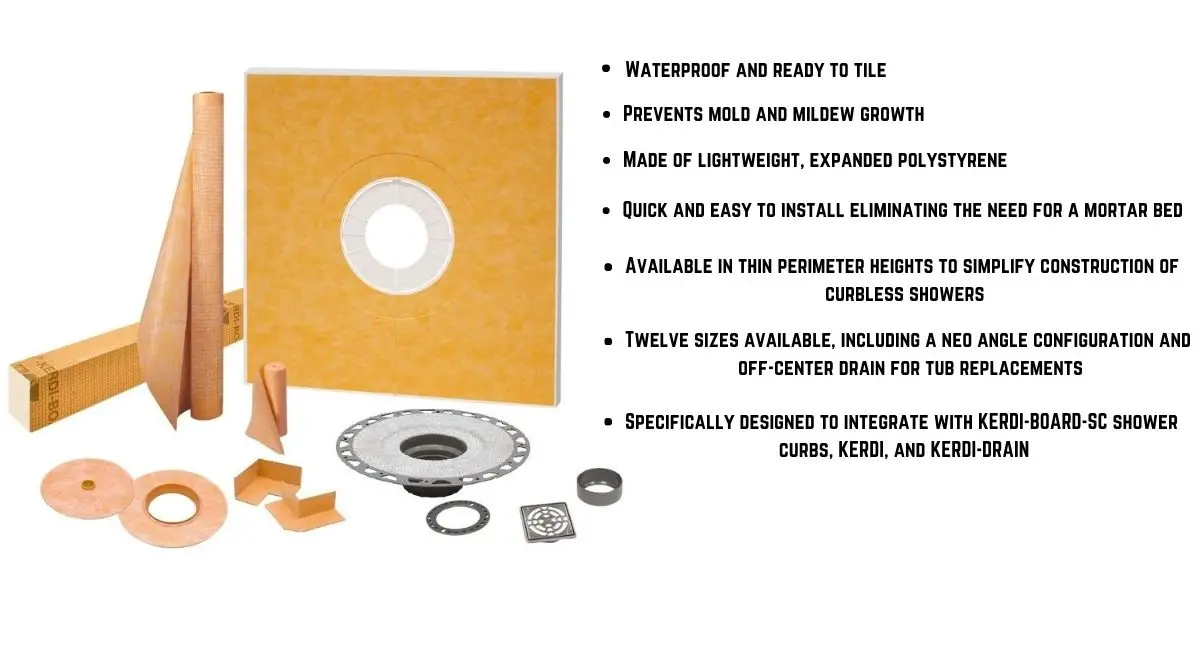 Straight up, the Schulter Kerdi shower pans aren't cheap or cost-effective by any means. They are fairly expensive, but the price is there for a reason. The results you get after the installation of the Schluter Kerdi shower pans are thoroughly impressive.
Here are some factors that make the Schluter Kerdi shower pans worth the money –
Excellent waterproofing abilities
Prevents any kind of mold growth
Easy and quick to install
Doesn't require any mortar bed for installation
Very lightweight yet durable construction
Comes in 12 different sizes
Altogether, these pans come with unmatched quality that makes them worth every penny. If a professional is installing them in your shower, then you won't have to face any of those annoying shower pan issues at all.
Schluter Kerdi Shower Pan: Understanding Schluter Kerdi Shower Sizes and Dimensions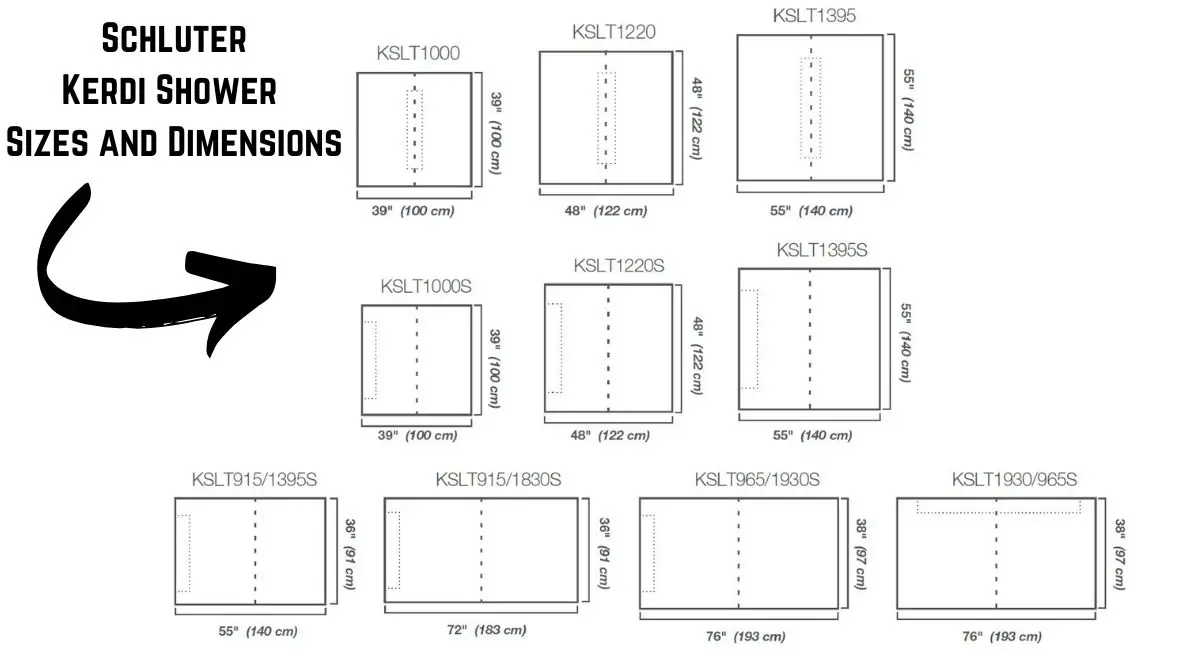 Finding the perfect shower for your bathroom remodel comes down to the sizes and types of shower pans. Fortunately, Schluter provides a lot of options in terms of design and sizes within the Kerdi shower pans.
Let's check out those options and you may find the perfect thing for your needs.
Types of Schluter Kerdi Shower Pan
There are two different types of Kerdi shower pan options out there based on designs. They are point drains and linear drains. Both these drains have their specific variants as well depending on where the drain is placed.
Point drain
Well, as the name suggests, these are shower pans that have point drains in them. It's the most common and traditional drain type for showers. These shower pans have two different variants based on the placement of the drains.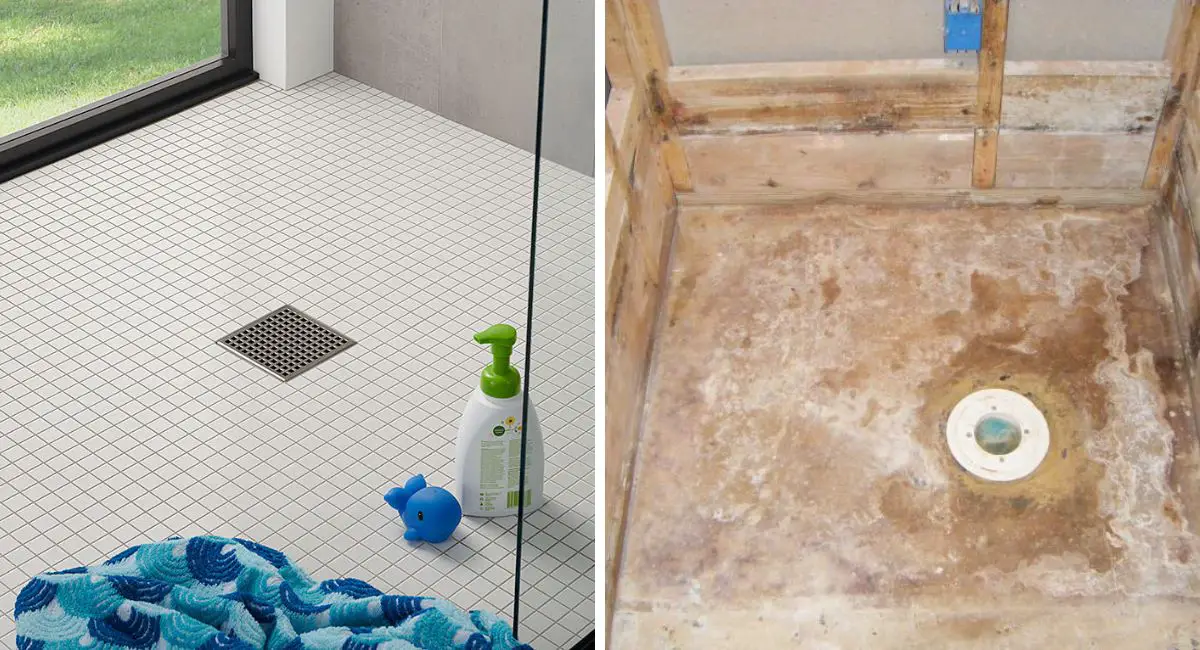 Center drain placement: There are some shower pans that have the point drain placed right at the center of the tray. This is a standard placement of shower trays and it's perfect for rectangular or square shape showers with the drainage in center of it.
Off-center drain placement: As you can guess from the name, these shower pans have an off-center drain hole in them. If your shower has the drainage system placed in an off-center location, you can check out this shower pan. This way you won't have to cut down the tray to adjust the placement.
Linear drain
If you are planning to install a linear shower drain, then Kerdi shower trays have just the thing for you with linear shower trays. These trays are made to fit the linear style of drains in a shower. They come in two variants as well.
Center drain: You can get the trays with a center drain option which is perfect for showers with a linear drain running from the center. These kinds of shower pans aren't easily available, so getting such an option is always a plus.
Side drain: Most linear shower drain systems have their drain on one side of the shower. That's where the Kerdi shower tray with the side drain comes in. You can get these trays with a shower drain placement on any side of the shower.
Schluter Kerdi Shower Pan Size & Dimensions Guide
Understanding the shower pan size and dimensions is very important to make sure they are suitable for your shower setup. With Schluter Kerdi you get a lot of size options which also opens up the possibility of more confusion.
The Schluter Kerdi shower pans usually come in 12 different sizes for the point drain variants. As for the linear drain variants they have 10 different sizes available. Both types of pans can come in rectangular shapes and square shapes.
In the T, TS, and TT series you get to see the point drain variants of these trays. The width range for these trays is from 32" to 72". As for the length they can range from 38" to 72" depending on the shape and style.
With the LT and LTS series, you get shower pans for linear drain systems. These pans have a width range of 39" to 76" and the length varies the same as well.
Schluter Kerdi Shower Pan Size & Dimensions Chart
Here's a standard size chart for the Schluter Kerdi shower tray with point drain systems –
| | | | | |
| --- | --- | --- | --- | --- |
| | | | | Dimensions (W x L) inches |
| | | | | |
| | | | | |
| | | | | |
| | | | | |
| | | | | |
| | | | Kerdi Shower TS (off-center) | |
| | | | | |
| | | | | |
| | | | | |
| | | | | |
| | | | | |
| | | | Kerdi Shower TT (off-center) | |
If you have a linear drain in your shower, then check the following size chart for the LT and LTS series Schluter linear drain sizes –
| | | | | |
| --- | --- | --- | --- | --- |
| | | | | Dimensions (W x L) inches |
| | | | | |
| | | | | |
| | | | | |
| | | | | |
| | | | | |
| | | | | |
| | | | | |
| | | | | |
| | | | | |
| | | | | |
How to Choose the Right Shower Pan for Bathroom Remodel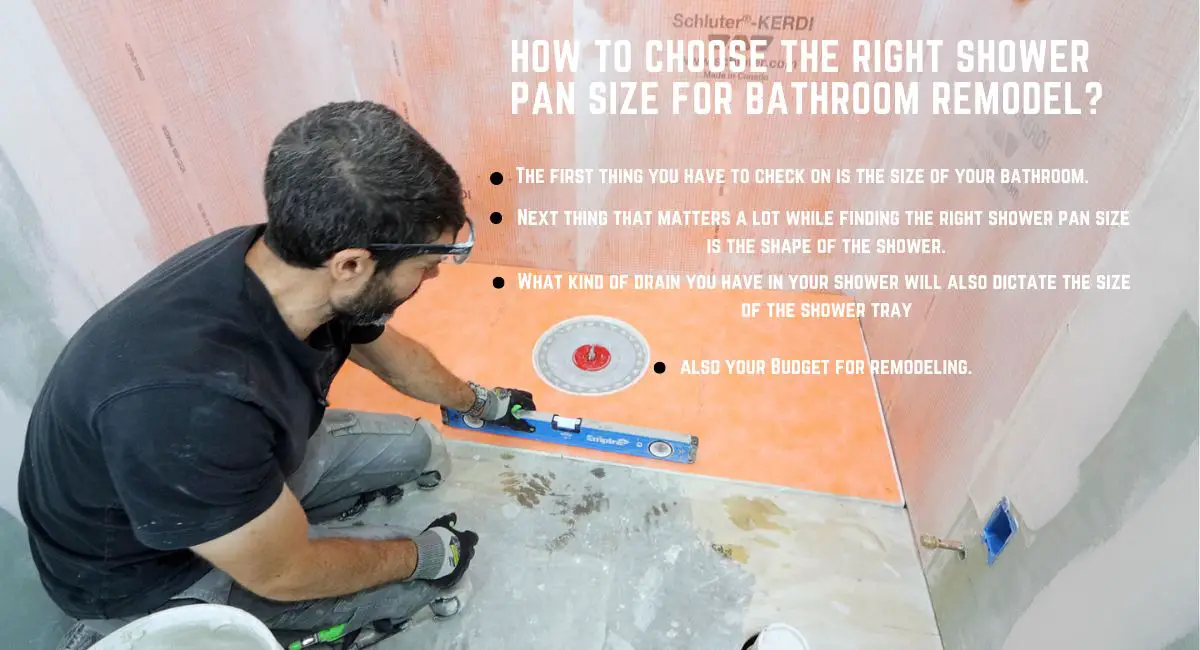 Before getting a shower pan for your bathroom remodel, you have to consider the size of the shower pan. Finding out the perfect shower pan size for your bathroom is very crucial. Otherwise, you have to go through all that cutting and adjusting to make it work.
To choose the right shower pan size for your bathroom remodel you have to check various factors. Let's get through those factors below to have an understanding of how you can decide on the right shower pan size.
Shower size
The first thing you have to check on is the size of your bathroom. You have to measure the shower space you have in your bathroom to know which shower pan size will suit the bathroom the best.
When choosing the shower pan based on the bathroom size, always try going with a larger size than you get in the measurements. Remember you can adjust a shower pan to make it smaller, so getting a larger one leaves you with room for adjustment.
The shape of the shower
Next thing that matters a lot while finding the right shower pan size is the shape of the shower. Shower pans come in various shapes such as rectangular, square, corner, and neo-angle. The size will greatly vary based on the shape.
For instance, if you want a square shower tray, then the width and length will always have a 1:1 ratio. On the other hand, a rectangular shower tray can have a different width and different length, such as 38 x 60 inches.
You have to decide on the shape based on your shower requirements. Remember that you can use a square shower tray in a rectangular bathroom if you wish to. There are no restrictions on that.
Drain system in the shower
What kind of drain you have in your shower will also dictate the size of the shower tray. You can find shower trays that are made for point drains with a center placement or an off-center placement. There are also trays for linear drains with different placements.
No matter which one you get, the sizes will vary a lot. So, you have to check what kind of drainage system you have in your bathroom. Then, get a shower pan based on those requirements.
Budget for remodeling
Budget can always be a concern for your shower tray sizes. Sometimes you can get lower prices for smaller sizes of shower trays. In that case, you may need to sacrifice on covering the whole shower.
For instance, getting a square shape shower pan for a rectangular bathroom can save you some money. Because that way you won't have to cover up the whole length or width of the bathroom. And it also creates a sense of depth in the bathroom for aesthetics.
Most Popular Schluter Kerdi Shower Pan to Consider
There are plenty of Schluter Kerdi shower pans out there that you can consider a contender for the best pan. However, the most popular Schluter Kerdi shower pan comes from the T series of showers which are basically Kerdi center shower pans.
The specific model KST965/1525 is supposedly the most popular Kerdi shower pan from Schluter. Because it comes with a 38 x 60 inches dimension and a center point drain, which leaves enough room for adjustments.
You can turn the shower pan into a square shower pan if you want. Because of all these things, many people prefer to have this shower pan over other choices from the Kerdi shower pan lineup.
Frequently Asked Questions of Schluter Kerdi Shower Pan
Still, have some questions lingering in your mind? Then, check out some popular questions a lot of people frequently ask regarding the Schluter Kerdi shower pan.
What is Kerdi pan made of?
Schluter makes their Kerdi shower pans using polystyrene (PS40). It's a very lightweight and expandable material and doesn't require the use of mortar to be placed on the shower base.
Can you cut a Kerdi shower pan?
Yes, you can easily cut a Kerdi shower pan to make some adjustments in the sizing. When cutting the pan just make sure to cut it equally from all four sides of the pan. otherwise, there might be some issues with the height of the pan.
How thick is a Kerdi shower pan?
Most of the standard Kerdi shower trays can have a thickness from 23mm to 32mm. For the linear shower drain systems, the thickness can go from 32mm to 60mm with a sloped angle on them.
Are Schluter shower pans waterproof?
Yes, there are some Schluter shower pan options out there that come with a waterproof membrane applied to them right from the factory. However, not every Schluter shower pan comes with waterproofing in them.
How long does a Kerdi shower pan last?
Depending on the installation, a Kerdi shower pan can last from somewhere around 50 years to even a lifetime. However, with faulty installation or other issues, the lifespan can come down to about 10 to 15 years which is pretty short for shower pans.
What's Next for Your Shower Pan?
Great now you know everything about choosing the right shower pan size from Schluter Kerdi. The next step for you is to find a professional and capable contractor or plumber who can install the shower pan with proficiency.
Always remember that the installation of the shower pan is the most crucial factor in determining its performance. Without proper installation, you will have issues like water leaking or a short lifespan of the shower pan in your bathroom.
As for the shower pans, they might be expensive but they are worth the money in terms of quality. So, don't shy away from spending a few extra bucks.