What options are you looking at for your shower setting? If you're looking at tiles, you're going at it wrong. The pre-fab shower pieces are now the better, cheaper, and more convenient option.
And with the best shower pan, you can forget about those long hours of cleaning and the need for frequent repairing.
Pre-fabricated showers or shower pans/bases as they call them are now gaining popularity mainly because of the lower maintenance cost.
They are one-piece units and that makes the installation process a whole lot simpler as well as cheaper. But that doesn't mean you're off the hook. Although it's only a small part, as a homeowner you still have to choose a good pan for your bathroom.
What is the difference between a shower pan and a shower base?
The main differentiator between a shower pan and the shower base is their location, where the base is a bath substructure installed beneath the shower pan.
Let's get into more depth about the differences between a shower pan and a shower base. There we go!
| | |
| --- | --- |
| Shower pan | Shower base |
| Shower pan is a shower floor that you step on. | A shower base is a substructure underneath the base of the pan. |
| The pan comes with the shower floor and drain hole which can be a point drain or linear drain. | The base layers built from wet cement or sand mix similar types of mortar and cement board. |
| It collects the water and directs it to the drainage point. | It protects the floor from moisture and supports the shower pan. |
| Shower pans are made with fiberglass, acrylic, cast iron, stone, or ceramic. | Shower bases are made of cement mortar, portland cement, or thin-set. |
| Shower pans are mostly pre-made and ready-to-install products. | The shower base installation requires knowledge of how to properly set cement and allow for proper drainage into the drain. |
Best Rated Shower Pans in 2023
| | | | | |
| --- | --- | --- | --- | --- |
| | | | | |
| | | DreamLine Center Shower Pan | | |
| | |  Schluter Center Outlet Shower Pan | | |
| | | | | |
| | | | | |
| | | Lippert Rectangular Shower Pan | | |
Shower Pan Reviews: Best Shower Pan System to Buy
Here, we've looked at our favorite shower pan from the eyes of a builder as well as a consumer. Each has its advantages and disadvantages to look out for.
You don't need to spend time searching for the right shower base for you, especially when we're providing you with all the details here. Take a look at this best rated shower pans in 2023 below,
Get the guide: Types of shower: A complete guide
The first shower base on this list is from DreamLine. You may or may not have heard about this manufacturer, but it's got a good history of ensuring quality. These shower bases are a single prefab piece best suited for smaller bathrooms where you need to save space.
Now, let's talk about its quality. Firstly, the material on this one is ABS plastic with an acrylic coating. And ABS plastic, as we all know, is the easiest to fabricate, and it's quite lightweight as well.
Despite that, ABS can withstand hard impact and stay in one piece without experiencing even single chipping.
This shower has its drain at the center with a spot for compression drain, which is not included with the package. It's a square-sized shower base, so if you want to save space, it's a good option, although it may feel crowded sometimes.
Thanks to the ABS plastic construction, installing the base is simple and fast. Abs plastic doesn't flex easily, even with the weight of a person. It's a cUPS certified base, and you need a professional to install it.
This is an elevated shower base with a height of 2 and a quarter of an inch, so it might not be a good idea for older people. But the floor is anti-slip as it grips to the floor. You have to use a mortar bed under it to have the best outcome.
Affordable

ABS plastic

SlipGrip surface

cUPS certification

Suited for smaller bathrooms
Requires a mortar bed
Doesn't come with a drain

Not a good fit for older people
Schulter is a known manufacturer of bathroom fittings and popular with customers. If you have a medium to large bathroom, this shower base from Schluter Systems can be a good fit. The rectangular shape of it has sufficient room to breathe, and it also doesn't take too much space.
Among the materials generally used in shower bases, this one is made with PS40 polystyrene. It's a type of polymer that's lightweight and quite durable. These pre-fabricated one-piece shower bases don't need mortar beds to sit properly. That's a plus point.
This shower tray has its drain located at the center, and the surface is a bit tilted to direct the water to the drain hole. But the tilt isn't noticeable with the naked eye. Install it at a corner of your bathroom, and it'll sit pretty.
Admittedly, Schulter's shower trays aren't the cheapest, but you know you're getting quality. Easy installation is one of its perks because there's no requirement for mortar beds, as mentioned before. Even then, it now has a pre-applied membrane at the base, which wasn't there in the previous models.
It is a bit elevated from the floor, but that is to keep the water in the shower. There might be a concern for older people, but it isn't a big issue.
Polystyrene
Easy installation
Lightweight and durable
Doesn't need a mortar bed

The rectangular shape is spacious
Pricey

Needs regular maintenance
This one is for the neat and clean crowd with a bit of money to spend. As you'll see, Icon's combo shower is a bit different as it also has space for your toilet's water tank. If you have a plan to put the shower and toilet adjacent to each other, then this is for you.
The pan itself comes in white color and would be a great fit for a small bathroom with a white theme. With 3 feet by 2 feet dimension, it will be enough for a person. But it may seem a bit small sometimes, especially if you need relaxation.
In terms of construction, it has ABS plastic as its material. ABS plastic is known for its absolute durability, even against hard impacts. It's not that heavy as you might expect from such a robust product. And the heavy acrylic coating makes it even better. That being said, these are on the pricier side.
If you are looking high quality acrylic shower pan, we consider you to choose ICON combo acrylic shower pan.
The drain hole is located on a corner of this shower pan with just enough tilt to guide the water without making you feel it. It's a universal design that will fit all kinds of bathroom designs.
Here's something to keep a note of, it has a high elevation of 7 and a half inches. So, we do not recommend it if your shower will be used by older people. It may cause injury if leg placement is wrong.
Strong and durable
Space for holding tank

Good fit for small bathrooms
Get the guide: Top 10 creative small bathroom decor ideas
Lippert Components is a part of the Better Bath brand. You can guess where the brand's expertise lies from its name itself. This shower pan is another great buy for those with a small bathroom but still want a clean and bright look. The good news is that it's not as pricey, even with great material.
And that material is everyone's favorite ABS plastic. ABS is strong but malleable. It means that it absorbs impact very well and still keeps its original shape without chipping. And that's the complete opposite to polymers or even stone shower pan.
The coating on the ABS shower pan makes it even more durable and non-porous. That maintains structural integrity. Furthermore, the shower pan is also scratch-resistant, and that's such a blessing to have in a white shower pan.
It's lighter than those pan made of Fiberglass with similar durability. And these proved to be better for the environment as well. The drain sits at the side of the pan so that you can attach the drainpipe easier.
The recommendation is to put a mortar bed under it for the best result and do it when renovating. If you want the pan to be level with the floor instead of elevated, you'll have to install it during a full bathroom construction or renovation. Even with this installation process, the features make it a good option.
Lightweight
Easy installation
Scratch-resistant
We have another shower tray from Schluter systems, and it's because these deserve to be on here. Unlike the previous Schluter shower tray, this one is a fit for large bathrooms because it has a dimension of 6 feet in length and 3 feet in width. It can fit two people comfortably.
In terms of the build material, this prefab shower tray uses a type of resin called polystyrene (PS40). Resins, as we all know, are sturdy while being light. One worry with polystyrene is compression. But the expanded polystyrene used here is dense enough that it won't compress down in the long run.
If your drainage system is along the bathroom wall, then this should fit right in without needing to add pipes because of the offset drain location as opposed to the center.
Even though resin-built trays need regular maintenance, this design made it a whole lot easier to clean as the dirt goes directly on to the sides instead of the middle.
As with all Schluter shower trays, easy installation is such a blessing. You can cut and customize it according to your liking and install it without having to use a mortar bed under it. It's quick and simple.
And you should know that Schluter's products aren't cheap. But the prices are justified seeing the quality and durability you're getting. Why not invest in a good product than having to repair and replace it once in a while?
Large size
Offset drain
Easy installation
Drain on the side
Get the guide: Best quality linear shower drain to buy
This is a product set for its class. Woodbridge's shower bases are expensive, but they provide quality, elegance, and value. If you have a gorgeous bathroom setup, this one will fit nicely. It might be the best solid surface shower pan on the market.
Solid surface shower pan are mainly made of tough stain-resistant resin. These are also known as cultured granite. With the top surface polished with buffers, it becomes very easy to clean. These can also be thermoformed if you want to customize their shape.
The drainage comes with a complete package. You're getting a modern brushed stainless steel drain cover as well as the drain itself. The overall visual of your shower will change. And that makes the high price even more justified.
Due to the cultured granite, you won't experience any mold or mildew, even with high humidity. If somehow you manage to chip a corner or scratch it, you can always sand it to bring back the original look. The product quality will stay untarnished.
The anti-slip design is a big plus for senior citizens, and the elevation from the floor isn't too much, just enough to keep the water inside. So, who's it for? It's for those with medium to large bathrooms with some space to spare.
Customizable
Scratch-resistant
Anti-slip coating
No formation of mildew
Solid surface/ cultured granite

Includes a stainless steel drain cover and drain
At number 7, we have another shower base from DreamLine. It's quite similar to the one we reviewed above, with a few fundamental differences. As far as quality is concerned, it has proved itself in the market. But is it for you?
If you want a mild and light color, this can be a great option. The color biscuit is very light on the eyes as it mixes with the surroundings. It's not only creamy but white also, just in between.
Then, we come to the big question of build material. Is it any good? Well, it should be as this shower base has ABS as its base with acrylic coating on top.
Furthermore, it is reinforced with Fiberglass. The durability can be experienced with a touch. In the construction, there are PVC pipe rings as reinforcements to ensure structural integrity.
Thanks to the acrylic used as a coating, the surface of this shower pan will prevent any mishaps by slipping on the floor. Moreover, the acrylic coating shower pan also prevents any formation of mildew and protects the surface from scratches. Your shower pan will have a long-lasting beauty.
The drain hole is in the center, but it doesn't come with a shower drain. You'll have to buy one from the market. Other than that, you should be set for years of service from this shower base.
Spacious
ABS plastic
Anti-slip surface
cUPC certification
Doesn't come with a drain
Kohler has its branches all over the world, and their products cover everything you might need for your bathrooms. How did they reach such a position? That's right, by providing quality products to customers. And here we have a shower base from Kohler. What does it have to offer you?
Well, for starters, Kohler didn't play around with the material. It's straight up cast iron with enamel over it. It's the strongest material on this list and also the heaviest. It won't break or chip even with sharp impacts. So far, it sounds good and performs well too.
The enameled cast iron is then coated with a safeguard anti-slip finish. This finish does two things; first, it prevents mishaps by slipping, and second, it prevents scratches. Even if you see any chipping, it will be on this coating only, which can be readily fixed.
It has a drain hole at the center with no drain in the package. You will have to acquire it separately. The shower pan has an elevated border to keep the water inside, and you should consider this point if you have senior citizens that might use it.
As for the visuals, the almond color is close to white and cream. It may look a bit bland or dull to some, while others will appreciate the simplicity. Which one are you? See the shower pan reviews to see how good it performs.
Almond color
Easy installation
Anti-slip coating
Strong durable cast iron doesn't chip

Not expensive even though it's high quality
Elevated borders

The drain will have to be bought separately
This is a cute one. Swanstone isn't a big brand compared to Woodbridge or Kohler, but the products are respectable, to say the least. Take this shower pan; for example, it has a different kind of material that serves the same purpose while reducing the cost. That is how technology should be used.
Swanstone used a material called Veritek to produce these shower bases. It acts just like those made of acrylic material, and it's on par in terms of durability, impact absorbency. Swanstone claims that it's better than acrylic, but we won't go into that.
They didn't use any surface coating on it, so it'll be safe from paint chipping and scratching. But is it slip-resistant? Yes, because the texture on the surface is similar to a pebble-bed. You'll be safe from slipping on it.
The surface is non-porous, meaning there's not enough space for mold and mildew to grow. And that also means you can swiftly and easily clean it. Easy maintenance means an easy life. Nobody wants to spend much time in the bathroom for cleaning.
It comes in a bisque color similar to almond and fits right in your bathroom and enhances the look. With all these features, you'd expect it to be pricey, but it's the opposite. This affordable shower base gets our approval.
Affordable
Easy cleaning
No chance of paint chipping
Pebbled texture prevents slipping
Veritek material works well, just like acrylic
For smaller bathrooms only
The prefabricated shower bases have replaced the need for tile. With all the improvement in this sector, Tile Redi is one of those leading companies. As with all prefab shower pieces, this one comes ready to install with very little preparation.
It has polyurethane, a type of polymer in its construction. Polymers come second to ABS plastic when it comes to durability and strength. But they are cheaper too. And the durability isn't something to scoff at. You can repair it easily if somehow it gets chipped.
Contrary to what you've seen on the above shower bases, this Tile Redi doesn't come with a drain hole. Instead, it has a trench design with a nickel drain grate to prevent any object from being lost into the drainage. The trench is better as the water ejects out faster.
The rectangular shape of this base makes it suitable for medium size bathrooms. It has enough space to move around and relax after a long day. You may want to check if the 4.5 inches of elevation will be alright with you or not.
You or the contractor will need to install a mortar bed under it. It will make the shower more durable. Install your tiles on the shower pan surface without any prior preparation. It's as simple as that.
Affordable
Leakproof
Trench design
Comes with a grate
Heavy

It may chip with heavily concentrated impact
What are shower pans made of? Best material with pros and cons
Shower pans are primarily made of composite, custom tile, acrylic, fiberglass, molded stones, and other materials. Before we jump into the pros and cons, let's get more in-depth into the shower pan's materials, which will help you get the right mindset for selecting the shower pan.
Fiberglass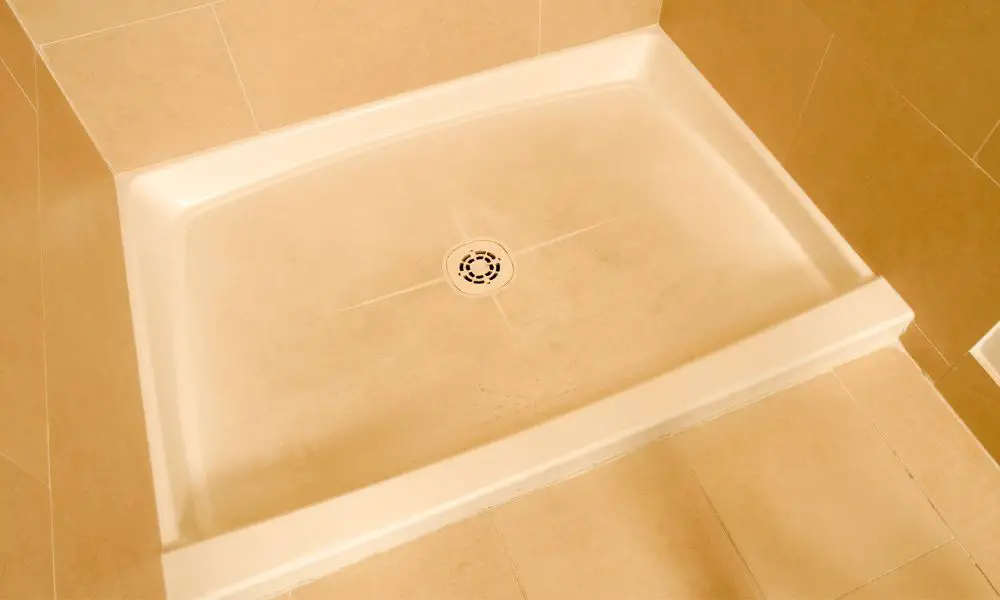 Fiberglass is an entry-level shower pan made of plastic material. You can get it in different sizes and styles. They are made for shower and bathtub enclosures.
Highly water proof
Low-maintainance
Lighter than concrete
Acrylic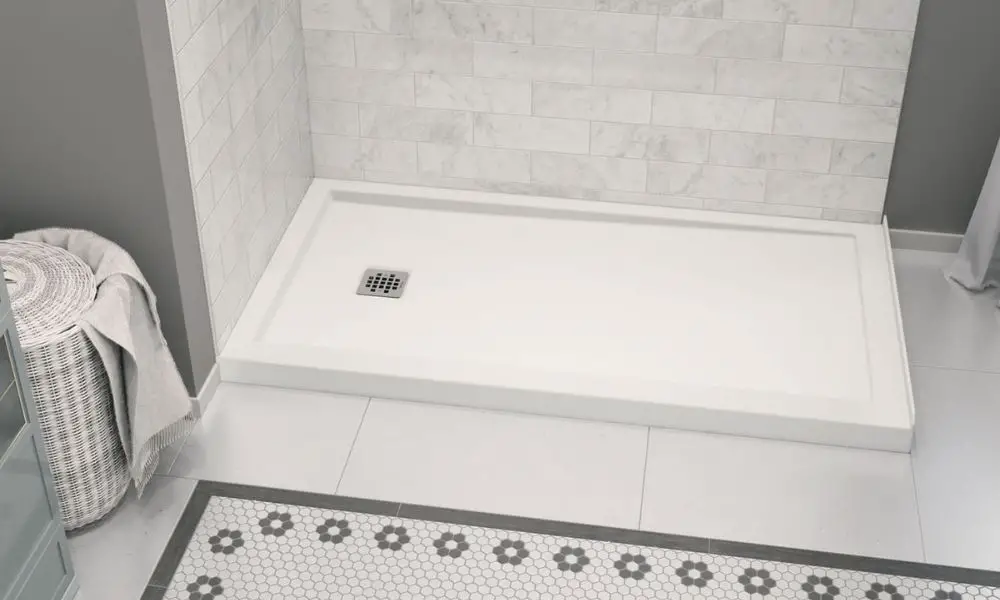 Acrylic shower pans are the most popular metal option in the mid-price range. It comes in a variety of colors, sizes, and styles. The material won't regret your choice because of its easier installation process and lightweight nature. They are made for bathtubs, shower faucet handles, and shower pans.
Durable
Safer and flexible
Ease of Installation
Water and corrosion-resistant
Limited style
Affect on resale value
Custom tile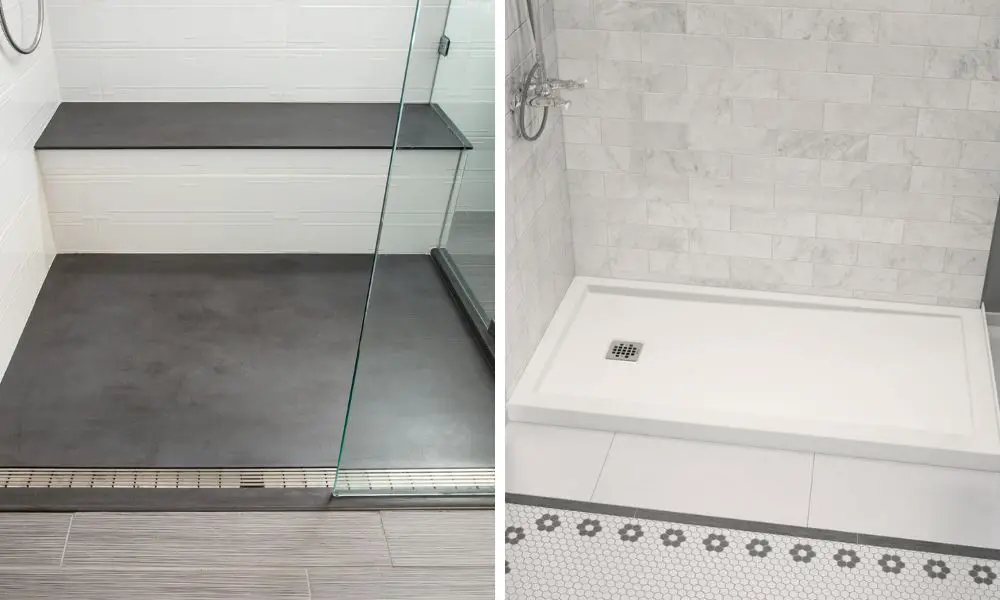 Custom tile is a great way to customize the shower interior. This custom tile installation depends on the size of your shower. Installing custom tile needs clean, regular grout for maintenance; if not, its visual appeal gets ruined.
Durable
Leakage proof
Versatile cool designs
Expensive
Difficult to install
Cast Iron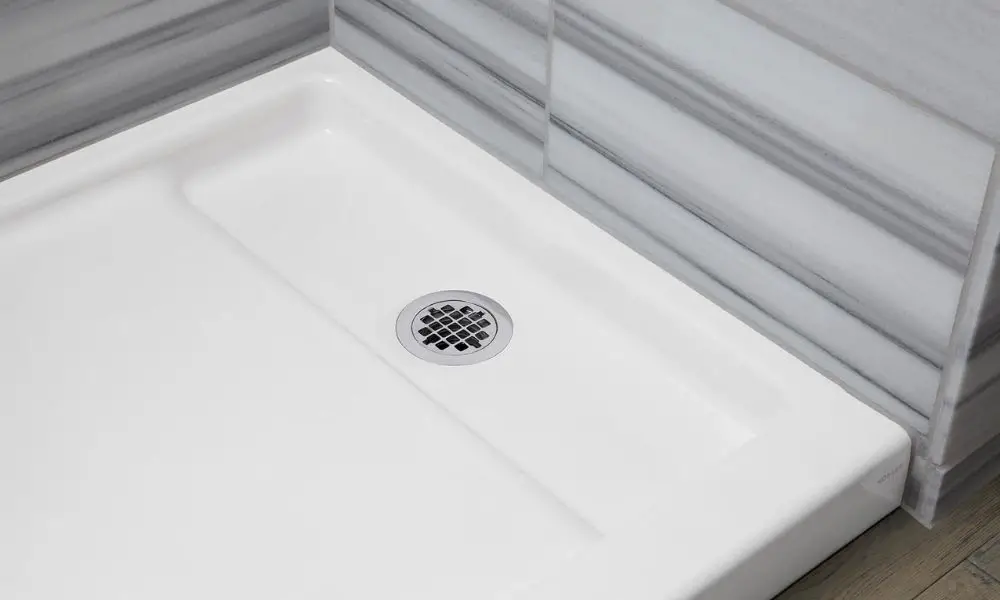 Cast iron-coated shower pan makes the surface shiny and sturdy. The shower stall can funnel water from the head to the drain. They are made with 80% recycled iron, so the pan thickness remained between 3 and 8 inches or even more.
Durable
Easy to maintain
Scratch and harsh chemical resistant
Expensive
Very heavy
Rust sensitive
Shower pans sizes: How do you know the size of the shower pan to buy?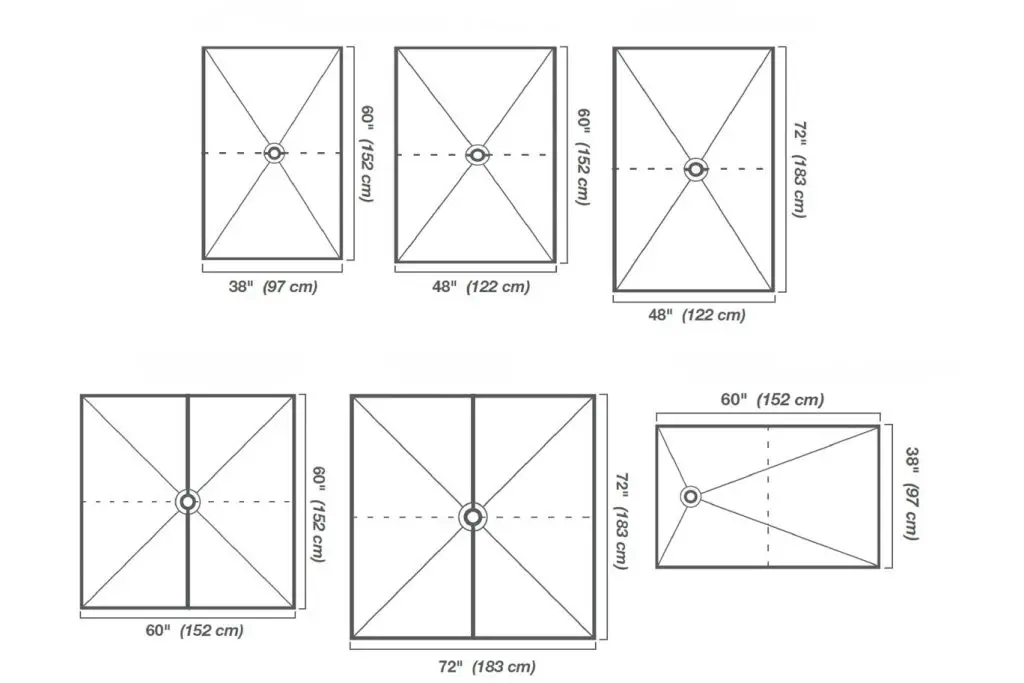 The length, width, and distance to the drain's center contribute to the shower pan's sizes.
The most popular shower pan size is 60 x 32 for a walk-in shower, and the top brands mostly offer 48 x 60 inches. If your bathroom shower pans have a shorter width than length, 36 x 42 can be the common size of it whereas 60 inches is the common size for a square shower pan. The standard shower pan size ranges from 32 to 72 inches for opening widths.
Let's discuss the above factors and how you determine which size is ideal for you after making a shower pan purchase!
Shower threshold length: From the bottom to the top of the tile wall or wall unit, measure the height of the two areas.
Shower space width: Measure the distance along each side wall from the back wall to the front of the enclosure area.
Distance to the center of the drain: Knowing the distance to the center of the drain gives a plumber accurate measurements that help prevent construction and drainage issues.
32″ x 38″ Center – 29/32″ perimeter thickness
36″ x 36″ Center – 7/8″ perimeter thickness
36″ x 48″ Center – 1″ perimeter thickness
38″ x 38″ Center – 29/32″ perimeter thickness
38″ x 60″ Center – 1 1/8″ perimeter thickness
38″ x 60″ Off Center – 1 1/8″ perimeter thickness
48″ x 48″ Center – 1″ perimeter thickness
48″ x 60″ Center – 1 1/32″ perimeter thickness
48″ x 72″ Center – 1 1/4″ perimeter thickness
60″ x 60″ Center – 1 3/16″ perimeter thickness
72″ x 72″ Center – 1 1/4″ perimeter thickness
38″ x 38″ Neo-Angle Off Center – 1 1/32″ perimeter thickness
What's the average cost of a shower pan with installation?
Finding an ideal cost of installing or re-installing the shower pan can be a difficult task. Moreover, the price of a shower pan ranges from $500 to $2000 on average. The size, type, labor, material, and base type basically determine the average pricing of the shower pan.
Below we've provided an average pricing overview of the shower pan with installation cost. As-
| | |
| --- | --- |
| Shower Pan Installation Type | Average cost |
| Pre-made shower pan | $400 to $1500 |
| Custom tile shower pan | $800 to $2500 |
| Custom stone shower pan | $1000 to $ 2000 |
| Barrier-free shower pan | $1000 to $3000 |
| Poured mud shower pan | $400 to $900 |
Buying guide: Things to consider before buying shower pan
Usually, shower bases are difficult to install. Sometimes you can find it premade, but creating a shower base can be effective when you install the shower pan. Project shower bases can be raised, recessed, or ready to tile. Depending on the type of shower base project, the shower pan size and installation procedure will vary.
Even more of the factors to be considered before buying a shower pan will be mentioned below:
Material: Choose the durable material
The choice of a durable material determines how long they last. So, you should spend some time researching materials about the product you installed that are barrier-free, safe, and stylish.
For example, acrylic, molded stone, tile, and fiberglass are some of the best materials for shower pans; on the other hand, wet cement, sand mix cement are best for shower bases. Moreover, pick materials that are affordable, easy to maintain, and have a long lifespan.
Sizes: Measure your shower space
Shower pans and bases come in several shapes and sizes, and you can customize them according to the bathroom shower's dimensions. You should note that the shower pan and base are mostly manufactured on an even number scheme.
Therefore, measure your shower area in a shape that fits snugly with the shower pan and base, such as a rectangular, square, or neo-angle.
Shape: Choose space-saving shower base
Shower bases are mostly customized, so you can get them in any shape and size. You'll better know what shapes and sizes work for you once you decide on the shower space where you'll install it. The two best shower base shapes: Pentagonal and Quadrant, free up dead space and enhance the shower's mobility and furnishings.
Colors: Choose suitable shower pan color
The common shades used for shower pans are biscuit, bronze, white, black, and almond. Even so, you can also customize the tile shower pan color based on the bathroom interior.
For example, if you select a black one, it will help to conceal water stains and maintain a clean environment. A white option will go well with the design of your bathroom.
Installation: Consider the Shower pan installation process
Installing a shower pan is much simpler than installing a shower base. So when you consider buying a shower pan, know about the shower base's installation process. If it feels harder, call professionals for assistance.
Custom shower pans: Look for customizable options
Drain location, shower space size, and color coordination with the interior bathroom design are the main factors when you customize the shower pans. Custom tiles are mostly used for customizing so you can get any shape, style, and designed shower pan.
Thickness: Remind the thickness of the shower pan
Around ¼ inch to 2 inches in shower pan thickness is ideal. If you place the shower pan in the center drain placement, the thickness will change compared to the off-center drain placement. So you keep reminding me to ask hardware store clerks about shower pan thickness before purchasing.
Drain location: Think about the drain location
It is important to identify the drain location because it impacts the shower's overall functionality and design. Whether you choose the center or linear shower drain, ensure no joists are in the way from the shower head to the drain.
It's better to take assistance from professionals that can help you with interior planning and even prevent clogging or overlapping the water flows.
Compatibility: Check for compatibility with your shower enclosure
Check the compatibility before buying because some pans and bases are made to fit particular shower enclosures. For instance, installing a mortar shower pan will enable you to create a shower enclosure that is specifically sized. Make sure the base or pan fits your shower enclosure, including the walls and doors.
Safety: Look for non-slip features of shower pan
Shower pans that are too slippery can be very dangerous, even fatal, for elderly or disabled people. So you've got to choose the anti-slip-coatings shower floor. Safe for walk-in showers and not a hassle to clean the shower mat.
Brands: Consider the best shower brand
Some of the best shower pan and shower base manufacturers that you can purchase from include Kohler, Moen, Americh, Swiss Madison, and Swan. Those brand product models can benefit you with elegance, toughness, and design.
Whatever your budget is and wherever the size you require is, you can get it from their websites or nearby hardware stores.
Price: Set a budget
As we started to let you know, shower bases and pans come in various shapes, sizes, and even styles, so it only makes sense that you can buy them at any price point based on the quality, size, and design. So decide your price range for a shower base or pan and stick to it.
Quality: Read reviews and ratings
Read user reviews and ratings before purchasing a shower base or pan. This can help you understand the product's overall quality, performance, and dependability.
Important question of shower pans: Answers you need to know
Is using a shower base instead of a tile a good idea?
Not just good but it's a great idea!
If you've a limited shower space, the shower base gives you the advantage to utilize the space wisely and update the washroom beautifully. So it's better to choose the right material so the shower base can last for a long time.
Are shower pans needed for all showers?
If you installed the shower base so you don't need to install the shower pan. But if you need a waterproof surface or install a tile on the floor so shower pan is required to place.
What are the best materials for a shower pans?
Fiberglass, Acrylic, Stone, and custom tile are the best materials for a shower base, making it durable and slip-resistant, and bearing your load.
How long does a shower pan last?
If the shower pan is made with durable materials like fiberglass, acrylic, ceramic, and porcelain, it lasts a minimum of 10 years, even sometimes up to 30 years.
Do shower pans leak? Why?
Yes, it can. The piercing of the plastic liner or sometimes poor installation can cause shower pan leakage. So you can apply masonry sealer or epoxy to any holes or loose areas to control the damage temporarily. Then ask the plumber for assistance to reinstall or fix the system.
Do I put mortar under the shower pan?
Most of the shower pan has mortar mounted underneath it, which protects the subfloor from water damage, mold, and even rotting.
What type of mortar is required for the shower pan?
Thin-set mortar is the best for the shower pan, so you can shield the subfloor from water damage, mold, and even rot.
What size do shower pans come in?
The shower pan comes in all sizes, and you can customize the sizes according to the shower. But the standard size of the square shower pan is 32 inches, whereas the rectangular one is 42 x 62 inches.
Can you buy a shower pan without a drain hole?
Not. Because every shower pan and shower tub has a drainage hole mounted on it. However, if you don't want a drainage hole on the pan, you can choose a custom tile shower pan where the tile must first be placed before a hole is made for drainage.
How high is a shower base?
The shower base is about 5 inches high from the drainage hole.
What shape is a shower pan base?
Shower bases can be built in any shape, whether it's rectangular, square, neo-angle, neo-round, round, or corner shower pans which creates an interior wonderful.
Do plumbers fix shower leaks?
Yes, The plumber has expertise on it so they can handle the leakage whether it is minor or extreme. They can also fix structural plumbing problems that could be the source of rot, damage, or mold in the house.
Final Words
hanks for sticking around to the end!
Hope, you now understand the shower base and pan that can be used to update your bathroom without breaking the bank.
Remember the bathroom interior and shower space before going to the hardware store. That'll help you pick the best shower pan and make decision-making easier.
Don't forget to share your thoughts below!