Want to maximize your kitchen functionality? A good kitchen sink can be an effective one to hit off. It is one of those pieces of equipment that should keep pace with you so that nothing hinders you while you are working at full speed.
So, you need to find a kitchen sink of your style. Confused about these?
Which materials should be a good choice?
What styles or designs will suit your kitchen?
Which brands are the best in the market?
Where to buy kitchen sinks?
It's natural for these questions to pop up. It is not something like a shot in the dark. For a convenient work experience, you need to keep tabs while choosing home and kitchen decor products.
Let's not keep you waiting. Here are the solutions to your questions. Dig in.
Widely Preferred Kitchen Sink Materials
When you are renovating your kitchen sink, you don't intend to cost it often; that's why kitchen sink material should be one of your priorities. There are various materials used for kitchen sinks, and those come with various prices.
So, here is a list consisting of 6 popular kitchen sink materials that users prefer for a number of reasons.
Stainless Steel: Stainless Steel is the top-sought material for the kitchen sink. Such a sink neither costs much nor requires much maintenance.
Moreover, this type of sink lasts long and is suitable for any type of kitchen.
Pros:
Lightweight
Comparatively less price
Resistant to corrosion and rust
Cons:
Copper: Copper is a durable material for kitchen sinks that are intended to be used for a long time. As it is said that copper has a bacteria-killing capability, it is a hygienic element for the kitchen sink to choose from.
Pros:
Eco-friendly
Antimicrobial
Versatile and beautiful to look
Cons:
Sensitive to heat and acid
Cast Iron: Sinks made of cast iron are glossy, and smooth-looking sinks and are considered a fashionable choice. Generally, such sinks are coated with enamel so that rust and stains can't grow. Thus, the sink's natural look prevails.
Pros:
Durable
Wide range of styles
Simple maintenance
Cons:
Fireclay: Fireclay sink is another appealing product for users because this is handcrafted and goes well with a rustic type of kitchen. This type of sink is made of ceramic clay and glaze fused together at a high temperature.
Pros:
Long-lasting
Easy to clean
Resistant to scratch
Cons:
Granite/ Quartz: Granite or Quartz-made kitchen sinks are some of the trendiest products for users around the world. These materials are generally a fusion of granite or quartz with resin. As a result, the sink works just like a real one.
Pros:
Strong and Durable
Scratch and stain-resistant
Various styles, sizes, and colors are available
Cons:
Acrylic: Acrylic is another popular choice and has an attractive look. These sinks are made of polycarbonate plastics, are less expensive, and are available in different colors and styles.
Pros:
Lightweight
Cost-effective
Endurance capability
Cons:
Sensitive to heat different Styles of Kitchen Sink
Different Styles of Kitchen Sink
Choosing a suitable kitchen sink is one of the prominent concerns for those who are going through the process. It's not like picking up the one you find pops up in front of you and using that. A kitchen sink should match your kitchen and suit your taste.
There are variations in kitchen sinks. However, these are the most trendy ones.
Single Basin Sink: It is of general category sink. This type of sink is very convenient for kitchens that don't have enough space.
Double Basin Sink: This type of sink has a dual basin, allowing users maximum sink space. For multipurpose usage, such sinks are a truly good choice.
Undermount Sink: Opposite the top mount sink, these types of sinks are installed under the sink countertop. Such sinks help keep the countertop clean.
Corner Sink: Corner sinks are a set of double basins installed in the corner of the kitchen counter. These basins are set diagonally opposite to each other.
Top Mount Kitchen Sink/ Drop-In Sink: Top mount sinks are installed from above, and the rim formed from the sink edges around supports its weight.
Farmhouse Kitchen Sink: These are some sort of country-style designed sink; the edge extends outside of the counter. Such sinks are available in both single and double basins.
Drainboard Sink: Drainboard sinks are the ones that come with an attached dish rack so that users can dry their wet dishes.
Best Kitchen Sinks to Buy 2023 – Top Rated Brands in the USA
You have put so much into your mind to find the best kitchen sink; therefore, you deserve to know what the best brands have to offer. Here is a short description of the top-level kitchen sink brands written for you.
Ruvati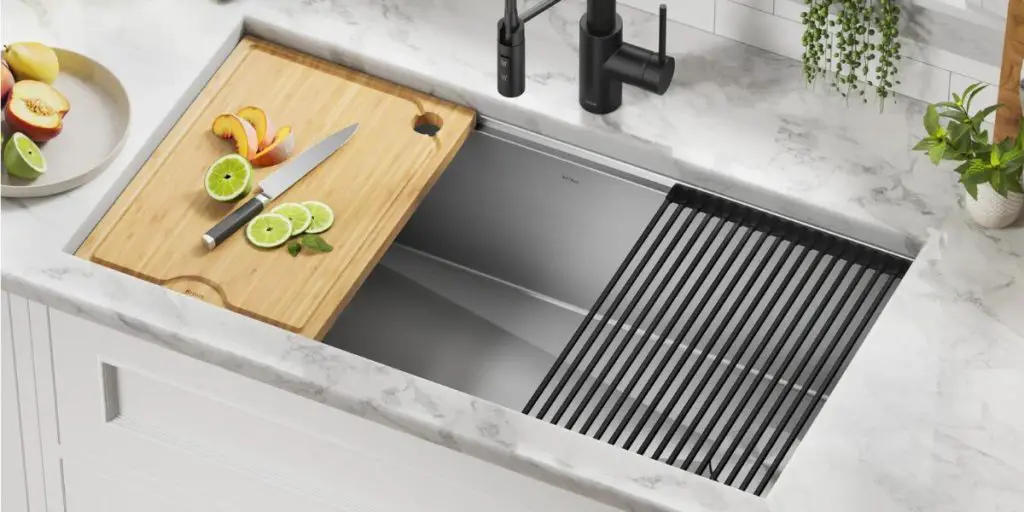 When we are talking about craft and style, Ruvati sure does have the upper hand. By implementing a classical look with a creative design, Ruvati kitchen sinks will add elegance to your kitchen.
The brand primarily focuses on providing users with a pleasant experience for their eyes and hands by prioritizing their daily kitchen work needs. And with that intention, it is continuing to lead its way to amplify client satisfaction.
Kohler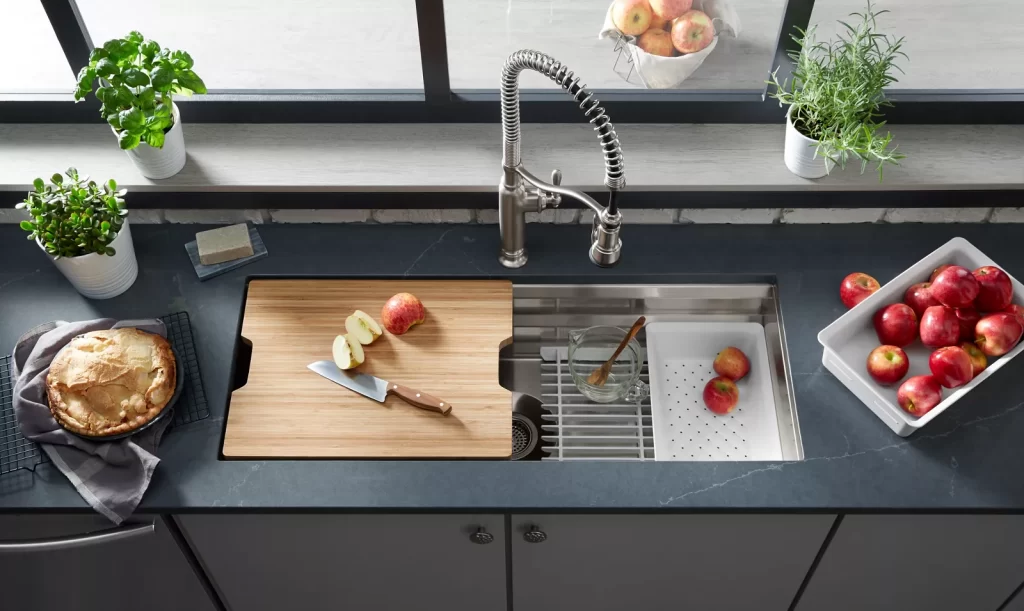 Kitchen sinks made by Kohler are one of the best of their kind and are popular among experts. From Kohler, you will get a wide range of sinks, from classic ones to luxury kitchens with different features.
Because of their reliability, craftsmanship, and versatility, these sinks not only catch the eye of people but also earn positive reviews as well. With grandeur quality and exquisite design, it has become one of the top preference brands of global clients.
Kraus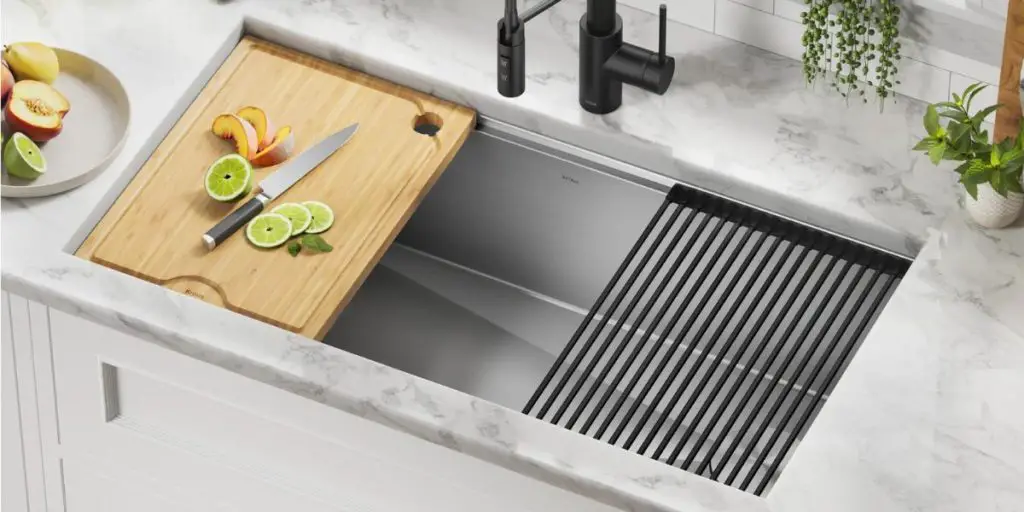 Kraus is another stellar choice for a kitchen sink considering variation in size, bowl, design, material, and installation – no denial of this fact. The sinks are designed and manufactured in a way that would fit fine in any type of kitchen.
Intended to make clients happy with its product and put effort into it, Kraus has been doing an impressive job by prioritizing its attention to detail and incorporating creative design into its sinks. Here you can check top-rated Kraus sink reviews.
Elkay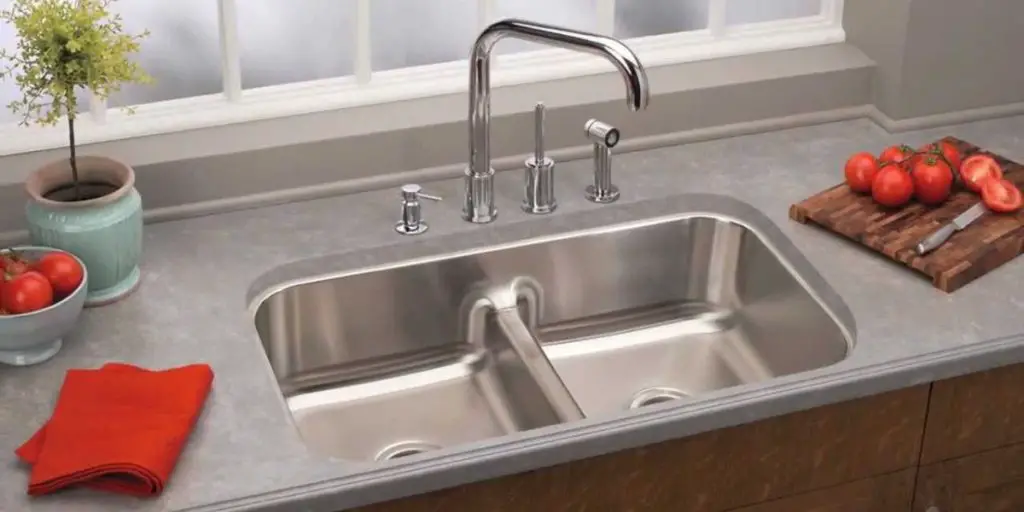 One of the convenient workstation sinks manufacturers is Elkay. Keeping both residential and commercial purposes in mind, Elkay has brought kitchen sinks that are attractive to look at and help users have a maximum workspace.
Elkay has variations and unique features in its sinks to enhance the lucrative look of any type of kitchen. It is one of the main reasons for getting one of the prime choices among users.
Zuhne
Zuhne is a relatively new brand; even so, it has gained clients' attention for its material, quality, and design. With accurate proportion, height, and weight- the sinks Zuhne brings have no less functional advantage than those that exist in the market.
Zuhne products are one of the highest-rated products on Amazon. So for those who are looking for a premium quality gorgeous-looking kitchen sink, Zuhne should be one of the best picks.
Miseno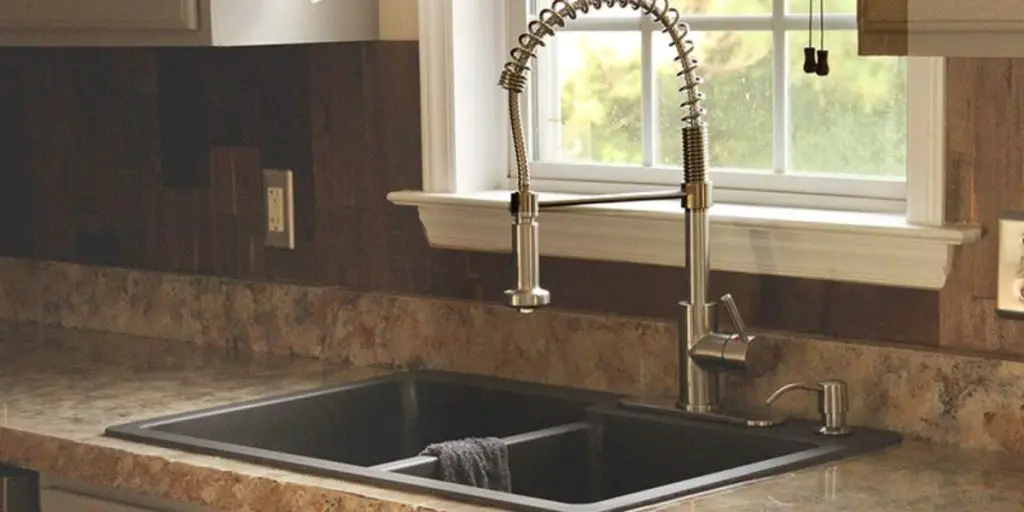 Miseno is another popular choice, according to our research. Miseno sinks have variations and fewer defects- all these have helped it gain attention and craving from global consumers.
It has sinks that are made of top-quality material. Along with that, it has brought perfection blended with exquisite design and finishing. Therefore, you can have Miseno sinks as one of the up-to-the-mark type products.
The Best Places to Buy Kitchen Sinks
There are many suppliers, stores, and platforms doing business on kitchen sinks, given that the kitchen sink is one of the vital accessories. So, it is a bit difficult to pick up a single platform or place.
Therefore, we delve into different platforms available in the market with a team of researchers and writers. After conducting thorough research on the market, we have found that these will be the best platforms to buy kitchen sinks.
Amazon: Amazon is the most convenient platform for e-sellers to sell and e-shoppers to buy their desired products. Millions of shoppers daily visit the different stores of Amazon, making it the most sought digital enterprise in the fast-paced e-commerce industry. 
Walmart: Walmart is another biggest e-commerce retailer which is continuing its international expansion. Its omnichannel strategy has benefitted clients, providing necessary daily all around the world with satisfactory one-stop shopping services.   
Home Depot: One of the largest home improvement retailers is Home Depot. With the determination to excel in service, it has been providing unparalleled customer service, with over 2,200 stores. Their products vary from equipment and tools, to supply materials, plumbing and gardening, and so on. 
Lowe's: Lowe's is one of the widely preferred home improvement retailers that esteems corporate responsibility. Considering users' demands, it has become a big platform for home decor appliances, automotive accessories, electrical tools, building supplies, bathrooms, plumbing fittings, lighting, and more. 
Wayfair: Wayfair is known as the home decor giant in the e-Commerce industry. Shoppers who are seeking kitchen sink products to embellish their kitchen can easily reach them and get products of their choice. 
Want to know why we claim these platforms the best? There you go.
Kitchen Sinks at Amazon
Digitization has made almost each and every product and service seller move online. Thus the demand for online platforms for the merchant is exponentially increasing.
9.7 million sellers have chosen Amazon as their e-selling platform. With this number, it is easily measurable that if anyone avoids Amazon, he/she is intentionally avoiding his/her chance of getting to explore the best products with numerous variations.
Why do we recommend Amazon for kitchen sinks?
World-class, trusted retailers gather here.
Amazon provides consumer-friendly service.
Users get a liberal shopping experience.
Easy and speedy ordering procedure.
An open platform for customer review.
Kitchen Sinks at Walmart
Every 8 out of 10 Americans choose Walmart, the giant retailer, as their preferable shopping spot. This is because Walmart has everything at its fingertips that any client can ask for both online and in-store. Therefore, Walmart is the best in-store place for any product.
Not only do they stock products on a regular basis, but also they even bring the latest or newly updated products as well. As a result, prospective clients can have the chance to get their products or try a new ones.
Why do we recommend Walmart for kitchen sinks?
Suitable for a family-friendly budget
Sells products at a reasonably lower price
Has a wide range of product variations
High-quality products available
Kitchen Sinks at Home Depot
Home Depot is the largest US home improvement retailer globally known for its diverse range of home renovating products. It specializes in dealing with products and equipment like construction products and supplying tools and services.
Being a dominant home improvement place online, it is associated with more than 2,200 stores. Home Depot is committed to providing premium standard service. To ensure this fact, they are continuously modernizing their supply chain.
Why do we recommend Home Depot for kitchen sinks?
Reasonable pricing
Outstanding services
Modernized inventory system
Construction materials and tools are available
Kitchen Sinks at Lowe's
Lowe's is the second-largest hardware chain and one of the top American home improvement retail companies, particularly preferable for decoration and general home improvement products. With more than 1700 stores accommodated, Lowe's is carrying nearly 40,000 products in its store.
Lowe's is committed to serving by creating safe and affordable housing. It offers wonderful customer service and is equipped with a lot of variations of different high-quality products required to improve your home.
Why do we recommend Lowe's for kitchen sinks?
Excellent customer services
A convenient option for buying
Abundance of good quality products
Kitchen Sinks at Wayfair
Wayfair is called an 'eCommerce home decor giant. This American e-commerce company is widely reputed for furniture and home appliances. It is a wide platform for both customers and sellers of home decor appliances and furniture. A report says that Wayfair sells over 14 million products.
It doesn't manufacture any products; rather, by dint of drop-ship model, it has connected 11,000 suppliers in its platform so that when clients place orders for home appliances, it can fulfill their demands.
Why do we recommend Wayfair for kitchen sinks?
Easier to shop
The order process is quick
Product delivery services
Variations in color and material available
Frequently Asked Questions (FAQ's)
Which are the best kitchen sinks?
The above-mentioned sinks are the best brands to choose from.
What is the best material for a kitchen sink?
There is plenty of material. However, most users prefer stainless steel; but then again, depending on your kitchen style, the suitable one will vary.
Is a single or double kitchen sink better?
Both types of sinks are better, but the better one depends on the user's choice. For example, if your countertop has ample space, go for a double-bowl kitchen sink. If not, a single bowl will work just fine.
What is the best kitchen sink depth?
It is said that sinks around 8 inches deep will be the best.
Which sinks are easier to install?
Generally, drop-in sinks are relatively easier to install.
Final Words
Being an essential part of cooking and cleaning, a sink carries the most burden on the kitchen. So, when you are up for buying one, make sure you are doing your research thoroughly. 
Then again, where you are going to buy it, also counts. The more trustworthy your designated shopping spot is, the more you can be ensured to have a better quality product.