UV lights in HVAC systems are becoming the norm in most households. Many people are considering UV light to be the perfect air-purifying solution. If you are one of those people, you might want to weigh the pros and cons of UV light in an HVAC system.
You may have some idea that UV light can be a great source of purifying the air inside your home. But you shouldn't jump the gun when installing UV lights in an HVAC system based solely on this factor. Why? Because there are some drawbacks to the method as well.
So, before you make a decision, let's get through a complete overview of using UV light in an HVAC system to learn everything about it. You get to know the pros, cons, and details regarding UV lights in HVAC.
What Is UV Light System for HVAC and How Does It Work?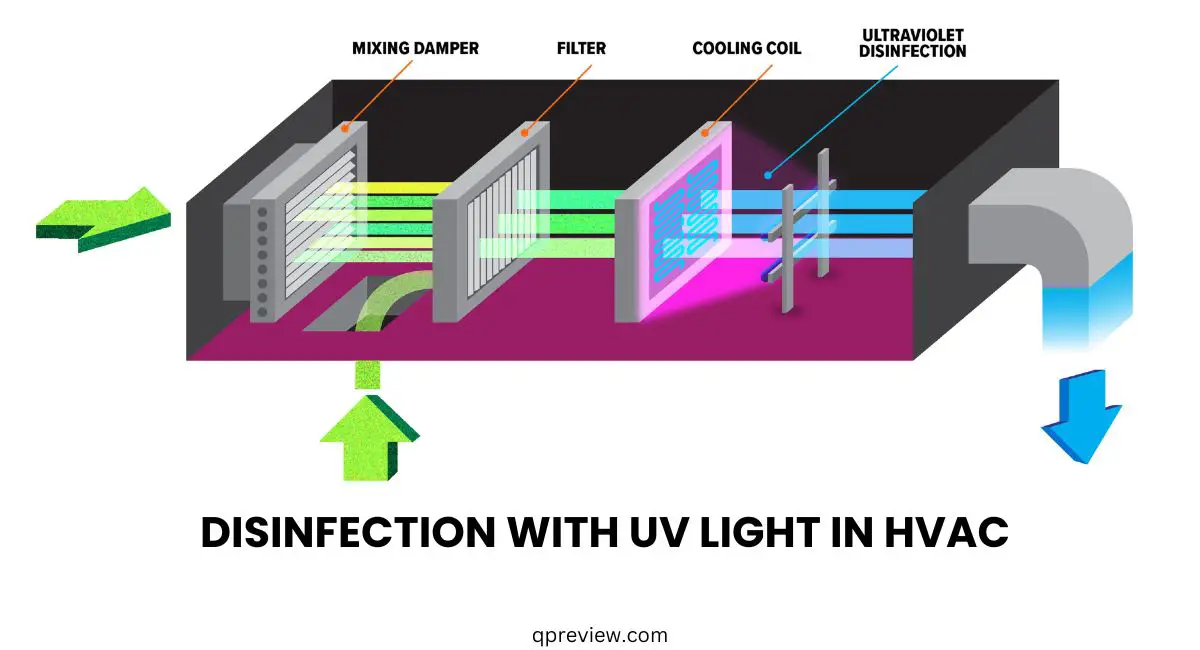 Well, we all know about UV lights, right? They are the same kind of light wave emitting from the sunshine.
The UV light in an HVAC system simply means the HVAC system will have a UV light that will purify the air. Usually, UV-C light is used in most HVAC systems due to their germ-kill factor.
The working mechanism is very straightforward. A UV light source inside the HVAC system monitors the air circulating throughout your home. As soon as the air goes through the HVAC system, it has to pass a UV light ray and get sanitized.
HVAC systems can have UV lights in several different places. You can get them in the furnace, the heat pump, the air conditioner, or even the ductwork if you want. No matter where you install it, the purpose is the same.
UV lights work like an upgrade to the existing HVAC system. It makes the HVAC system capable of fighting germs, bacteria, microbes, and other impurities and purifies the air inside your home.
Want a more scientific explanation? Then, check out this amazing video to better understand how it works.
Types of UV Lights Systems for HVAC
When installing UV lights on your HVAC system, you generally have two types of UV light choices. Both types of lights have unique values, and pricing is different. Let's get through the two choices quickly.
Coil Sterilization UV light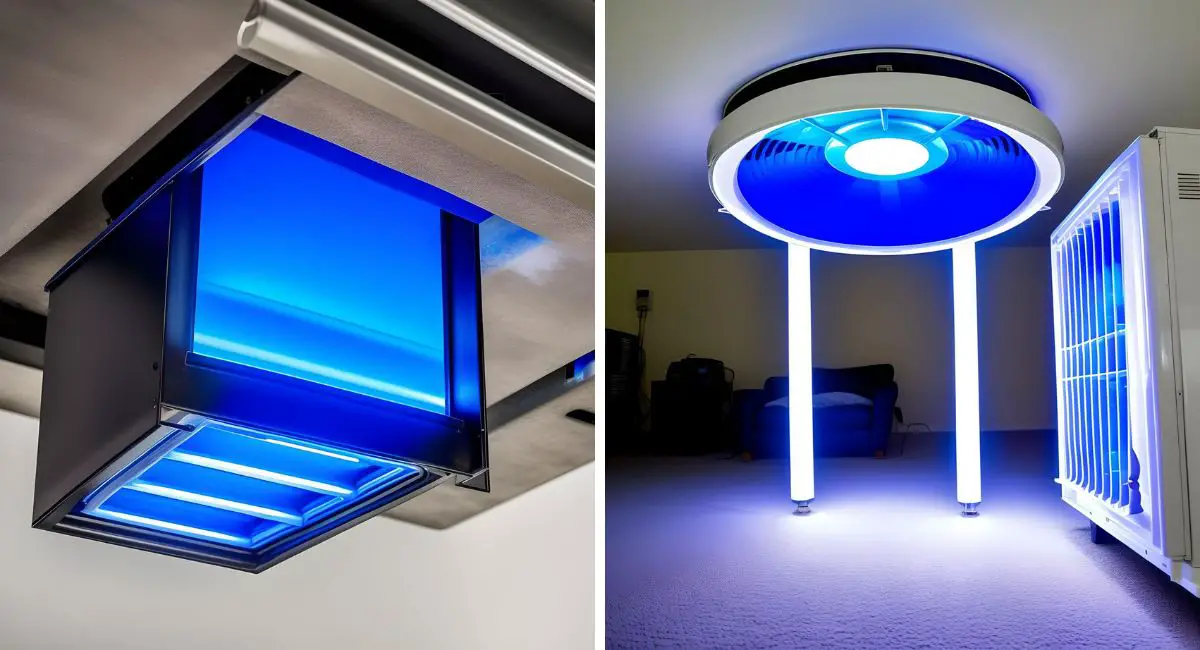 Coil sterilization UV light tends to be a stick-type light that you need to mount in the return air duct of your HVAC system. Whenever germs, bacteria, or any impurity get on the air handler's coil, the light eliminates those impurities.
These are more common forms of UV light in an HVAC system because of their lower prices and easier availability. In terms of effectiveness, they are the same as the other type of UV light.
Air sterilization UV light
With air sterilization, the scenario is a bit different from the earlier one. Here, the whole sanitizing process happens right on the air circulating. This system doesn't focus on any particular HVAC component and directly targets the air passing through.
A proper UV light unit is installed into the HVAC system's ducts. And whenever air passes through the duct, the lights will sanitize the air and purify it of any impurities. So, the effect is more direct on this method than the other.
HVAC UV Light Reviews: Exploring the UV Light in HVAC Pros and Cons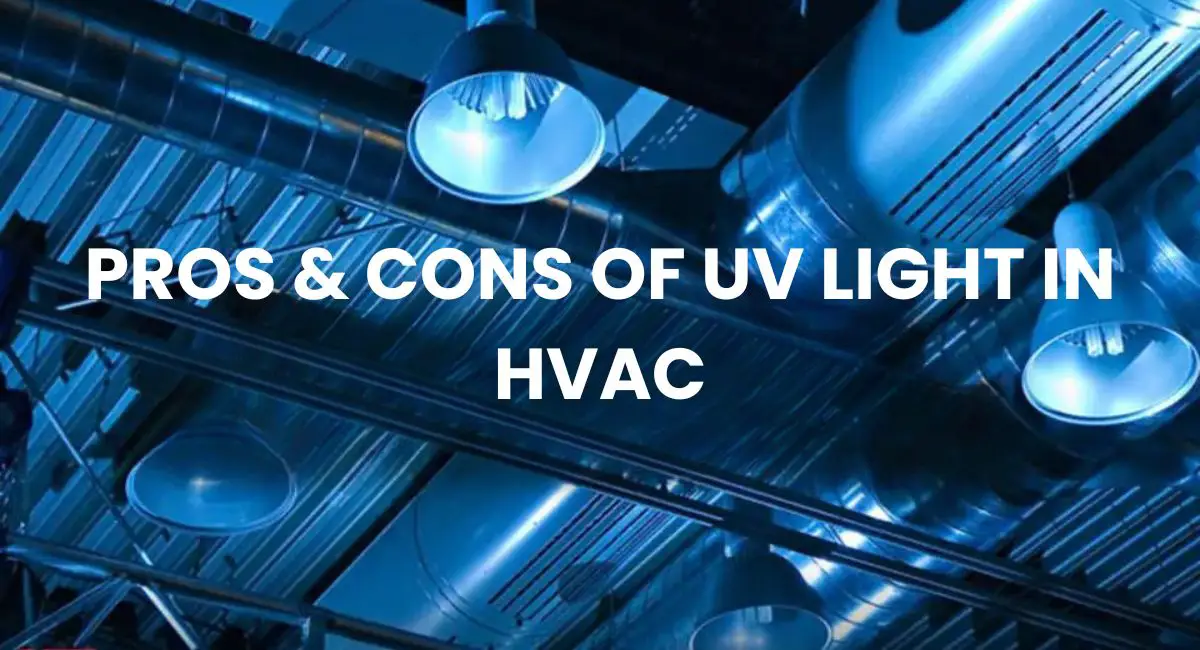 Enough with the basics of UV lights for HVAC. Now we get into the real deal as we dive into the benefits and drawbacks of UV lights in your HVAC system.
After going through this, you will know whether it's worth your time. Let's get started.
Pros of UV Lights Systems for HVAC
First, let's get onto the pros of UV lights in HVAC. There are many of them; honestly, they are pretty convincing for just about anyone. So, let's see what you think about them.
Purifies Air And Improves The Quality
The primary reason for using UV lights in your HVAC system is to purify the air.
When air circulates through the HVAC system and passes the UV light, all the impurities like germs and bacteria get eliminated. So, the air from the HVAC system becomes pure and germs-free.
Also, UV lights can help eliminate odor or smell, creating particles from the air and improving the quality. There won't be bad smells in the air inside your home.
Provides Better Airflow
Well, it's only obvious that when the air is pure and free of germs, there will be a better flow of air.
Air will get much more room and freedom to circulate through your house without anything obstructing the flow of it. With such airflow, the HVAC system will also work much more efficiently.
And it will keep producing clean air at a faster rate. This quick airflow can also help eliminate any odors from your home.
Protects The HVAC Unit
This may sound confusing, but installing UV lights in your HVAC unit can protect it.
With the inclusion of UV lights, there will be fewer germs, bacteria, and microbes in the HVAC unit. This keeps all the components of the HVAC unit safe from these impurities.
As a result, your HVAC unit doesn't malfunction due to debris or germ buildup. This is how installing UV lights in the system can protect it from damage and inconsistencies.
Prevents Mold And Mildew Growth
Aside from eliminating germs and bacteria, UV lights can also help prevent mold and mildew growth in the HVAC system. While it protects the HVAC unit and makes it more durable, it also eliminates the HVAC clogging problem.
Along with that, it also helps in improving the performance of your HVAC system and makes it more efficient.
Helps In Avoiding Diseases
Adding UV lights to the HVAC unit also eliminates the allergens in the air. So, if you get allergic very quickly, UV lights can become a lifesaver.
Also, UV lights make the air purer, which helps in reducing the chance of causing any respiratory diseases. You will always have healthier lungs and fewer diseases with pure and healthy air to breathe.
Cons of UV Lights Systems for HVAC
While UV lights have plenty of advantages, there are also some problems with them in an HVAC unit.
Going through these should give you an idea of whether they are a big deal to you. Here are the cons of UV light in HVAC.
It's not 100% effective.
One of the most problematic disadvantages of UV lights in your HVAC system is that they aren't 100% effective. While the lights minimize the effects of microbes, germs, and bacteria, they can't eliminate VOCs or volatile organic compounds, which is also necessary.
Installation and maintenance can be costly.
Installing UV lights to your HVAC system can cost quite a lot of money. While the lights may not be expensive, the installation cost can get pretty high. It will cost even more, especially if you opt for air sterilization over coil sterilization.
Also, when you install UV lights, you must constantly think about changing the bulbs occasionally. The whole thing can get pretty expensive.
Requires constant maintenance
While UV lights may work great against germs and bacteria, they are useless against dirt and dust.
As a result, dust will build up on the UV light bulbs over time, making them ineffective at some point. So, you have to clean them frequently to keep them working.
Air filters will still be necessary.
If you think installing UV lights will eliminate the necessity of air filters, you have gravely mistaken. You will still need air filters to prevent dust and dander from the air. So, it doesn't reduce the cost of air filters. Instead, it adds to some additional cost, as discussed above.
They can damage the HVAC without proper installation.
Now, this is one of those cons that rely on faulty installation. If the UV lights are not properly installed and misplaced, the UV rays can damage the HVAC components.
That's why it's better to opt for a professional for the installation, which costs a lot of labor.
How Much Does It Cost to Install UV Light in HVAC?
Installing UV lights in your HVAC system can come in various price ranges depending on your choice.
It can cost you from $200 to $600 for coil sterilization. It includes the price of UV lights, installation components, and labor costs. Remember that the labor cost can greatly vary, depending on where you live.
As for air sterilization, the cost is a bit higher due to the installation difficulty. An air sterilization UV light system installation and equipment can cost you somewhere between $300 to $700.
Apart from these, the replacement bulbs can start from $10 to $80 for the best quality bulbs. Overall, the installation and equipment can cost you quite a lot of money.
HVAC UV Light: Understanding the Best UV Light for HVAC System
Here's the thing, not all UV lights you see in the market will be effective and efficient in performance. Most of them can fail you in purifying the air. And sometimes, going with the wrong UV light system can even damage the entire HVAC system.
To help you avoid that situation, here we list the top 5 UV light systems for your HVAC system. These are reliable and come with pretty effective results. Take a glance at them here.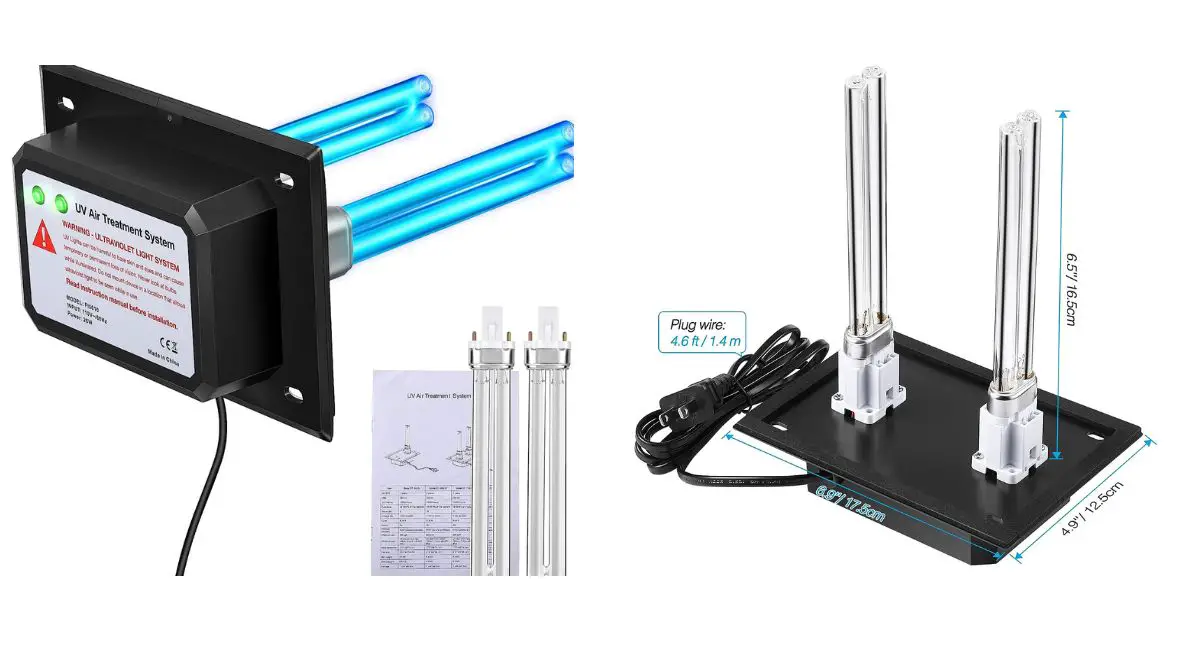 Getting rid of the moldy smell and unwanted odors becomes much easier with the Frienda HVAC UV light system. It has 26 watts of power to purify the air from all the germs and impurities using germicidal UVC.
Every single pass through the UVC light can clean most germs and bacteria. It has a pretty strong cleaning ability that ensures efficiency in every pass.
One of the most impressive factors about the HVAC system is its ease of installation. Installing the lights on your HVAC system takes just about 15 minutes or so.
Pros
Quick and easy to install
Efficient UV lights in every pass
It can kill most mold and mildew growth
Purifies air to its fullest extent
Remedies all kinds of odors and moldy smell
Cons
Bulbs only last about 6 months
Maintenance can get costly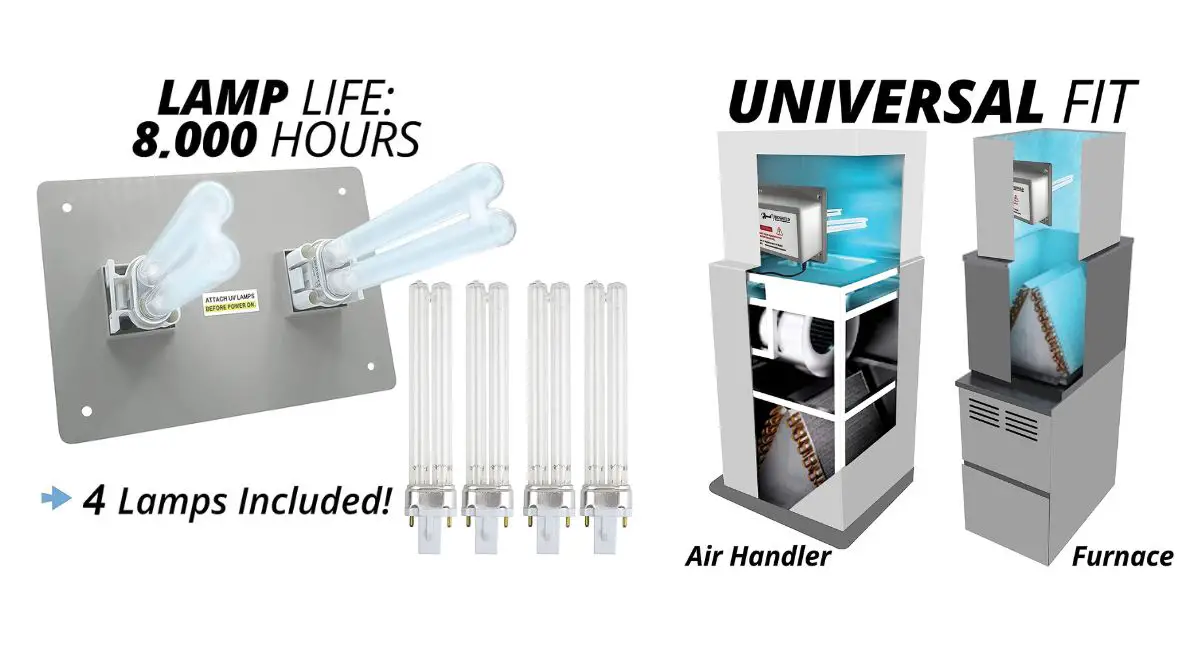 If you want to avoid the labor cost of installing UV lights in your HVAC system, then BioShieldUV might be your answer. The lights come with the easiest DIY installation process you can find.
What makes the UV light system even better is that it comes with every piece of equipment needed for installation. There is a sticker template, drill bit, self-tapping screws, and foam sealing.
Another handy feature of UV lights is the inclusion of LED indicators. Due to the indicator, you can easily tell whether a UV light is functional. It's very effective for bulb replacement purposes.
Pros
It offers some great power from the UV lights
Super easy to install using the guide
It comes with all the necessary equipment for installation
CE certification for added reliability
Purifies air exceptionally well
Cons
 Includes only 2 bulbs in the pack
The light stays on with the HVAC system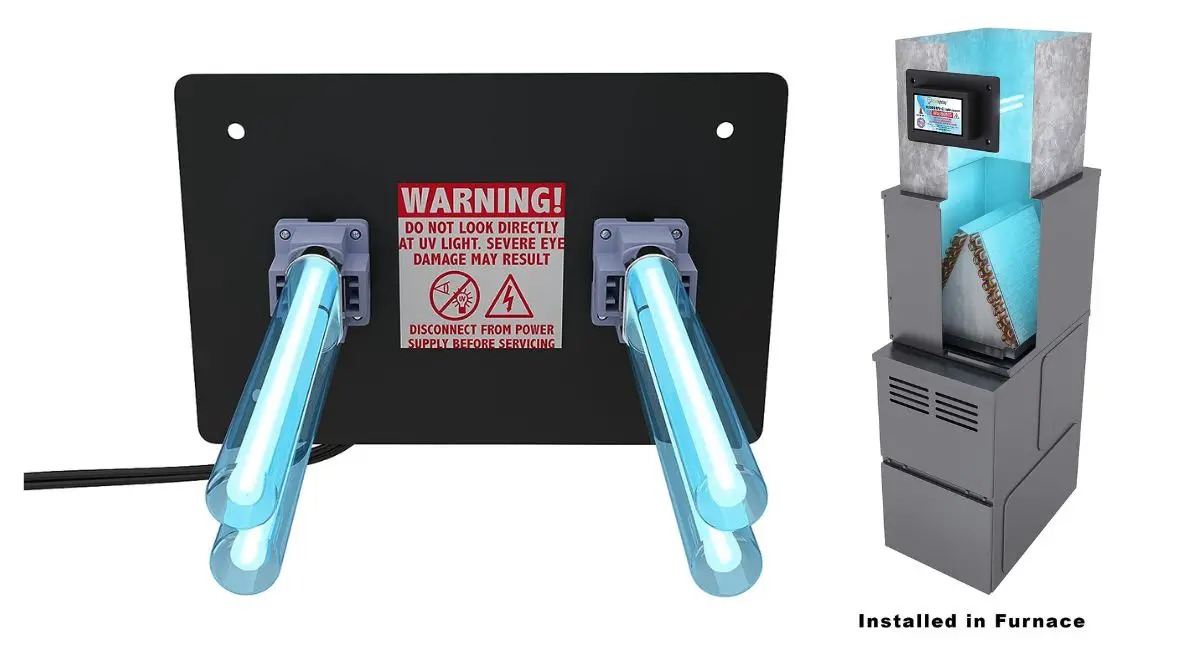 The UV light setup from Reko Lighting is one of the best in your HVAC to kill pollen and molds. They do an excellent job of eliminating the contaminants in the air and purifying it.
While it's effective, it's also quite easy to install. If you follow the proper instructions and methods, setting up the UV lights in your HVAC shouldn't take more than 15 minutes. And you can easily install the whole thing by yourself. 
What makes this UV light system attractive is its bulb durability. The bulbs can easily go on for about a year without needing replacement. That's the ideal durability you should look for in any UV light bulb you use for an HVAC system.
Pros
Easy and quick installation
Affordable pricing
Provides great value
Excellent durability in the bulbs
Works with a lot of different HVAC units
Cons
The cord is a bit short
Templates are quite flimsy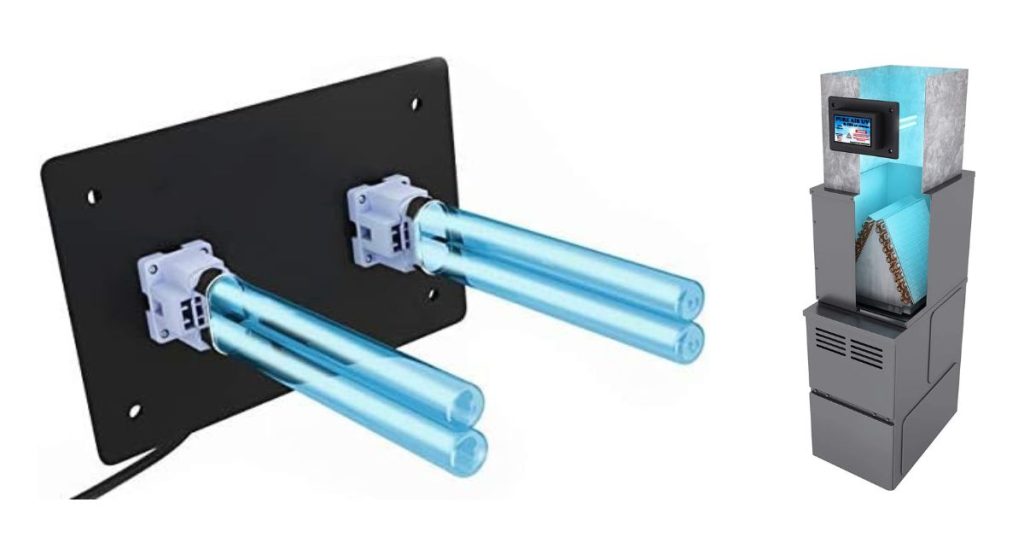 One of the tricky things with HVAC UV lights is figuring out whether the light is working. But with the Original Pure Air light system, it's very easy to tell due to the LED indicators they use in it. The indicators will tell you whether the light it on or off.
The pricing of the light system is another talking point. It has very reasonable pricing for the kind of quality and performance it can deliver. Considering the stock bulbs on the light last for a year, the price is more than fair.
Lastly, there is the ease of installation and use of the system. Installing UV lights in your HVAC system doesn't take too much time and effort. The best part is that you can do it yourself without professional help and save quite a lot of money. 
Pros
 It's easy to install
Good value for money
Purifies air exceptionally well
The bulbs last for more than a year
LED indicators for convenience
Cons
Can't tell when the lights are burned out
It doesn't include any instruction manual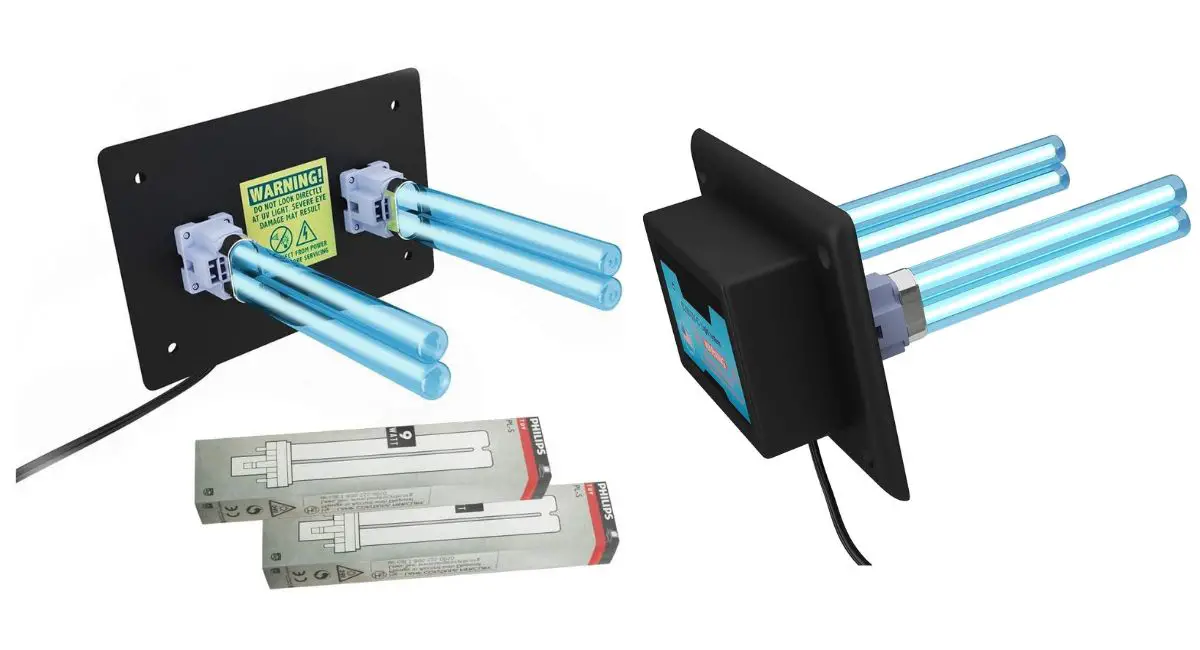 D200 UV light setup is perfect for your HVAC unit with its effective UV-C rays. It can easily eliminate most pollen and microbes to purify the air in your home effortlessly.
Installing the UV light in your HVAC system is extremely simple, and it takes only 15-20 minutes to complete the job. You don't have to be an expert technician to install it.
Along with all that, you get 2 replacement bulbs included in the package, while the stock bulbs also last for a while. And what makes this UV light unique is the inclusion of sight glass and an electronic ballast to see whether the lights work.
Pros
Efficient and effective UV rays
Quick installation time
Includes replacement bulbs
Powerful enough for a 1-5 ton system
Easy to check up on the lights
Cons
Template holes are a bit off
It can be risky at times
Things to Consider Before Selecting UV Light for HVAC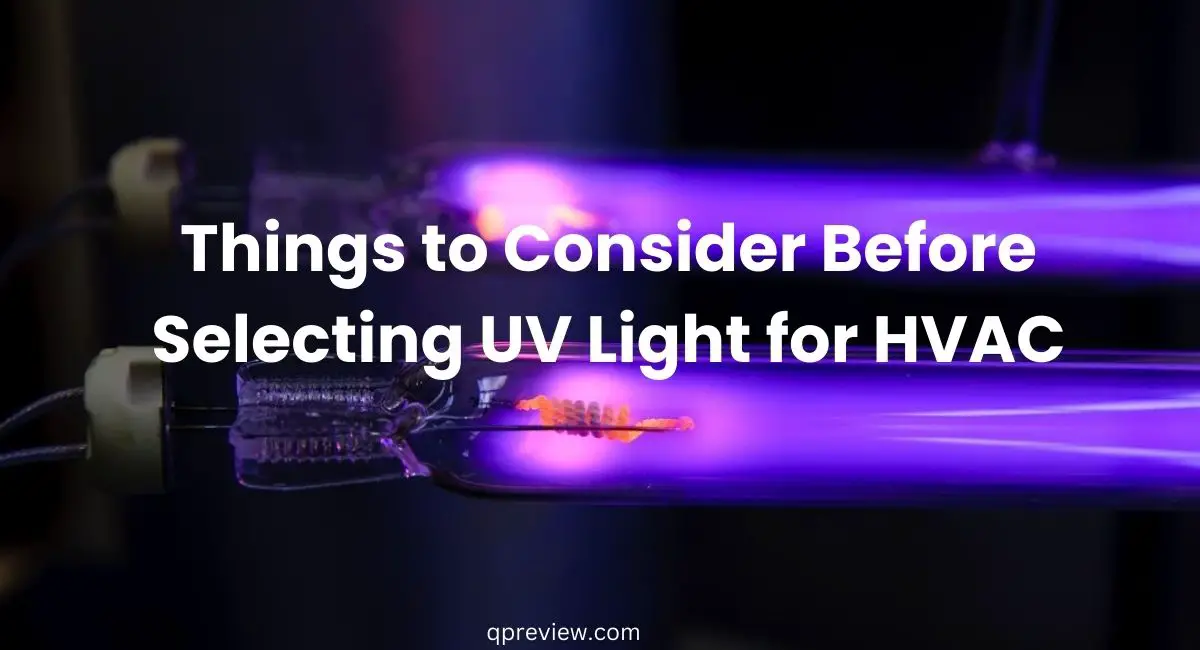 You must go through particular factors when you plan to get a UV light for your HVAC system. Considering these factors will help you select the best UV light for your system.
Here's what you should consider while buying a UV light for HVAC.
Power of the UV light
UV lights for HVAC systems usually come with a power rating in watts. Getting a 15-watt power UV light for most household systems can do the job without trouble. But if you have a larger unit, you can go with a 20 to 25-watt power UV light.
Quality of the UV light
Well, the quality mostly refers to what kind of UV rays the light can emit. For instance, every HVAC unit should aim to get UV-C lights as they are the germicide type. Also, try getting lights that. Work efficiently in every pass.
Ease of installation and use
This is the most crucial point to consider when buying a UV light for the HVAC system. If the UV light is easy to install and you can do it yourself, it can save you a lot of money from the labor cost. Also, everyone wants easy installation over anything else.
Bulb longevity
Another factor to think about is how long the bulb will last. You will always want a UV light that lasts at least about one year. Anything lasting less than 6 months should never be an option for you.
Maintenance cost
Maintenance cost is already one of the most noticeable cons of UV light in HVAC. For the most part, maintenance cost refers to replacing the bulbs. So, if you have bulbs that don't last for a long time, you must spend a lot of money on replacing the bulbs.
Speaking of replacement bulbs, some UV lights have reasonably priced bulbs costing around $70 to $80. Then, there are lights where the cost can go up to $200. You should always go for the lower and, as it makes the light worth it.
Important Questions About UV Light Systems in HVAC You Need to Know!
Still not satisfied with the information? Don't worry; we have more to share with you. Here are some of the most frequent questions that may cross your mind once or twice while exploring HVAC UV lights.
How effective is UV light in HVAC?
Many studies have shown that UV lights can be very effective for HVAC systems. Usually, a decent UV light system can be about 90% to 97% effective in purifying the air through your HVAC unit. For the most part, they are quite useful.
Where is the UV light installed in the HVAC?
You can install a UV light in various places of your HVAC unit. Usually, the best place to install the light is close to the evaporator coil or the air handler. It's easier for the light to sterilize because the air usually passes through that component in your HVAC unit.
How Often To Change UV Light In The Hvac?
Typically, changing UV light in the HVAC system every 1 year or 9000 hours is best. Even if the UV light lasts over a year, you should always replace it as it crosses 9000 hours. Changing UV light mostly refers to replacing the bulb.
How Long Does UV Light In HVAC Last?
A UV light unit can last a long time, but the bulbs only last 1 year. After a year of use, the UV lights start to lose their effectiveness, and as soon as it goes under 80%, it's better to replace the bulbs.
What Wattage UV Light Is Needed For HVAC System?
With UV lights for HVAC systems, it's always better to opt for lights with 15 to 18 watts. Anything with 20-25 wattage should also work if you want more power in your system for better air purification. Anything lower than 15 watts doesn't work.
Can UV Lights Damage HVAC System Components?
No, UV lights aren't that harmful to HVAC system components because they are not made of plastic. They don't wear down or damage over time. However, if you have poorly installed UV lights, then it can damage the exposed HVAC components.
What Are The Benefits Of UV Lights In Air Purification?
The benefits of UV light for air purification are that they eliminate any bad smell from the air. They also kill the germs and bacteria mixed in the air to make it more breathable and healthier. It also keeps microbes and pollens away from the air in your home.
Do I Need A UV Light For My Air Conditioner?
If you deal with many odors, germs, allergens, and bacteria, you need UV lights for your air conditioner. But it's not mandatory if you don't have any of these issues. Although, using it is always better and safer for the condition of the air in your home.
How Do You Know If Your UV Bulb Is Blown?
You can tell if the UV bulb in your HVAC system is blown in several ways. If there is a way to visually inspect it, check for dark spots or discoloration on the bulbs. Other than that, check with a UV meter or check the electrical continuity. You can also tell it by the UV light age, as they have a limited lifespan.
Does UV Light Clean Air Ducts?
UV lights can clean the air running through your air ducts. Whenever air passes through the air duct, UV lights can sterilize them to clean the air. It can also prevent mold or mildew growth in the air duct. However, it doesn't clean the dirt or dust in the air duct.
Are HVAC UV Lights Worth It? Should you install UV Lights for your HVAC Systems?
Concluding the discussion of HVAC UV light systems, we can tell you they are effective and useful. After going through the pros and cons of UV light in HVAC, it's pretty clear that the lights have a lot of benefits.
The major thing to consider here is whether you are ready to bear the cost. And here's how you decide it. If the air quality inside your home feels unhealthy and has a lot of contaminants, then installing UV lights is worth it.
Other than that, it's completely optional for you. If you have the money, surely go for it, because it can make the air you breathe much safer and give you a healthier lifestyle.