Choosing a vanity color can be tough, especially if you're not an interior designer. Even professional designers have difficulty placing the right colors in the right places!
For all your decor fads, we have prepared a comprehensive list of our favorite bathroom vanity color ideas! Our advice would be not to overthink it and just go with any of the choices mentioned in this article. Make sure you read through the details to know which color would suit best for you. Without further adieu, let's begin.
You should check also-
Types of Bathroom Vanity
Before discussing colors, let's understand what types of vanities exist in the market. Here is a list of the most common ones, along with a detailed explanation.
Free-Standing Bathroom Vanity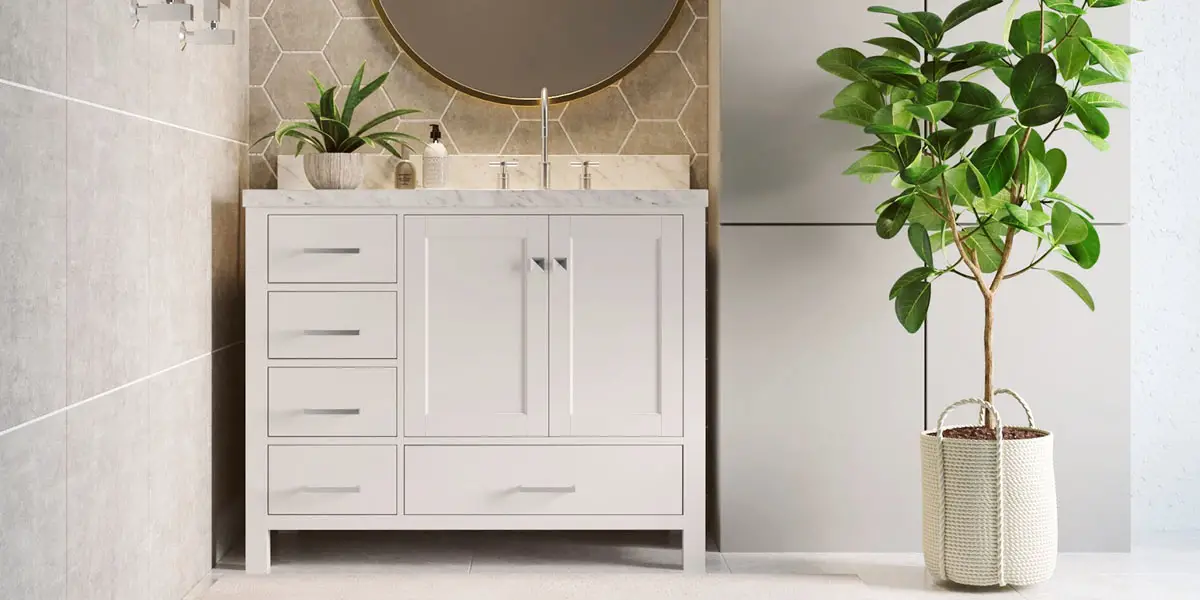 Free-standing vanities are the easiest to install. It is the most typical vanity which is usually found in smaller bathrooms. These vanities tend to be made of wood with a ceramic sink.
It is either rectangular or square-shaped and does not require to be fastened to the floor. There is usually a maximum of two sinks that are placed on top of a shelf or cupboard. Freestanding vanities, depending on their style and dimensions, provide adequate storage for their worth.
Pedestal Bathroom Vanity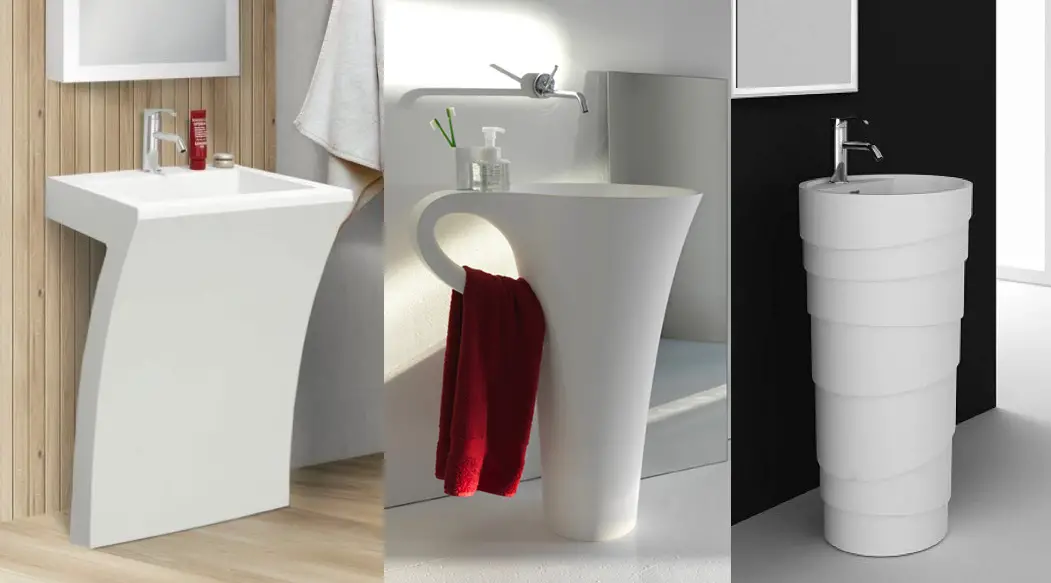 A pedestal sink is a bathroom fixture that includes both the base and the sink. The most frequent materials for pedestal sinks are vitreous china or glass.
Do you require additional storage space? Pedestal sinks will not work if you need storage. These sinks have smaller cupboards in comparison to other vanities. They're adorable, interesting, and one-of-a-kind.
Vessel Bathroom Vanity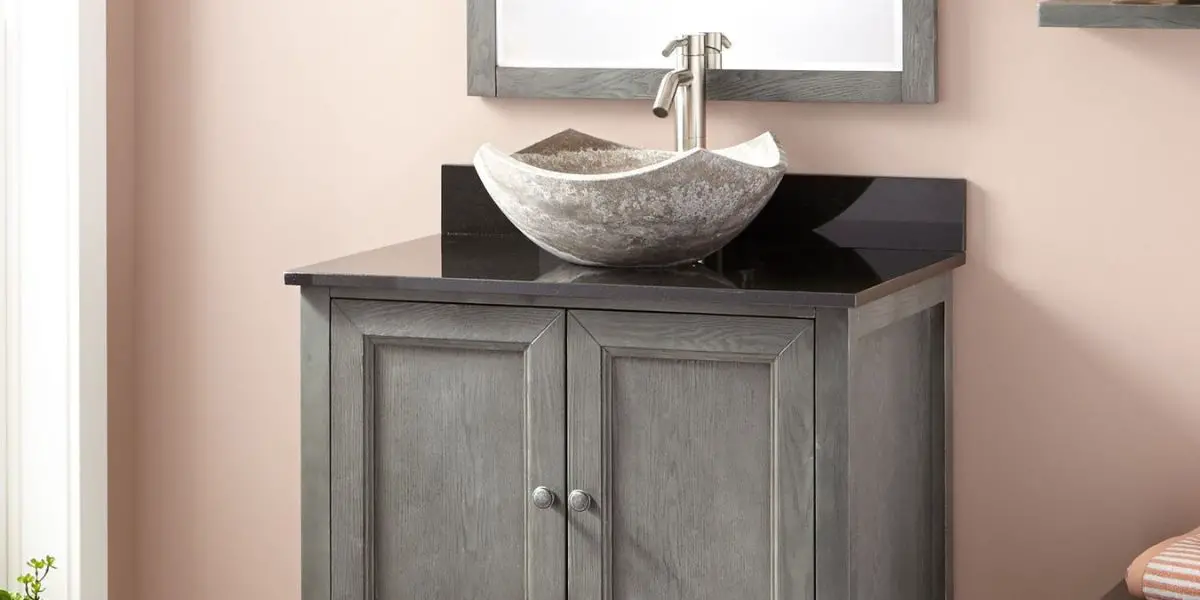 In contrast to insets like standard drop-in or under-mount sinks, a vessel sink sits on top of a vanity top or counter. These sinks are only seen in bathrooms, not kitchens. Their size and style would be inconvenient in a kitchen setting.
Vessel sinks vanities are most commonly found in aesthetic bathrooms, such as powder rooms or guest bathrooms, where they are not used frequently.
Wall Mount/Floating Bathroom Vanity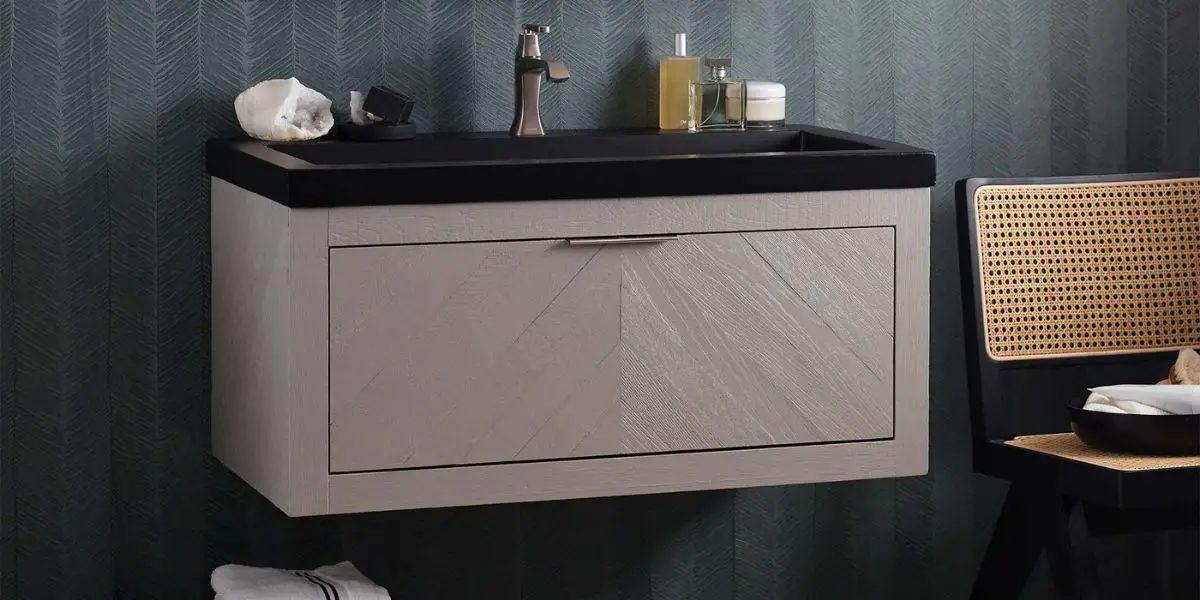 Wall-mounted vanities, also known as floating vanities, have become the trendiest vanity for those who want to optimize space in their bathroom while maintaining a streamlined, clean design. These vanities are connected to the bathroom wall and do not come into contact with the floor.
Wall-mounted vanities, which can have one or two sinks, take up less floor and visible space than standard vanities. If you like the sleek aesthetic of wall-mounted vanities, bear in mind that they have limited storage and must be professionally installed. They are excellent choices for tiny bathrooms.
Under-Mounted Bathroom Vanity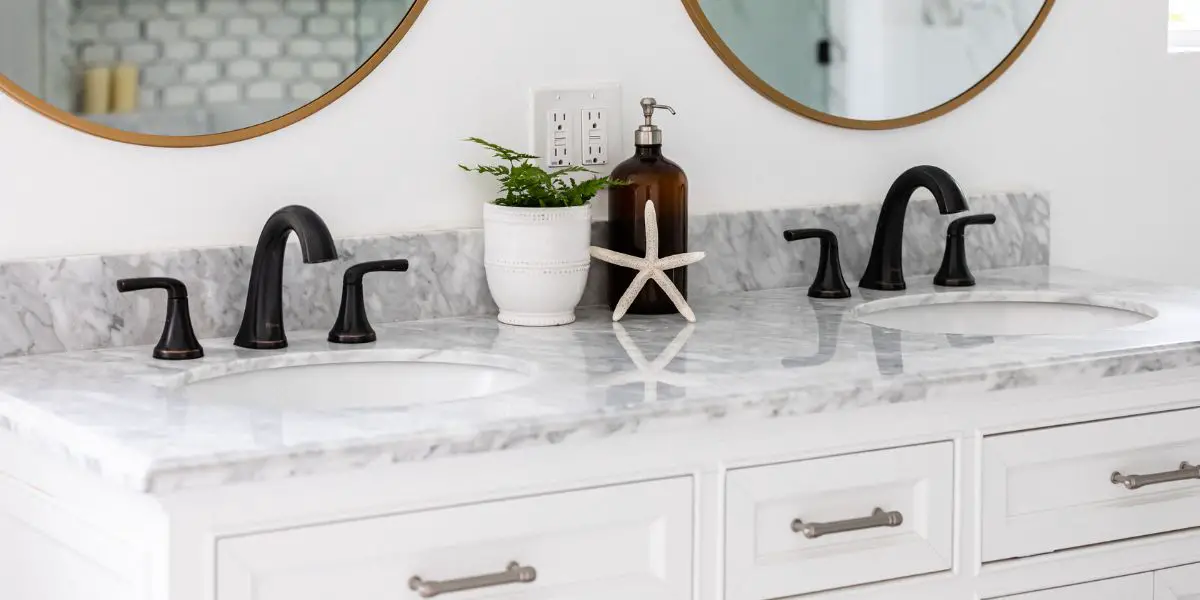 Under-mounted sinks are installed beneath the vanity countertop, reducing the chance of debris getting stuck in between. These sinks are extremely popular. According to the National Kitchen and Bath Association's trend report, 87 percent of bathroom sinks are under-mounted.
An undermount vanity may come in various sizes and configurations, but the sink needs to be under-mounted. These vanities tend to be used typically in kitchens as the under-mount configuration allows easy clean-up.
Corner Bathroom Vanity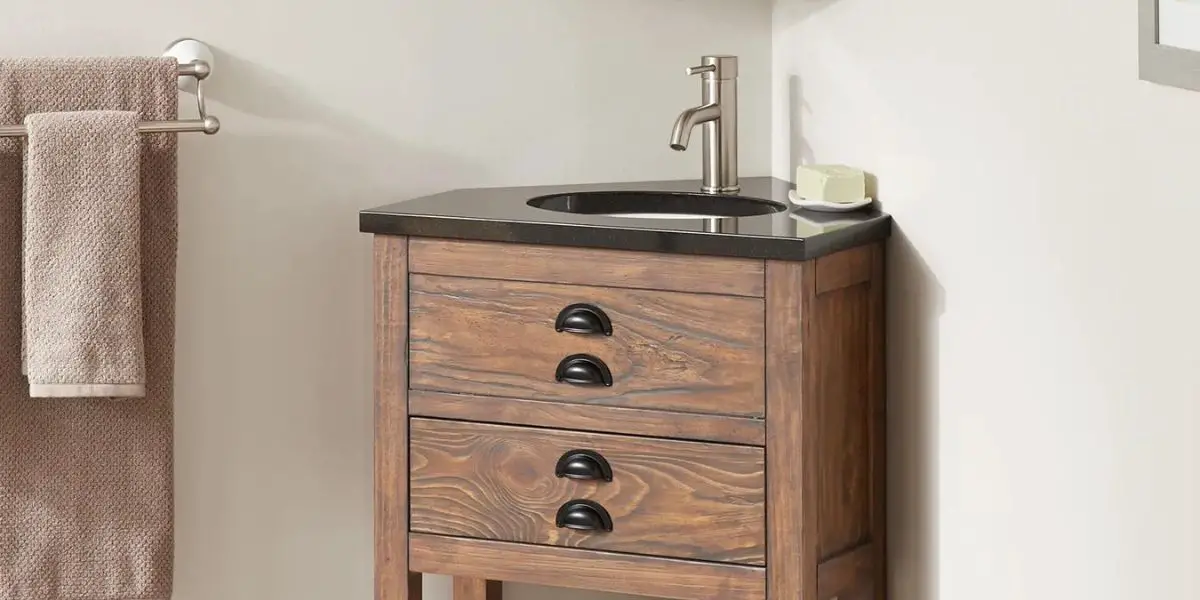 Corner vanities are an innovative solution for compact areas, typically smaller bathrooms. They offer convenience and maximum optimization of the little space that you may have.
Get the Guide: Bathroom Sink Price: How Much Does A Bathroom Sink Cost?
Bathroom Vanity Color Trends: Top 7 Most Popular Bathroom Vanity Color in 2023
Now, let's start with the list of what you all came for—featuring the best bathroom vanity color trends and ideas!
1. White Vanities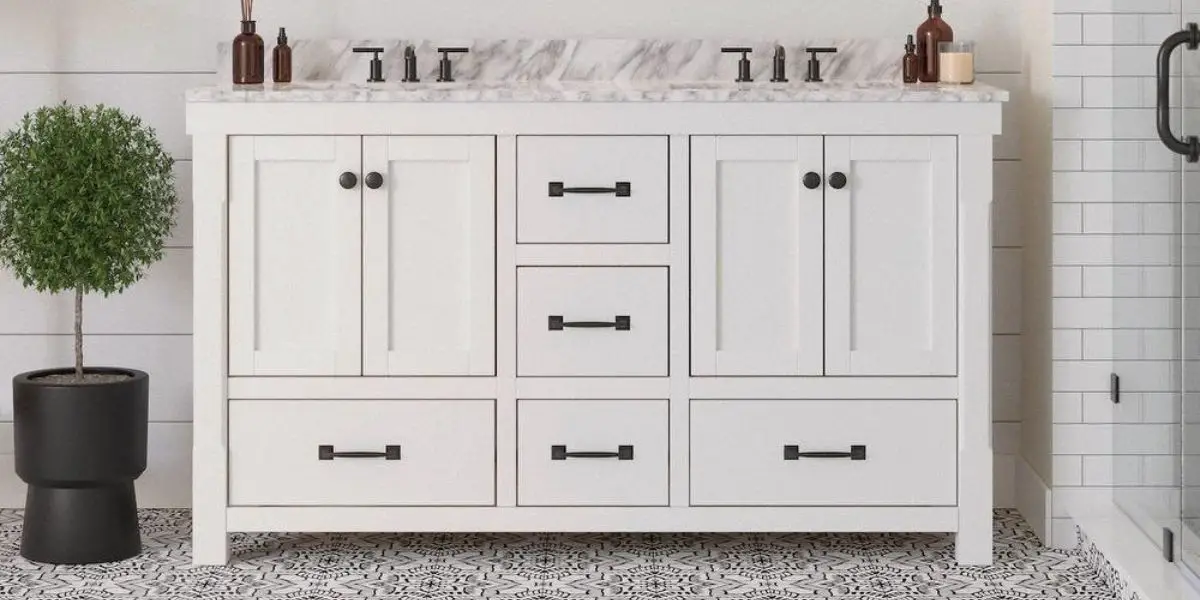 White is a hue that represents purity and honesty. It is associated with healing, simplicity, and sterility. On a white background, any other color pops out quite clearly – no matter how little.
White vanities are great choices if you want to follow a white theme or the colors in your bathroom don't have a specific schema. However, keep in mind that white is quite difficult to keep clean.
2. Black Vanities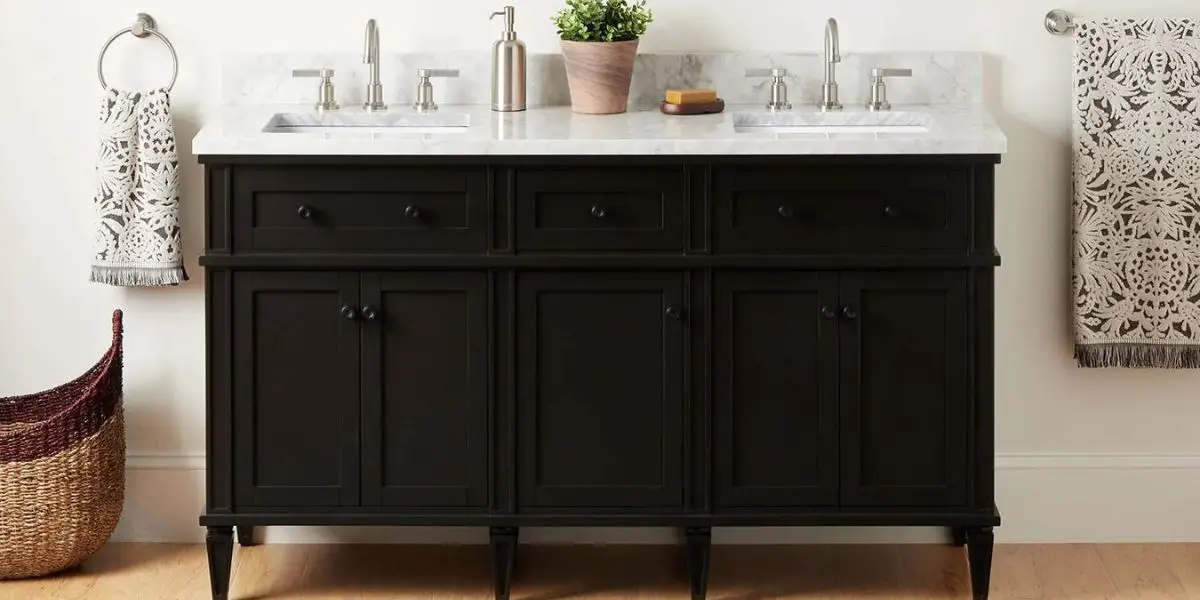 Black resembles modernity. Such vanities appear as if it's occupying lesser space than the actual dimensions. Just like white, any color looks good on black, though it does not contrast as sharply as other colors do white.
You can use these vanities if you don't like the hassle of repainting or refinishing. Light stains don't appear as noticeably on black, nor are they difficult to clean. Plus, black vanities are quite unique in households; not everyone dares to put such a color in the middle of a bathroom/kitchen!
3. Blue Vanities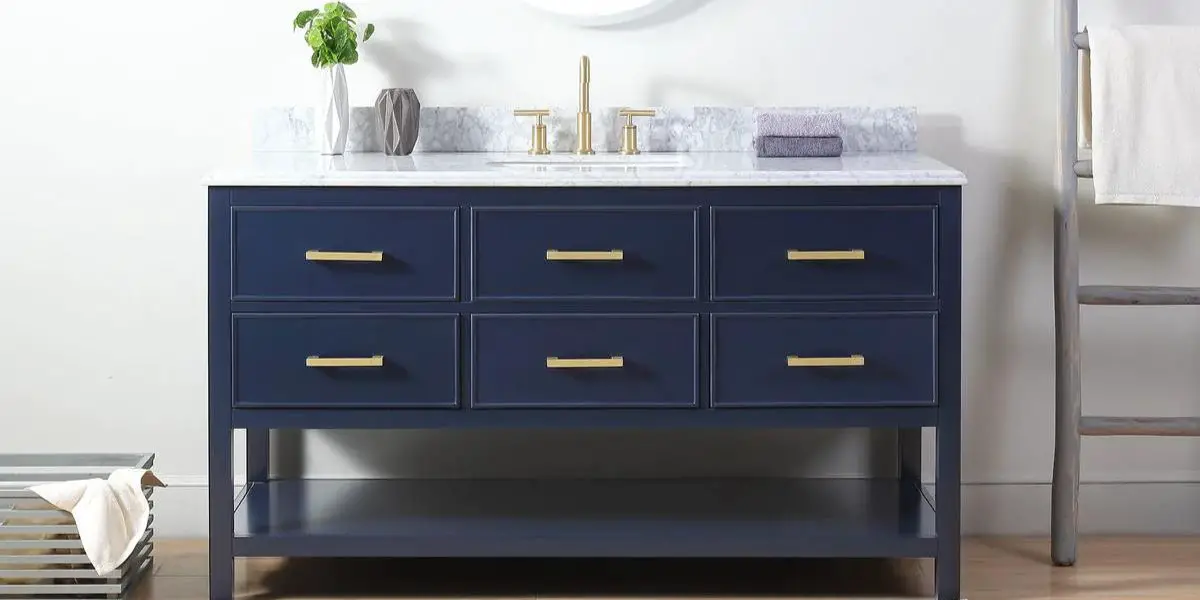 Blue resembles the sky, something quite earthly. The color blue evokes sentiments of calmness and tranquillity. It is frequently described as calm, tranquil, secure, and well-ordered.
Choosing a vanity of this color will certainly induce a sense of calmness in your space. Back in the day, blue vanities were quite common. It's coming back to trend once again thanks to TV shows which feature classic furniture!
4. Grey Vanities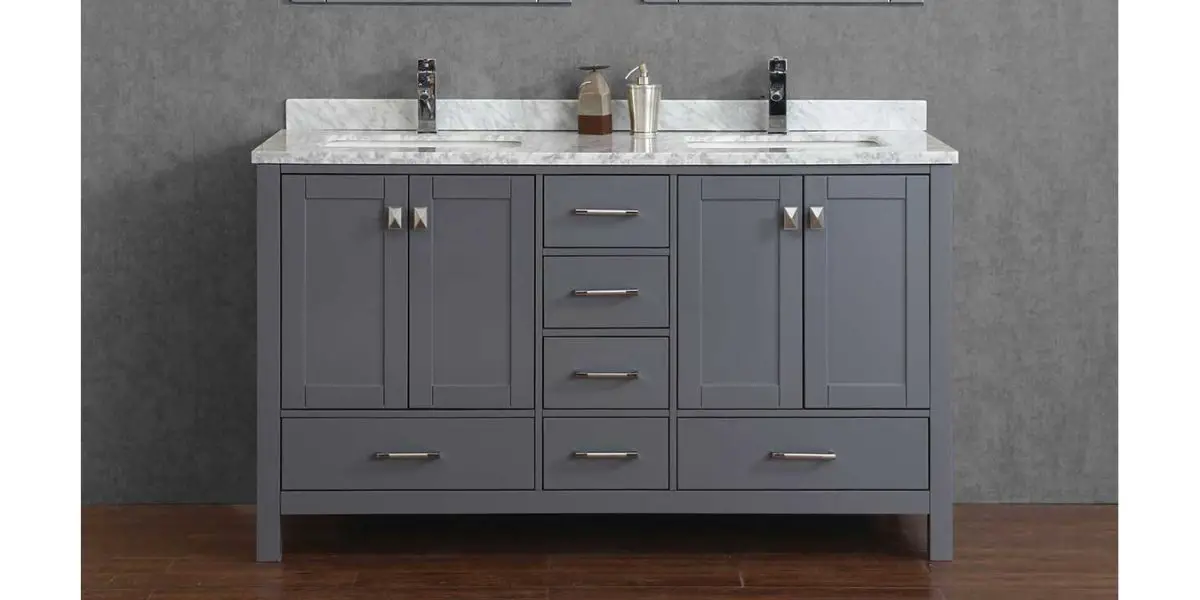 Grey is a hue that is calm, neutral, and well-balanced. It is a somber, emotionless color that conjures up images of formality and sophistication.
Because of their neutral nature, these vanities are quite common in hotels. That doesn't mean you can't use them in homes either. Perhaps you don't want to make a bold statement with your furniture and you like neutrality. Grey vanities are perfect choices in those cases.
5. Elm Ember Vanities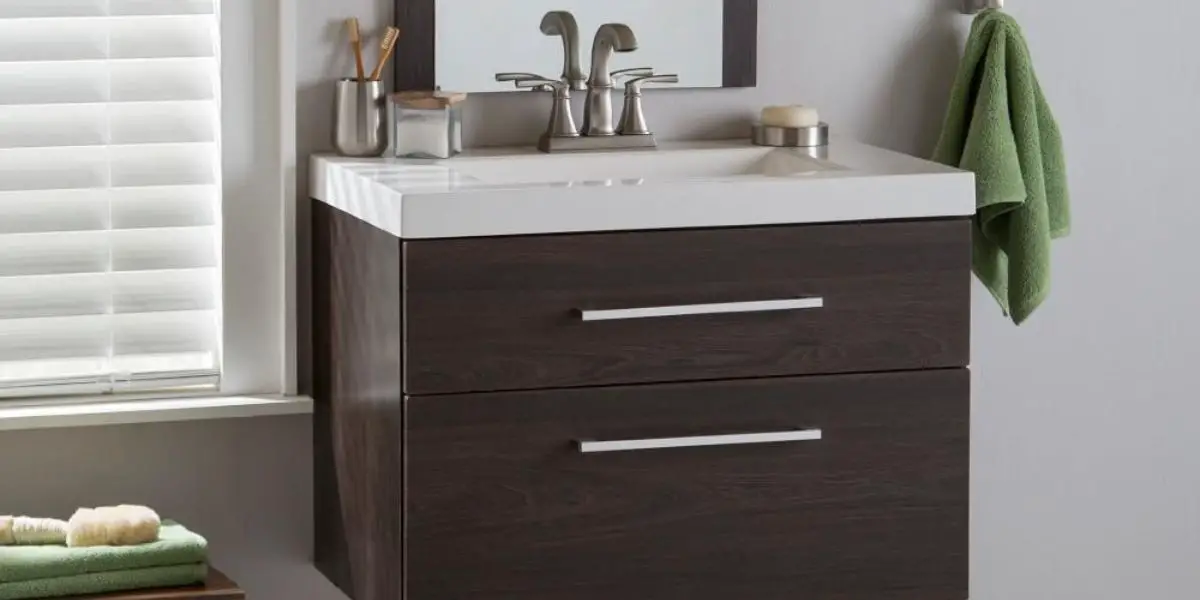 Elm Ember is a color that is as delicate as the name. The color can be defined as dark and woody, but it's tinted in such a way that the darkness appears pleasant.
These vanities are good options for providing a duality in your space – pleasantry, and boldness. The deep, woody tone of Elm Ember resonates beautifully in a lightly colored space i.e. white or cream-colored walls.
6. Biscuit Vanities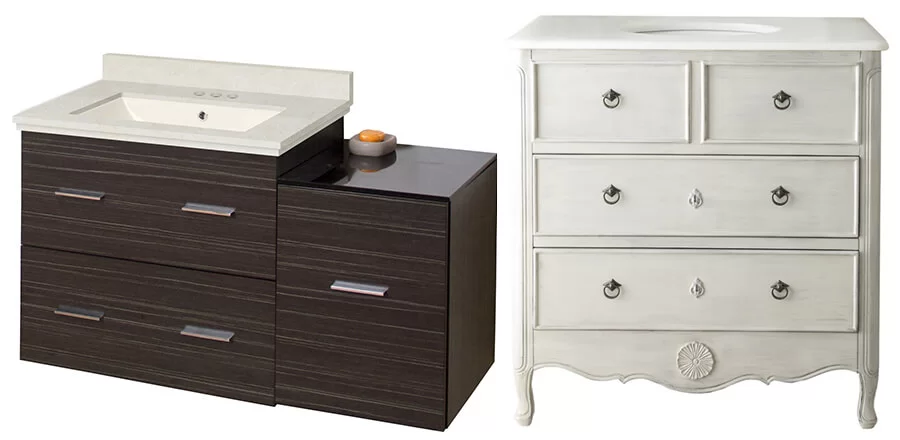 If you want to make your sink seem edible, use biscuit vanities!
Jokes aside, biscuit-colored vanities are a great addition to personify your sink space. It's an in-between shade of white, brown, cream, and wooden. Yet, it's so distinct that it cannot be cataloged by any of those colors.
A Biscuit Vanity is an exemplary choice, but do keep in mind the color choices of other elements in your space. This color will not go well with black or grey, but rather suit complementary colors like white, brown, etc.
7. Rustic Oak Vanities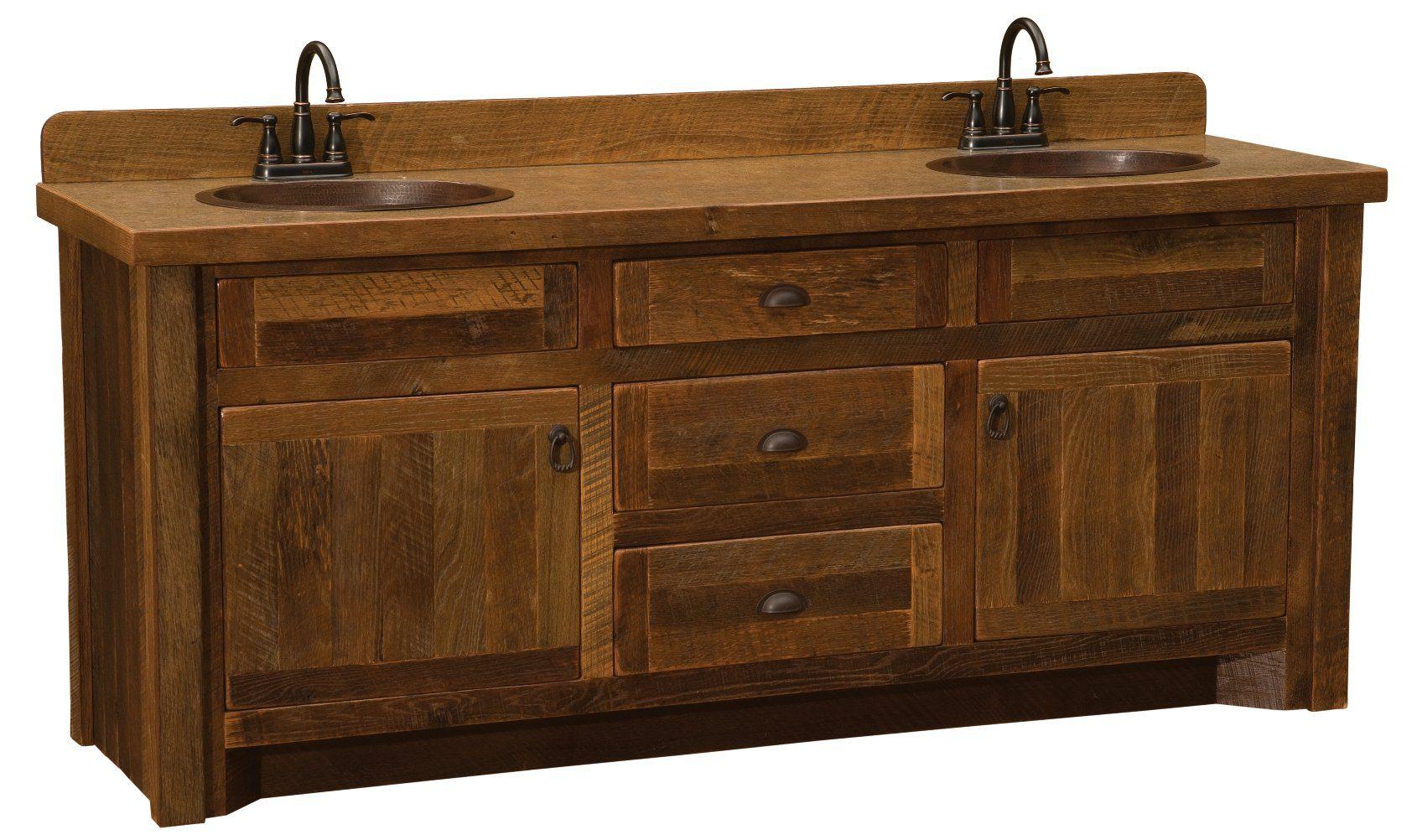 Rustic Oak is a color that falls in between Medium Oak and Mahogany Oak, with a slightly darker grain texture.
If you're a lover of Oak but don't want to appear too common, Rustic Oak vanities are for you. They provide the soil, and earthly feeling that wooden vanities do, but with added panache. Don't believe us? Compare Oak and Rustic Oak side-by-side, and you'll see the difference!
Frequently Asked Questions (FAQ's)
Which color bathroom vanity do I choose?
The color of your bathroom vanity completely depends on your taste. Choose a darker color if you prefer not to take extra care. Lighter colors age quickly from rough use.
What is the most popular color for bathroom vanity?
The most popular colors for bathroom vanities are grey, white, and blue. Wooden tones like rustic oak and elm ember are also common.
What color vanity for a small bathroom?
For small bathrooms, darker colors would be best since cleaning up is going to be a hassle in tight spaces. Darker-colored vanities require less fine cleaning.
What color of vanity goes with a gray bathroom?
Black, White, or Blue vanities suit well with a Grey bathroom. You can use wooden colors too but be careful with the shade, as not all wooden shades suit gray.
What color of bathroom walls match with a gray vanity?
White or gray walls would be ideal for gray vanity. Any other color will just provide an ugly contrast.
What color to paint the bathroom with a dark vanity?
A dark vanity would certainly complement a lightly colored bathroom. But if the vanity is the only dark object in your bathroom, it may look out of place. Thus, always try to keep a theme going.
Conclusion
Now that you know all of the bathroom vanity color ideas, we hope you can make the ideal choice. Remember, you should check reviews of the product in question, no matter the color that you choose. And always keep a theme in mind. If the wall is one color, the vanity is another; the floor is another – your space will look like an amusement park! However, if you like that theme, there's nothing wrong with it.
Don't forget to share!