Are you one of those people who enjoy thinking in the bathroom? Do you feel comfortable there to find solutions to all the problems? If it is, then your intelligent mind probably needs a relaxing bathroom.
We spend loads of time there to refresh ourselves physically and even mentally too. It is the place where we can give some time to ourselves. So, having it spacious is important.
But if your bathroom doesn't have enough space, that would be an issue. However, there are plenty of ideas, and by adding those, you can bring change to the outlook.
Here's the solution- this article covers small bathroom decor ideas and all the crucial things you need to know for small bathroom decor.
Without further ado, let's jump into the article right now!
What's Trending in Bathroom Decor?
The bathroom has never been the same. It has been changing over time since ancient times. If we exemplify, in 2023, bathroom trends in the USA are quite different from those in prior decades.
For many reasons, it is best to decorate the bathroom in harmony with the trend.
When it comes to renovating your bathroom, set your goal to go trendy. Because after completing the decoration, you will not want to think about it for a long time.
Now let's take a look at the following ideas that are trending now.
Floating cabinet
Decorating with green plants
Setting up space-saving tubs
Using back-lit modern mirrors
Fixing up a quartz countertop
Painting with durable warm colors
Installing stylish-look sinks and faucets
These tasks are becoming common while decorating a bathroom in 2023. However, you may go forward with your choice and preferences. These are mentioned to let you know what is trending right now.
Get the guide: Small bathroom corner cabinet ideas
How to Decor a Small Bathroom? Things to Know Before the Next Renovation
Now let's focus on the problem of having a small-spaced bathroom. But this is becoming a common problem nowadays.
Having a spacious bathroom is great, but with proper decoration, a small room can look organized and spacious with a few clever tricks.
You need to have a proper plan before renovation. Then, lack of space won't be a big problem. So, the first and foremost thing is to know what to plan before getting the ball rolled.
I have segregated the steps into the following parts for you to have a clear renovation idea.
Let's get to know them one by one.
Light Fixtures
It is well-known that the kitchen and the bathroom- these 2 places should be lightened enough. The reason is obvious.
Regardless of the space that you have in the bathroom, make sure it has enough light for every corner of the entire space. You don't have to overlight it, though. This will increase the temperature level.
You can use ceiling lights. And also try to use modern bathroom mirrors. That will allow you to avoid extra lighting near the vanity and mirror.
Use Wall Shelves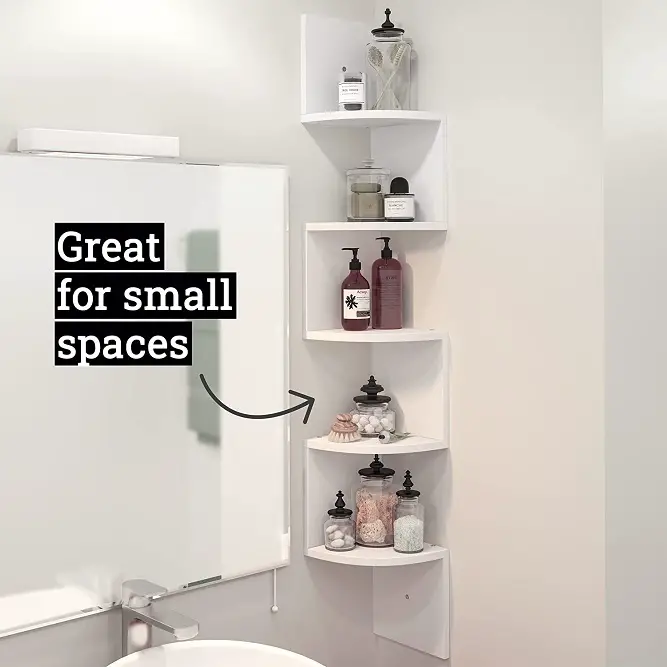 Floor space is the most precious thing in small bathrooms. Try to save every inch of that. It is better to free up floor space to ensure cleanliness in the bathroom. Then what about the pieces of furniture? Well, use walls.
You can install wall-mounted shelves in a convenient place. Place it around 2-3 feet above the floor. If you get space to place more than 1 shelf, do so. Place it 12-18 inches above the bottom shelf.
Thus, you can manage to create enough storage without losing space in your bathroom.
Move Your Towel Rack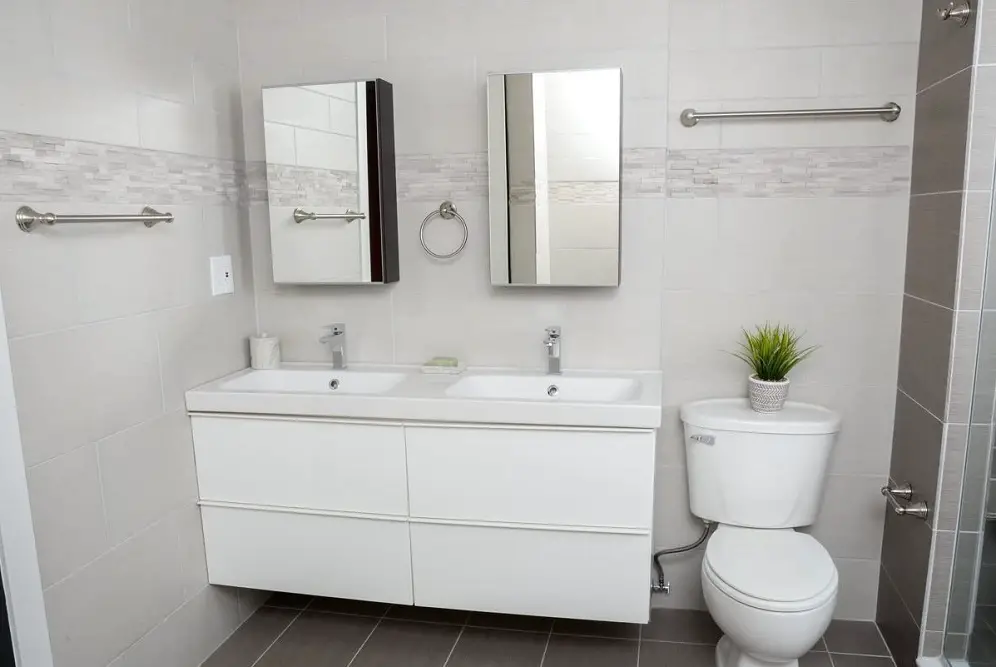 Rethink the placement of your towel rack. That may help you utilize more space. An over-the-door towel rack is a good option for small bathrooms. In addition, it will prevent your walls from looking like a mess.
If you want to make full use of every space in your bathroom, you can use bathroom doors as towel racks, too. Try to use those towel racks that offer more than two, three, or even more bars. Choose a perfect one according to the number of bathroom users
Choose Shower Curtain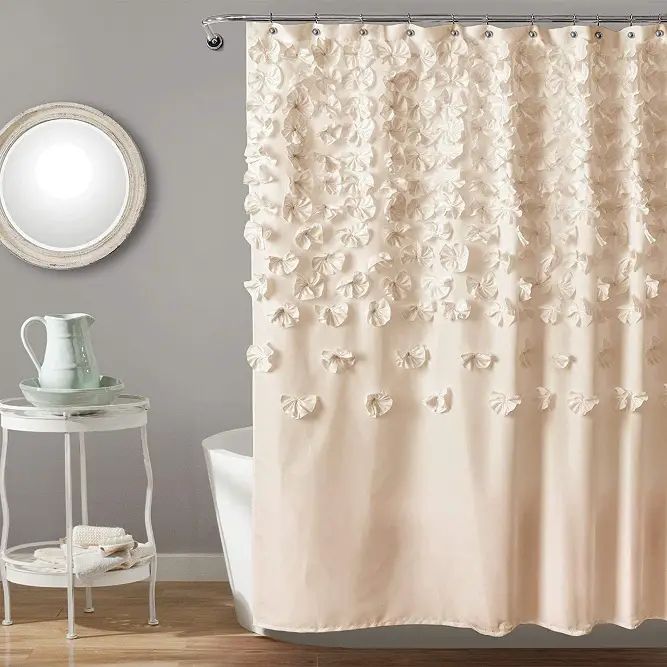 Choose a shower curtain instead of a glass shower door. The shower door takes up some space, and it also makes a bathroom feel smaller and crowded. So avoid doors and use lightweight, thin polyester curtains.
There are a variety of shower curtains in size & dimensions. It is best to choose a longer one and hang it higher. That creates an illusion and will help to look your bathroom a little bigger than it actually is.
Upgrade Your Hardware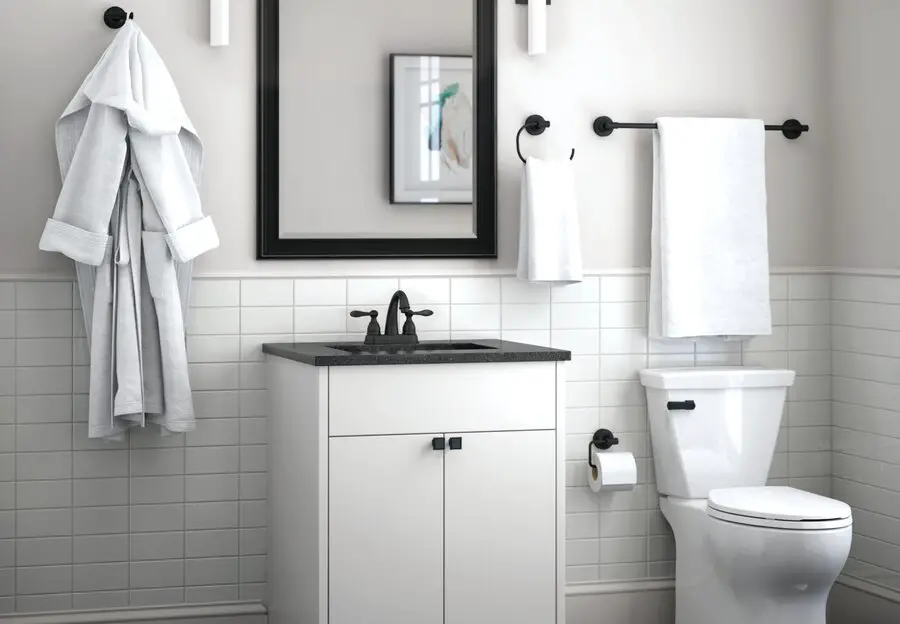 Upgrading hardware is another effective way to decorate a small bathroom. You might be thinking about how it can help in saving space. You can use this trick when you are desperate to save every inch that you can.
There are so many essential bathroom hardware which can't be removed. So what you can do is, upgrade those items with smaller ones. For example, you might decide to switch to a smaller mirror if your mirror is too large.
Take a look at all the hardware like shower, soap dishes & dispensers, caddies & baskets, toilet roll holders, bath & shower mats, toilet brushes, and bathroom bins- change the bulky ones.
Keep It Neutral Look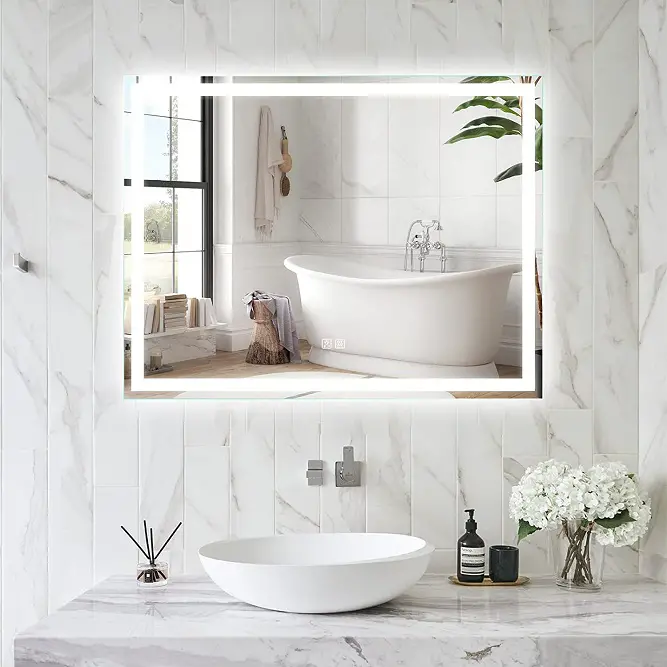 Choosing neutral color composition is a good trick for small bathroom decor. Because neutral tones help small bathrooms feel bigger and warmer. Also, a neutral-looking bathroom offers a more open and clean visuality.
Choose neutral colors such as gray, cream, ivory, and shades of white for painting the walls. These colors make a space brighter and offer a good composition for a better outlook.
You can also choose a neutral color for floor tiles. The neutral colors also provide an eye-soothing outlook. That is also important for a small bathroom.
Install Individual Towel Hooks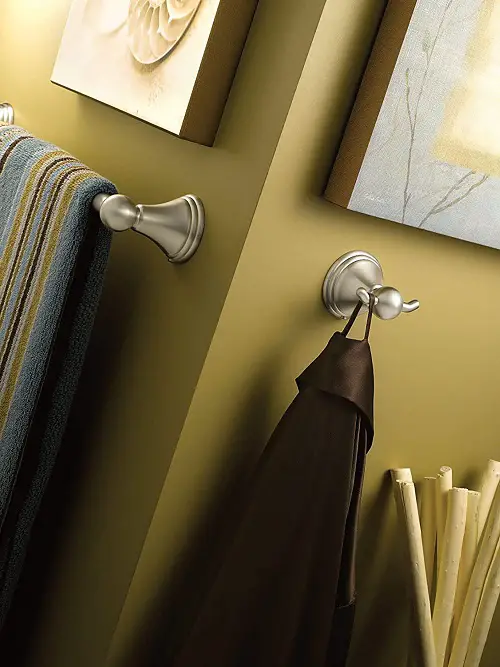 Installing individual towel hooks is another great idea to save space in the bathroom. Individual towel hooks are mainly popular for their space-saving facility. It takes very little space, and you can install so many hooks horizontally.
If several people use one small bathroom, then towel hooks come in handy for saving space. Towel hooks come in many different sizes and shapes.
Some of them are very small-sized but help a lot with towel management in the bathroom without wasting any space. Plus, you can install them anywhere you want.
Use a Shower Caddy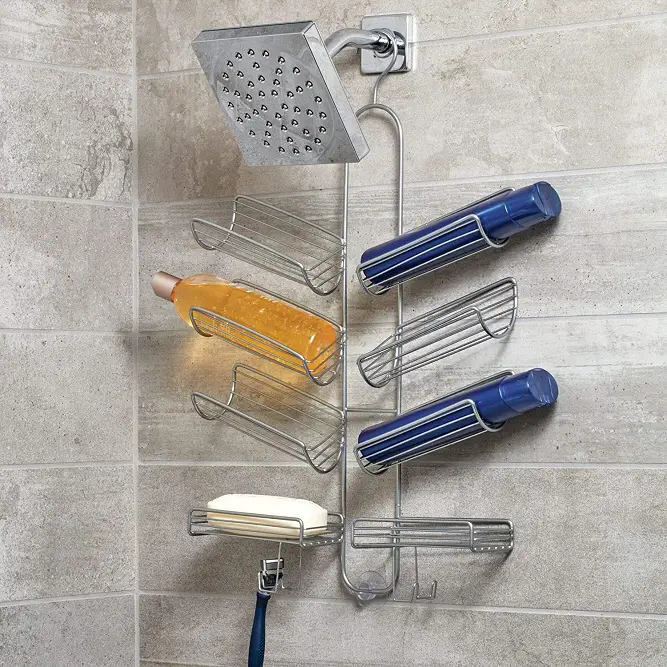 Toiletries like shampoo and soap are essential for shower time. So these items should be well-arranged and kept in a perfect place. Use a shower caddy for a better and easy shower.
Using a shower caddy will help you to keep shower products without wasting any space. It will be best if you can manage to install that in any wall corner of your bathroom.
The shower caddy comes in various sizes and designs. Choose one that is not so big and easily can be fixed into any place in your bathroom.
Think about Bathroom Vanity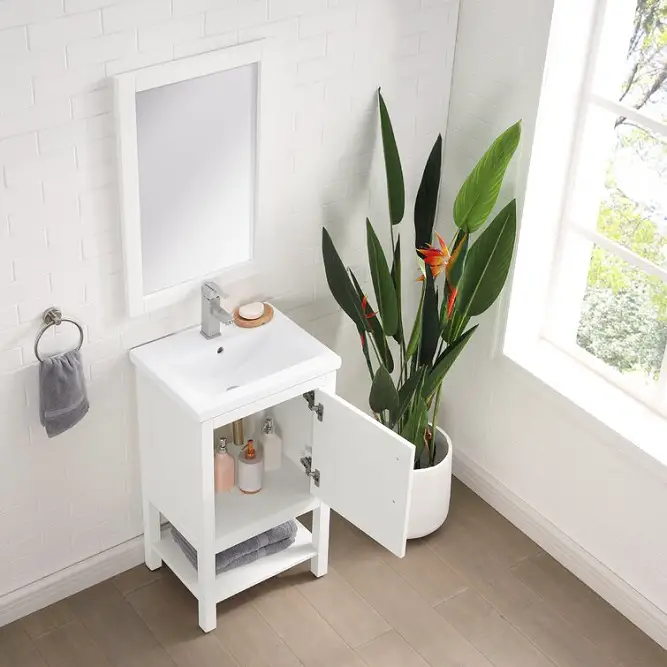 You will have to be careful and pay attention while choosing a bathroom vanity. It requires a good amount of space and could be an issue for small bathrooms.
When it comes to selecting the vanity for a small bathroom, the size of the vanity needs to be considered so seriously. Get an actual idea of the overall space of your bathroom before purchasing the vanity. Taking into account the size of the room and your floor plan will help you make the right choice.
There are different types of bathroom vanity in the market. Most of them are in two common sizes. Those are single and double vanities. For a small bathroom, get the single one that offers a single sink.
Use Corner Cabinet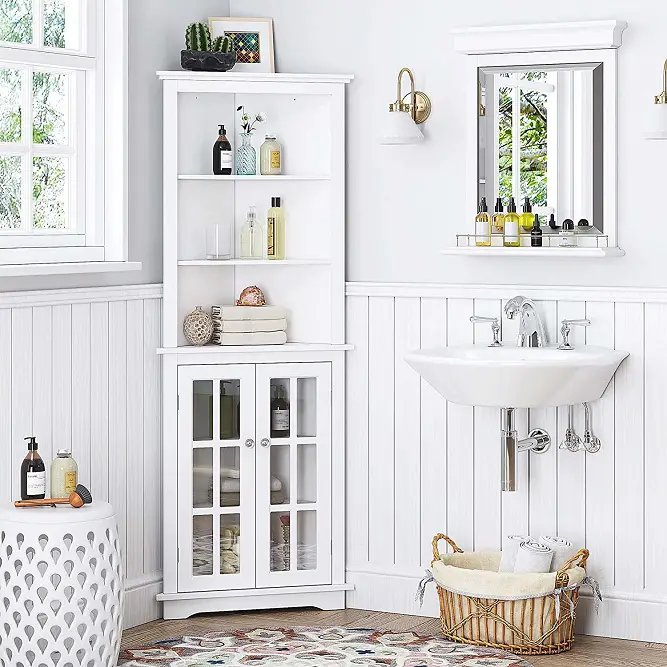 You probably have noticed in many bathrooms, the corners remain unused and overlooked. You can easily set up a corner cabinet there, which can be the main storage for your bathroom.
Cabinets require notable space. But when you are using corner cabinets, that will take only an unused space. Moreover, it would be preferable if you could find a cabinet that could be installed in the corner walls.
A corner cabinet will provide enough storage but doesn't take much space for itself. That is the great part of a corner cabinet, and it is very helpful for a small bathroom.
Utilize Back Of the Door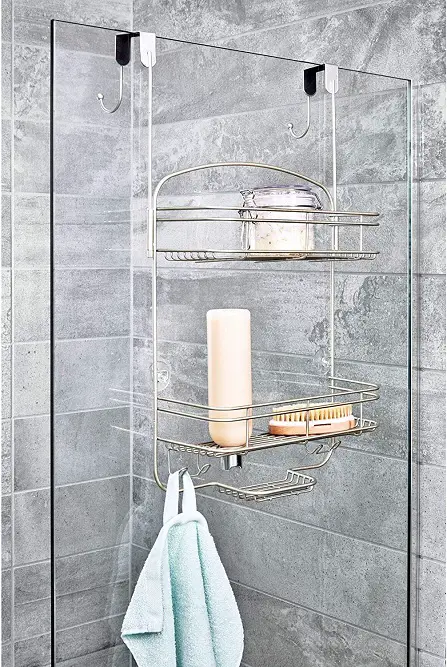 Inadequate space issues can be solved with some tricky measures. Using the door is one of the tricky ideas. Utilize the back of the door to save space on the ground. You can use the door for setting up over-the-towel racks and hooks.
10 Best Budget Tiny Bathroom Decor Ideas 2023
1. Make Your Tub Into a Shower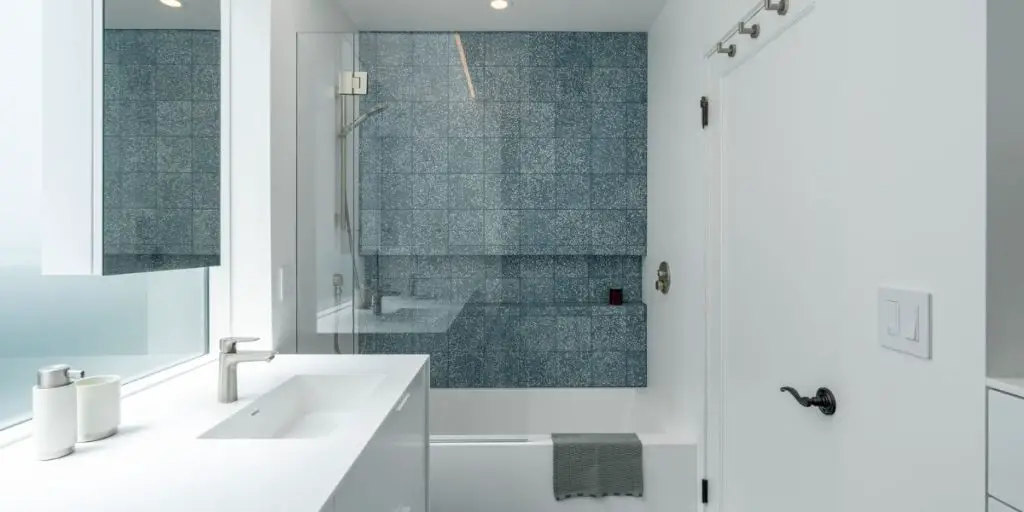 If you prefer taking a shower and feel comfortable with it, then you can consider converting your bathtub into a shower. That will allow you to free up a good amount of space in a 5-foot by 2½-foot area. Plus, it would be cost-effective too.
2. Set Up a Tiny Bathtub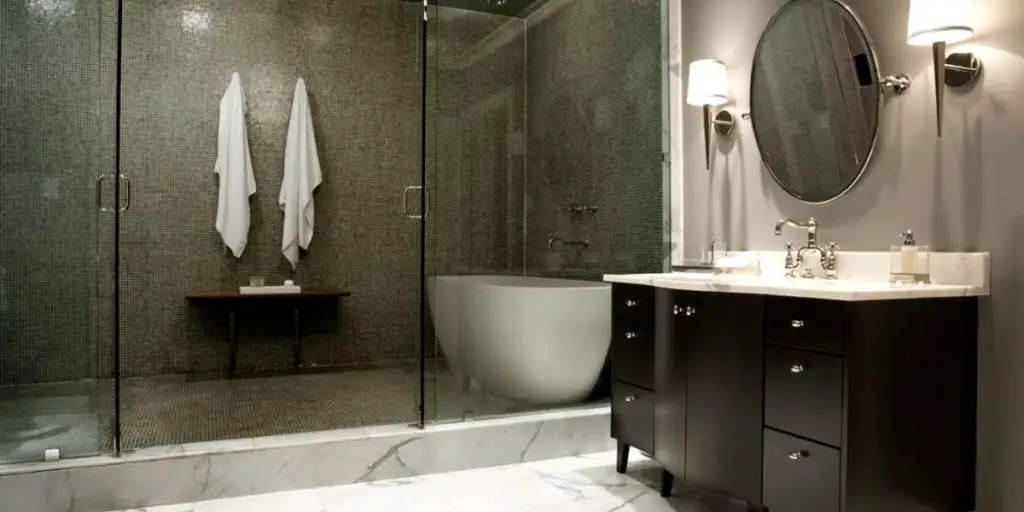 If you love to take a bath instead of a shower and use a tub frequently, then you can opt for a tiny oval-shaped bathtub. Many companies are coming up with smaller models that fit into small bathrooms. And it also looks so stylish.
3. Choose the Right Vanity
You will have trouble fitting your vanity into a small bathroom if it is too big. For a small bathroom decoration, this is very important to choose the right vanity. Try to pick a single vanity instead of a double one.
4. Use corners for sink & cabinet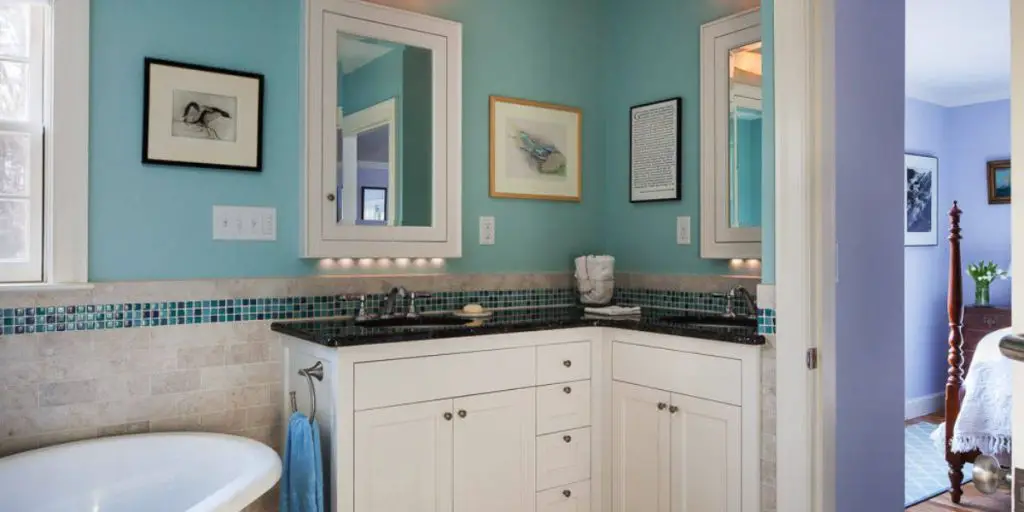 Try to fix the sink and the cabinet in the corner of the bathroom if you can. Manage at least one of them on the corner wall. That will help you to make your bathroom spacious. It also looks great in a small bathroom.
5. Tricky decor that increases storage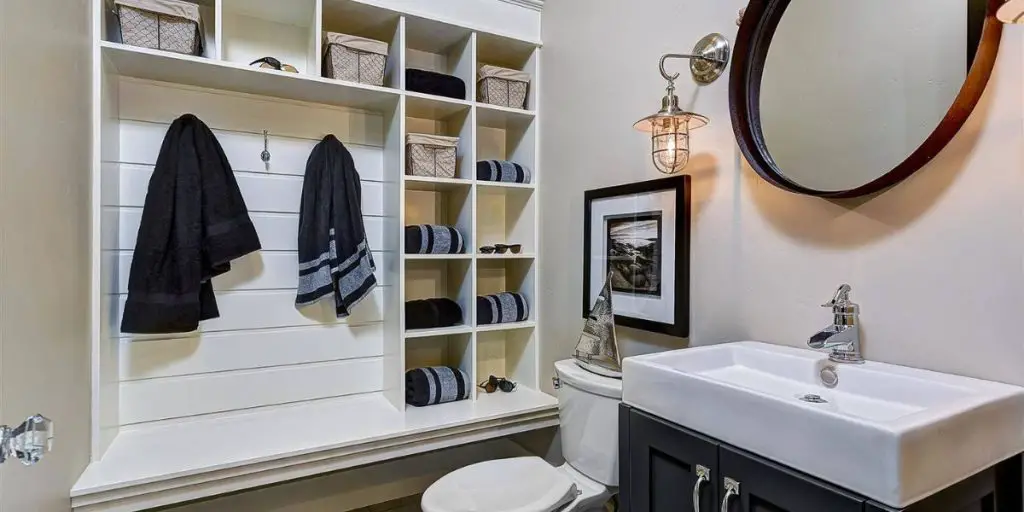 Focus on maximizing the space of your tiny bathroom. Using the bathroom walls as storage is the best way to do this. Decorate the walls in such a way that allows built-in storage for necessary things for a bathroom.
6. Include larger patterns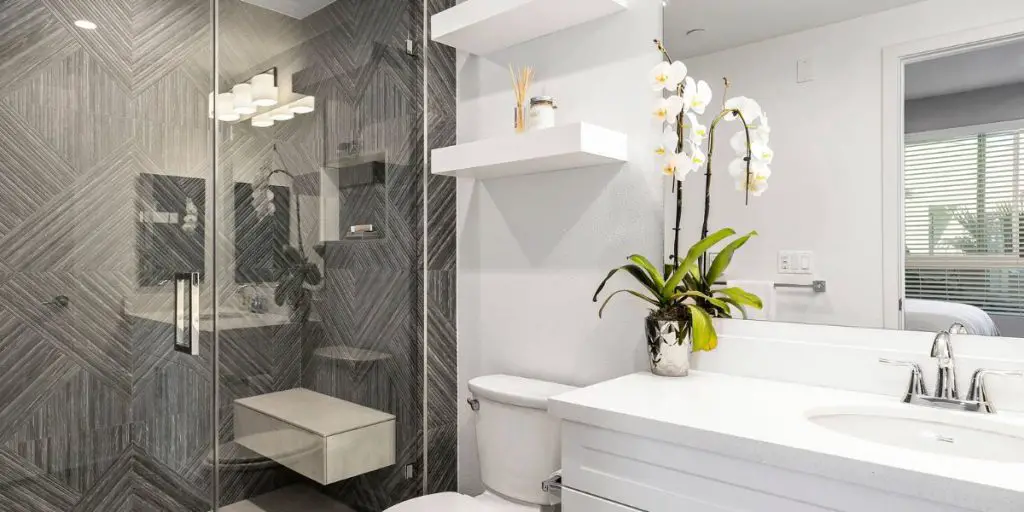 Try to include larger patterns in bathroom design and texture. It may sound contradictory, but it is effective for small bathroom decorations.
For example: If you have a small space, go big with your tiles. That helps to create a large and open visuality. And try using the same tiles on the floor and walls.
7. Fix the Mirror Into Cabinet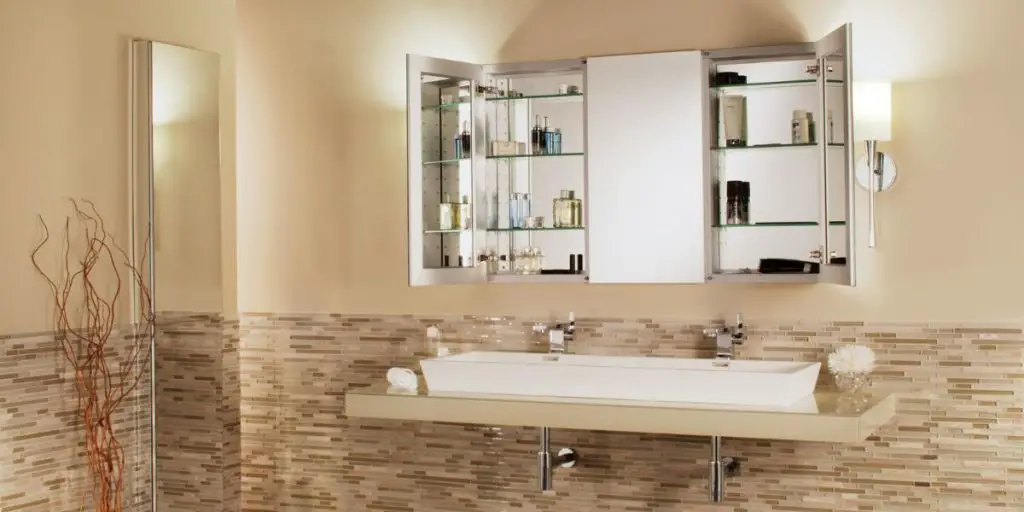 If your wall space is also limited and getting clumsy with so many wall-mounted things, then you can fix your mirror into the medicine cabinet.
It will come up with two benefits in one. First, you can store toothbrushes and other toiletry items in the perfect place. Secondly, you will get a versatile mirror.
8. Add Some Bold Colors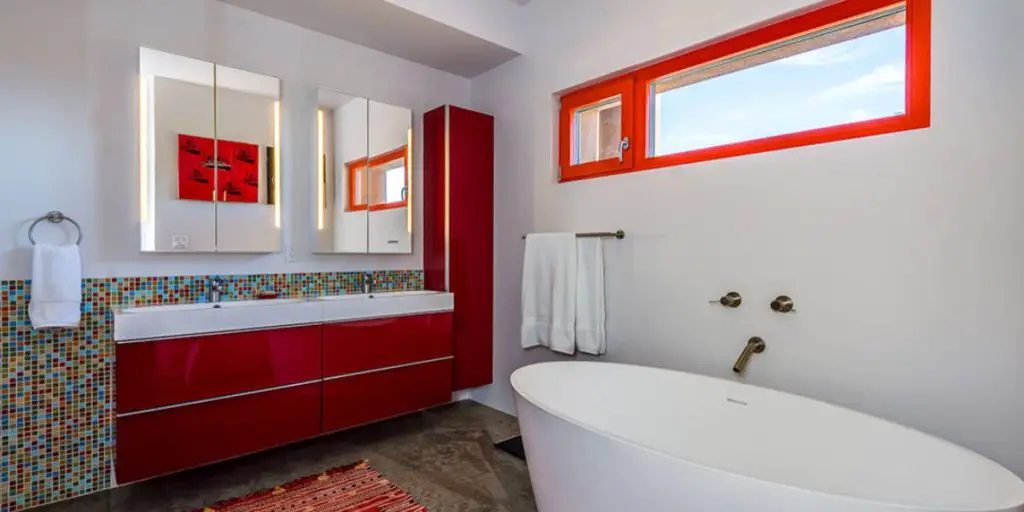 Don't skip adding bold colors to your bathroom. You can use bold-colored furniture, wallpaper, and curtains in your bathroom. It will look well-decorated and help to distract the mind from thinking about the size. And your bathroom would feel bigger.
9. Include a trendy bath tray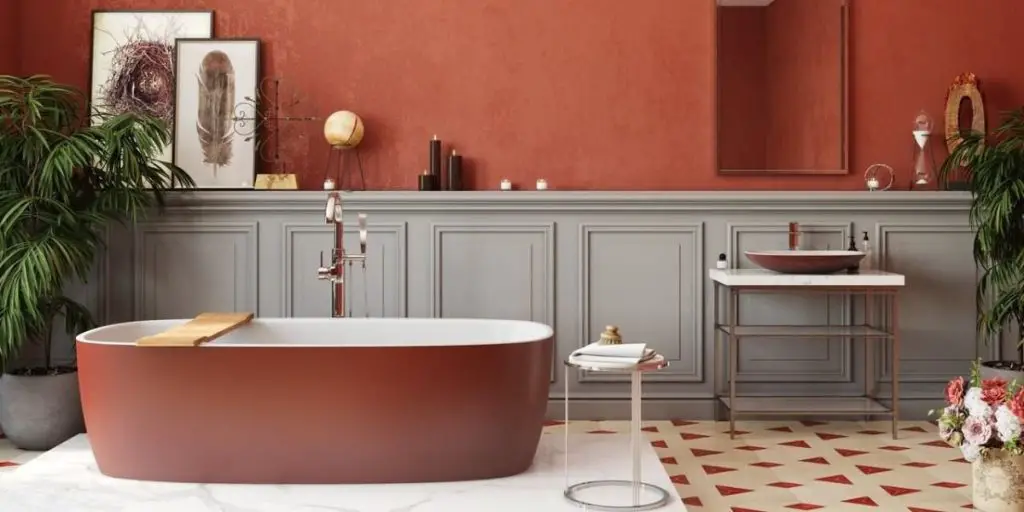 Despite having a small bathroom, you will never feel a shortage of storage. Include a bath tray which has already become popular for small bathrooms. They can easily be moved from one place to another. You can store some of your essential toiletries there.
10. Wide windows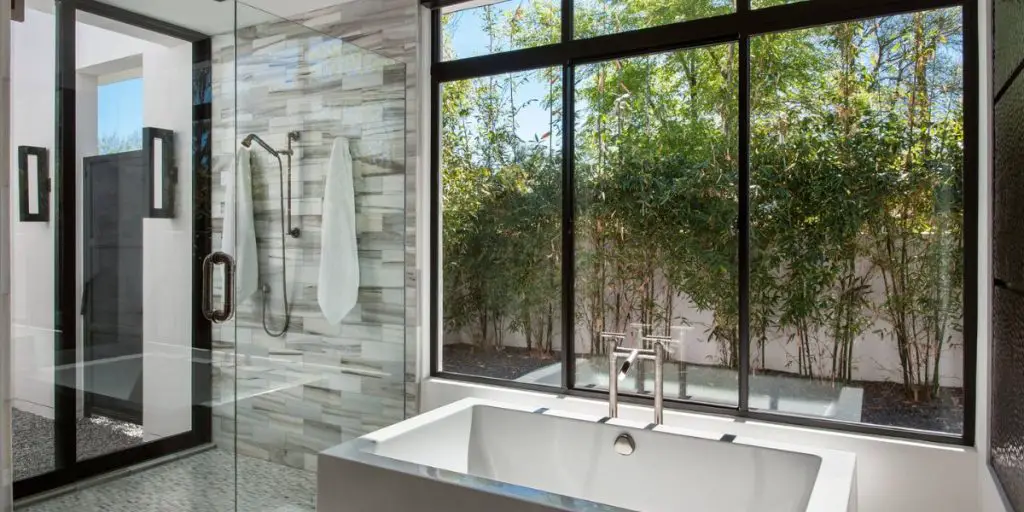 Every bathroom needs a proper and effective ventilation system. Small bathrooms are notorious for excess humidity. A narrow window in your bathroom can cause moisture damage due to high humidity levels.
Frequently Asked Questions (FAQs)
What color towels are best for a gray bathroom?
There will be a lot of options for you. You can choose teal and turquoise, white and light gray, yellow, pink, or any other dark-colored towel for your bathroom.
What color walls are great for a gray tile bathroom?
Pick a beautiful shade of off-white color for grey tile. You can also choose blue or orange colors for your gray color bathroom tile.
What is the best color temperature for bathroom lighting?
Your bathroom light should be mimicking the natural light and be well efficient in creating a bright and white illusion. For most of the bathrooms, bulbs should have the following specification: Emit between 2,700 and 3,000 Kelvins (K) and Have a Color Rendering Index (CRI) of over 80.
What color towels are best for a beige bathroom?
Pink, silver, or forest green color towels can be good options for a beige bathroom.
What color shower curtains are best for a gray bathroom?
White, off-white, yellow, and light-gold color curtains look fine in a gray bathroom.
What is the best paint color for a small bathroom?
Neutral colors such as gray, cream, ivory, and shades of off-white colors are best for painting a small bathroom.
Conclusion
Here, we have explained all the major aspects that you need to know before decorating a small bathroom. Try to follow all the tricks and tips for a relaxing bathroom. Your bathroom will become your favorite room in the house if everything is done properly-good luck with your renovation.