Black kitchen sinks are becoming a popular trend for remodeling and building. Many people are moving away from the traditional steel or plain silver color on their kitchen sinks and modernizing them with a black appeal.
The prominent part of using a black kitchen sink is the looks. But you can't just go out there buying a kitchen sink solely for the looks of it, as there are more things to consider. That's why we suggest learning about the black stainless steel sinks pros and cons beforehand. It will help you determine whether it's the right thing for your kitchen, apart from the aesthetics factor. So, let's not waste any more time and get right onto it.
What is a Black Stainless Steel Sink?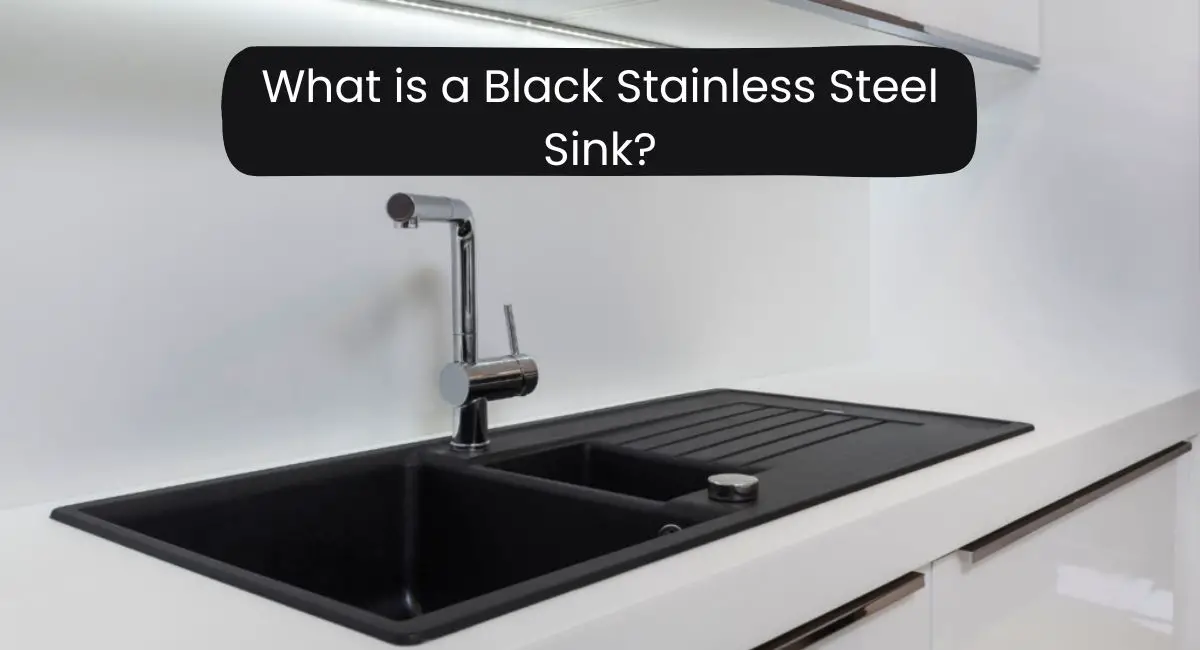 The most exciting fact about black stainless steel is that they are simply stainless steel with a black coating on top. So, as a material itself, you are getting all the values of stainless steel renowned for durability.
Along with the stainless steel, they typically have a PVD coating on top of them. The coating is almost like a thin-film coating where they first vaporize a solid material inside a vacuum. And then deposit that vapor on the surface of the steel.
Most of the time, these black stainless steel have a matte finish which is the most popular choice for these kitchen sinks.
Why is a black stainless steel sink most suitable for a kitchen?
Well, what makes a black stainless steel sink most suitable for a kitchen is the color itself. Since the sink will be all black, there will be lower chances of getting smudges or scratches that are visible to you. This makes black stainless steel a much more low-maintenance option than traditional ones.
Also, a black set up in the kitchen can be very easy to put together with appliances of other color schemes. Black is something that goes well with almost any color and creates a contrast in appearance. That makes black stainless steel sinks an excellent choice for the kitchen.
How is black stainless steel different from regular stainless steel?
If you compare black stainless steel with any regular stainless steel, there aren't many differences in the material. The composition and quality of the material is pretty much the same.
The only difference between the two is in the color. Black stainless steel usually has a coating of polymer-based paint. The coating is very protective and durable, ensuring the color stays on the steel for a long time.
Another factor that makes black stainless steel different from regular stainless steel is the option for matte finishes. Having a matte finish on the material gives it a much more refined look and makes it more resistant to scratches.
Importance of Choosing the Right Sink for Your Kitchen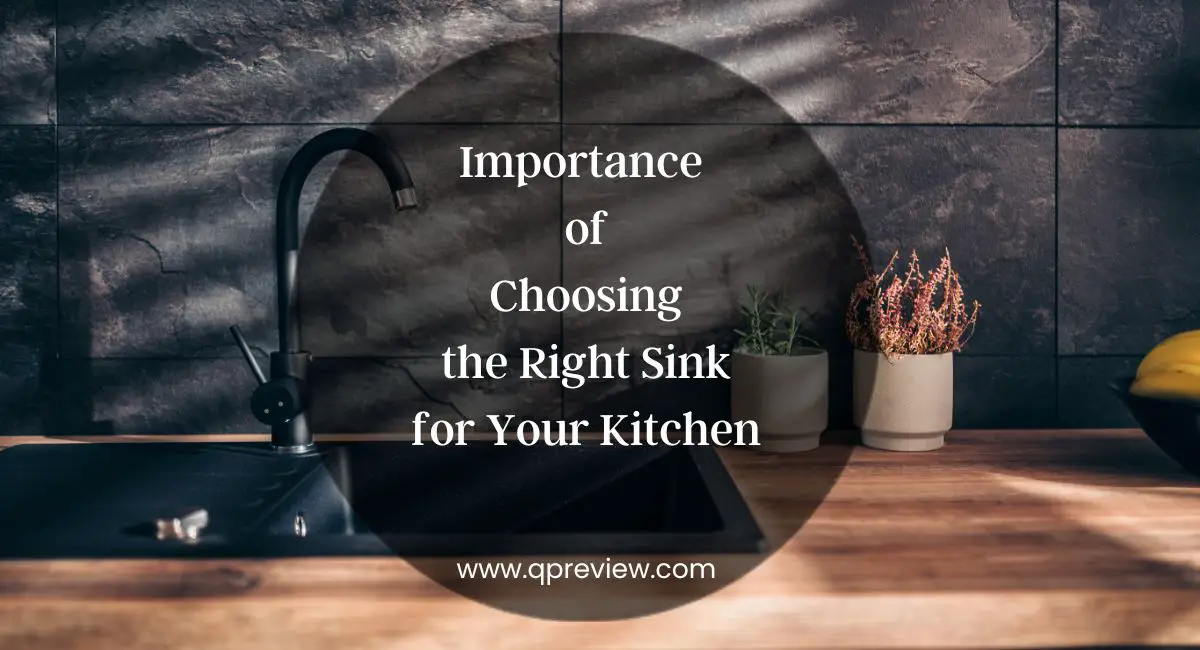 A kitchen sink is something that you will use every day of your life unless you go on a vacation. Using it every day makes it the most important part of your kitchen. So, choosing the right kind of sink for your kitchen is crucial as people will notice this part of your kitchen the most.
When choosing a sink, you must consider its looks, size, maintenance, and purpose. Regarding the looks, you must make it compatible with the other kitchen appliances. You have to make sure it goes along well. Otherwise, it just looks off-place and awkward.
You must also consider the size because you can't even fit it in your kitchen without the right sink size. For instance, you can't put a large sink if you have a smaller kitchen as it won't fit the kitchen size. And even if it fits in the kitchen, the appearance will be awful.
As you will use the sink regularly, you must consider maintenance. Getting a sink that's easy to clean and maintain is much better than having a kitchen that is difficult to clean and maintain.
Finding the right sink is crucial to making your kitchen look appropriate and functional. Because once you install a sink, you can't keep replacing or changing it frequently; hence, choosing the right one beforehand is essential.
Black Stainless Steel Sink Reviews: Exploring the Pros, Cons, and Alternative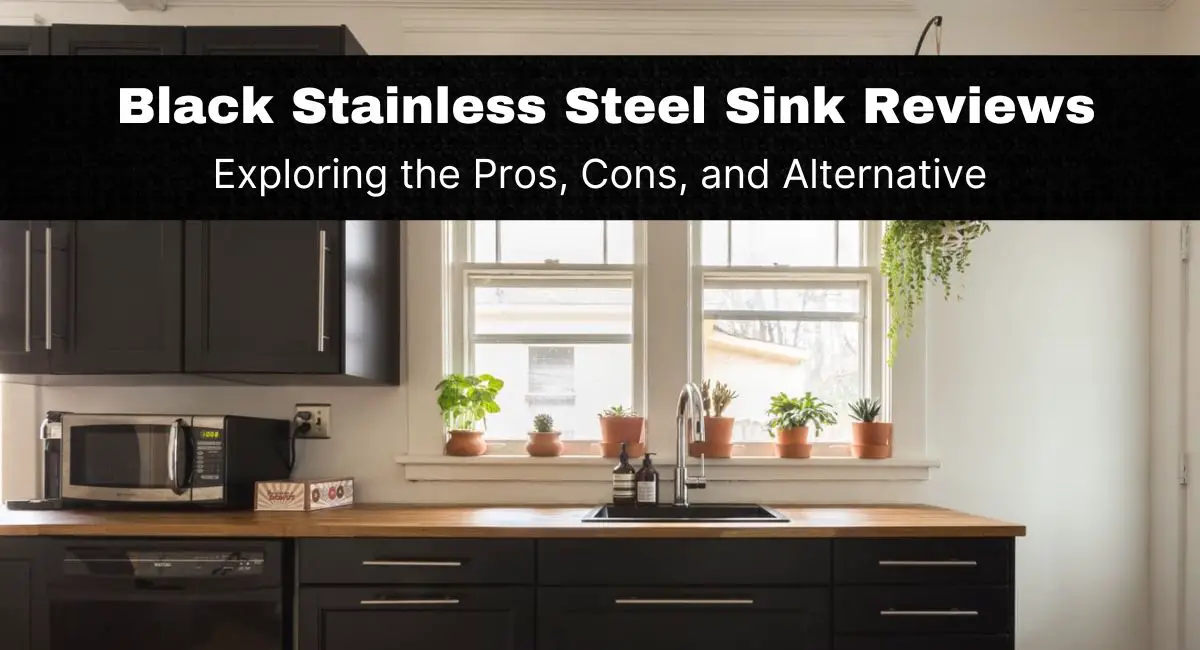 Choosing a black stainless steel sink is firstly about the looks. Looks are the most unique factor on a black stainless steel sink, making them a popular choice. But that's not the only reason for installing black stainless steel.
So, let's check out the pros and cons of a black stainless steel sink, along with the alternative options.
The Key Benefits of Black Stainless Steel Sinks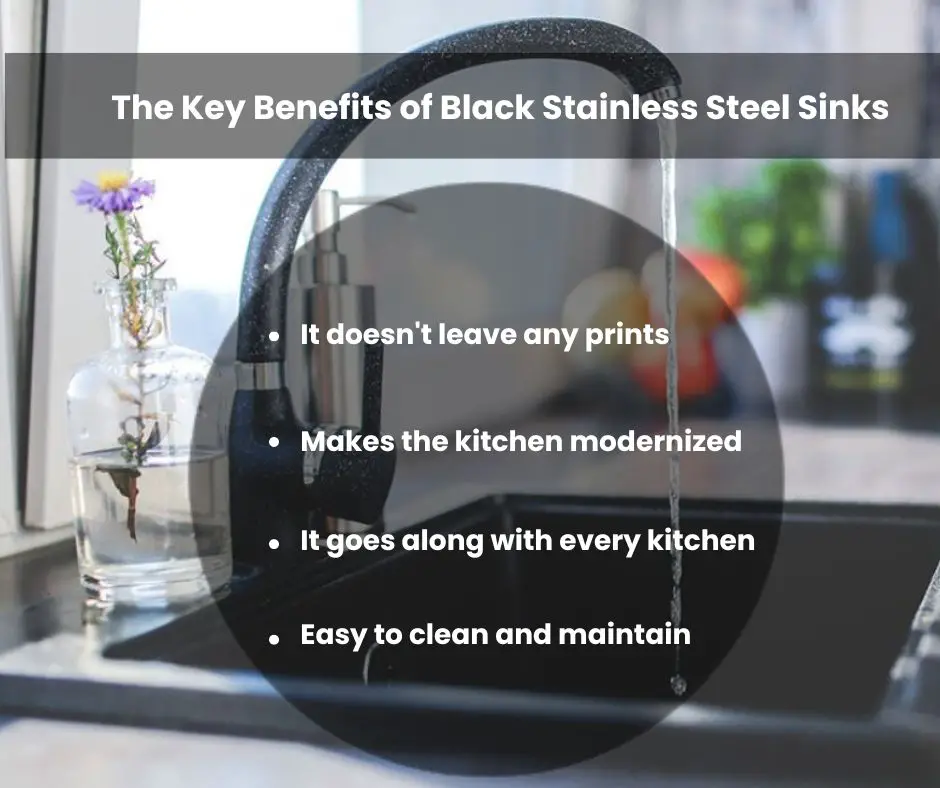 First, we will discuss the key benefits of using a black stainless steel sink over a regular one. Going through these should explain why choosing the black stainless steel sink may help you set up your kitchen.
Makes the kitchen modernized
Having a black sink already makes it much more unique than a traditional white sink. The uniqueness also turns out to be modern and stylish in almost any kitchen setup. You can go with matte finishes to achieve a much more modern appearance in the kitchen sink.
It goes along with every kitchen
The black sink will go along with any other kitchen appliances you may have. It will create a great contrast in the aesthetics regardless of the colors of your other kitchen appliances. This also allows you to add newer kitchen appliances of any color without thinking twice.
Easy to clean and maintain
One of the unnoticed advantages of using a black stainless steel sink is the easy-to-clean factor. Well, it's only obvious that when you have a black sink, the marks or dirt won't be much visible. Also, you can clean a black sink simply with some water and a rag. No special cleaners are required.
It doesn't leave any prints
What makes black sinks great is that they can hide fingerprints and various smudges on the sink. Especially if your black sink has a matte finish, it can easily mask the smudges and fingerprints without any cleaning whatsoever.
Black Stainless Steel Sinks Pros: The key advantages of Black Stainless Steel Sinks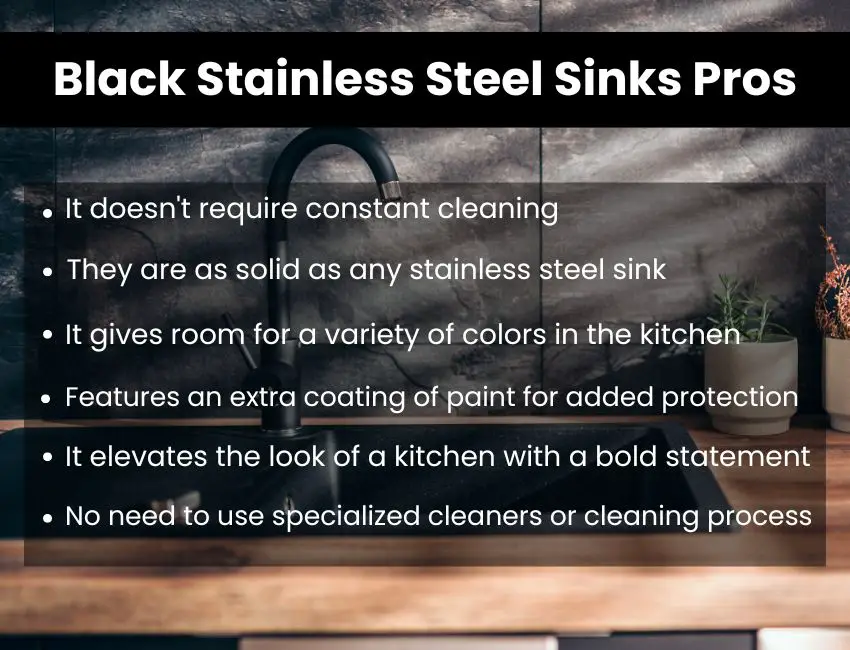 Even though you can pretty much get an idea of the key benefits of using a black sink, there are several other pros of such a kitchen sink. Let's look at those before we get down to the bad parts.
●       It elevates the look of a kitchen with a bold statement.
●       It gives room for a variety of colors in the kitchen
●       It doesn't require constant cleaning
●       No need to use specialized cleaners or cleaning process
●       They are as solid as any stainless steel sink
●       Features an extra coating of paint for added protection
Black stainless steel sink cons: The common problem with Black Stainless Steel Sinks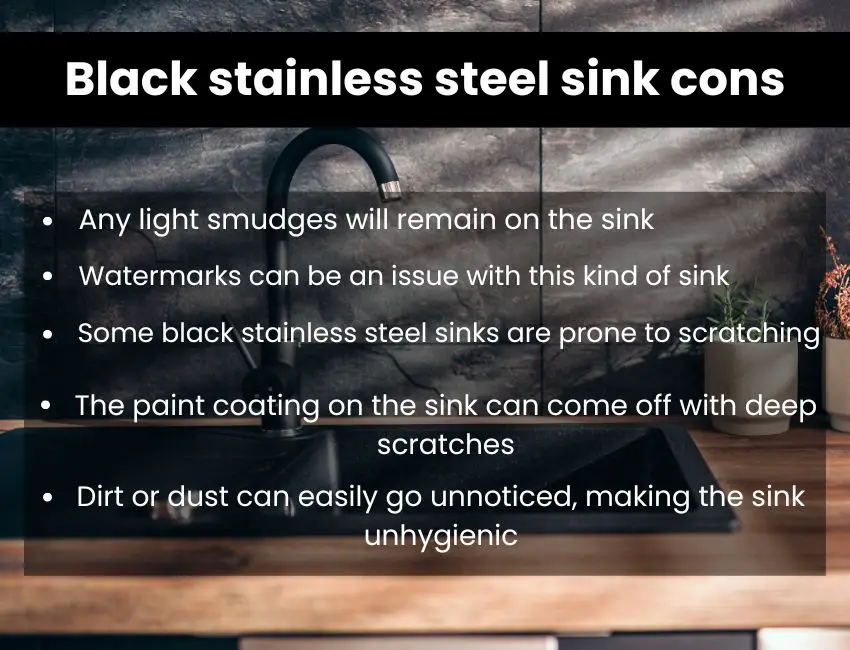 Like anything else, black sinks also have their fair share of problems. You will encounter several issues, particularly with a black stainless steel sink. Here's a quick look at the disadvantages of black stainless steel sinks –
●       Some black stainless steel sinks are prone to scratching.
●       The paint coating on the sink can come off with deep scratches.
●       Any light smudges will remain on the sink.
●       Watermarks can be an issue with this kind of sink.
●       Dirt or dust can easily go unnoticed, making the sink unhygienic.
As you can tell, these are some drawbacks you can easily deal with and resolve. They aren't serious problems to ruin the aesthetics of your kitchen or make it dysfunctional.
The alternative of Black Stainless Steel Sinks
Not convinced with the idea of a black stainless steel sink? Well, don't be upset because there are some beautiful alternatives you can try out. These alternatives also feature a dark and unique look. Let's check them out one by one.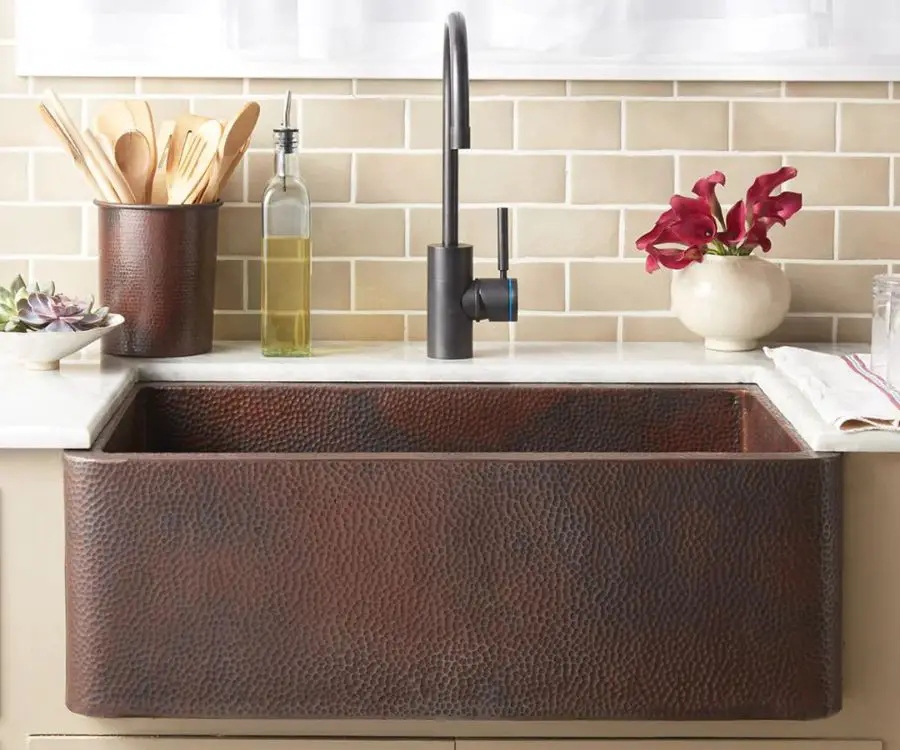 If black steel isn't suitable for your needs, then aged copper may add great versatility to your kitchen. They come with a brownish look and have copper as the material, which can be an exciting option for your kitchen sink.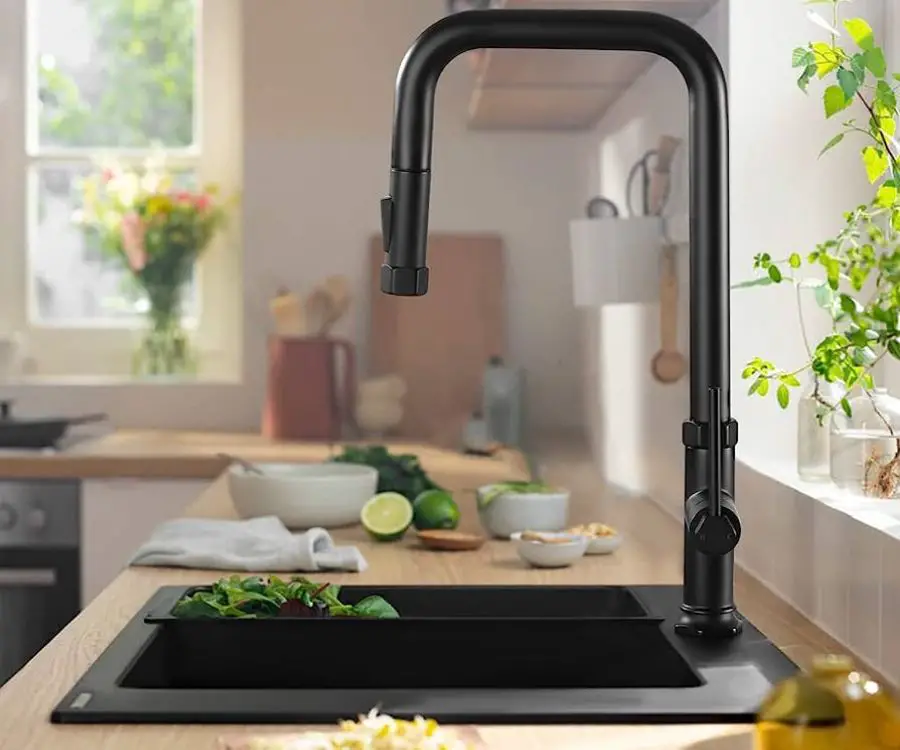 A black brass sink is a great alternative to a matte black kitchen sink. It's the perfect choice to add texture to the kitchen, which is missing on a black stainless steel option.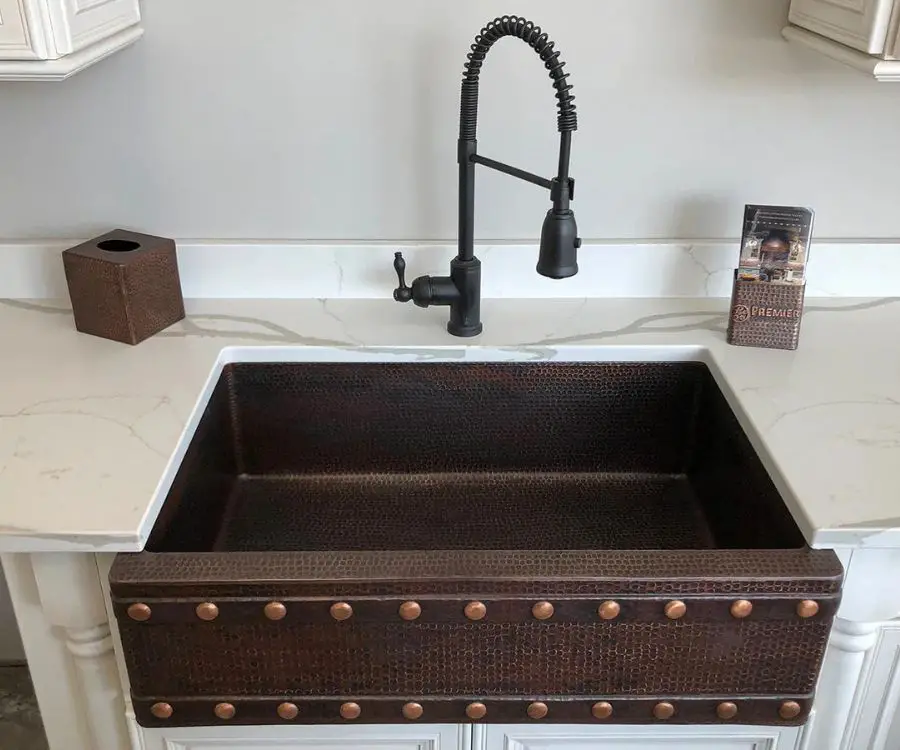 Getting a bronze copper sink may also be an alternative to black steel sinks. Significantly, the particular color pattern or texture of the bronze copper sinks matches pretty closely to a matte black stainless steel sink.
Other than these three options, you always have the option to go with granite sink choices. They have the same black appearance with a difference in material quality, as they are made of granite composite.
Stainless Steel Sinks: Understanding the best brand, Price, and Installation Costs
Once you have decided on the type of kitchen sink, in this case, a stainless steel sink, you have to go through the brands, prices, and costs. This way, you get the best possible sink for your kitchen that suits your needs the best.
To help you in that process, we will look at the best brands for stainless steel sinks and their prices. We will also discuss a bit about the installation costs.
Best brands for kitchen sinks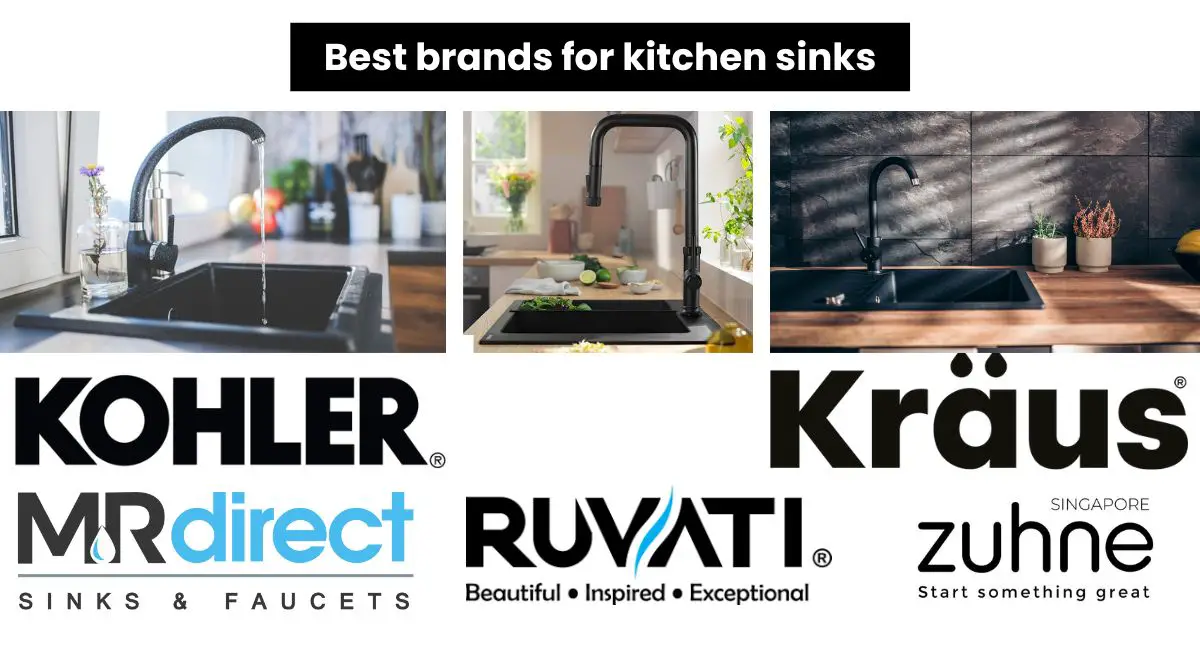 While there are plenty of brands out there producing some fantastic kitchen sinks, there are some brands that make the best ones. Here are some top brands when it comes to stainless steel kitchen sinks.
Kraus sinks are very popular for their high-quality materials at a reasonable price. The build quality on these sinks is top-notch.
Is durability your concern? Then, Ruvati might be the perfect brand for you. All their sinks tend to have a heavy-duty material that brings out the best possible durability in a sink.
While the other two brands specialize in kitchen sinks in some general factors, MR Direct is the best at stainless steel kitchen sinks. Unlike any other brand, they provide excellent build quality on their stainless steel sinks.
Whenever you think about the craftsmanship of stainless steel sinks, Kohler is your first choice. Usually, they have high-end sinks, which are expensive, so if you can afford them, surely go with them.
Zuhne is another well-known brand for making beautiful yet strong kitchen sinks. These sinks have very simplistic designs and are pretty strong in terms of build quality. Especially the smaller sinks are better compared to the larger ones.
Price of stainless steel sinks
The price of stainless steel sinks can vary significantly based on the brand, size, and type of sink you choose.
Usually, a renowned and quality brand can cost you an average of $400 to $800. The lowest price for a good quality stainless steel sink is around $200. And the highest it can go is more than $2000, depending on the brand, design, and size.
Installation cost of stainless steel sinks
How much it will cost to install stainless steel should mostly depend on your locality. However, the general labor cost can start from around $200. The cost will keep increasing depending on your sink type and how difficult it is to install. Also, the plumbing work determines the price.
Typically, you should have a budget of around $300 to $1400 for installing a stainless steel sink.
Maintenance and Cleaning Tips for Black Stainless Steel Sinks
Maintaining and cleaning a black stainless steel sink is slightly different than doing it on a regular silver stainless steel sink. The most important factor you need to know about black stainless steel is its black coating.
With a black sink, you must put extra care into cleaning the stains or residues with white color. For instance, cleaning soap residues or limescale is crucial on a black sink, as it's much more visible. So, keeping up with that, here we leave you some expert cleaning tips for a black sink.
Cleaning tips
First, let's start with the cleaning process you should follow every once in a while after using the sink. It helps you keep the sink cleaner for a long time and makes it shiny for the most part. Here's what you do –
Use a solution of water and vinegar in a 1:1 ratio and spray it on the sink. Then, use a soft and clean cloth to scrub off the sink.
You can use a dish detergent to remove any kind of soap residue on the sink.
Baking soda also works out great when you have limescale on the sink.
Rinse the sink with cold water after using any solution or cleaning product.
Finally, use a microfiber cloth to dry out the sink, don't leave any water on the sink.
Following these tips can help keep the sink clean and shiny for a long time. It also prevents the sink from damage.
Maintenance process
The most important thing in maintaining a black stainless sink is cleaning it regularly. Once you have that figured out, you can move on to the nitty gritty details to maintain the sink and keep it in top condition. Below are some tips to help you refine those little things –
Avoid using steel wool or scouring pads while cleaning a black sink because they can scratch the coating.
Don't use abrasive clothes or materials to clean the sink.
Various cleaners are suitable for black steel sinks, particularly to add shine to the sink.
Never use cleaners with additional chemicals, as it can affect the coating and the stainless steel.
Keep sharp utensils, tools, and items away from the sink to prevent scratching the coating.
Go through a deep cleaning session every 3 to 5 months.
Maintenance of a black stainless steel sink is the same as any other sink. The difference is keeping the coating intact, and following the tips we shared above, you can easily make that happen.
Considerations Before Choosing a Black Stainless Steel Sink
The idea of a black stainless steel sink sounds amazing solely because of its evolved looks. But in practicality, a sink isn't just about looks, right?
You have to consider whether it's functional in your kitchen. So, here are some factors you should consider before you pick a black stainless steel sink for your kitchen.
Compatibility with the kitchen
Right off the bat, you have to think about whether a black kitchen sink will go along with the color scheme of your kitchen. You don't want something that's out of character in the kitchen. Make sure a black kitchen sink will look good with the other appliances in your kitchen.
Troubles with maintenance
When choosing a black sink, you must accept the additional work you need to maintain such a sink. For instance, a black sink might not be the best idea if you have a kitchen with many sharp tools. Also, commit to a black sink only when you are prepared to clean it regularly.
Kitchen style and purpose
The kind of kitchen you have will dictate whether you should get a black kitchen sink or not.
For example, a black stainless steel farmhouse sink can lift the whole vibe of the kitchen compared to a smaller black sink. Also, it's best to avoid a black sink, for an island or prep sink in the kitchen. 
In short, you want to highlight the looks of the kitchen sink. And with a larger sink option like a farmhouse or apron or an under-mount sink, black sinks go very well. 
Budget
Lastly, black stainless sinks will have a higher price than regular silver kitchen sinks. So, if you don't mind spending extra money on the uniqueness in looks, black sinks might be the thing for you.
Frequently Asked Questions about Black Stainless Steel Kitchen Sinks
Still, have some questions lingering in your mind? Then, let's get through some of the most common questions people ask regarding black stainless steel sinks.
Are black stainless steel sinks good?
Yes, black stainless steel sinks are pretty good, as they come with the same quality as a regular stainless steel sink. Along with the quality, they bring a premium look to the kitchen, missing a silver stainless sink.
Are composite sinks better than stainless steel?
Composite sinks are better in durability, scratch resistance, build quality, and heat retention than stainless steel sinks. But they are a bit costly.
Are quartz sinks better than stainless steel?
Quartz sinks are much better than stainless steel regarding style, luxury, and sound absorption. But stainless steel sinks are much better when you think of the sink's durability, value, and versatility.
Is a black stainless steel kitchen sink durable?
Black stainless steel kitchen sinks are the same as any stainless steel sink and are renowned for durability. They are highly durable and last long, with good maintenance.
Do black stainless steel sinks scratch easily?
The sink doesn't scratch easily, but the black coating on the stainless steel sink does. It is very easy to get scratches. That makes the whole kitchen sink look scratched up.
Can I use abrasive cleaners on a black stainless steel sink?
No, using abrasive cleaners on a black stainless steel sink can easily remove the black coating on the sink and result in scratches.
Are black stainless steel sinks more expensive than traditional stainless steel sinks?
Due to their added black coating, black stainless steel sinks are a bit more expensive than traditional stainless steel sinks.
Can I install a black stainless steel sink in any kitchen?
Installing a black stainless steel sink in a kitchen has to match the color schemes because these sinks are mostly about looks. If the sink doesn't match well with the other colors in terms of looks, then it's better to avoid black sinks.
Are black stainless steel sinks more difficult to clean than other materials?
Black stainless steel sinks require the same effort as cleaning any other regular stainless steel sink. You just have to avoid abrasive items and tools to clean the sink.
What color faucet looks best with a black stainless steel sink?
There is no way to go wrong with a matte black kitchen faucet with your black stainless steel sink. But if you want a contrasting appearance, go for a chrome faucet.
Which stainless steel is best for the kitchen sink?
The two best grades of stainless steel you can find for kitchen sinks are 18/8 and 18/10. With 18/8, you get 18 percent of chromium with 8 percent nickel. As for the 18/10, it's 18 percent chromium with 10 percent nickel, and both work well.
Final thoughts
Ending the whole discussion, as long as you are ready to put in the care and time in your kitchen sink for maintenance, it's a great choice. The black color of the stainless steel material makes your kitchen look timeless. To modernize your kitchen check out this amazing black stainless steel sink undermount option from Kraus. You can find many other high-end kitchen sinks from them that deliver in terms of looks and quality. Other than that, you can always explore other options to your liking.