Oh no! Crack again! What a pain!! That's the 2nd time I had to deal with this. The 1st case was- I miscalculated the kitchen sink size requirement. And the 2nd time- As I have a large household, the sink was overused. Lesson learned! I became aware of different factors!
Now it's been almost 5 years with my 3rd kitchen sink. Standard kitchen sink size is a big factor to consider. If the requirement doesn't fit in-you will suffer.
Your equipment should propel you to work comfortably. If it doesn't match the criteria, replace it with a better one. But first, make sure that you are aware of your kitchen measurement.
How to Measure a Kitchen Sink Size?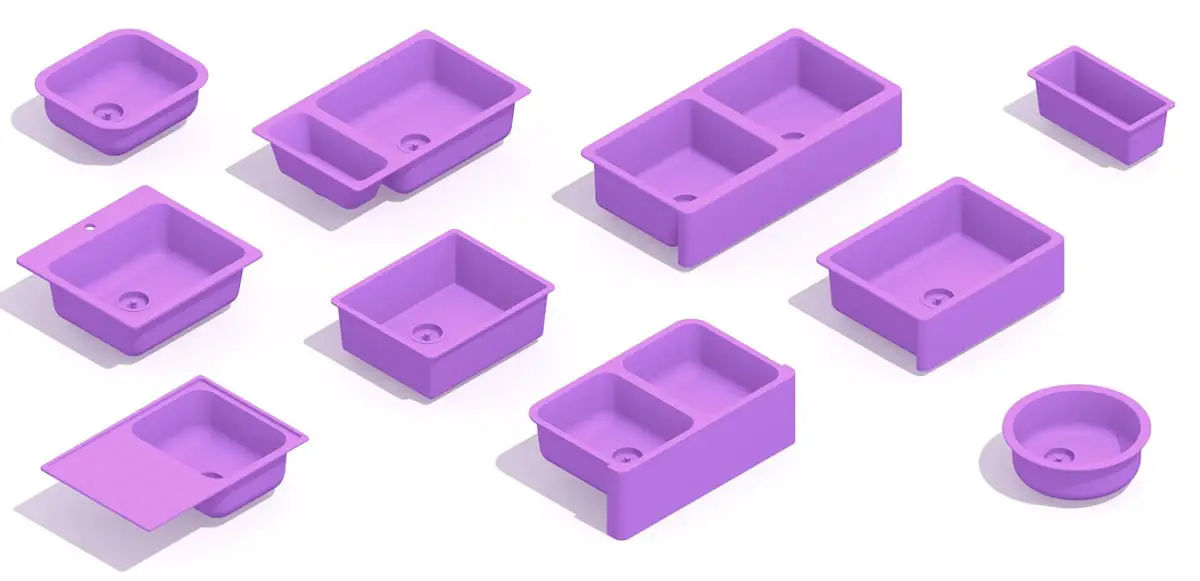 A kitchen sink adorns your kitchen by minimizing the extra pressure for uncleanliness. But it is one of the underrated products; some people still don't contemplate its worth.Standard Kitchen Sink Dimensions
You invest a pretty good amount of time in the kitchen, and by the time you finish- there would be a mess every time, but somehow it doesn't. The reason is a sink. Therefore, your kitchen sink deserves your utmost attention if you consider replacing it.
We have divided the measurement of the kitchen into 2 distinguished parts as follows-
For any kitchen
For corner kitchen
Got your paper, pencil, and tape measure ready? Here goes how you can measure kitchen sinks.
For any kitchen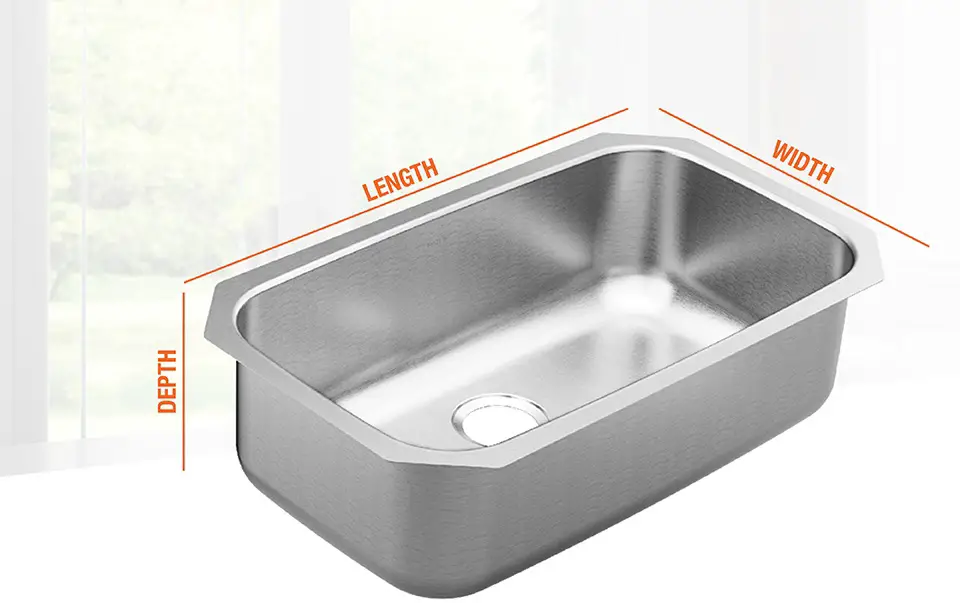 Most of the kitchen sinks are rectangular shaped. Therefore, take note of these matters when you have to replace your sink.
Dimension of the sink
Width: Do the same from back to front for getting the width.
Length: Put the tape measure on the left rim of the sink and stretch the tape to the same point till the right side of the sink rim. That's the length.
Depth: Place your measure tape at the bottom of the sink till the top parallel to the sides.
Dimension of the cutout/ countertop hole
Remove your old sink with caution. Now you get the sinkhole- you need to have this measurement for your new sink to fit inside properly. Use your tape measure-
From left to right to get the length.
From back to front to get the width.
For corner kitchen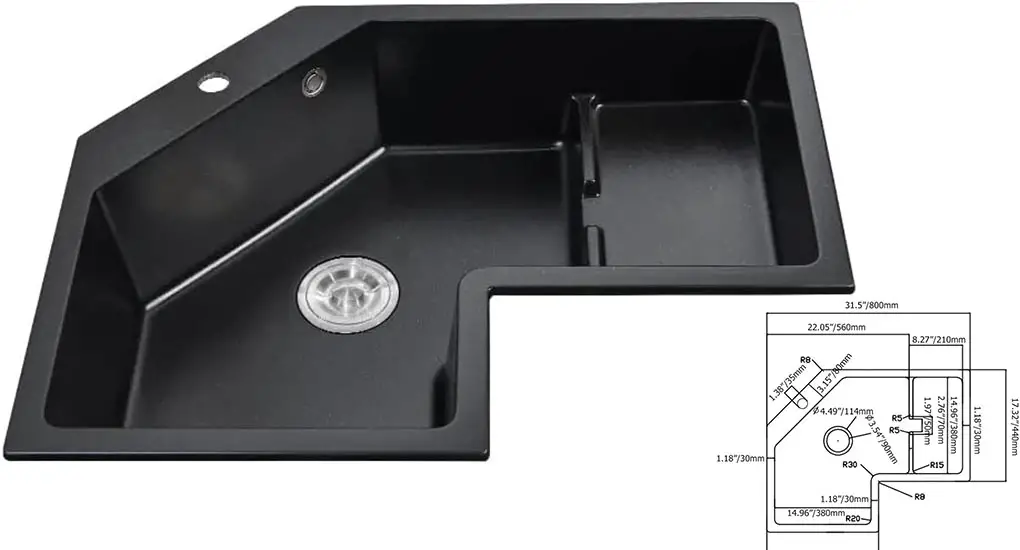 Nowadays, corner sinks are ergonomic choices as it allows you to free up more space on the countertop. Thinking about a corner kitchen sink for your kitchen as well? A well-proportioned corner sink needs accurate size measurement.For corner kitchen
Start measuring your countertop both vertically and horizontally along with depth for having width and length as described earlier. You may install a plain rectangular one or the unit of 2 sinks, like the D-shaped or the butterfly-style one.
Don't forget to measure the following matters. These do not require the tape measure but need priority while you are measuring.
Corner radius: Make sure that your newly replaced corner radius matches it and covers the gap well.
Number of sinks: Want to bring a variation from a single sink to double or vice versa? It's possible, but you have to make some adjustments to the under-counter plumbing section.
Styles: Want to change sink style? You will have to work a lot on the shape of the cutout. As well as rearrange the drain outlet.
Material: If your desired new sink is of different material, consult with a professional plumber. As the materials' thickness vary, changing from one material to another may add complexity to the process.
Type: if you want a new kitchen, drop-in, top-mount are good choices. However, sinks like apron front, undermount are more appropriate for remodeling.
How to Determine the Right Size of Your Sink?
First, check how long the space you have for your sink on the top of the cabinet is.
Measure the length. Let's say you got 30 inches.
Now, subtract 1 inch from each side. 30−1−1=28.
That is the maximum sink size that can fit in your 30 inches cabinet.
Standard Kitchen Sink Size Guide – Expert Recommendation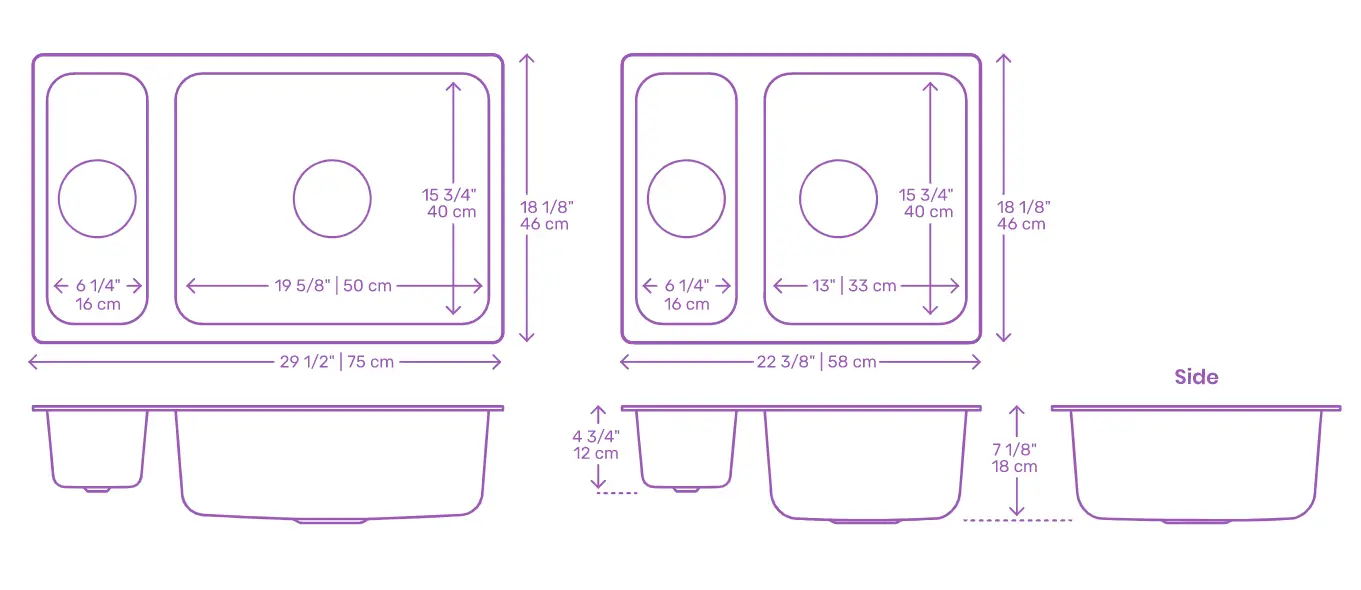 Accurate measurement of the kitchen needs expert guidelines. That's why we prepared this set of questionnaires from most asked questions on google and sent our research team to have a discussion with the experts. With their accumulated answers, we have decorated this section.
30 Inches cabinet kitchen sink size: A 30-inch cabinet is better off with a sink that is 27 inches. And if you want to install an undermount sink, 28 inches would be the appropriate size to fit inside the cabinet.
While considering kitchens sink for a cabinet, measurement of the countertop holds severe importance. You would definitely want space around the brink of the sink as there are dishes or other materials to keep. So, you have to allow a minimum space for.
32 Inches base cabinet kitchen sink size: We have structurally measured and found that a 30-inch sink will fit nicely in a 32-inch base cabinet. This is not a small one either, rather large enough to bathe a little kid.
33 Inches cabinet kitchen sink size: If you have a cabinet of 33″, it's the outside measurement. To measure the sink size for it, extract the wall thickness, which is around 2″-3″, so the inside will be around 30″ to 31″. A sink of that size will fit in a 33 inches cabinet.
36 Inches cabinet kitchen sink size: Generally, a sink of 33 inches is the most suited for a cabinet of 36 inches. Then again, if it is a farmhouse sink being strapped in place, a 36″ sink is said to fit in a 36″ cabinet, but it won't have any space left on the top.
36 Inches base cabinet kitchen sink size: We have measured the length, width, and depth of a 36-inch base cabinet and after calculating we found that a sink of 33" is suitable for that base cabinet.
Average size of a single bowl kitchen sink: The average kitchen sink size that most people prefer to buy is- 24 inches wide, 33 inches long & 8 inches deep.
Depending on the kitchen, sticking to this general preference may not be wise if you are remodeling. Therefore, experts recommended measuring the countertop where the kitchen is going to be placed to have an accurate measurement.
Standard size of a double kitchen sink: It is said that a standard double kitchen sink would be 22 inches wide, 36 inches long, and 9 inches deep.
There are different opinions about double kitchen sinks. Sink separation, space around this sink- these need thought. Traditionally people prefer 50/50 sink bowls for symmetry. However, nowadays, 60/40 is on-trend as well.
Standard undermount kitchen sink size: Standard undermount kitchen sinks are measured 24-30 inches, defined mainly by the counter space. However, before looking for one, measure the interior measurement of your cabinet. Smaller households may go with the 24 inches sink; it's large enough to clean pans.
The common kitchen sink size in the USA
| | |
| --- | --- |
| Base Cabinet Width | Maximum Sink Width |
| 18-inch | 15-inch |
| 24-inch | 21-inch |
| 30-inch | 27-inch |
| 33-inch | 30-inch |
| 36-inch | 33-inch |
| 48-inch | 45-inch |
| 60-inch | 57-inch |
What to Look Before Buying Kitchen Sink? – Expert Guide
A sink's functionality is a major factor in keeping the kitchen clean and bringing maximum efficiency. Hence, buyers should look out for some key takeaways and consider those while buying them. These matters will help you find a fitting kitchen sink for your kitchen. Those are-
Kitchen sink construction material
Kitchen sinks are made of different materials like Stainless Steel, Copper, Fireclay, Stone, and so on. Those are of different quality as well. I want you to take some time for this part.
Every material has its pros and cons. Be certain which material will work best for you, considering your purpose. Here is the most common kitchen sink material.
Stainless Steel
Enameled Cast Iron
Enameled Steel
Quartz Composite
Granite Composite
Fireclay
Solid Surface
Copper
Consider kitchen sink size
Know your kitchen sink dimensions. Take accurate measures of your existing sink's length, width, and depth. Accurate measurement is important to ensure you are allowing enough space inside the sink and around it. It will lead you to have a conducive work environment.
Determine Single or double bowl
Bowl is another vital factor to count. Have to wash larger dishes? Go for a single large bowl. Such sinks are easier to install, keep clean and maintain. But what if you have to use a large number of smaller dishes frequently? Even though having complicated installations, a double bowl/ triple bowl will be perfect.
Check kitchen sink styles and trends
Top mount, under mount, double bowl, single bowl, farmhouse, corner sink- there are many types of the kitchen sink. among those, take your pick. And each of those styles is fitting for something.
For example- an apron front kitchen sink goes well in a farmhouse style kitchen. Likewise, a double-basin looks furnished in a wide space countertop.
Don't forget to measure kitchen sink shape & depth
Sink shape makes a lot of difference! A square shape sink allows more volume to work flexibly. On the other hand, a round-shaped sink is easier to clean.
Bowl's depth also counts. Why? You may think the deeper, the better- nope! Extra-depth bowls take more space than usual, and you may have to bend more to work.
Warranty
Nothing lasts forever. Even if you have considered all the matters mentioned above, checked everything- no guarantee, there won't be any issue later. So before ordering, check the warranty. Some sellers will fix it, repair it or replace it with a new one if you have any problem till a certain period after buying.
Budget
Last but not least- budget. Have your budget prepared to get your chosen kitchen sink. Even though you have many places, it is wise to purchase from authentic retailers- they are the best place to buy a kitchen sink with variation, warranty, and affordable pricing.
And also, these are some undeniable factors to consider-
Counter and cabinet: After installing the sink, how much space do you get.
Overall kitchen: Take a look at your kitchen whether your newly preferred kitchen suits the kitchen.
Your height: Depending on your stature, decide your sink. If you are tall enough, an extra deep sink won't be a problem for you.
Important question of kitchen sink size
Is a 10 inches sink too deep?
Yes, it is. This may require people to bend. Moreover, people who have short height won't find it comfortable to work at all.
Will a 33-inch sink fit a 33-inch cabinet?
It might fit. But, to have maximum functionality, let the sink fit with some space around.
Is a 24-inch kitchen sink too small?
Considering a large household, it would be a small sink. But for a smaller house, this is quite the perfect size for washing dishes and pans.
What size kitchen sink should I buy?
Measure your countertop/ cabinet- you will have an idea of the size. Then, choose a single bowl or a double bowl basin- as per your ease of work.
Which brand of kitchen sink is best?
We recommend buying kitchen sinks from- Ruvati, Kohler, Kraus, Elkay, Zuhne, and Miseno.
What is the most popular kitchen sink size?
Nowadays, larger kitchen sinks around 33 inches have become more popular.
How much does a good kitchen sink cost?
Standard kitchen sink prices vary from $90 to $2,000. However, you can purchase a good kitchen sink for around $250.
What kind of kitchen sink lasts the longest?
Sink made of stainless steel lasts the longest.
Conclusion
Doing a double-check is better than having a 2nd thought later! But doing such elaborative research by yourself is tiring as well!
That's where our purpose lies, to help your finding process. Is this article informative enough for you? Let us know and keep supporting.