Well, it's the right time to start talking about quartz sink pros and cons and their top-to-bottom reviews. Since it has been so long, only stainless steel kitchen sinks continue to hold the record for most usable kitchen sinks. But unfortunately, though it's low-cost and somewhat durable, it can't even compete with quartz's durability, germ-freeness, and styling.
So the majority of homeowners' focus has shifted to solid and long-lasting quartz kitchen sinks now. Its durability and natural, germ-free solutions make it one of the most popular kitchen sinks on the market today.
Today, we've made clear what you should expect from quartz sinks, which offer resistance to common spills and accidents that other kitchen sinks could easily damage.
Before that, your thoughts on quartz kitchen sinks may be to wheel around, right? Like-
Are quartz sinks prone to stains or cracks?
Is quartz sink water soundproof or not?
Why do you choose a quartz sink instead of granite composite (versatile in style) or stainless steel (reasonably priced)?
Why does quartz win the durability game over granite, stainless steel, or others?
Step-by-step you'll find all the answers below. Just stop your brain cells from thinking so hard! We're here to find the best possible quartz sink review, along with its pros and cons, and a comparison.
Why hold off? Let's get started!
What are quartz kitchen sinks (are they durable)?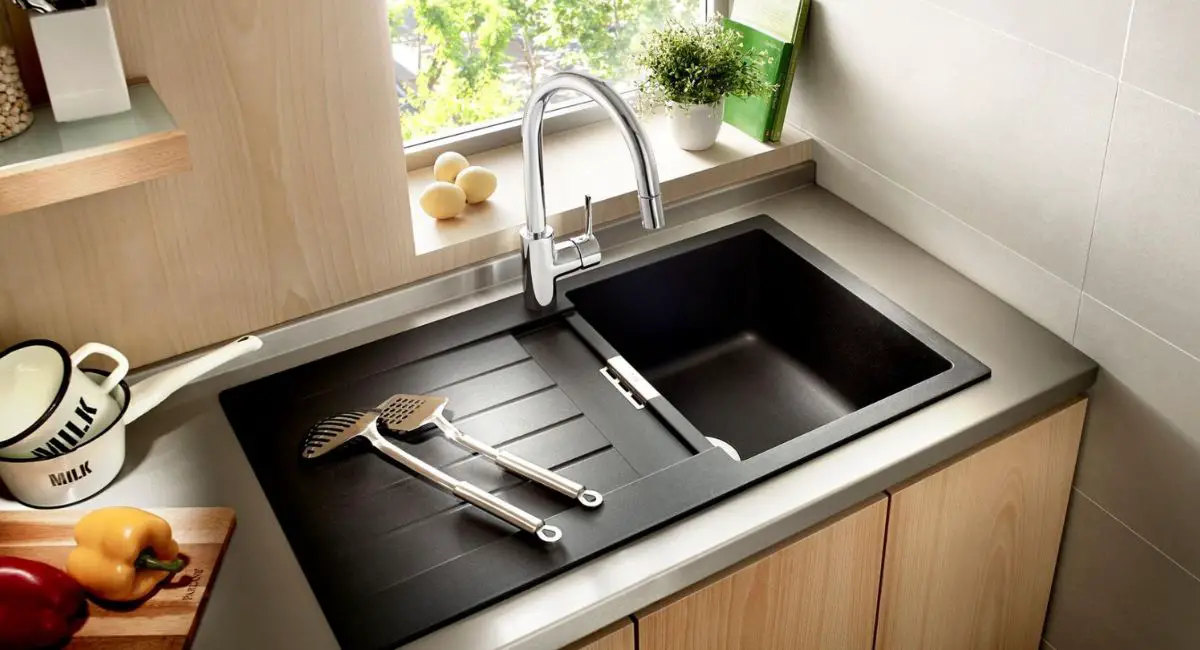 Quartz kitchen sinks are manufactured from composite materials that contain up to 80% quartz and 20% acrylic resin, pigment, defoaming agent, and solidifying agent. Traditionally, quartz is a very hard, crystalline natural mineral that is crushed and mixed with sandstone. This composition gives the kitchen sink a sandy-and-stony look. It can also be called "composite kitchen sinks."
As we already mentioned, quartz is the second most hardest material, so skepticism about its durability can be just foolishness. This kitchen sink not only adorns the countertop with its modern and elegant design but also holds high pressure easily. Even finding cracks in this sink is a rare occurrence.
Reviews on quartz kitchen sinks: Pros, Cons, & Expert guide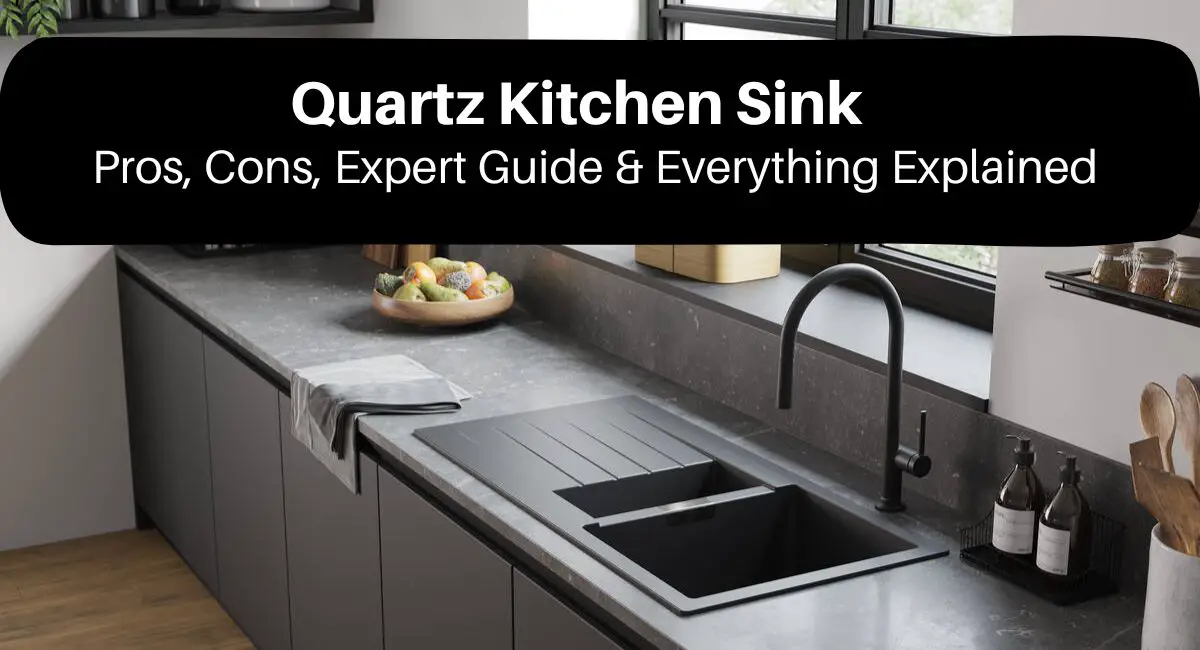 Phew! Right here, we have reached our main spot without any fuss!
So let's start the review of quartz kitchen sinks.
Key Features of a Quartz Kitchen Sink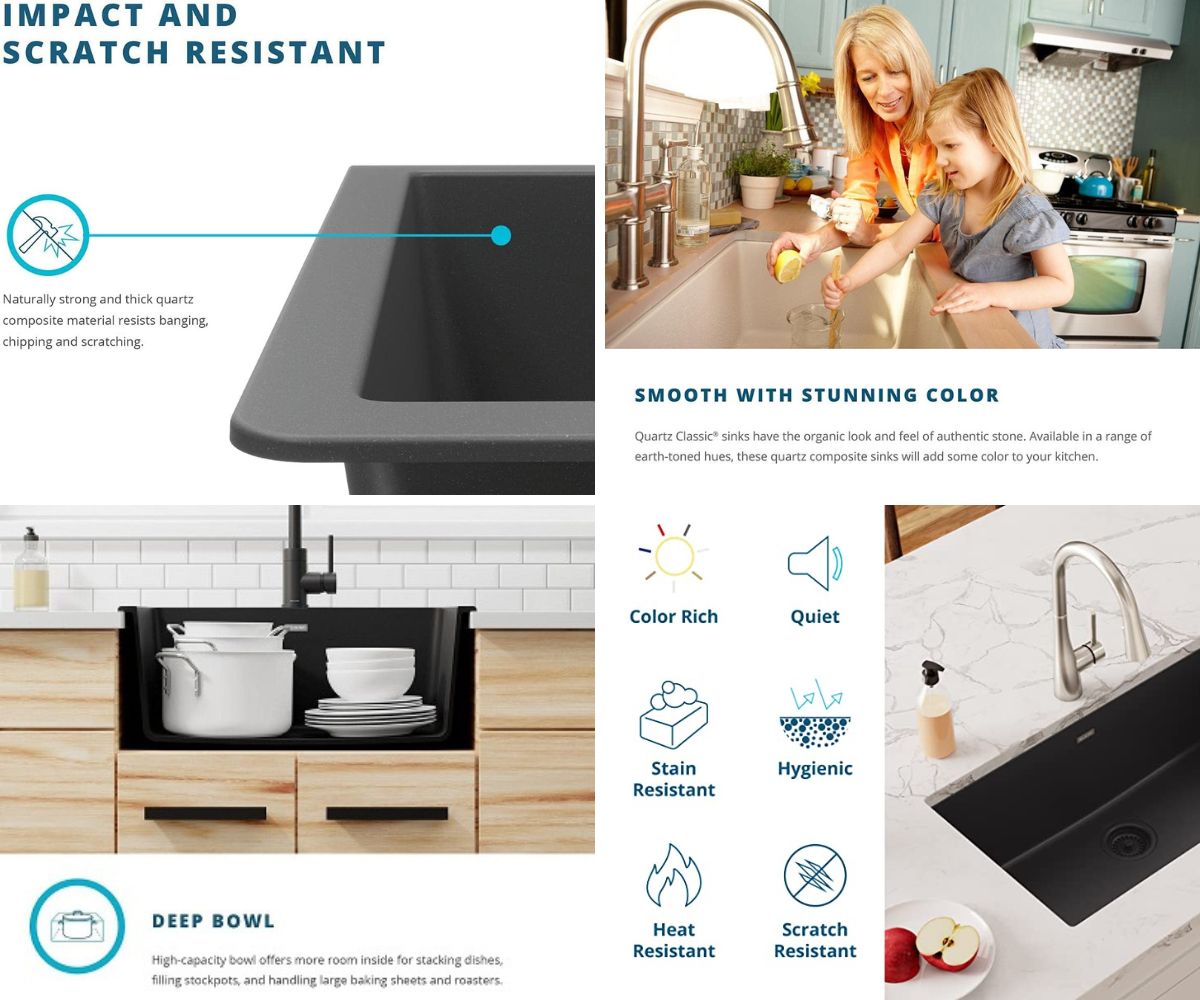 The kitchen sink mostly bears the brunt of kitchen activities. Whether your kitchen layout is contemporary, traditional, farmhouse, or rustic, whatever the kitchen interior style, quartz sinks are one-size-fits-all.
Instead of scratching your head, let's dive into the features of quartz sinks for your kitchen countertop.
Strong and durable
Quartz has a hardness rating of 7 on the Moh's scale, while granite has a rating of 6. The higher the level of hardness, the harder the material is. Its durability allows it to last a long time, making it the most popular countertop material among others.
Elegance in design
Quartz is a transparent and colorless material. There may only be a few options available when you've decided on a color, ranging from neutral tones to striking hues. The kitchen can get a pop from its unique and unanticipated color, which can also make a gorgeous focal point for the kitchen interior. Not only does it stand out because of its color, but also because of its curved edges, large counter space, and sense of sophistication.
Low Maintenance
Quartz kitchen sinks come with a smooth and low-porosity surface. By washing several times per day, there is absolutely no risk of ingesting food, oil, cracks, or acid in your kitchen sink's pores. As a result, you can cook freely in your kitchen without worrying about rusting or mold growth.
Stern with breakables
Quartz sinks are incredibly tough. When your dishes are made of ceramic or glass plates, a single drop can shatter them. So be careful with breakable dishes, because quartz sinks can break anything fragile.
Pros and Cons of Quartz Kitchen Sinks
When we go deeper into the reviews, knowing the pros and cons of quartz kitchen sinks is important because it will point you in the right direction.
Pros of a Quartz Kitchen Sink
Let's take a look at the pros of quartz kitchen sinks, which are as follows-
Anti-bacterial properties: The sink is full to the brim with bacteria or germs. So, kitchens are by far the busiest on the kitchen counter, from preparing food to washing dishes to cleaning meat, vegetables, or fish, so the most dirt tends to accumulate in the drain hole or water drain. In this case, the quartz kitchen sink has a smooth surface or low porosity, so dirt, mold, or any germs don't stick to it.
Incredibly resilient: Quartz composite sinks are made of 80% quartz, the second hardest mineral in the earth's crust. So it's worthless to question its resilience. It can resist scratches, heat (up to 535°F), cracks, stains, dents, and chips.
Water Soundproof: Is quartz sink water soundproof or not? Of course it is! because quartz is a naturally sound-deadening mineral.
Quartz composite kitchen sinks will undoubtedly contain vibration reduction and sound minimizing abilities. So you can wash up your pile of dishes without making any sound.
Easily cleaned: Cleaning the quartz kitchen sinks is definitely easy. The surface of the kitchen sink is covered in a buildup of dirt and food scraps that can occasionally leave stains. To clean it gently on a daily basis, simply rinse with soapy water. Its smooth surface prevents the mold from adhering to the corner or even to the surface.
Cons of Quartz Kitchen Sink
Let's take a look at the cons of quartz kitchen sinks, which are as follows-
Limited customization options: Though quartz composite sinks are malleable but not completely customizable. Because of its sturdiness and the transparent color of the mineral, it won't allow for a flexible number of customization options.
Challenging installation process: Quartz is the heavier material for the kitchen sink. So lifting and installing it is quite challenging. In this case, without expert assistance, it can't be installed properly.
Average prices for quartz kitchen sinks
If you want to find the best-quality quartz kitchen sinks, set a budget of $500 to $1200.
For example, a smaller single-bowl kitchen sink is comparatively less expensive than a larger double-bowl sink. Even if you've considered getting an undermount sink for it, you'll need to put some money aside first. However, a drop-in sink can save the day because installing one is much simpler than installing an undermount.
A quartz kitchen sink's price varies depending on the brand, size, and style. So we've created a table to help you figure out how much money you should set aside for purchasing a quartz kitchen sink.
| | |
| --- | --- |
| Quality | Average Price |
| Low-End | $250 – $350 |
| Mid-level | $400 – $600 |
| High-end | $700 – $1000 |
Alternatives to quartz composite kitchen sinks
There are a plethora of alternatives to quartz composite kitchen sinks, including granite, porcelain, and stainless steel.
Before diving into the alternatives, let's take a look at this question, Why do you select a quartz sink over granite composite (a versatile material), stainless steel (one of the most durable), or porcelain (reasonably priced)?
Quartz is a natural mineral found in the earth's crust. It is one of the most sturdy minerals, having a sound-deadening element and being resilient in any condition. No other material compares to the durability of quartz, but stainless steel may be the closest competitor.
Porcelain is also the most cost-effective alternative, granite sinks, on the other hand, come in a wider variety of styles and colors compared to quartz.
Let's learn more in-depth about quartz composite sinks alternatives!
Stainless Steel vs Quartz Composite Sink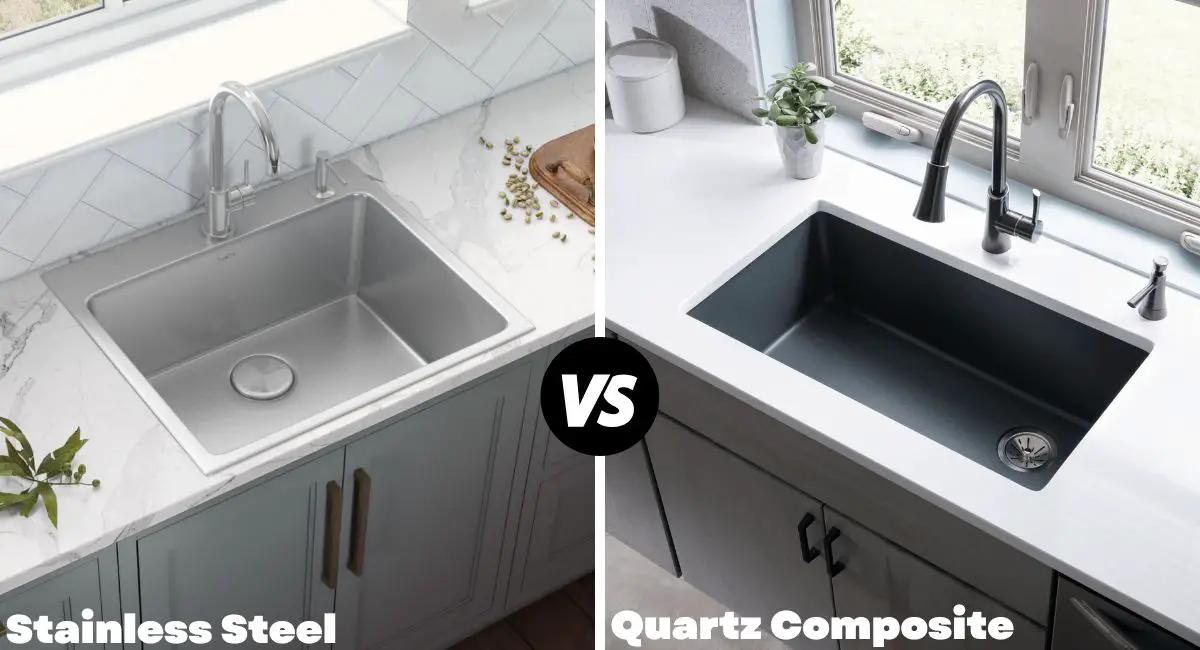 When you come over to find quartz composite kitchen sink alternatives, the first name that comes to mind is stainless steel. As you know, most people suggest stainless steel as the best option for the quartz kitchen countertop.
Moreover, both quartz and stainless steel are renowned for their durability, but in terms of maintenance, stainless steel is prone to scratches, cracks, and making noises, while quartz is scratch, stain, sound, and damage proof. Stainless steel will not let you break the bank, whereas quartz is more expensive.
If you learn further about the best undermount stainless steel kitchen sinks, click on the link.
Granite Vs Quartz Composite Sink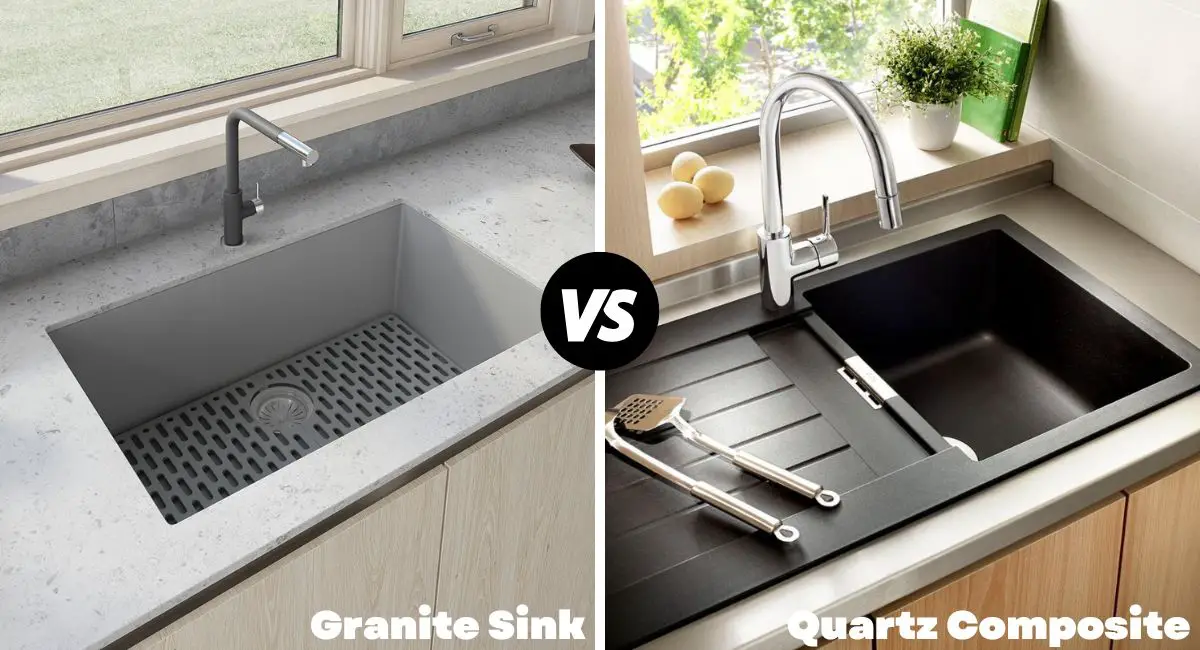 The perplexities come to an end when we know that quartz is far stronger than granite. But that doesn't mean that the granite isn't durable enough. Granite is the second most favourite homeowners kitchen sink choice.
Granite is a natural stone, and the kitchen sink is made entirely of it, which makes it more durable. It can resist scratches, stains, heat, and even chemical reactions. Granite kitchen sinks are available in a variety of shapes, styles, sizes, and finishes, but with consistent patterns and colors.
While quartz kitchen sinks are the most sturdy, but limited in styles, finishes, and color options.Additionally, granite offers the highest resale value for any real estate property.
Porcelain Vs Quartz Composite Sink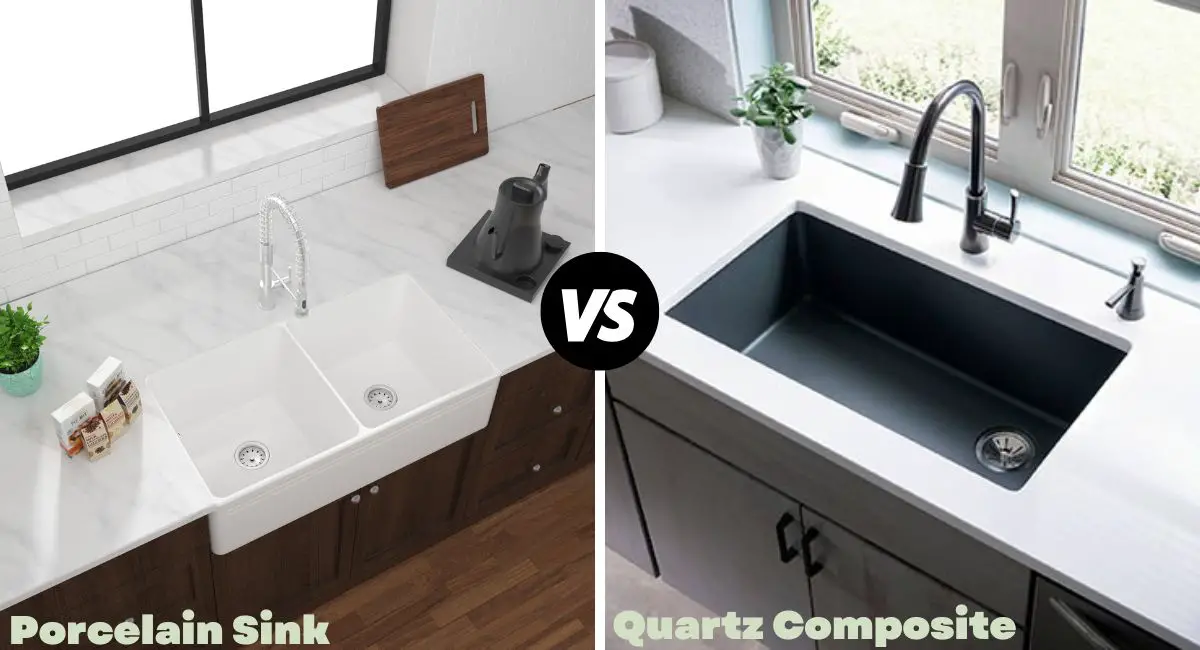 Porcelain is made from a mixture of kaolin clay, a natural stone like feldspar, petnuse, and even quartz to ensure its sturdiness and translucency. Porcelain kitchen sinks are one of the most popular due to their variation in design, durability, and ease of maintenance.
None can match the durability of quartz composite kitchen sinks, but kitchen porcelain is a better option for kitchen styling.
Quartz sink brands: Best brand of quartz kitchen sink to consider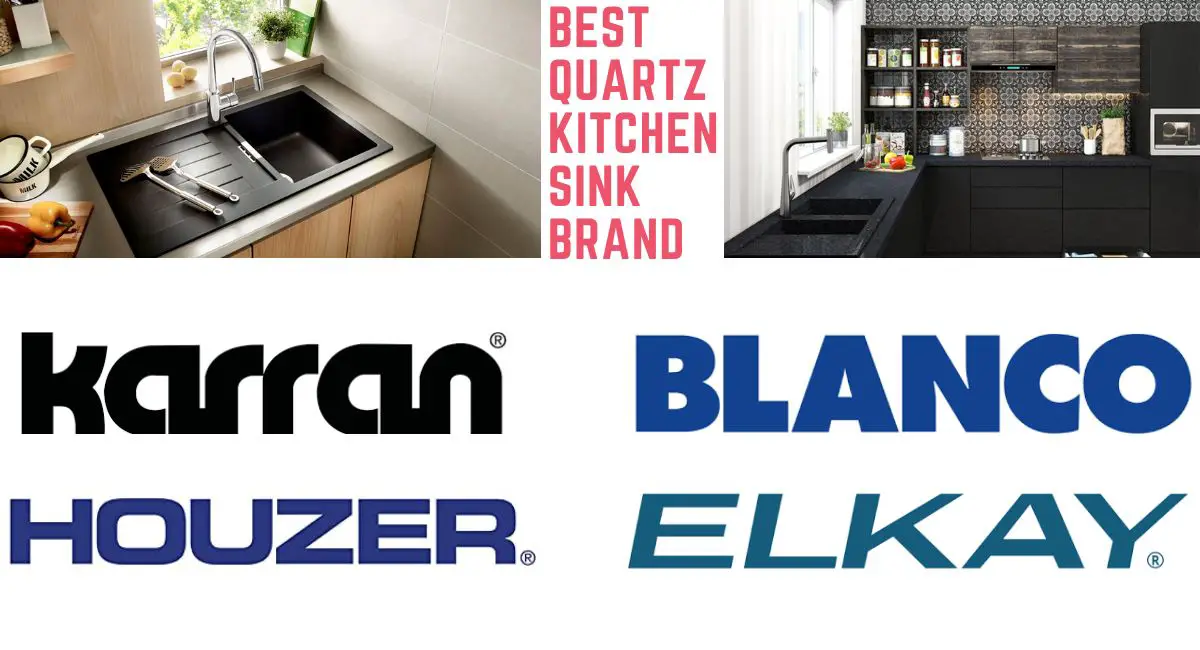 Quartz is undoubtedly the most sturdy mineral, so the span of the kitchen sinks are beyond the mark. There, we've compiled our most purchased quartz sink brand list that might.
Karran Quartz Sink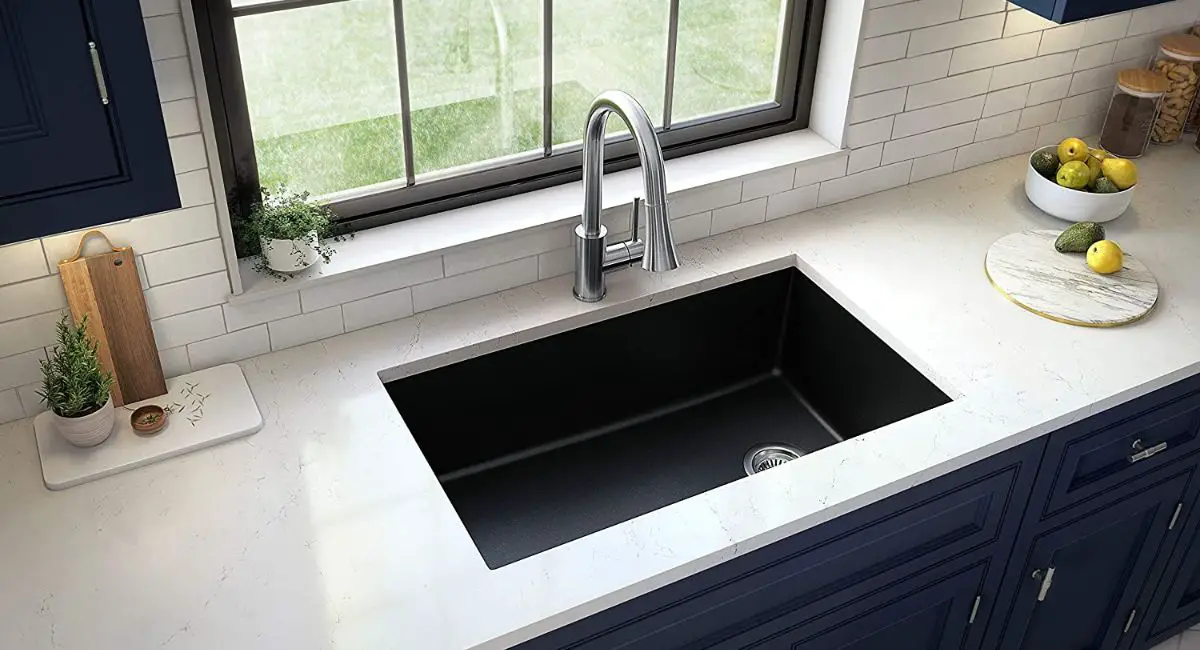 Karran is the most renowned kitchen sink brand in the USA. Karran kitchen sinks are made from several materials, like acrylic, stainless steel, and quartz, but quartz is the most commonly purchased one.
Karran quartz sinks are resistant to scratches, chips, and stains. Additionally, they can withstand high temperatures without suffering damage because they are heat-resistant. As a result of their resistance to bacteria, mold, and mildew, making them a hygienic option for your kitchen. The versatility of the kitchen sink styles and designs embellishes the kitchen decor and the existing space beautifully.
Karran's QU-670 Undermount Quartz Composite Single Bowl Kitchen Sink creates a frenzy in homeowners minds and makes them eager to buy.
Elkay Quartz Sink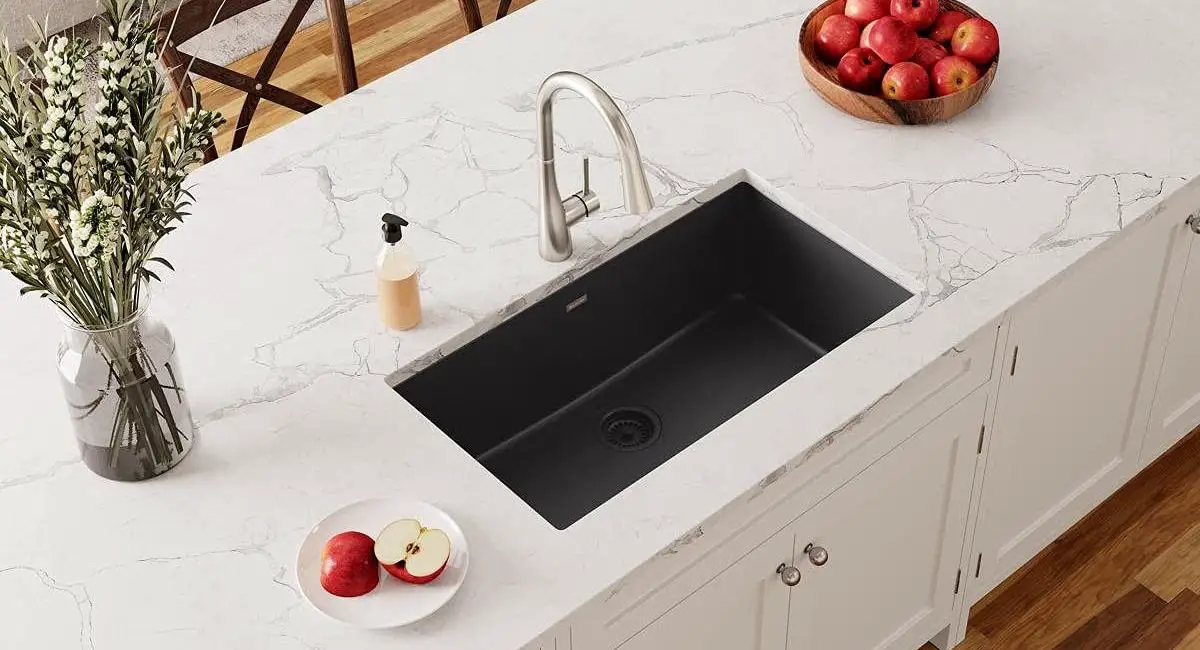 Elkay has manufactured a wide range of quartz sinks since 1920. Its excellence and high-quality standards for kitchen sinks remained unchanged. The blend of natural quartz and acrylic resin makes Elkay's Quartz Classic sink series No. 1 in the US today.
Strength, durability, and germ-free design make your kitchen more stylish and the kitchen ambiance more hygienic. Its Elaky Quartz Classic Sinks Series is available in three mounting options: drop-in, undermount, and dual-mount options.
Its color is limited to only five shades inspired by the earth's natural elements: white, brown, two shades of gray, and black. While cooking or washing dishes, Elkay's quartz kitchen sinks with sound-deadening technology reduce the noise level. Moreover, Elkay kitchen sinks are an excellent choice for homeowners looking for a long-lasting, low-maintenance sink that is also eco-friendly and made in the United States.
Blanco Quartz Sink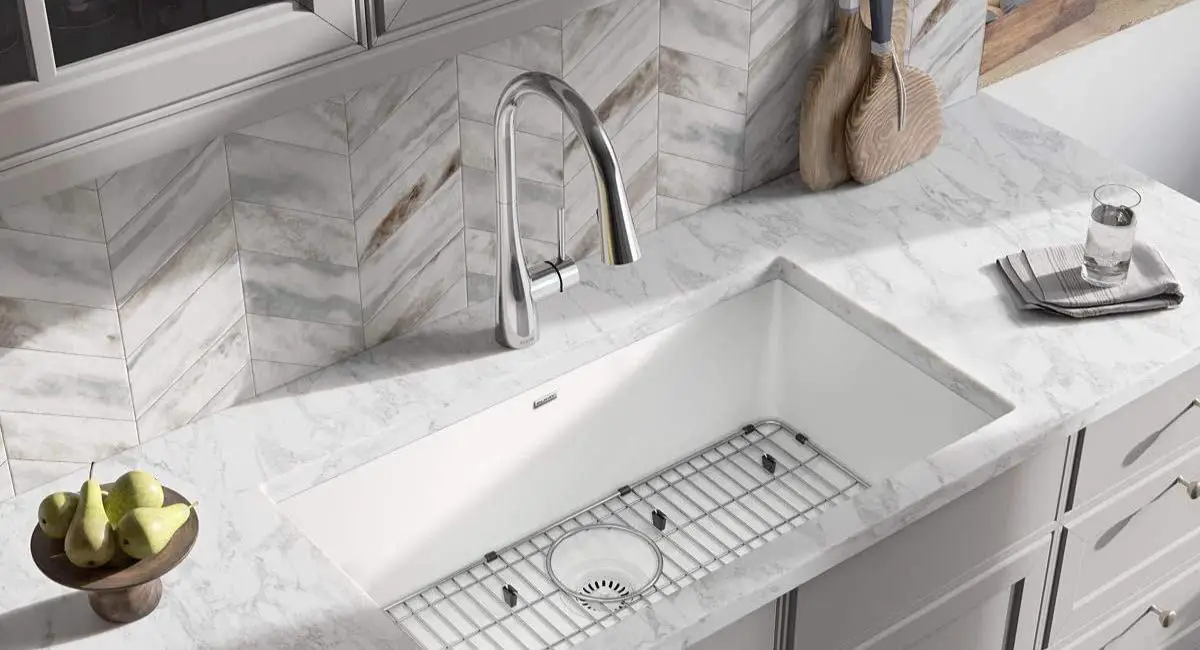 Blanco kitchen sinks are one of the best options for any kitchen. The company established their excellent quality in sinks over 95 years ago and has continued to do so.
Blanco launches its quartz sand series kitchen sink under the name Blanco SILGRANIT. In this Silgranit series, the kitchen sinks are composed of 80% quartz sand, which ensures their durability and maintains high-quality standards.
They retained their high performance and resistance to scratches, chips, stains, and heat, just like other quartz sinks. This Silgranit series kitchen sink comes with exclusive styles and colors that vastly influence the lifestyle and the kitchen decor.
If you're looking for a stylish, long-lasting, low-maintenance sink that is also eco-friendly and backed by a robust warranty, Blanco quartz sinks are undoubtedly a great option for homeowners.
Houzer Quartz Sink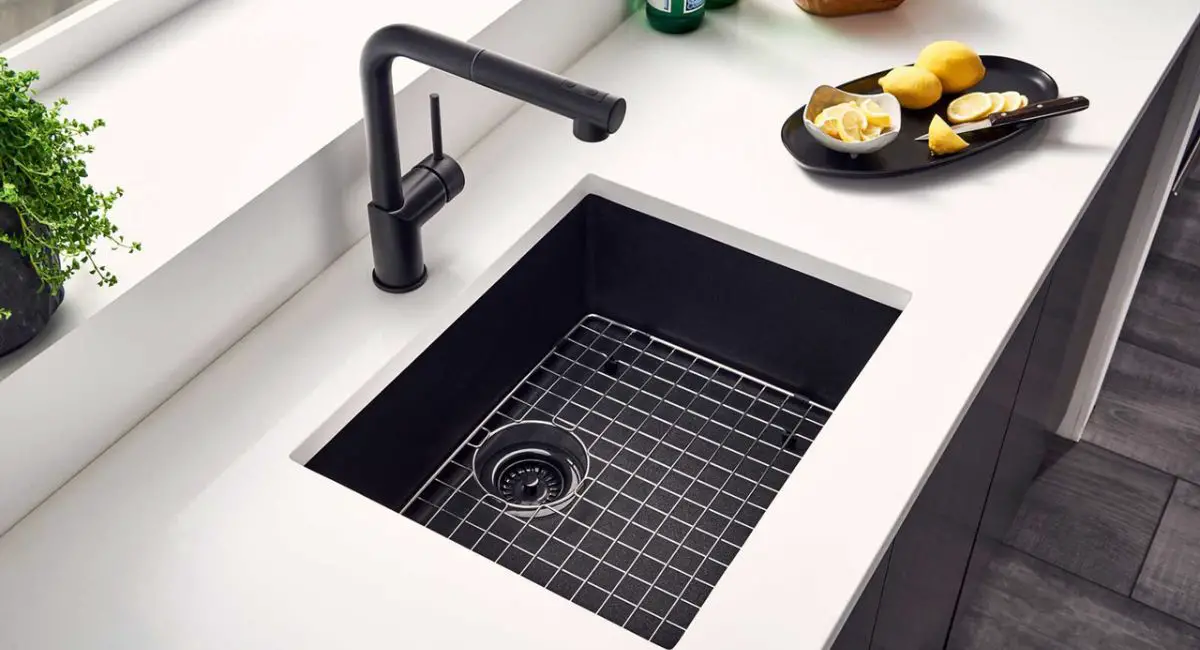 The Houzer Quartz kitchen sink series is the most popular kitchen sink line and is made from 80% pure natural quartz and 20% acrylic resin. This blend makes it a germ-free and pore free surface.
When we go deeper,they offer you an extensive range of sink materials, including quartz sinks (Houzer Quartztone sinks), which are well-known in the market. Whether you've got at-home-chefs or a large kitchen's professional chef, its no-porus surface and intrinsically hygienic nature protect you from bacterial contamination.
Their warranties are generous, often extending to a limited lifetime warranty, although there are some exceptions. Houzer's kitchen sinks are available in a wide price range, so anyone can find something to meet their budget.
Buying Guide: Things to Consider Before Buying a Quartz Sink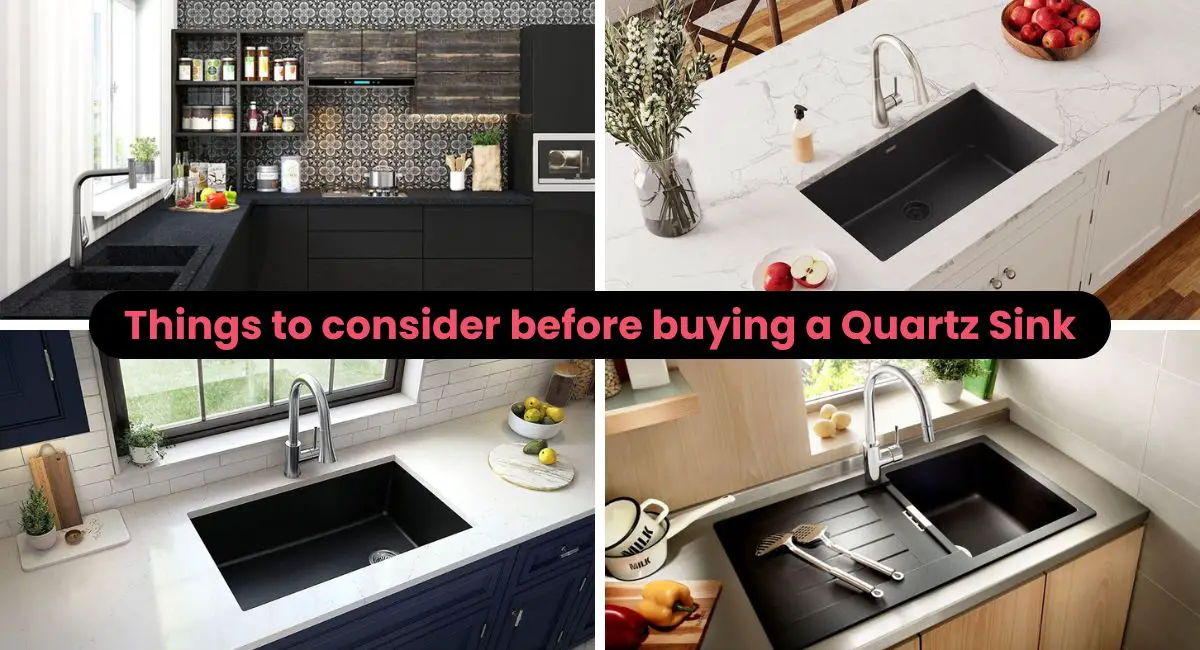 The kitchen is the busiest place—more specifically, the kitchen countertop. Whole workloads fall into that category, including everything from cooking to cleaning dishes.
There, we've compiled a list to consider before buying a quartz kitchen sinks-
Quality
From what material is the kitchen sink made? How long does the kitchen sink last? These are the most obvious questions you need to ask the seller. The higher the quality, the longer it lasts, and the less you'll have to spend money on it again and again.
When we find a quartz sink, we don't have to second-guess its durability. Since this sink is constructed of the world's most durable material, it can last for more than 20 years.
Choose the ideal length, width, and depth
24 x 18 x 8 inches might be the typical quartz sink size. Let's go more specific, 22 to 36 inches for length, 16 to 24 inches for width, and 8 to 10 inches for depth are considered the best quartz sink dimensions. Because the larger the sink you buy, the higher the price you should pay.
If you want to upgrade your farmhouse kitchen sinks, they are durable and best for small, modern kitchens, so keep that in mind as you plan your kitchen. To get to know more where to buy farmhouse kitchen sinks just take a look on the link, you'll get your answer clearly.
On the other hand, a wider and deeper sink will allow you to prepare more food and wash more dishes if your kitchen or household is larger.
Which one- Undermount quartz sink or Drop-in quartz sink?
Quartz kitchen sinks are typically designed for two types of installations: undermount and drop-in. Quartz kitchen sinks are heavy to carry, which is why they're designed for undermount installation, where a professional can mount them precisely so that they don't sag or cause problems with the plumbing.
Undermount kitchen sinks offer a seamless look on the kitchen countertop, whereas drop-in sinks do not; they have a visible rim or lip on the perimeter of the sink that rests just over the sink cut-out.
On the undermount sink, there are no rims or edges, so there is no chance to stick any debris or spills, while on the drop-in sink, it is quite difficult to clean the trapped dirt or food particles. Drop-in sinks, on the other hand, are a more affordable option and come in a wider range of styles and designs than undermount sinks. The choice is now yours to make.
Sink Finish Type
Quartz kitchen sinks come only in matte finishes and limited patterns. The matte finish has a soft, non-reflective surface. It adds elegance and modernity to the whole kitchen's interior decor. If the shiny and metallic look appeals to you, this sink is not for you.
Furthermore, with a matte finish, your sink is less likely to show water spots and fingerprints, making it easier to maintain an appealing look whether you have a traditional or rustic style kitchen.
Drainage area
Quartz kitchen sinks are tougher to carry; in this case, you must consider whether its drainage area is reliable for you or not. If not, consider the one that has a sloped surface where the water runs back into the sink when dishes are left to drain while washing up veggies or dishes.
Because if your quartz kitchen sink has a steep slope, it can cause water to pool, leading to standing water and potential issues with bacteria and mold. So the drainage area should be centered, which makes it easier to wash large pots and pans.
Availability of extras
Simple fact: Buying anything breaks the bank, so getting a few extras justifies your spending. Even kitchen accessories enhance the functionality of the sink.
Colanders, bottom grids, strainer bowls, soap dispensers, and sink cleaners are a few of the more typical accessories. Make sure you buy kitchen sinks with accessories that might make your work at the sink easier.
Important FAQ's of quartz kitchen sinks
How long will a quartz sink last?
Quartz sinks are built with composite materials, which ensure their endurance for a lifetime.
Are quartz sinks hard to keep clean?
Not at all, Quartz sinks are easy to clean, even if they are not.
Do quartz composite sinks scratch easily?
No! Quartz is one of the hardest materials used in making kitchen sinks, which prevents the sink from getting scratched, stained, cracked, or even heated.
What type of kitchen sink is best for quartz countertops?
Undermount kitchen sinks are best for quartz countertops. If the sinks are overmounted, you can face cleaning issues and need to mop the countertop repeatedly, while undermounts let you easily clean from the quartz worktop area to the sink.
What is the best kitchen sink with quartz countertops?
Quality varies by brand. At Quality Bath, we highly recommend Elkay Quartz Classic and Quartz Luxe sinks as well as Houzer Quartztone sinks; Blanco's patented Silgranit sinks feature rock-hard durability and superior cleanability in 8 colors.
Conclusion
Thanks for sticking to the end!
Maybe you'll find a way to come out of the sea of confusion.
With our help, you can now see more clearly the Quartz sinks pros and cons, which may be helpful to you in your decision-making.
Since Quartz sinks are typically undermounted, we've tested, compared with other kitchen sinks, and reviewed them precisely so that you can make an accurate decision.
Don't forget to share your thoughts below!