Are you thinking of replacing your bathroom sink and ordering it online? It seems that you are about to buy a good quality bathroom sink or whatever you may call a washbasin, hand basin, or face bowl. If you're buying this online, then you've come to the right piece of article. So keep reading.
Mainly this article aims to express where to buy bathroom sinks online and name the top-rated brands that made great quality bathroom sinks. Moreover, you're going to know every real fact so that you can get rid of any confusion about bathroom sinks.
So that you can choose the best bathroom sink brand for you and then make an order at the perfect online marketplace.
There're plenty of online marketplaces to buy bathroom sinks so easily. But it is important to figure out the best place to buy a bathroom sink, especially when you want to purchase it online. We'll be discussing the reasons behind this.
Before that, let me explain to you some key factors that you need to know before purchasing a bathroom sink online. So let's start one by one.
Beyond Porcelain: Exploring the Materials Used in Modern Bathroom Sink Manufacturing
You've found so many different types of bathroom sinks available online. Most sinks differ in their construction material and manufacturing process. By now, you should have a basic understanding of this. Because the price of sinks mostly depends on the build quality and raw materials.
Now I am going to briefly explain the materials used to make bathroom sinks. Therefore, you can choose the best one for you based on durable construction, attractive appearance, and price.
Vitreous china sinks – These are the most common and traditional sinks, mainly made of vitreous china and enamel cast iron. Vitreous china is a glazing technique that involves coating porcelain or ceramic with an enamel made from powdered glass. Most of the higher durable & sturdy sinks are made of vitreous china.
Metal sinks – These sinks are made of strong & durable metal. Typically metal sinks come with a finish of stainless steel, bronze, and copper. Among these, stainless steel finished sinks are comparatively affordable.
Glass sinks – Sinks that are made of sturdy glass/ tempered glass come with unique shapes and artistic outlooks with vivid color or opaque. However, glass sinks are somewhat fragile in durability. It's not a big issue for home bathroom usage, though.
Engineered Stone & Granite Sinks – These sinks are also designed and built with aesthetics in mind, made of the processed form of granite & stone. Many designs often come with unfinished rock with its natural color too. Typically, these sinks are chip & dent-resistant and offer high prices with long-time durability.
Fireclay Sinks – Fireclay sinks are used especially for a high-temperature conditioned environment. These sinks come with porcelain. Sinks made of fireclay are tough, and durable, and offer the smooth, rounded appearance of porcelain combined with cast iron.
Others – There are so many other types of sinks often seen in the bathroom and kitchen made of enameled steel, acrylic, or even wood.
Sink in Style: The Top-Rated Bathroom Sink Brands in the USA for a Perfect Upgrade
Now let's focus on the top-rated brands that manufacture great quality bathroom sinks in the USA. Here are names of renowned brands worldwide for manufacturing top-class bathroom sinks. You may choose any of these brands' sinks based on your preferences.
American Standard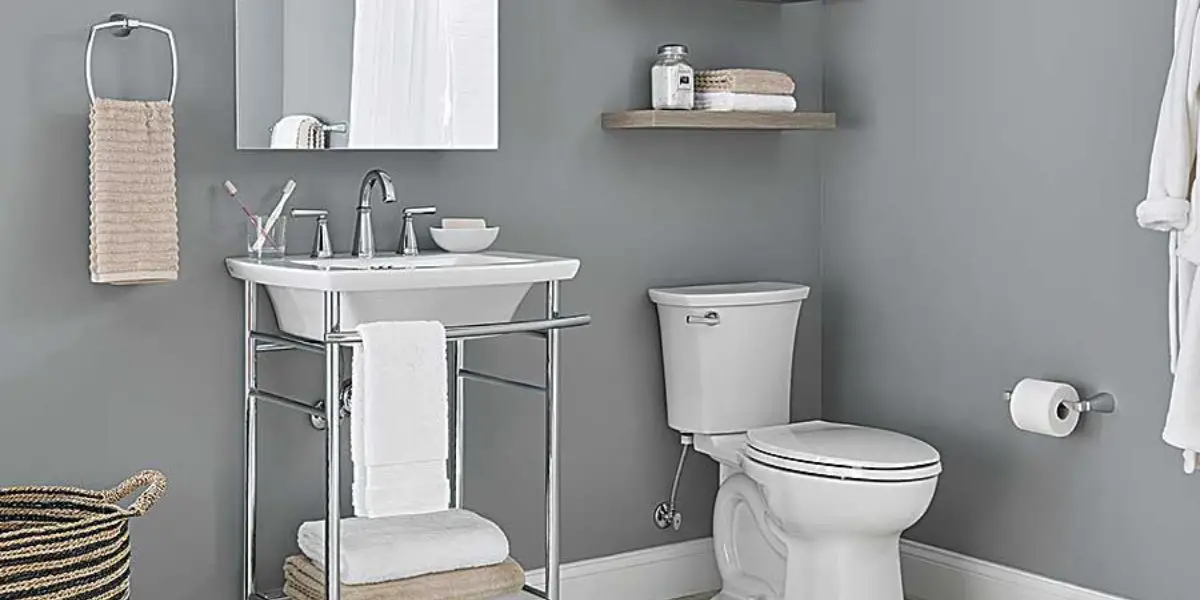 American Standard will come first for sure when it comes to the history of plumbing and building product manufacturers in the USA. Despite adopting the name "American Standard" in 1967, the company has a long history of 140 years.
By manufacturing up-to-the-mark quality bathroom and kitchen products, American Standard bathroom accessories are found in three out of every five homes in the USA. The company has attained its huge brand value with innovative styles of production.
If you can choose a bathroom sink following your budget & preferences, that would be a great deal for you. The good news is, American Standard has no shortage of bathroom sinks in different styles and features that you may need for your bathroom.
Let's take a look at the various styles of American Standard bathroom sinks. The company classified all of its bathrooms sinks mainly into three styles: Modern, Traditional, and Transitional. This company offers a significant amount of different models of bathroom sinks in a variety of colors and styles. Prices vary with the color and styles.
The most running and popular styles are:
Studio Suite
Cadet Suite
Estate Collection
Colony Collection
Townsend Collection
Boulevard Collection
Town Square S Collection
Most of these bathroom sinks are made of vitreous china and fine fire clay.
American Standard offers all the necessary types of bathroom sinks. Those are Above Counter, Countertop, Pedestal, and Wall-Mount. You may choose one of these sinks depending on the size and design of your bathroom.
Moreover, American Standard offers ADA Compliant, EverClean® & Integral Overflow to some of their bathroom sinks. If you need these features, then you can consider those sinks to buy.
Kohler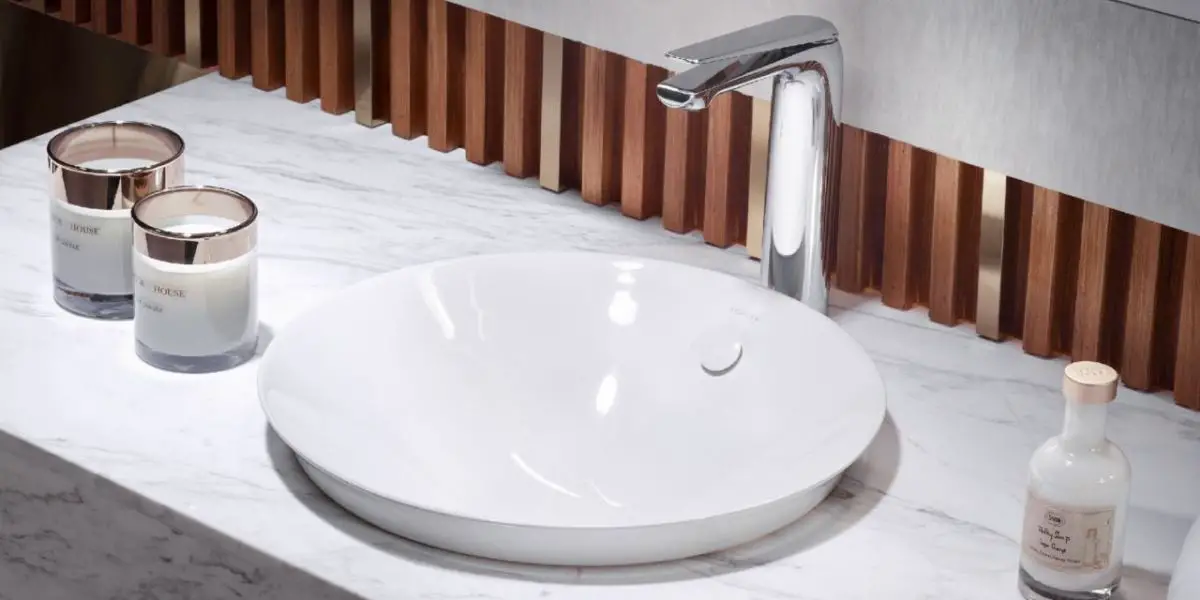 Kohler is one of the largest US private companies, founded in 1873. For decades after decades, It has been manufacturing plumbing products, furniture, cabinetry, tile, engines, and generators. However, the brand is famous for its plumbing products such as bathroom and kitchen products.
Keeping pace with the times, Kohler has been doing amazing to develop and enhance the quality of its products through design, craftsmanship, and innovation. Bathroom sinks are one of the signature products of Kohler. And it offers tons of sinks that are elegant in look as well as great in quality.
You'll find a huge collection of Kohler bathroom sinks with different styles, shapes, sizes, and colors. For this, price ranges also largely differ so that everyone can find sinks that are affordable and satisfying to their tastes. You may also find your one so easily.
Kohler offers almost every type of bathroom sink. Those are the Under-mount bathroom sinks, Pedestals, Drop-In, Vessel, Vanity top, Console table, and Wall-mount.
Here, the most popular Kohler bathroom sinks are given for you:
Veil®
Caxton®
Iron Plain®
Verticyl®
Memoirs Stately®
Ceramic Impressions®
Considering the shape Kohler offers three different types of bathroom sinks. Those are Oval and Round, Square/Rectangle, and others. And most of the Kohler bathroom sinks are made of vitreous china, glass, enameled cast iron, metal, and stone.
Kraus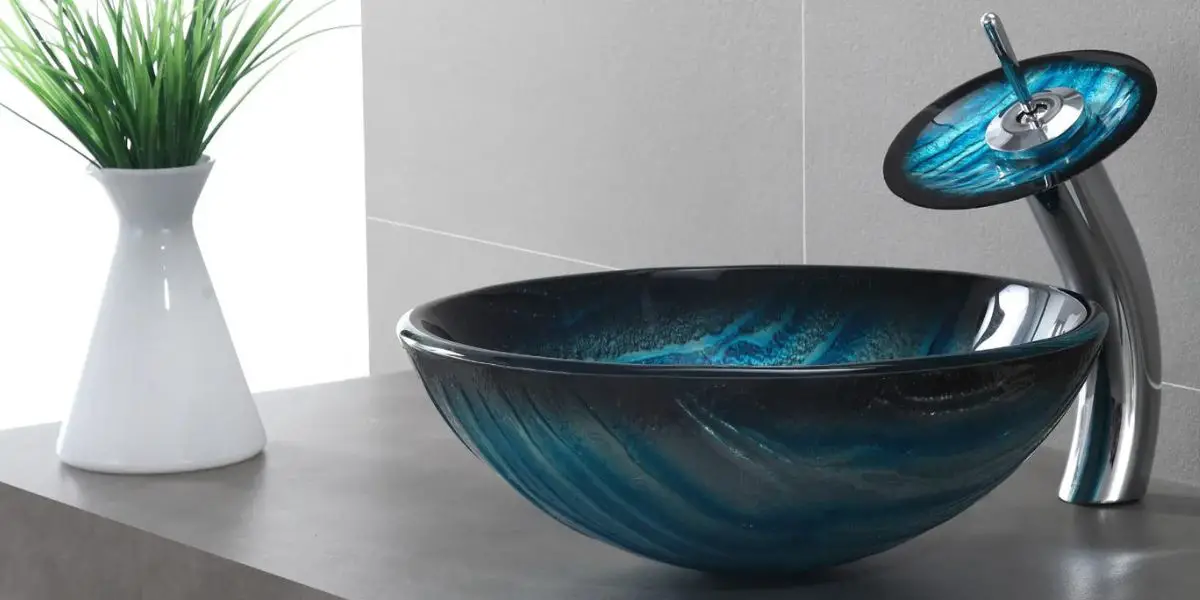 Kraus is another prominent bathroom and kitchen product manufacturer in the USA, founded in 2007. Like American Standard and Kohler, Kraus is also a popular brand for its high-quality bathroom sink production.
From its beginning, Kraus has successfully managed to grab the plumbing fixture market with a dynamic strategy of producing quality products and offering them at affordable prices. Considering all kinds of consumers' buying abilities, Kraus has brought a good number of excellent bathroom sinks.
Kraus pays attention to developing an innovative & modern designed outlook that distinguishes the firm from others. It offers a great collection of likable bathroom sinks.
You may consider the following links to purchase that are right now so popular in the market.
Viva
Elavo™
Nature™
Natura™
Ceramic
Multi-Color
Single-Tone
You can choose the best one out there by considering your bathroom's condition. Most of these sinks are available in so many different colors. There are also many different sizes of bathroom sinks with various styles and shapes.      
The company has classified all of its sinks into three types. Those are Undermount, The vessel, and Semi-Recessed. And most of them are made of Vitreous China, Tempered glass, and Solid Surfaces.
Sinkology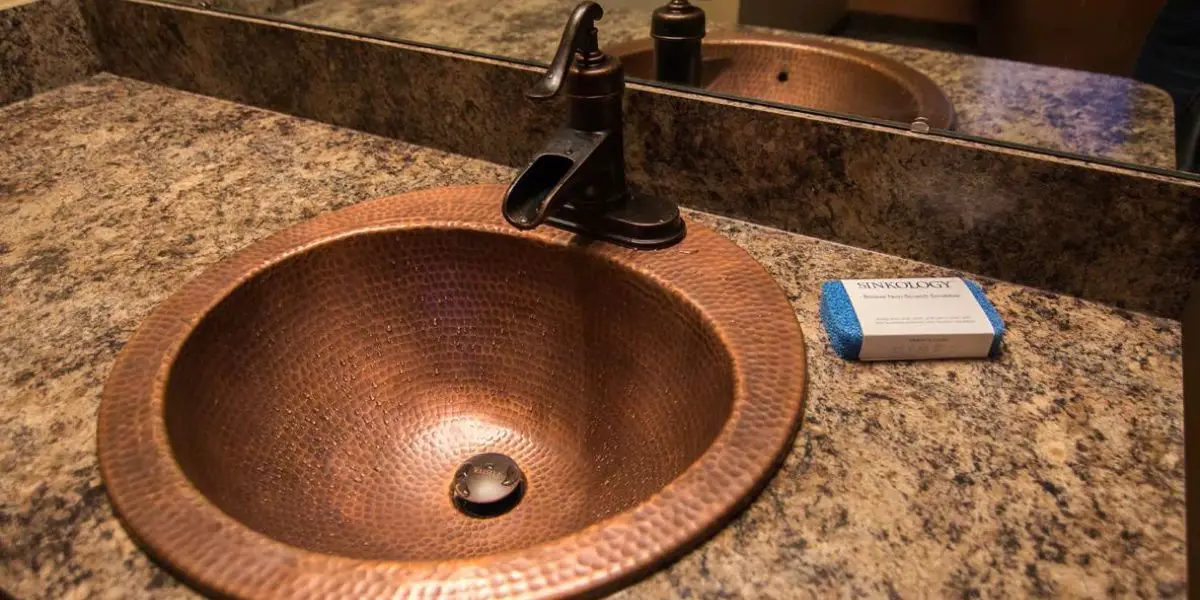 Sinkology is a very unique type of plumbing products manufacturer in the USA, founded in 2003. The company focuses on its sink production very seriously. And the company states its environmental responsibilities by manufacturing most of its sinks in copper.    
Because copper is a natural product and environment-friendly substance, copper is best for its durability too. So these sinks are likely to last longer than porcelain or vitreous china. For this, almost all Sinkology sinks are made of copper. 
Apart from durability, there are other benefits of copper-made bathroom sinks. Which are:
Eco-friendly
Great outlook
Patina coating
Make less waste
Hence Sinkology seems interesting! If it sounds the same to you, then you can go for Sinkology bathroom sinks.
You may consider the following Sinkology bathroom sinks to purchase that are so popular in the market right now.
Seville
Hubble
Dalton
Edison
Hawking
Franklin
Sinkology offers three types of bathroom sinks. Those are Drop-In, Under-mount, and Vessel. Sinks come in an array of sizes, styles, and shapes. Choose the best one that fits your bathroom.
MR Direct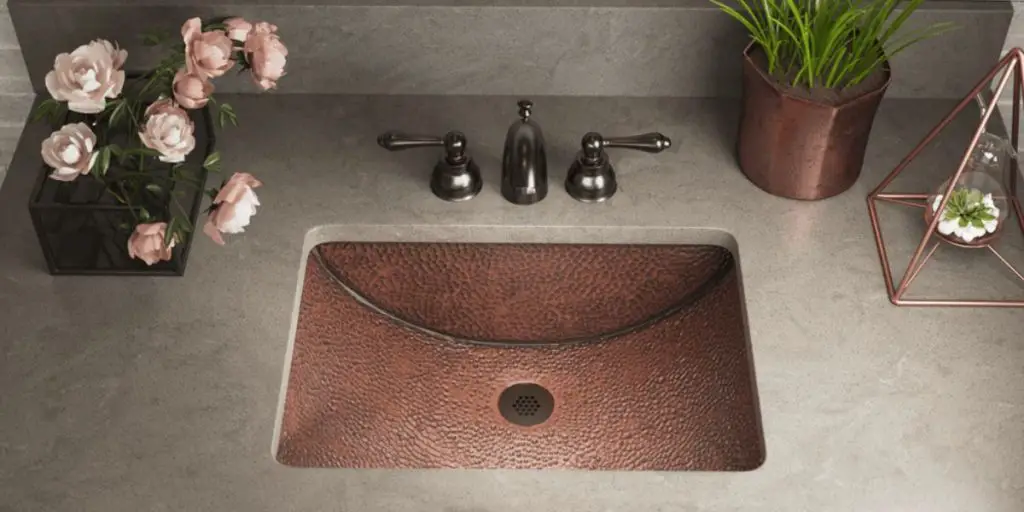 Are you getting dull from watching all the conventional bathroom sinks? Then MR Direct would be your best solution. This is a top-rated bathroom and kitchen product manufacturer in the USA, founded in 2004.
MR Direct produces a revolutionary style of bathroom sinks, which has become a symbol of the company. You'll get to see tons of extraordinary level unique bathroom sinks from MR Direct. Producing exclusively stylish outlook sinks is its strategy to grab the sink market.
Moreover, it offers these style sinks at affordable prices. So you may highly consider MR Direct bathroom sinks for your bathroom if you're craving a unique bathroom there.
MR Direct bathroom sinks are made of porcelain, bamboo, natural stone, glass, concrete, copper, poly-stone, etc. All these sinks offer four types. Those are Undermount, Drop-In, Vessel, and Undermount.
Below, you will find the fascinating MR Direct bathroom sinks.
893 Bamboo Vessel
924 Single Bowl Copper
601-Crystal Glass Vessel
640-Crystal Glass Vessel
629 Forest Green Glass Vessel
603 Crystal Antique Bronze Bathroom
These are very few I mentioned here. You'll find tons of bathroom sinks with variations of color and sizes that look incredibly unique and stylish.
Sarlai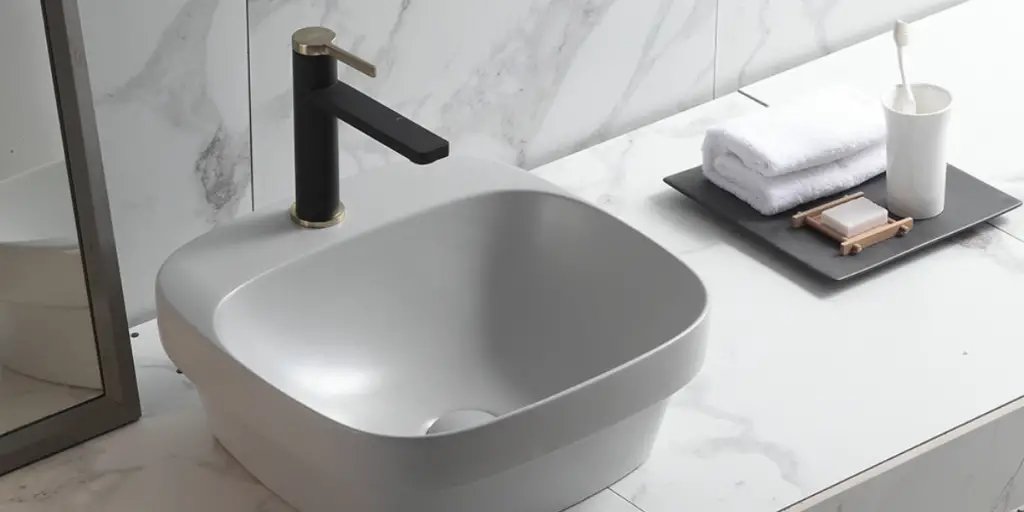 Sarlai is another notable company in the USA that manufactures bath and kitchen accessories. When it comes to bathroom sinks, Sarlai is a good brand to consider as it offers a good number of unique, elegant, stylish, and quality bathroom sinks.
Most of the Sarai bathroom sinks are made of Porcelain and ceramic. Some are made of marble stone. You'll get round, oval, and rectangular-shaped sinks from Sarlai.
The best part of Sarlai is its reasonable prices. It will be the best choice if you need standard-quality bathroom sinks at the lowest cost. I found Sarlai is the one that is offering the sinks at the lowest prices in the market.
A Comprehensive Review of Top Online Stores to Buy Bathroom Sinks
Now let's come to the point where to buy bathroom sinks online. This part of the article is going to mean a lot for you if you are about to make an order to purchase a bathroom sink online. 
Unfortunately, there's bad news buying bathroom sinks online is sometimes troublesome. Mainly those are:
Sometimes people don't even get the right sink.
All colors, shapes, and sizes aren't available all the time.
Price becomes an issue; bathroom sinks aren't sold at the right price in many online marketplaces.
The sinks are such a heavy product. So it gets damaged sometimes and that becomes difficult to recognize and understand.
But the good news is, there is a great solution by which you can avoid all of these troubles. You need to know the best place to buy a bathroom sink. Here I am now going to give the best source where you can buy a sink without facing a single problem. 
Bathroom Sinks at Amazon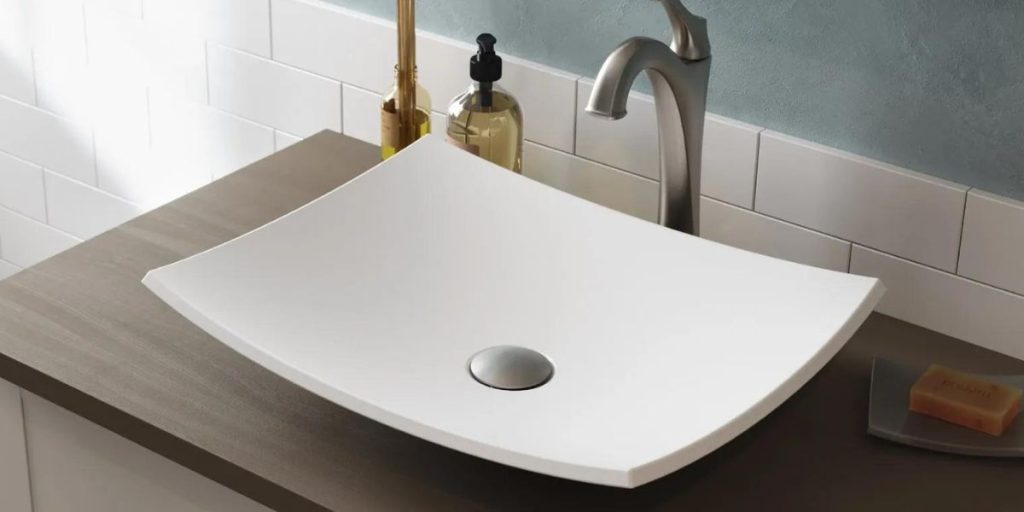 Amazon is the number one option that can expel all the complications of buying a bathroom sink online. Amazon is the biggest trustworthy online marketplace that tops the rank to purchase anything online.
eCommerce giant Amazon should be your first option to buy bathroom sinks online to avoid every kind of complication.
Why do we recommend buying bathroom sinks from Amazon?
There are several reasons why you should never go anywhere else but Amazon. These are the reasons:
The prices are correct
Easy ordering procedure
The convenient process of delivery
All the best quality sinks are available
Damage-free shipping delivery on time
Relevant search results are always perfect
Great Q&A section, answers are given there so quickly
Superb review section, loaded with tons of user experiences
If you are unable to place your order at Amazon for any reason and that makes you switch to other marketplaces, then you may consider the following eCommerce places too. 
Bathroom Sinks at Build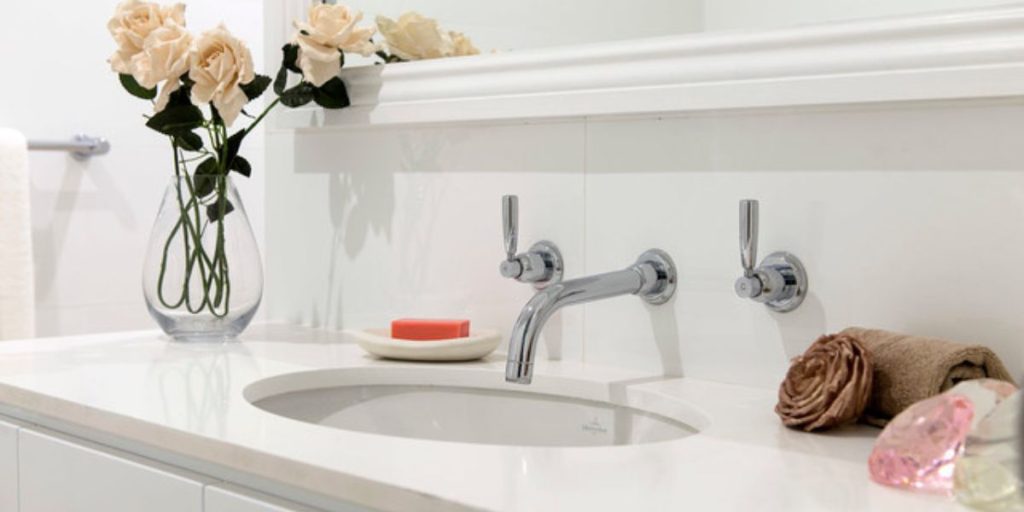 Build.com is an online marketplace that specializes in home improvement and renovation products. It is well known for selling bathroom, kitchen, and hardware product items. You can also order a sink from there.
Why do we recommend buying bathroom sinks from Build?
Prices are also reasonable.
Damage-free shipping delivery on time.
Reviews are helpful even if fewer in number.
A good collection of sinks, most of the standard quality sinks are available there.
Bathroom Sinks at Wayfair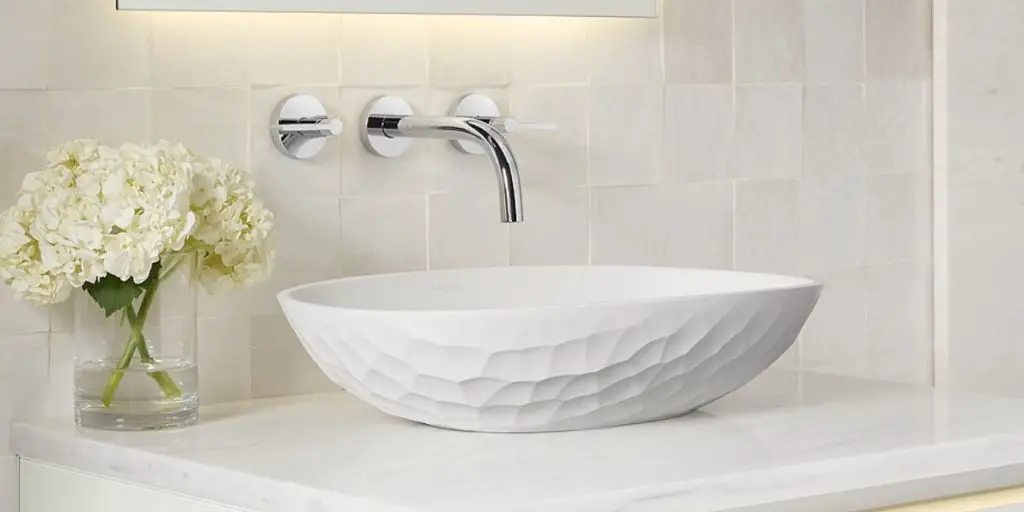 Wayfair is one of the biggest online marketplaces for home retailers. This is a special online market for home decor products. So, You can look for your bathroom sink there too.
Why do we recommend buying bathroom sinks from Wayfair?
Sink prices are reasonable.
The ordering process is quick and easy.
One of the best places for plumbing products.
Advanced level customer-friendly interface for online shopping.
Most of the popular branded bathroom sinks are available there.
Bathroom Sinks at Lowe's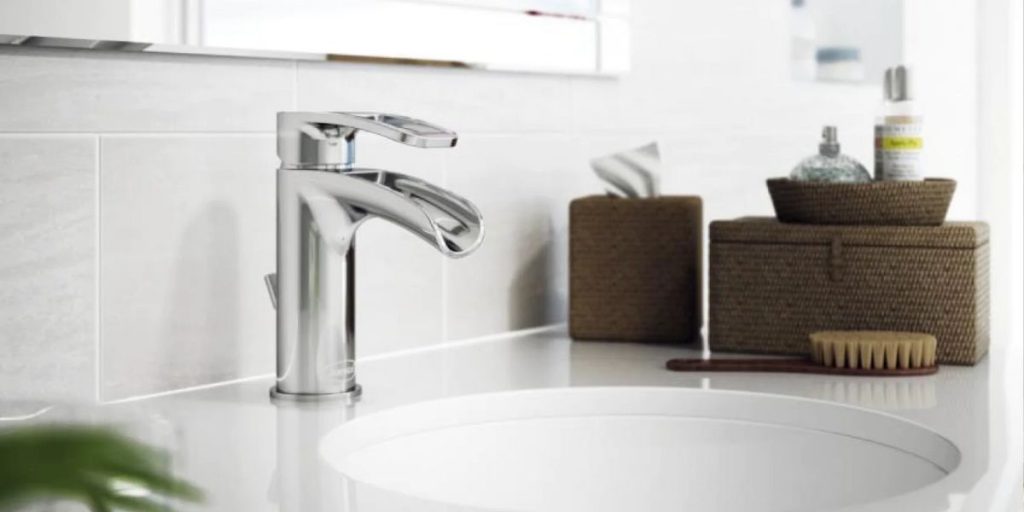 Lowe's is another reputed home improvement retailer. This is also the biggest online marketplace where you can find tons of standard-quality bathroom sinks for your bathroom.
Why do we recommend buying bathroom sinks from Lowe's?
Easy ordering process.
Huge collection of quality sinks.
Damage-free shipping delivery.
Bathroom sink prices are apparently lower
Bathroom Sinks at Ikea
Ikea is one of the largest home furnishing brands in the world. Bathroom sinks of celebrated brands are quite available there. So, Ikea would also be a good option for you to buy a bathroom sink online.
Why do we recommend buying bathroom sinks from Ikea?
Prices are lower.
Helpful review section.
The convenient process of delivery.
Ikea offers a great collection of bathroom sinks.
Frequently Asked Questions (FAQ's)
Are double bathroom sinks worth it?
A bathroom with two sinks provides more counter and storage space. Not everyone needs a double sink. Having enough space doesn't mean two sinks are worth your bathroom. If one bathroom sink isn't enough for many people, a double sink could be worth it.
What type of sink is best for a bathroom?
That depends on the size and condition of the bathroom. Another factor to consider is where the sink is going to be placed. Is that in-home or office or any other public place? However, by material, stainless steel and copper-made sinks are good options for a bathroom.
How much does a standard bathroom sink cost?
 The prices of bathroom sinks vary widely. It depends on the brand, quality, types, and build material of the sink. Overall, a standard bathroom sink price can range from $80- $350.
What kind of bathroom sink is easiest to clean?
The Cleanliness of bathroom sinks depends on construction materials that need to be considered. For example, stainless steel and copper-made sinks are comparatively easy to clean because these sinks make less waste.
Conclusion
We've discussed almost everything that you need to know before buying a bathroom sink online. I've mentioned all the sources where to buy bathroom sinks. Also, I tried to focus on the best bathroom sink manufacturers in the USA to get a complete idea of buying a bathroom sink. 
Hopefully, you will make a good deal that makes value for money for you. Good luck.