We all know that faucets are so expensive if they are made of good materials with strong build quality. For this, intelligent people always buy faucets at a heavy price for long-term comfortable usage. To let you do this very smoothly, we're here to discuss BWE faucets, one of the market-leading faucet manufacturers.
BWE comes with ‍a series of faucets that offer a luxury outlook, and the price point of these faucets may also attract you. But how wise can it be to deal with BWE? Who makes BWE faucets? Is it going to be a good deal of value for money? If it is, then where to buy it?
You will get answers to all of these questions through this article. And I am going to share my own experience of using BWE faucets. So you may expect to know everything about BWE faucets just by reading this article.
OK, then let's start with the fundamental things of the BWE faucets maker.
Who Makes BWE Faucets – Company Overview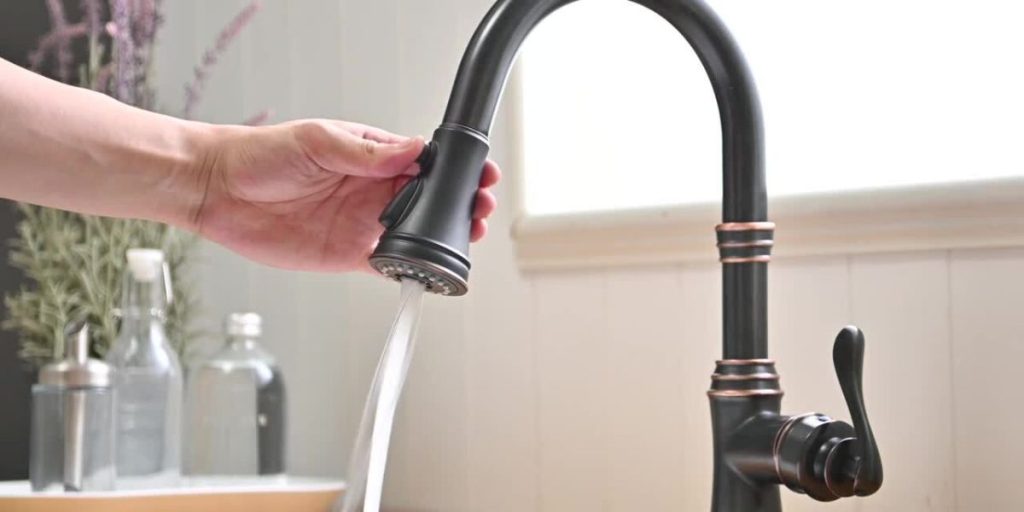 BWE-The Best Water Experience is the trade name of Wenzhou Yutong Technology Co., LTD, founded in 2010. But WenzhouWho Makes BWE Faucets Yutong-oriented BWE was founded in 2014. Then the Chinese company started to become popular within a few years for its production of kitchen and bath faucets, showerheads, and bath accessories.
Now BWE is one of the prominent manufacturers of faucets, tub fillers, and bath accessories. However, various types of faucets are the main product of the company.
BWE faucets are available in many countries of the world. The main reason for the fast expansion is its unique price point which is just amazing that everyone gets attracted instantly!
In laboratory-test, most of the BWE faucets have been found to comply with safety standards governing the installation of drinking-water faucets in North America. And BWE is making a huge revenue from North America.
Moreover, Wenzhou Yutong Technology Co., LTD, is certified by the International Association of Plumbing and Mechanical Officials (IAPMO). For that, BWE can do business in different parts of the world.
Is it a Wise Decision to Buy BWE Faucet?
Now let's examine the decision to buy BWE faucets. How wise can it be? If you're interested in buying BWE faucets, then this part of the discussion is very important for you.
Well. When choosing a faucet, the first thing that comes into our heads is its price. And faucet prices are much more expensive because of their costly materials. It's rare to find a strongly built luxury outlooked faucet for under $200. Brands like Delta faucets, Moen, and Kingster cost over $300-$400.
On the other hand, most of the BWE faucets are priced under $100. At this cheap price point, most are made of lighter materials like plastics-PVC instead of bronze, brass, and copper. But under $100, BWE is offering bronze, brass-built quality faucets without any discount, which is extremely rare and sounds great!
Besides, the quality of BWE faucets isn't found compromised. As per the company's claim, they ensure the quality of the faucets with a four-layer QC (quality control) process.
Those are:
Polishing Inspection
Tolerance Inspection
Raw Material Inspection
Electroplating Inspection
Our team of experts also didn't find any issue with its quality. And reportedly, BWE faucets are absolutely good enough in quality. So may expect to get a smooth user experience with BWE faucets.
Furthermore, BWE faucets also offer luxurious outlooked faucets. We all know this is another vital reason why faucets are so expensive. Despite the exceptionally low price, BWE is ensuring both quality and outlook. This is just amazing.
Not only this, BWE is crossing all the boundaries by providing a big advanced-level advantage to their clients. BWE allows its clients to customize the design of their faucets!
You can send them any design that you like, and their engineer will offer a 3D drawing based on your preferences. After you confirm the 3D drawing, the faucet will begin to be manufactured. I must say this is something more than amazing!
Because design always matters for faucets and their price. It's often seen that people spend over $200-300 to buy good-quality faucets but don't get able to manage a design by their choices.
‍
So it is obviously a great decision to buy BWE faucets if your budget is under $100 and looking for good quality with a nice outlooked faucet.
Get the idea: The Top 15 Farmhouse Kitchen Faucet Ideas
Where are BWE Faucets made?
BWE faucets are made in Wenzhou, which is located in the southeast region of Zhejiang Province, China. All BWE products are manufactured here in the factory of Wenzhou Yutong Technology Co., Ltd., and all the products are supplied to many corners of the world.
Where to Buy BWE Faucets?
BWE doesn't take orders or sell products through its website. They don't have any stores of their own. And there is no physical presence of BWE in the USA or North America. In this region, BWE operates its entire business from China. It sells products only through eCommerce sites that host third-party sellers.
The best reliable eCommerce platforms to buy the original faucets of BWE are given for your convenience. I am going to mention the best three online marketplaces so that you won't have to worry about delivery issues and can easily get an authentic product.
Amazon
You'll be happy to know that all the best quality BWE faucets are available on Amazon. As it is the largest trustworthy eCommerce site in the world, you can easily make your order from the US or Canada, or any region where Amazon has its dedicated marketplace. And BWE sells the majority of its sales through Amazon.
Simply saying, Amazon is one of the best sources by which you can get the 100 percent original faucets of BWE. But one thing you need to keep in mind, Amazon is committed to supplying you with a genuine product, but it has no function or responsibility to the warranty claim or won't provide replacement parts.
The Home Depot
BWE faucets are also available in The Home Depot, the largest reliable home improvement retailer in the United States. BWE supplies its product to The Home Depot. So you can easily make the order there to purchase BWE faucets.
You'll find there most of the BWE faucets like Amazon. Also, you will not be able to make any warranty claim or ask for replacement parts.
Walmart
Most of the good-quality BWE faucets are also available in Walmart, another prominent eCommerce platform in the US. Like Amazon and The Home Depot, you can also order authentic BWE faucets.
Walmart is offering a good collection of BWE faucets; you may find that you are looking for or choose any one of those that met your demand.
FAQ's
Who sells BWE faucets?
BWE doesn't sell faucets through its own website. It sells the product through eCommerce sites like Amazon, Walmart, and The Home Depot that host third-party sellers and takes responsibility for the entire retailing process, including warehousing, payment processing, delivery, and returns.
Who manufactures BWE faucets?
On the website the company, BWE claims itself as the manufacturer of BWE faucets. And BWE-Best Water Experience is a trading name used by Wenzhou Yutong Tech­nol­ogy Co., Ltd. to sell their faucets and bath accessories.
Where are BWE faucets manufactured?
BWE faucets are made in the factory of Wenzhou Yutong Tech­nol­ogy Co., located in Wenzhou, the southeast region of Zhejiang Province, China.
Are BWE faucets any good?
Most of the BWE faucets are strongly built and are made of Bronze, Brass, and copper. Besides, its outlooks are luxurious. And with consideration of its affordable price, BWE faucets are good enough.
Are BWE faucets made in the USA?
No. BWE doesn't have any physical presence in the USA. All kinds of its business in North America is operated from China.
Conclusion
Here everything has been discussed related to the BWE faucets, which was all you needed for making a decision to purchase it or not. I tried to explain all the things relevant to the BWE faucet. Now you have known enough about BWE faucets.
Just go and visit the aforementioned sites and make the order so easily that you want to purchase. The amazing thing is that for sure, you're going to buy the world's most affordable faucet, and the quality of the product hasn't been compromised for its economical pricing. GoodLuck.