Without a doubt, most household chores are done at the kitchen workstation, and more specifically, in the kitchen sinks, from washing dishes to cleaning vegetables. So it's necessary to build a sturdy kitchen sink with a sturdy faucet but an appealing look.
Stop scrolling here, if you want to remodel your kitchen with practical rustic charm and a smooth touch of modernity. Below we've listed some warm and vintage-looking farmhouse kitchen faucet ideas.
So now let's move into our compiled list of the top 15 farmhouse kitchen sink faucet ideas!
Don't forget to read: Best faucet for farmhouse sink
Get ergonomic value: The top 15 farmhouse faucet ideas of 2023
A farmhouse-style kitchen is made with natural materials, a subtle design, and rural heritage without sacrificing modernity. It has a welcoming, cozy appearance.
Farmhouse kitchen surrounds hold it firmly among the various style upgrades. The sinks or faucets in the farmhouse kitchen honor the regional kitchen surroundings and appeal to a natural and personality-infused look.
That's why you must choose some high-class but affordable kitchen sink faucets.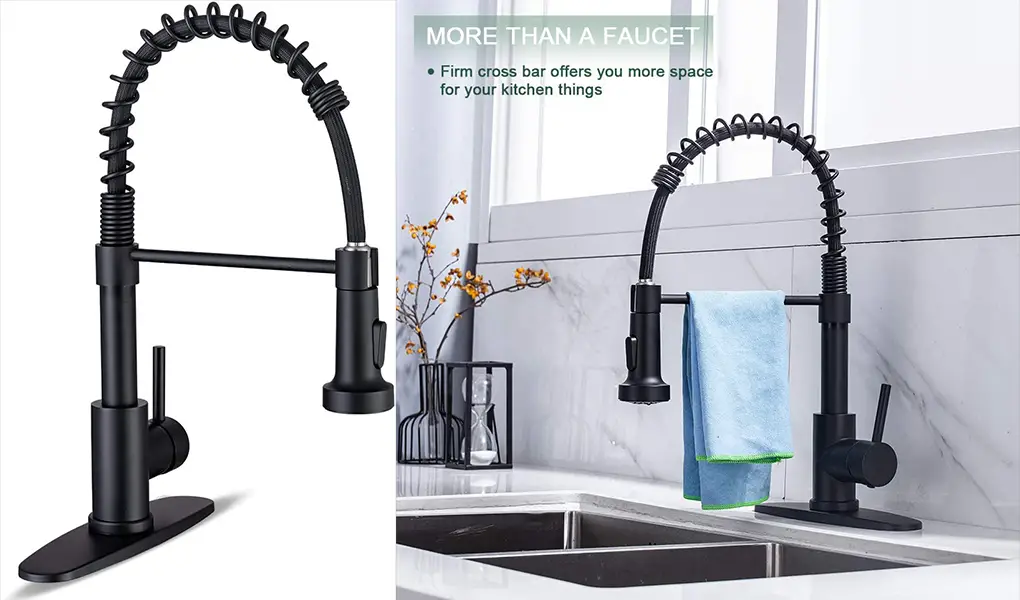 Industrial farmhouse kitchen faucets are typically built with heavy-duty materials. These faucets come with various options like extra T connections, swivel spray valves, vandal-resistant aerators, and antimicrobial aerators.
It appears with the stylish look either you've designed your kitchen in a farmhouse or vintage design. The black matte finishes faucets look wise high-end but surprisingly you can get those at an affordable price range.
Get the guide: What color faucet goes with stainless steel sink?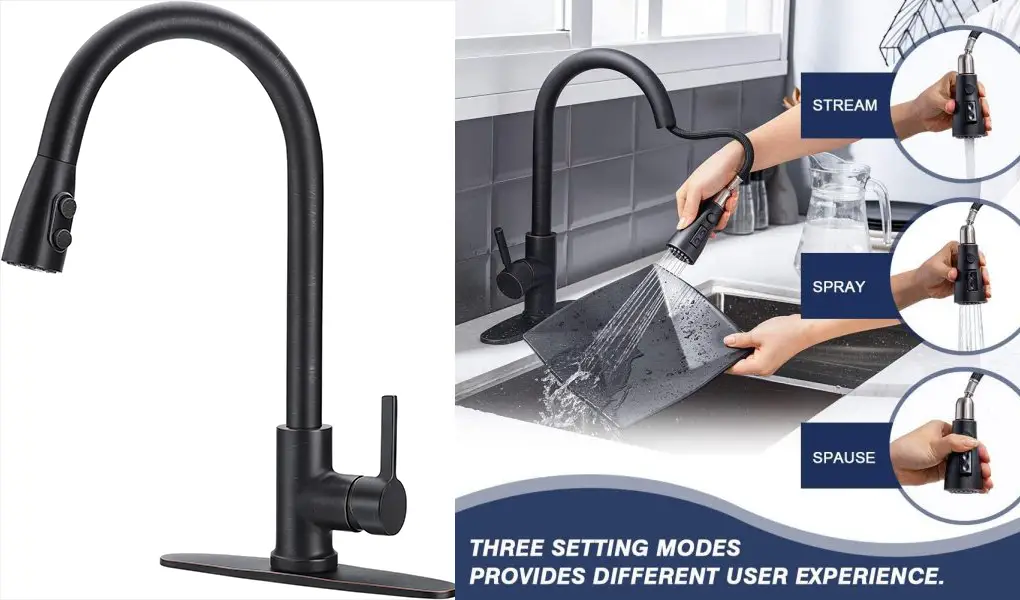 An oil-rubbed kitchen faucet is the most popular faucet for home décor. It is heavily embellished lets the kitchen décor elegant.
The oil solution will fade over time, requiring special care and attention. Oil rubbed bronze faucet requires a new pop-up installation, and matching drain whether it looks weird.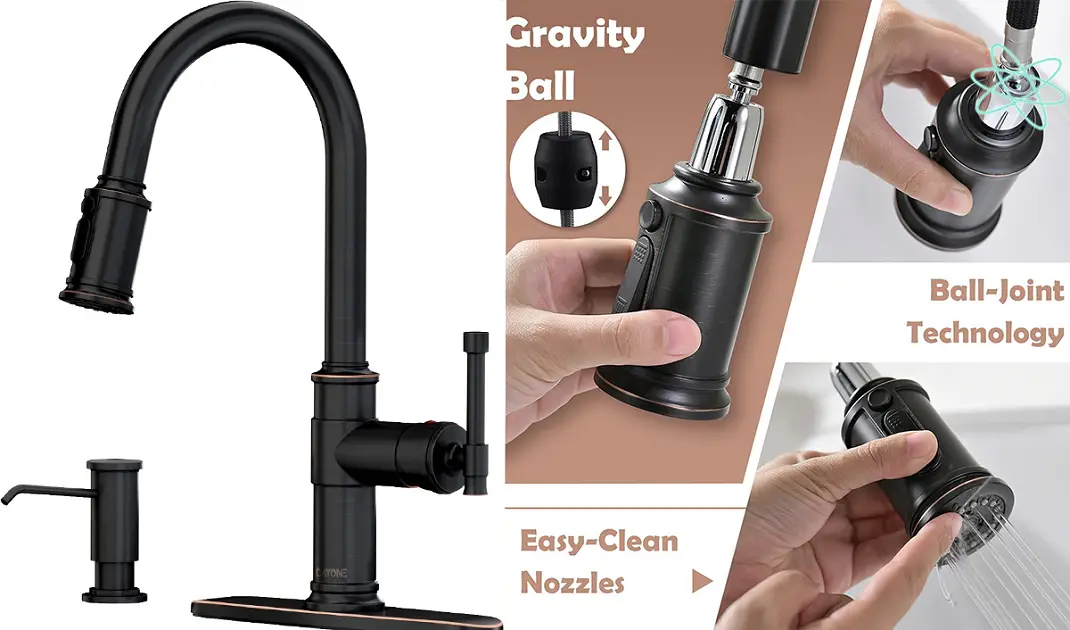 Antique kitchen faucet brightens the kitchen surrounding. The farmhouse kitchen appears rustic, so the antique nickel finish faucet leaves a deep impression on the visitor's eyes.
In the market, an antique oil-rubbed faucet comes with a deck plate and preinstalled waterlines. If the faucet comes with the sprayer, so adds flexibility to the household chores.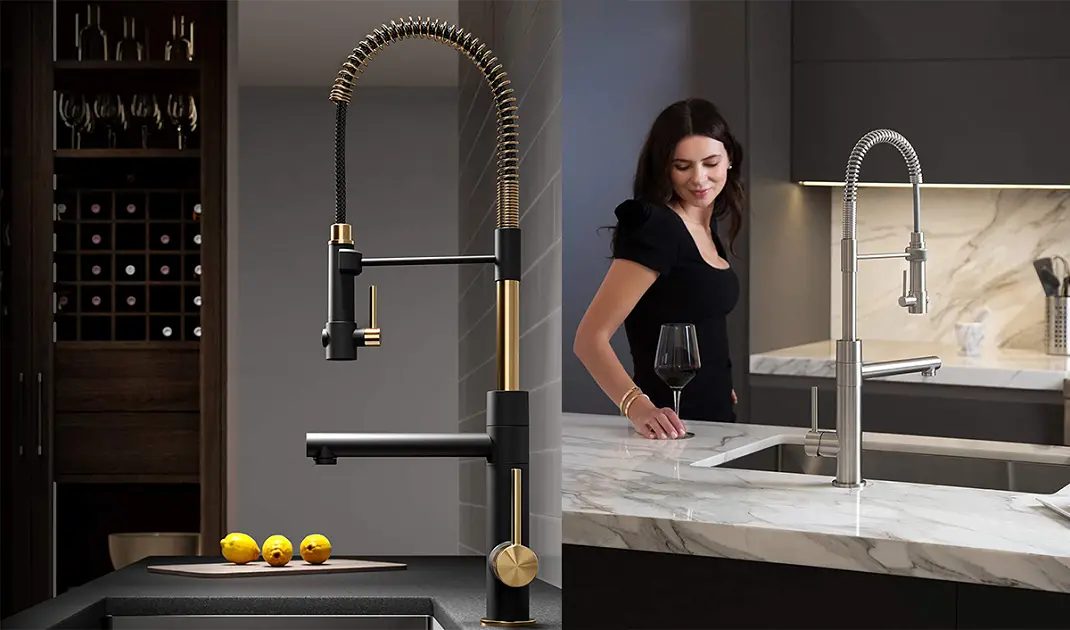 Commercial-style farmhouse kitchen faucet specializes in the design and materials it is made with. They look stylish and can be an excellent option for upgrading your kitchen interior. The commercial-style kitchen faucet mainly in the high arc can easier fill pots and pans, and the pull-down spout or sprayer is excellent for flexible work.
It has the reliability to last long and simultaneously difficult its installation process.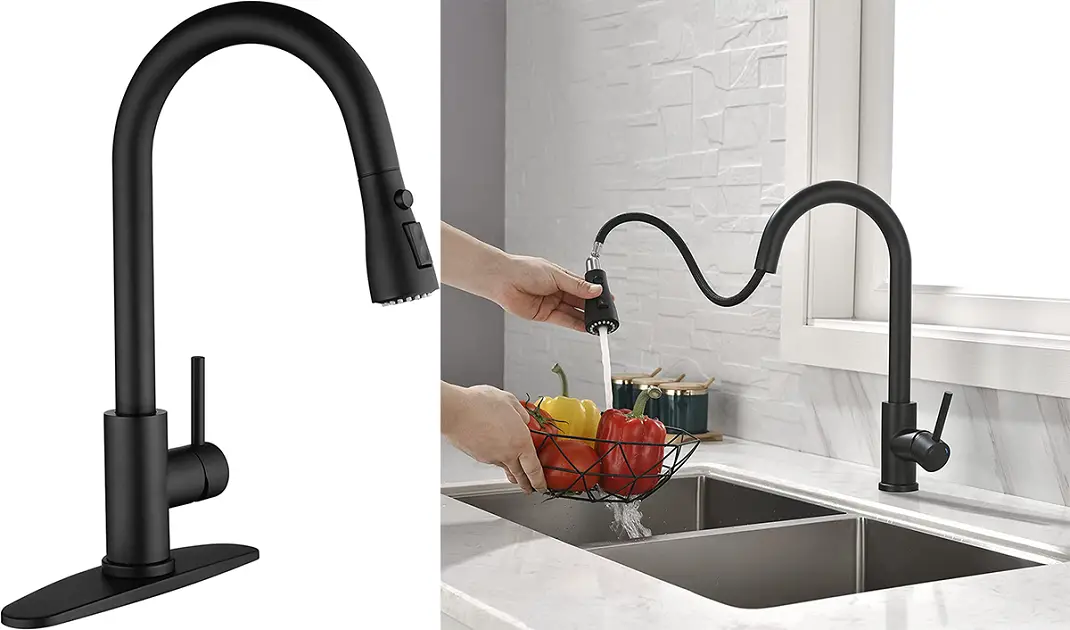 Pull out the kitchen faucet with a longer hose and swivel it to the side of the countertop. It is ideal for filling tall pitchers.
When you're working in a compact space so the use of it is convenient for you because it splashes less. It comes with limited design and style but connects your farmhouse kitchen countertop with its surroundings.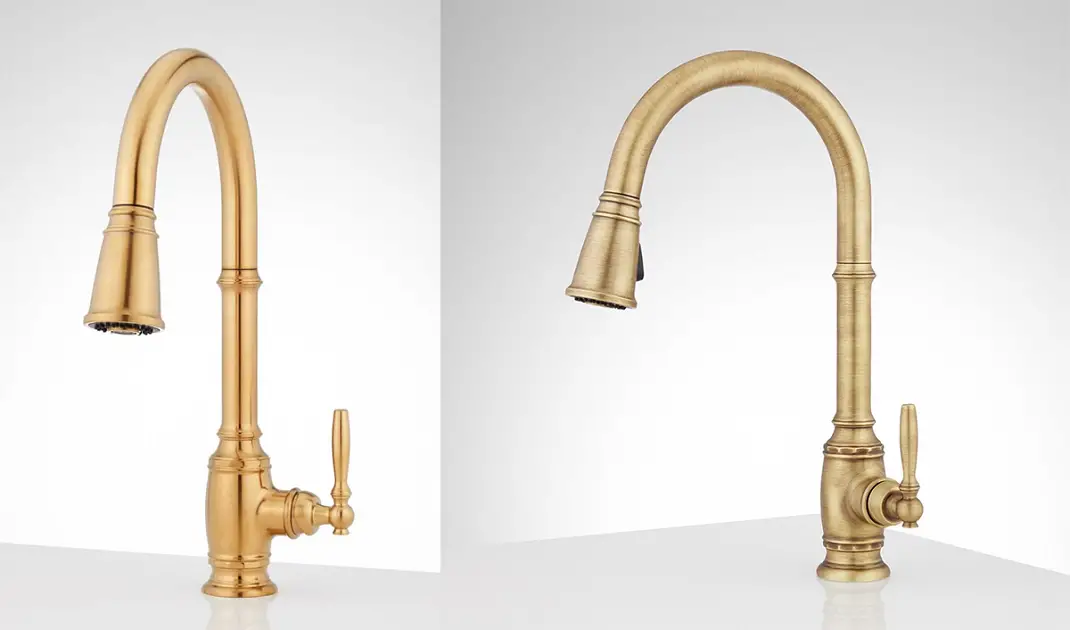 Rustic charm inspired the early days when people lived in scarce spaces and even allowed nature to come with rustic interiors.
Nowadays we've come up with different variants of kitchen faucets, but rustic-designed ones are incomparable. Brass is a wonderful and long-lasting material in the range of kitchen faucets.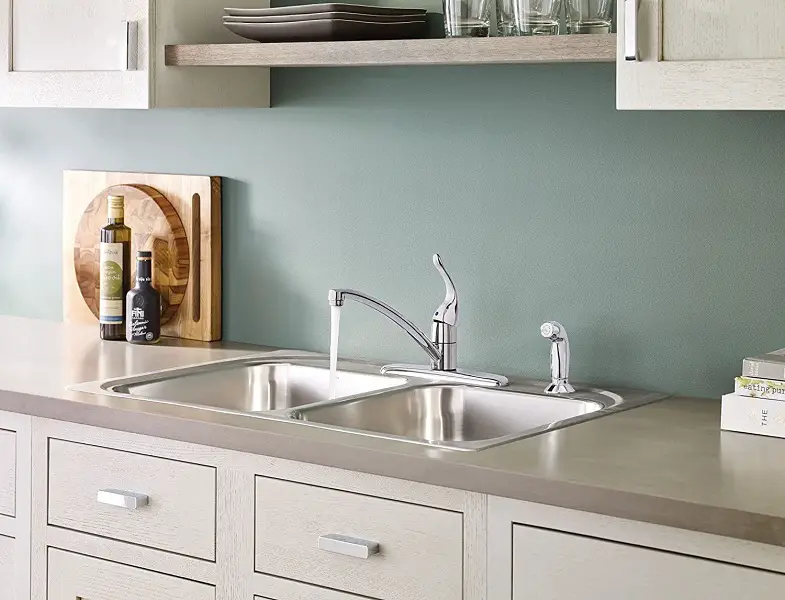 Low arc faucets are conventional-styled faucets and beautifully paired with modern palettes. It may look low profile or outdated, but it offers the perfect traditional aesthetic touch with trendy finishes.
The low arc with a side sprayer so the splashing isn't a concern, even if it saves the space. It is likely your best bet, and its center tap works perfectly for small and compact kitchens.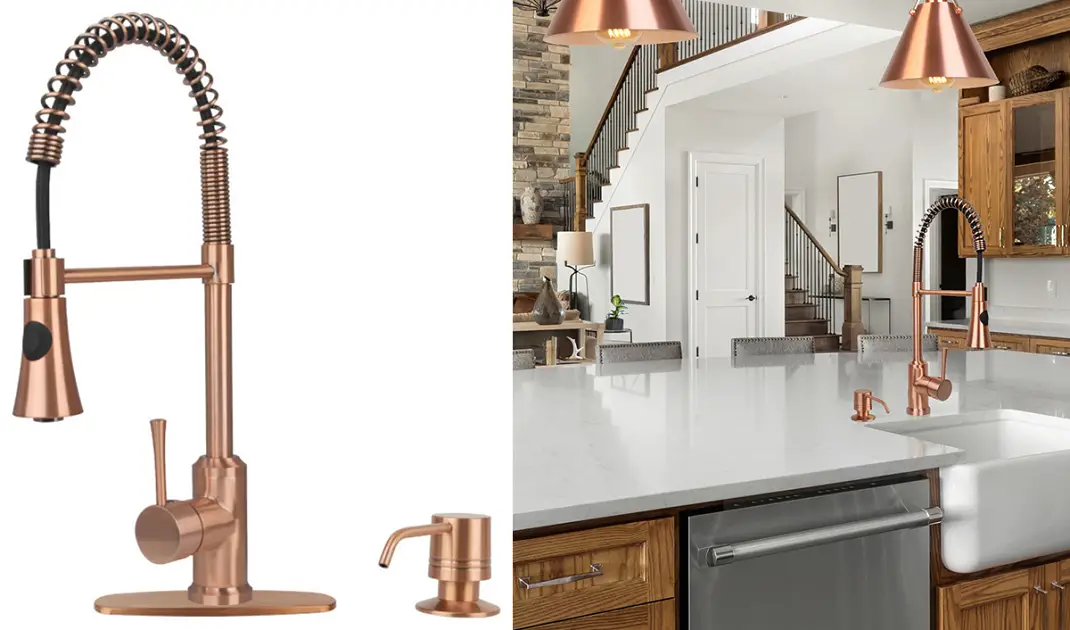 Copper-finished faucets give the kitchen a rich feeling. Its anti-bacterial properties make the surroundings germ-free and flowing water clean.
If you're remodeling your kitchen in the farmhouse style consider the reddish-gold color of copper. That can be durable and at the same time make the kitchen looks more fashionable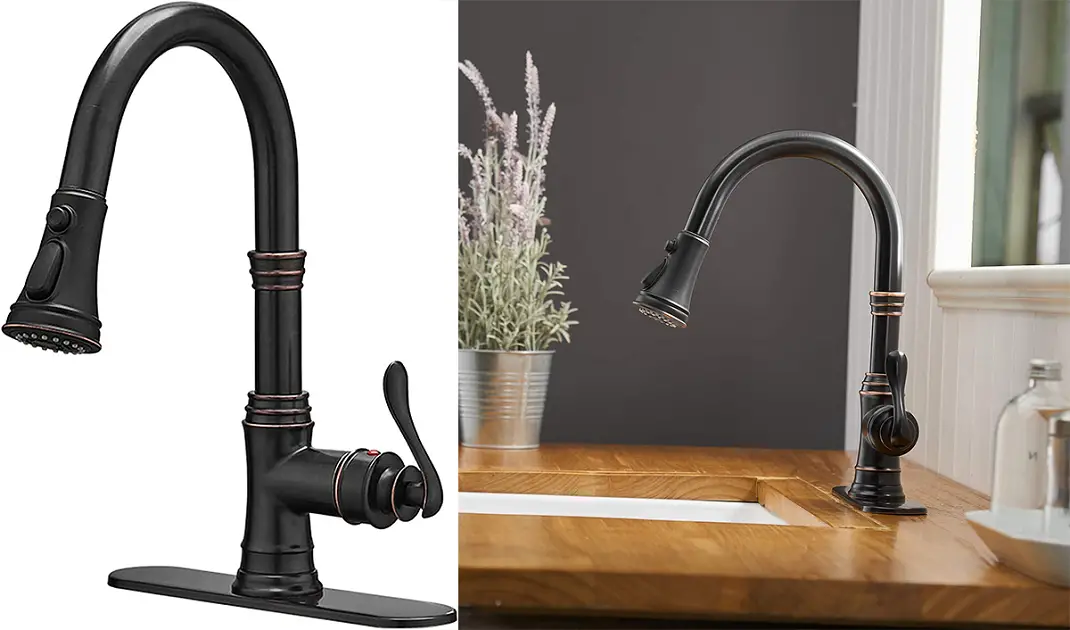 Gooseneck-style faucet is the go-to choice for commercial and residential kitchens. It lets to use plenty of space for washing larger cookware. If you decide to choose its technological features either touchless or voice control.
It comes with various styles, designs, color brands, finishes, and price points. So whatever your budget or the kitchen interior you can find your ones, creating elegance from the contemporary kitchen layouts.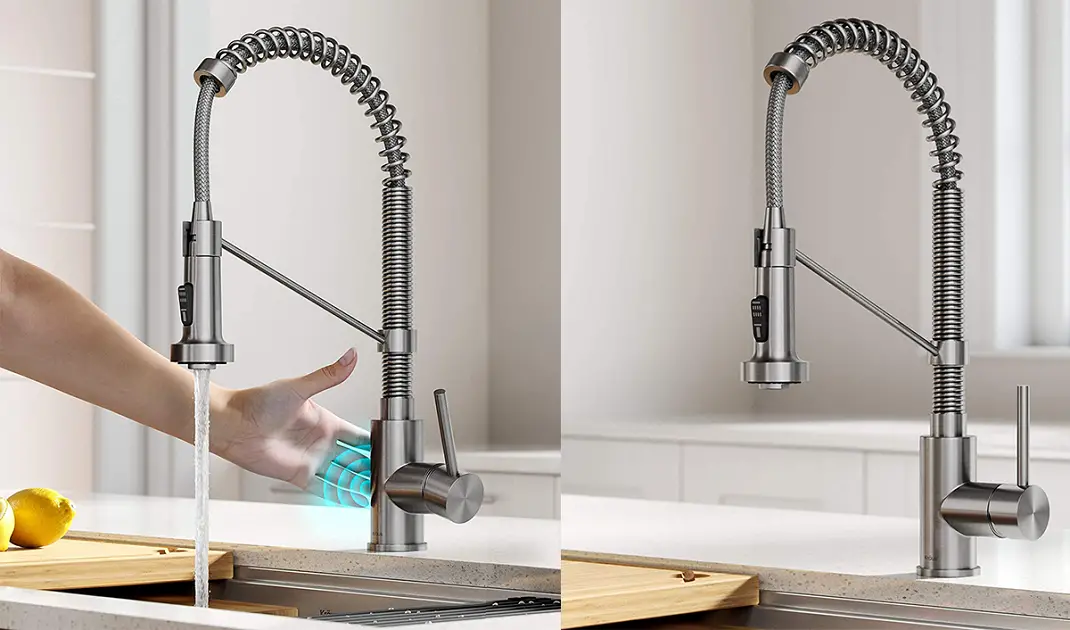 If you want to modernize your contemporary kitchen interior, use a hand-free kitchen faucet. It works with the sensor to detect the wave or a slight touch and then automatically turn on and off.
It is useful, and convenient and reduces the spread of germs and water usage. Besides this, it adds a modern feel to your kitchen.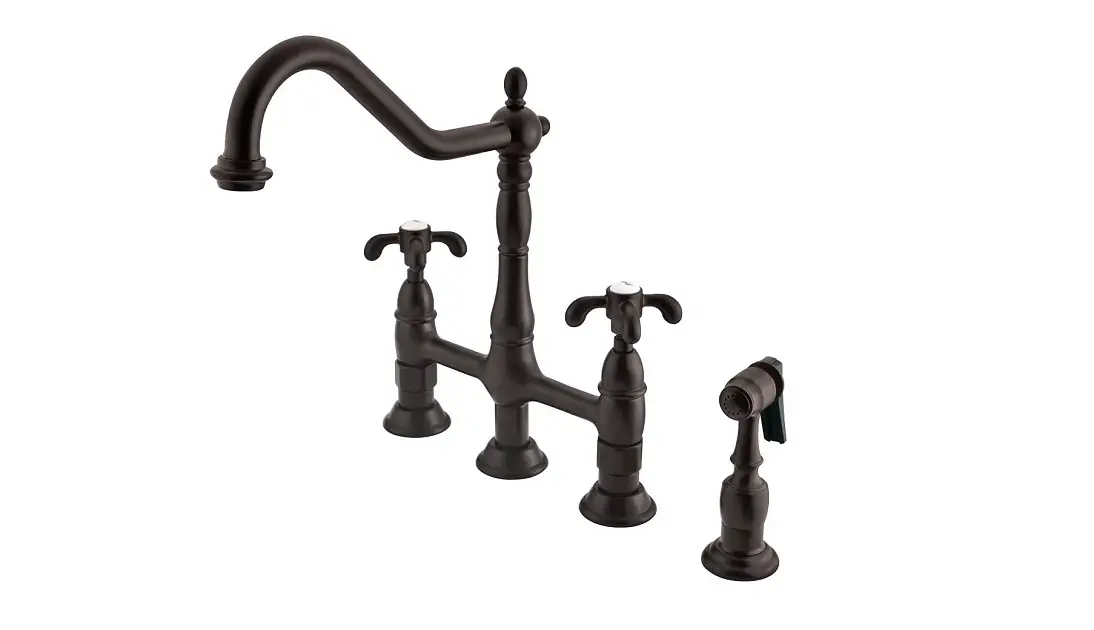 A vintage-style bridge faucet is an ideal combination of classics and modern elements for a farmhouse kitchen. It comes with several finishes, oil-rubbed bronze, polished nickel, and copper-finished, producing a fresh and antique look.
Its bridge spout and cross handles dressed the sink and add a classic feel to the kitchen. It looks good with the under-mount and top-mount sinks.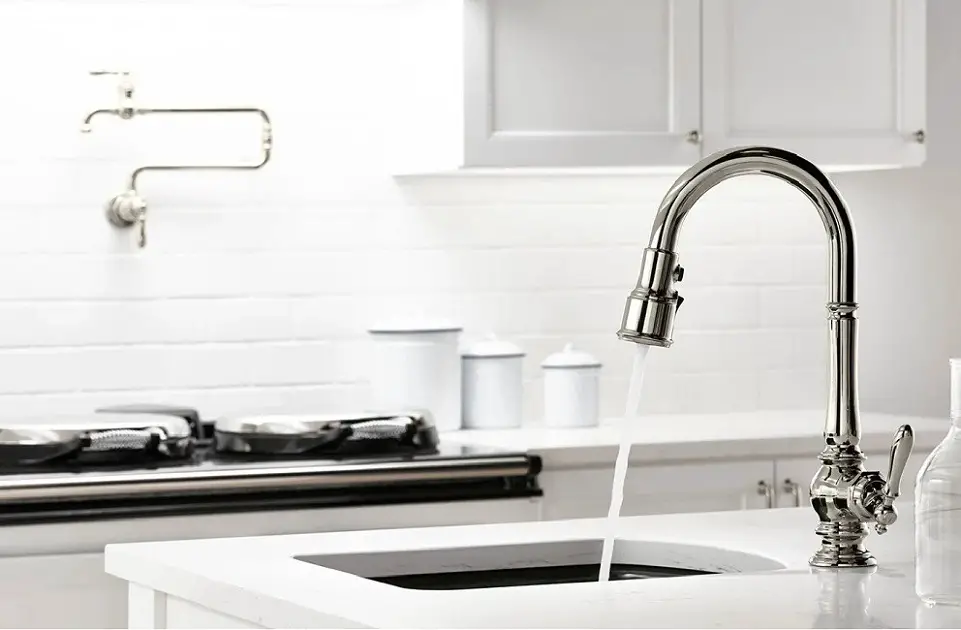 Many homeowners or plumbers suggest picking the pull-down faucet. The reason is that it allows for greater control and several spouts and sprayer patterns.
Though it's a limited twisting hose, it's durable and the best ergonomic solution. To make the simplistic farmhouse kitchen, surely makes a great fit for it.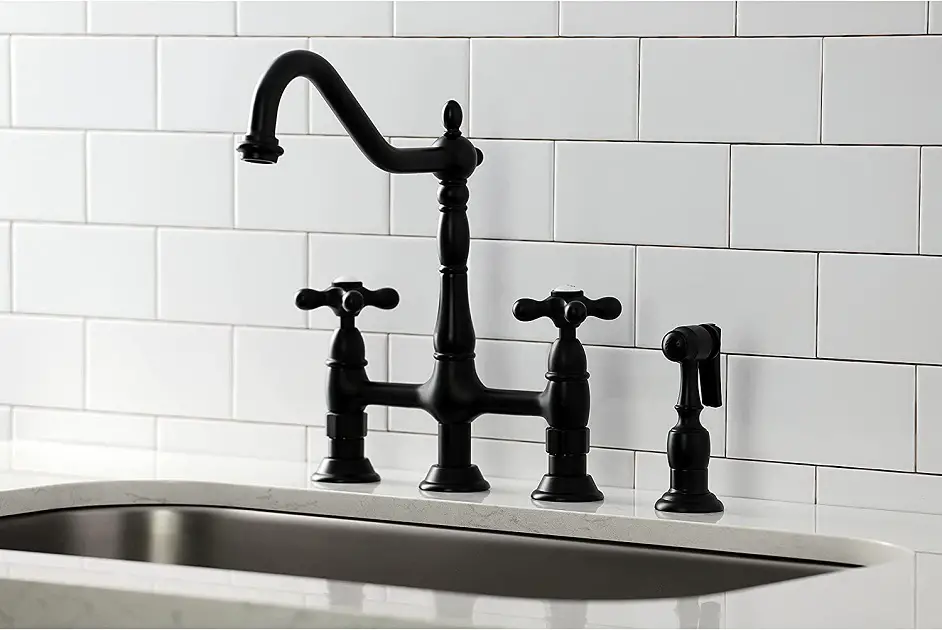 Dual-handle faucet lets you customize the water temperature and flow. It is not only useful but also adds charm to the kitchen countertop. It reduces the chance of accidents by the hot water temperature.
It is the most traditional choice of homeowners because if any leak is found, they can still get water from the sprayers. Besides this, it adds glamour to your kitchen interior layouts.
Pull-down faucet dominates the kitchen accessories market. If it comes with a soap dispenser with an antique look is a bonus.
It is mostly known for its gooseneck arc, stylish design, and wonderful finishes. Even most companies add innovative technology to elevate their features and quality of work.
Industrial kitchen faucets can be your best washing assistant. You can detect leaks and other issues from your fixtures with the exposed piping.
Its metal lever handle can control the water flow and free it from getting wet on the kitchen countertop. It has a professional but minimalistic design and adds a commercial fusion to the farmhouse kitchen interior.
The specialty of Farmhouse Kitchen Faucets
The kitchen faucet specializes in many sectors but some of them are common, for example, reduces water usage, cooks comfortably, rinses cookware easily, and maintains a germ-free lifestyle.
There are more features we need to know, these are-
Aesthetic features
Sleek design: Design is just as important as function. Because when you remodel your kitchen, it should match or contrast the interior architecture. If it isn't, the look might not satisfy you.
Rustic or vintage look: As we talk about the farmhouse kitchen interior design, the kitchen is distinguished by its rustic and vintage appearance. Going for the antique, brushed, or oil-rubbed finish infuses the rustic farmhouse charm in your kitchen.
Exposed piping: The exposed piping option is perfect for the kitchen because it reduces the risk of damage, discovers leaks, and repairs quickly. Exposed pipework is easy to maintain than concealed pipework. It is a sensible feature to add, providing you with an urban industrial or victorian era feel to the kitchen interior.
Functionality
High arc spout: The majority of farmhouse kitchen sink faucets have a high arc design. High arc kitchen faucets have a height and curve of the faucet spout ideal for handwashing, washing large pots and pans, and filling. If you try a low arc faucet, the water flow won't overwhelm the kitchen sink, but it gets lost visually on a large sink and looks so weird.
So in the kitchen, most chores happen on the sink, so you need the large farmhouse kitchen sink and the high arc spout that will look amazing together. Moreover, the high arc spout look
Dual-handle or single-handle options: Single-handle faucets are the most user-friendly and their installation process is simple. Even if it is the most common choice for everyone. While the double handle adds a new charm and looks stylish in the kitchen interior.
The dual handle has two valves, one for hot water and one for normal water. The dual handle option offers better water temperature and flow control whereas the single handle is only for water flow control.
Sprayer or integrated sprayer options: The sprayer is most common on nowadays faucets. It is valuable for filling large pots, rinsing the cookware, and cleaning the kitchen sinks. It is sometimes integrated with the pull-down and pull-out spout.
The spray head is closer to the sink or the countertop. Pull-down faucets have an arched spout whereas pull-out spouts have either vertical spouts or extend upward at a 45-degree angle.
Pot filler options: In the household chores, filling the pot is mostly done. While filling the pot in the sink, carrying the heavy pot is cumbersome. The installation of a pot filler is workable for remodeling the kitchen. The pot filler options eliminate potential spills and messes.
Benefits of Farmhouse Kitchen Faucets
The kitchen faucet is an essential and busiest fixture. The plumbing setup is complete with the kitchen faucet. We can use the faucet to do various daily tasks, from filling pots to rinsing vegetables and drinking water. Besides some household chores, the farmhouse kitchen faucet's benefits are enormous, these are-
Convenience
Easy to maintain
Save water from waste
Minimize water consumption
Add a modern twist with a rustic feel
Free hand to do more household chores
Placing it on the upper side of the kitchen sink doesn't take up any space
Since faucets come in various styles, including single-handle, pull-out spout, pull-down spout, two-handle, side sprayer, pot filler, bridge faucet, gooseneck faucet, straight spout faucet, and swivel spout, advantages have differed.
Popular Material Choices for Farmhouse Kitchen Faucets
Farmhouse kitchen faucets are made with several materials, but when you invest in remodeling your kitchen, you must know which materials are best for the faucets and what to choose. So we've tried to give a proper overview of the materials.
Brass Material
The material most frequently used for a kitchen faucet is brass. It is an alloy of copper and zinc with natural antimicrobial properties to prevent bacteria from causing infections.
However, it is susceptible to dents, dings, and scratches, which require more care and maintenance than other kitchen faucet materials but can last for decades.
Stainless Steel Material
The most durable material for kitchen faucets is stainless steel. You cannot help but choose it because of its rust, heat, stain-resistant, and antimicrobial properties. It can be your best and most durable choice among others.
Copper Material
Copper kitchen faucets have a rustic touch with a striking design. These faucets are matte or shiny, durable, long-lasting, and best for farmhouse kitchen sinks. It is naturally stain, rust-resistant, and anti-microbial, ensuring it kills bacteria.
Bronze Material
Bronze is the perfect material for kitchen fixtures like faucets and handles items. It has durability, versatility, and easy-to-clean features but is comparatively more expensive than chrome and nickel-finished faucets. But anyway, oil-rubbed bronze or Venetian bronze faucets add a distinctive touch to the farmhouse kitchen style.
Chrome Material
Chrome-finished faucets are consistently the most popular material to make kitchen or industrial faucets. Chrome faucets have a thin layer of chromium that is polished to a high shine. It is durable, rust, corrosion, and scratch-resistant since it has a shiny finish, so minor scratches are relatively visible.
Nickel Material
Nickel is much more resilient and tends to maintain its finish longer than chrome. It is a relatively inexpensive material that is shiny but does not show fingerprints or minor scratches, and it is also easy to clean.
Tips for Choosing the Right Farmhouse Kitchen Faucet for Your Home
We've compiled tips that give you a proper understanding while choosing the right farmhouse kitchen sink faucet to remodel your kitchen.
Budget
Pricing is the most important factor when remodeling the kitchen. Because there you need to
buy several fixtures like cabinets, kitchen sinks, wall hangers, and the aesthetic design of tiles. So the kitchen faucet remains an important thing in the kitchen.
If you want something aesthetic like chrome-finished or nickel-finished that is quite pricy and nodded your pricing structure. So choose the one which is within your budget.
Determine your needs and preferences
There are several aspects to consider for your budget, but you must consider them all. Think about your preferences for how you make your kitchen beautiful.
Suppose you want to add a rustic feel to your kitchen. In that case, you can choose a gooseneck faucet or single or multi-handle faucets. If you wish to have some modesty with modernity, you can try some uniquely designed faucets like wheel faucets or even try out bruised nickel finish faucets.
Style
The kitchen sink is the centerpiece of your kitchen. Because you can't ignore that style matters! Determine your kitchen style, whether it will be traditional, contemporary, rustic, or transitional, and find the perfect match with the faucets that give your kitchen an aesthetic feel.
Consider the finish and color of your cabinets and sink
When we talk about the farmhouse kitchen faucet style, we can't ignore its finish and color. The faucet's finish changes with interior trends, but some are timeless.
For example, brushed nickel-finished matte black farmhouse kitchen faucets are becoming popular in home design. Even somewhere, oil-rubbed bronze, polished chrome, and brushed brass are the most widely used hardware materials for kitchen interior design.
Determine the function of faucets
If we come to the point of the faucet's functions, they are determined by its height, arc, and handle type.
Faucet height is one of the concerns when remodeling the kitchen while faucet arcs. Faucet height can be aesthetic or functional
Measure the space where the faucet will be installed
Although installing a faucet is a simple DIY project, flexibility is necessary. So choose the one in which the installation's level of complexity is lower.
Because the less complex the fixture, the easier it is to install. Make sure to measure the space first, because there are several sizes and mounting types of farmhouse kitchen faucets. Here you can check the types of kitchen sink on the market.
Recommended: List of top-rated farmhouse kitchen faucets
Our top 5 most famous, claim durability, and reliable farmhouse kitchen faucet companies
provide you with the best quality material and add a rustic feel to the design.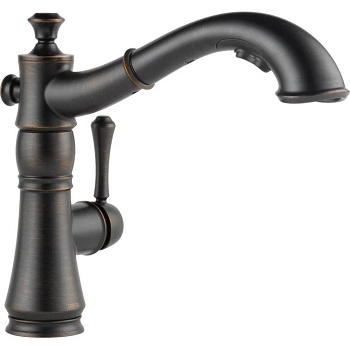 Delta farmhouse kitchen faucet
Delta Kitchen Faucet is the go-to faucet brand for the plumber community. It outperforms the competition in terms of material, finish, cartridge, and water technology. Delta offers a lifetime limited warranty and a 5-year limited warranty for its electronic parts and batteries. Typically, a kitchen faucet lasts between 10 and 20 days, depending on its quality and other determining factors.
Kohler farmhouse kitchen faucet
Kohler farmhouse kitchen line products give you peace of mind because of their high-quality, long-lasting, and easily obtainable replacement parts. Their product is mainly made with brass and stainless steel, so it can be less expensive and less likely to corrode. Their product is both dependable and fashionable. Even plumbers prefer it due to its accessibility, quality, and dependability.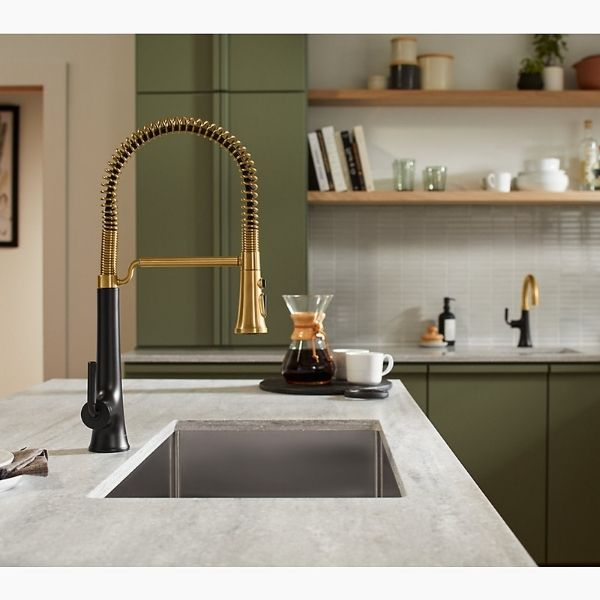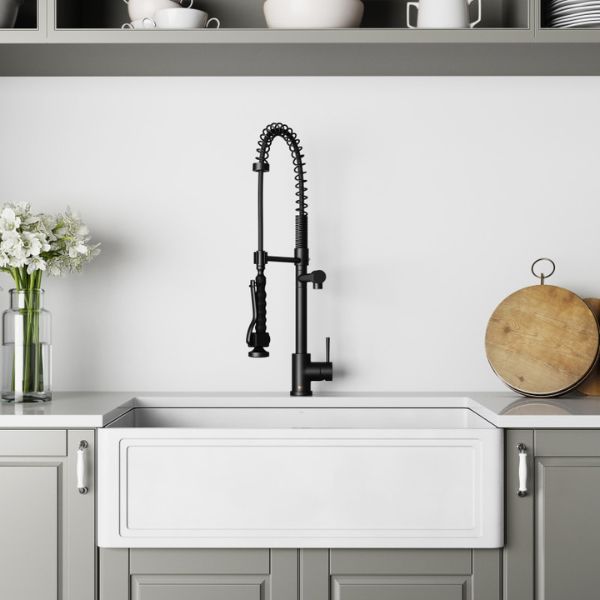 Moen farmhouse kitchen faucet
Moen is the perfect brand to make your kitchen look modern with a rustic, smooth touch. It has a variety of price points while continuing to elegancy in design. They have only one grade of brass, cartridge, and warranty coverage. Even they received the title of America's most trusted faucet brand for the past six consecutive years.
Franke farmhouse kitchen faucets
Franke is the large kitchen specialized product island. They are the world's most famous kitchen products manufacturer. They embellish with the rigorous quality faucet with an easy installation process. Their ergonomic faucet design and ample water flow make the perfect choice for your remodeling kitchen countertop.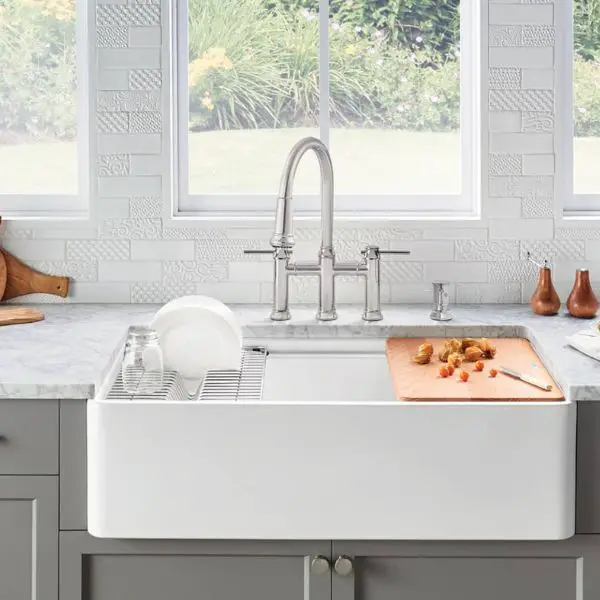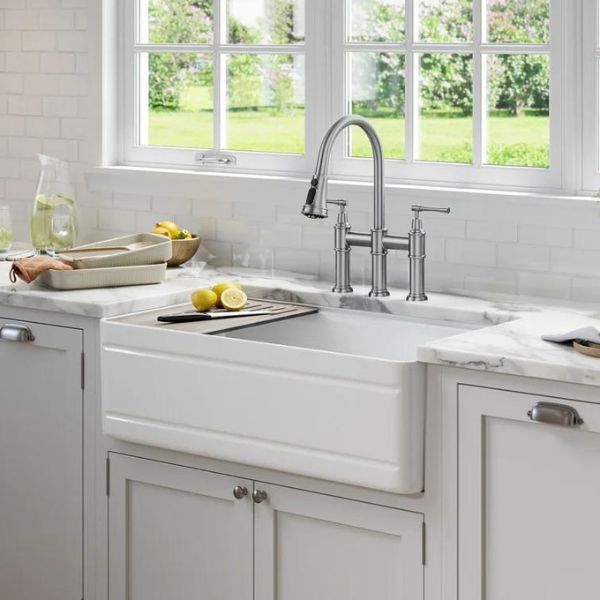 Kraus farmhouse kitchen faucets
Kraus is an importer of some of the best Chinese quality and aesthetically designed faucets. They sell those things at fair prices so they can be affordable for anyone who wants to remodel her kitchen. Kraus knows the customers' value and so most plumbers recommended their products.
Conclusion
The kitchen faucet is the most useable kitchen fixture. So it's really necessary to make the right choice while choosing it. If you walk through the end, you're now aware of which one you should choose to upgrade your unique and durable kitchen interior.
Hope we've met all your queries and question, even if you'd like to get further advice from our team let us know!