The kitchen is the heart of a house because most of the time, our day starts and ends in this place. Organized and moderate kitchen design gifts you a stress-free morning. You can decorate or remodel your kitchen with different kitchen appliances or furniture. 
But the kitchen faucet is no less important to give a pleasant and classic view. Also, a stainless steel sink is a good investment to give a new and fresh look to your kitchen style. 
Yes, you can explore different metallic colors combination that suits a stainless steel sink. By reviewing this article, you will get a clear concept of what faucet colors and styles goes for stainless steel sinks. Let's start together!
Get the idea: Top 15 farmhouse kitchen faucet ideas
What color faucet goes with stainless steel sink? – Top 18 color options for homeowners
Stainless steel sinks with a perfect faucet color combination offer an outstanding look to the kitchen. However, the color perfection of the faucet for stainless steel sinks depends on your kitchen interior design and cabinet walls. 
For this reason, before choosing the color, focus on these factors so that the contrast gives you relaxation and a refreshing environment. Here, we mention some color combination of faucets that goes perfectly with stainless steel sinks.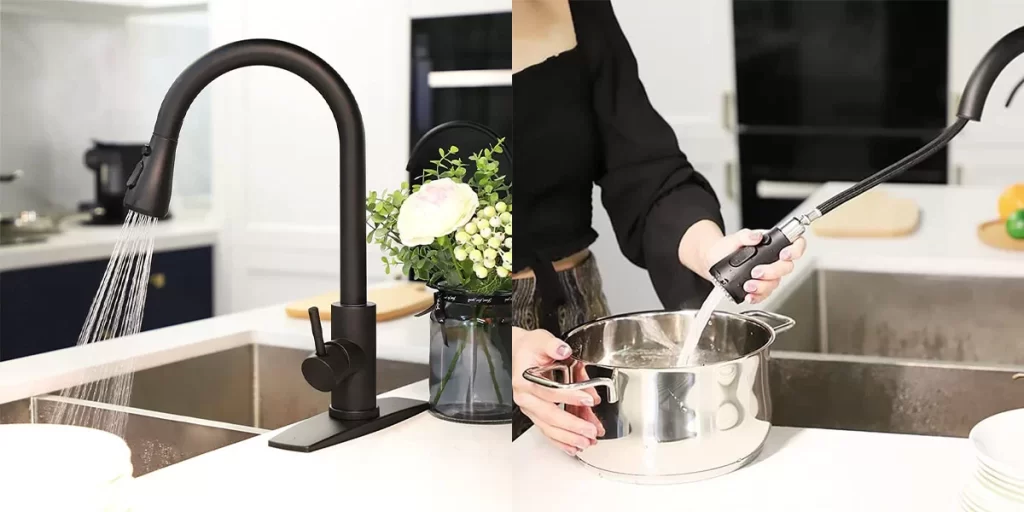 The stainless steel color is known for its calm and bright appearance. Whereas black is famous for its elegant and formal look. To give a sophisticated and classic look to the kitchen, black faucets can pair perfectly. 
If the kitchen interior is designed with bright fixtures, a black faucet with stainless steel sink can give a relaxed and soothing feel. Though the color choice depends on a person's interest. 
But in general, the black faucet is the highly versatile and adaptable option that goes with almost any design and decoration.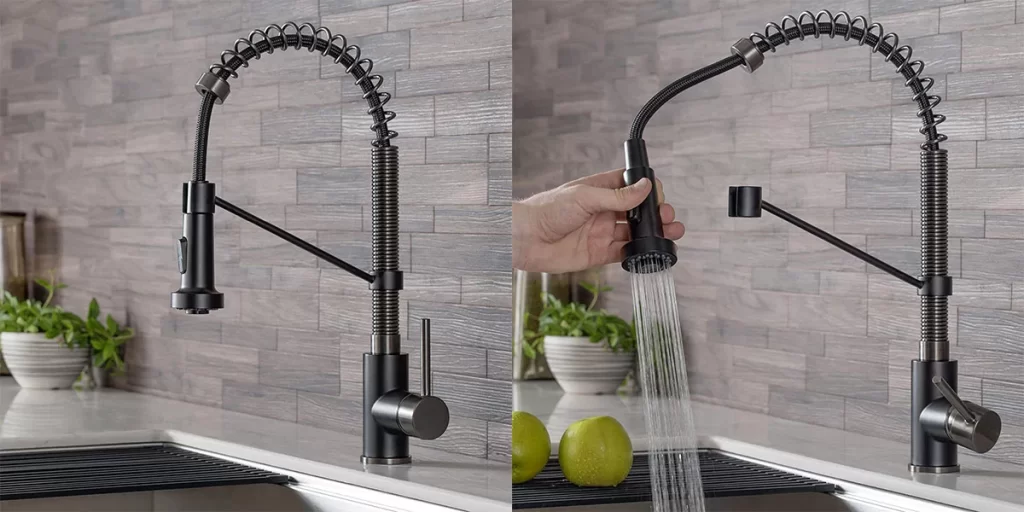 Matte black is popular for its neutral and glossy look that creates a softer aesthetic. The kitchen with a matte black faucet gives a versatile finish that goes with different styles and designs. 
Pairing with stainless steel sink is not a bad idea. The combination is the hottest trend for people who love minimalist design aesthetics. 
Installing a matte black faucet in the kitchen with stainless steel is a great start to creating a modern design and less reflective environment.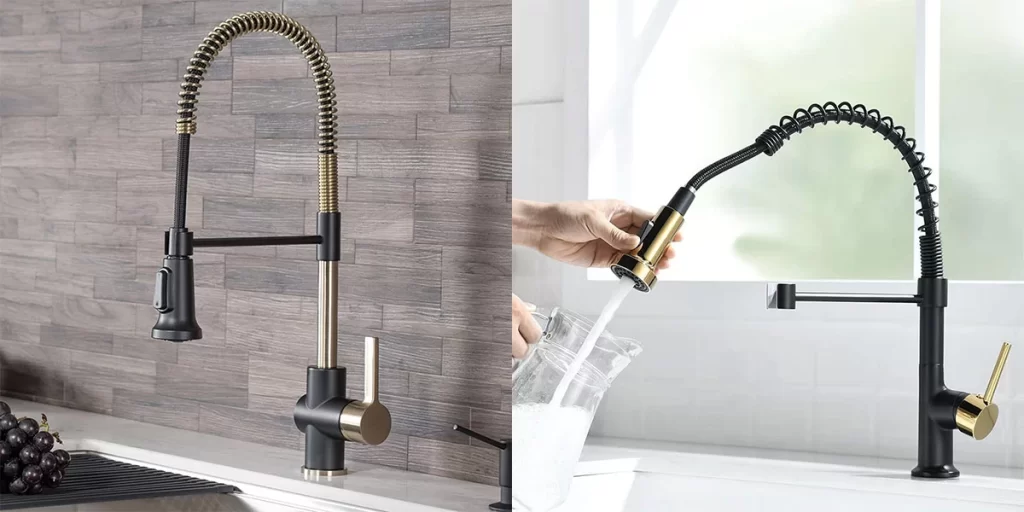 One of the most trendy and fascinating finishes that hit the market is the matte black and gold color kitchen faucet contrast. The gold and matte black create a stunning environment. 
Do you want to highlight a luxurious and elegant look with stainless steel sink? Then this mixed version suits you. Its eye-catchy finish adds warmth and beauty that matches almost all kitchen fixtures and designs. 
Also, the trend of matte black with gold combination gained popularity for its aesthetic design. By applying it, you can express your unique vision.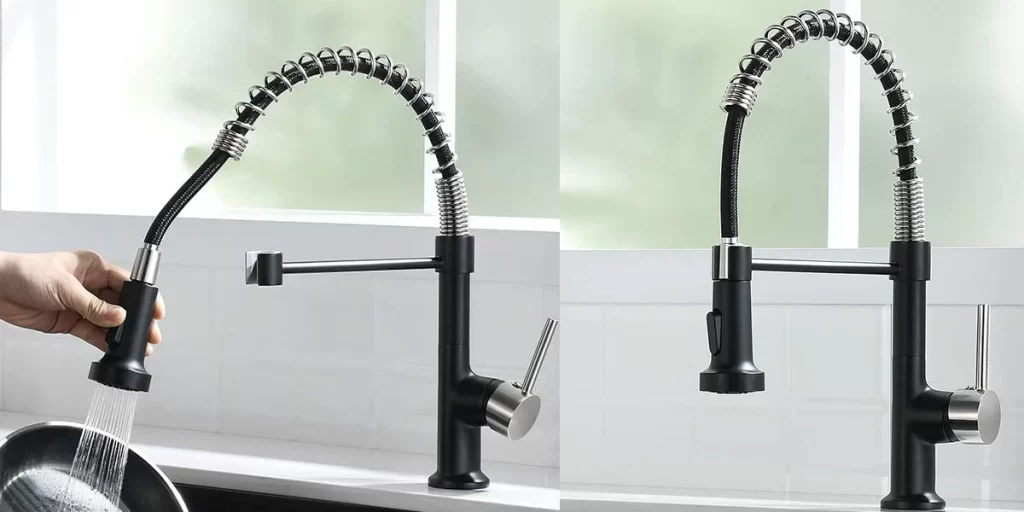 Nickel represents the subtle and softer look with a semi-satin finish. Combine with matte black; it gives an elegant look of a kitchen. 
Matte black's dark tone and attractive finish highlight the beauty and textures of the stainless steel kitchen sink. When matte black and nickel mix up, it offers reflective beauty with a softer effect. 
Also, the combination is the perfect match that helps in preventing dirty & water stains from sticking to the faucet surface.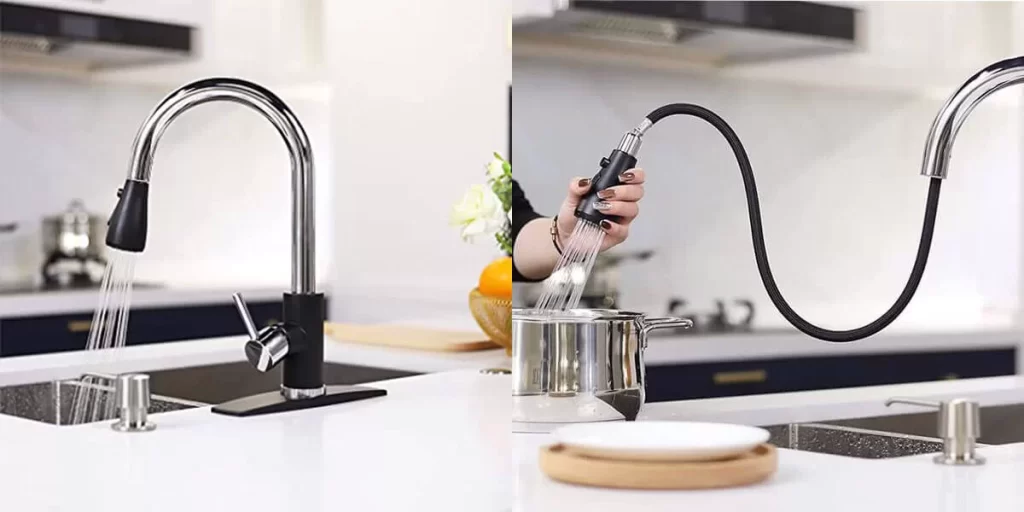 Chrome offers a pure and awesome look that has become a fashionable trend for decorating the kitchen. A black chrome finish offers bright to dull color saturation that represents a pleasant view. 
The black chrome mixing version introduces a dark, luxurious finish. Also, the tone and smoky dark looks match with other metallic elements in the kitchen. 
The stainless steel sink with black & chrome faucet combination creates a subtle, rich finish. Also, the mixed color gives protection against rust and corrosion.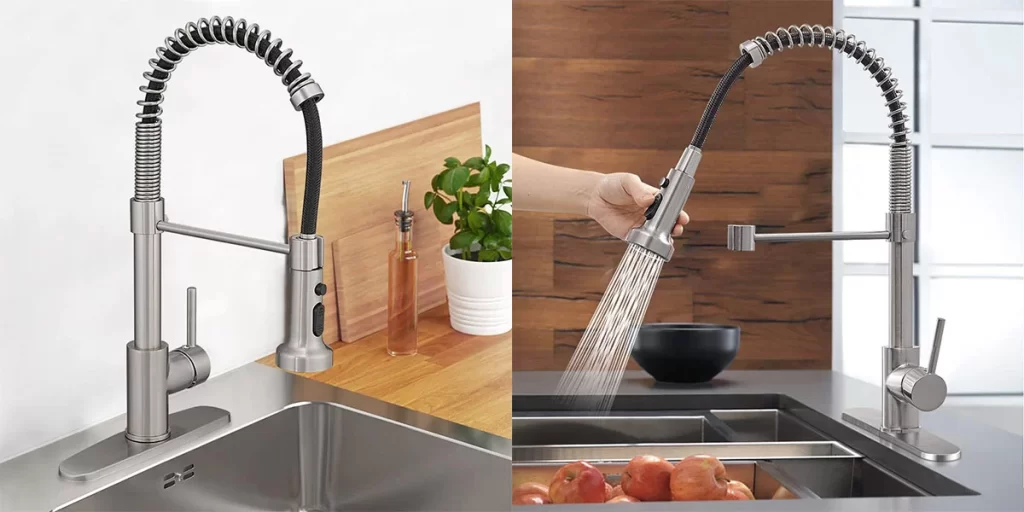 Brushed nickel is popular for its texture, luxury, and warm look. The softness of this combinational color gives for traditional spaces more delightful. And it matches perfectly with a stainless steel sink. 
To avoid a clumsy environment, you can choose a black and brushed nickel combination that gives a real view for adding visual interest. 
However, to remove water spots and unnecessary stains, you may choose this metallic combo for your stainless steel sink.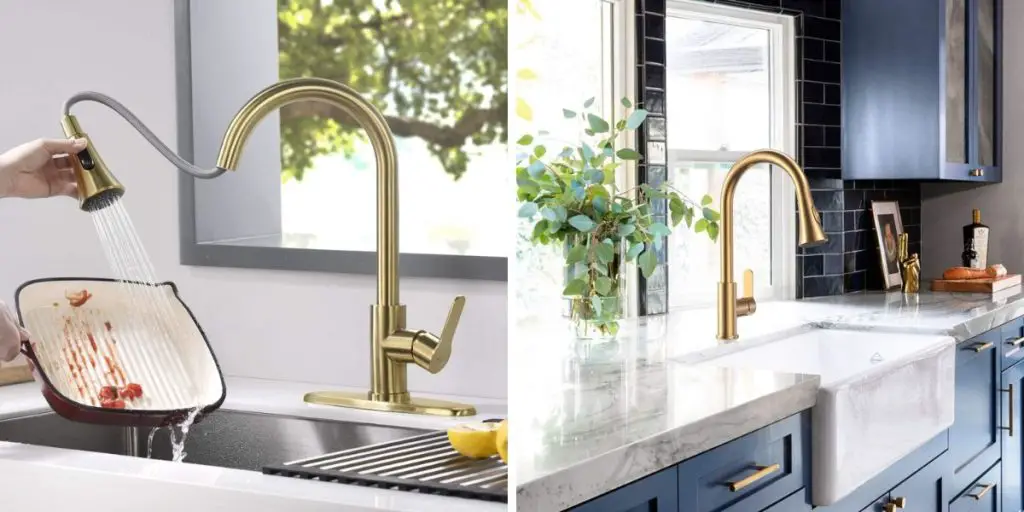 The color gold is recognized for its luxury, achievement, and royal look. The gold faucet has become the most trendy one nowadays for decorating kitchens and bathroom appliances.
To highlight your plumbing features a classy and warm finish gold faucet with stainless steel sink is the best choice. Also, you can give a modern twist to your kitchen interior design to grab the attention of visitors. 
Gold faucets are solid options to give a strong color contrast with stainless steel sinks.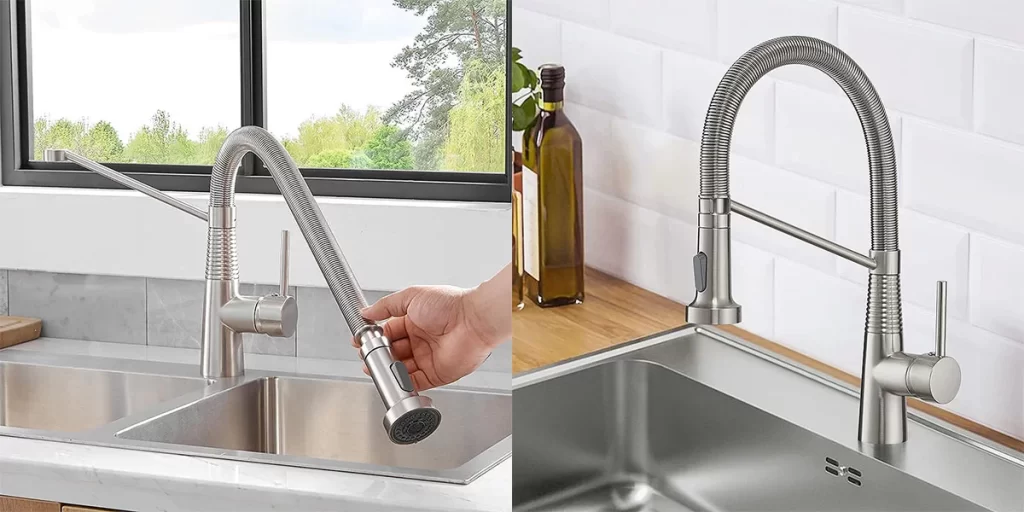 Brushed gold or satin matte is not as shiny as pure gold, but a glamorous touch fulfills the entire environment. The stainless steel sink with brushed gold offers a minimalist golden lineation. The mixture is a symbol of creativity and heritage. 
In short, a stainless steel sink with brushed gold offers a modern take on the traditional view with a reflective and yellow gold appearance. 
Do you want classy, authentic gold glamour? The brushed gold fulfills your demands without showing high-profile gloss and shininess.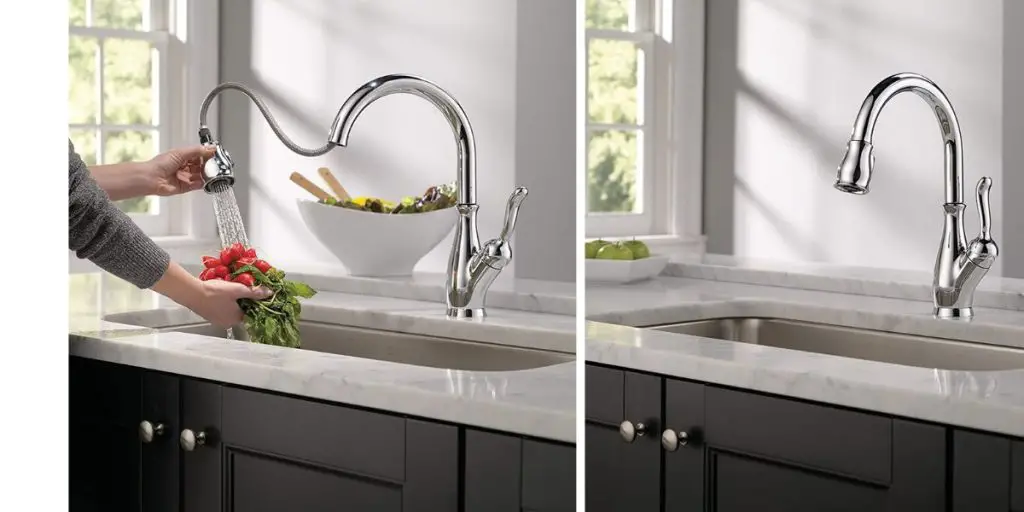 The chrome color is recognized for its fashionable, shinner, and pure appearance. Its versatility makes unlimited creativity with a sparkling blue hue that never fades over time. 
A stainless steel sink with a chrome finish offers a state-of-art that suits a modern, traditional, and classic kitchen design. With this color contrast, you enjoy a stunning effect.
Moreover, the color ensures an aesthetically pleasing look that works well in all situations.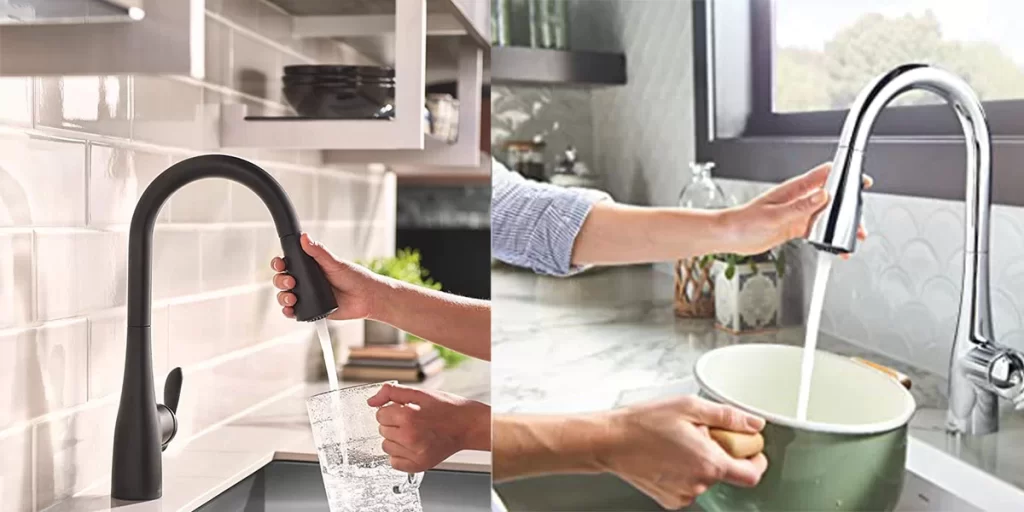 The beauty of polished chrome lies in a highly reflective finish. With a stainless steel sink, the color creates a shiny and brighter look for the kitchen. 
Polished chrome faucet easily matches kitchen accessories and other fittings. A modern look with an elegant kitchen faucet is favorable for all.
However, polished chrome with stainless steel fulfills industrial purposes with a high-level luster. The warmer tone of the polished chrome faucet with stainless steel sinks gives a satisfying view.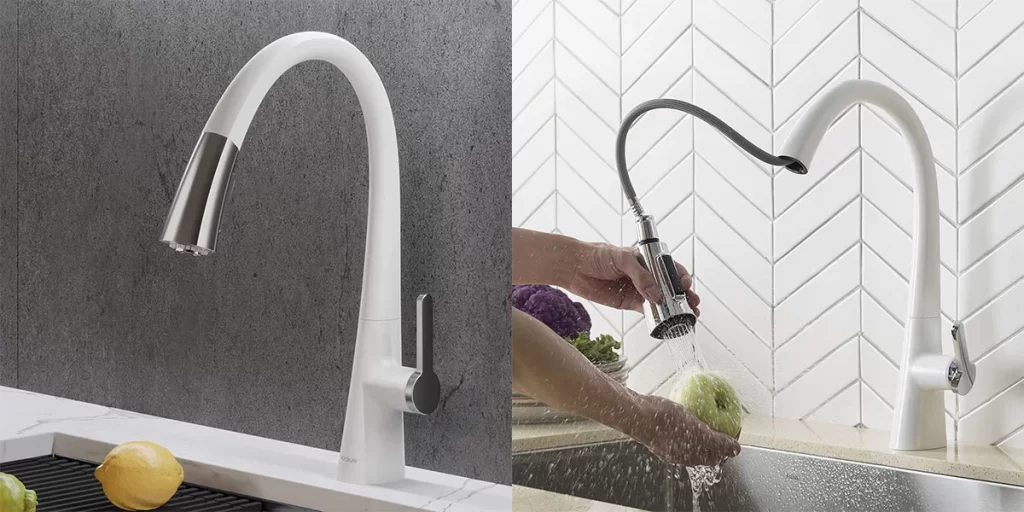 Nature is decorated with different colors, and every color presents its beauty. With white, you get the feel of a new beginning. For this reason, it is called a color of peace and hopes that represents a simple and pure look. 
Kitchen interior design with a white color faucet for stainless steel sinks highlights the effects of surrounding colors. It gives the feel of snow on Christmas by introducing a warmer and creamy hue. 
This combo package gives a powerful and soothing feel. Choosing a white faucet on a stainless steel sink for a luxury to modern design kitchen is not a bad idea at all.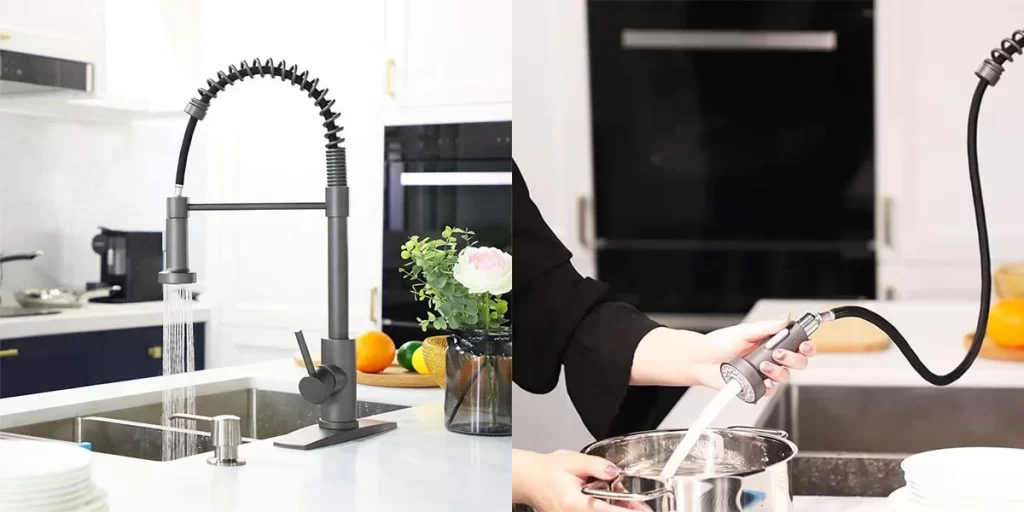 We know that matte gray is recognized for its emotionless and moody color. Because it is not shiny like other colors and not dark as black. The matte gray represents a neutral and balanced environment. 
If you want to create a shade in black, matte gray gives you a perfect look. For this reason, the combination of matte gray and stainless steel sink gives a peaceful presence. Some people love this combo for its calm feel. 
Every color has its specialty and beauty that gives a unique and elegant feeling. For home decoration in the kitchen, we love to explore different colors with or without mixing. Because color gives us strength, joy, and charm that fulfills our life. 
Do you want to feel the scenario of the sunset? The color of bronze can feel your demands perfectly. This color is symbolized by its comfort, strength, and loyalty aura. 
Yes, you can mix a bronze kitchen faucet with a stainless steel sink to offer a soothing feeling that connects with nature.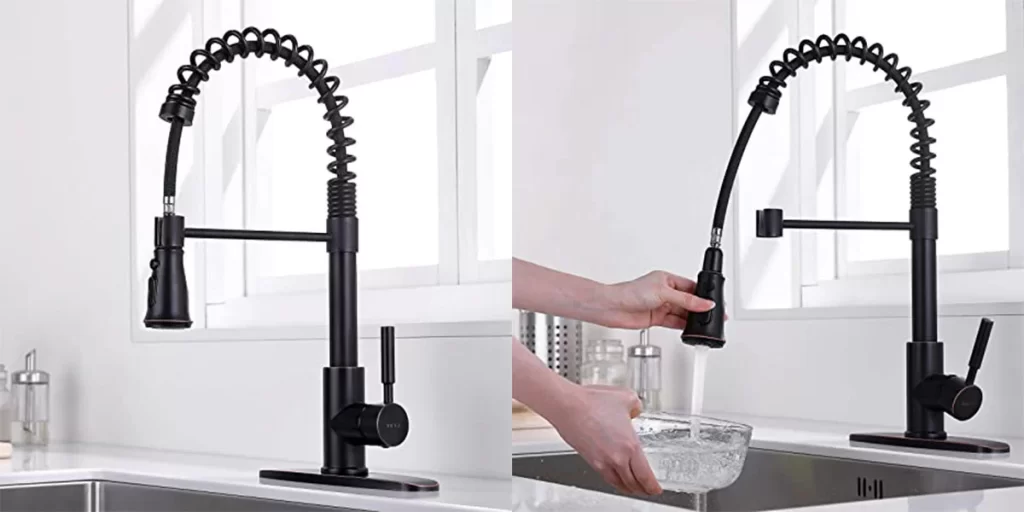 The trend of color combinations is increasing to keep pace with fashion. And the kitchen and bathroom appliances are not apart from this trend. If you are an extrovert, then changes may give you the pleasure to explore new things uniquely. 
However, in our fashionable lifestyle, a stainless steel sink with different styles and designs faucet gives a perfect combination. Yes, oil rubbed bronze kitchen faucet is the most trendy one that easily mixes with stainless steel color. Because the color presents a dark and almost matte black finish.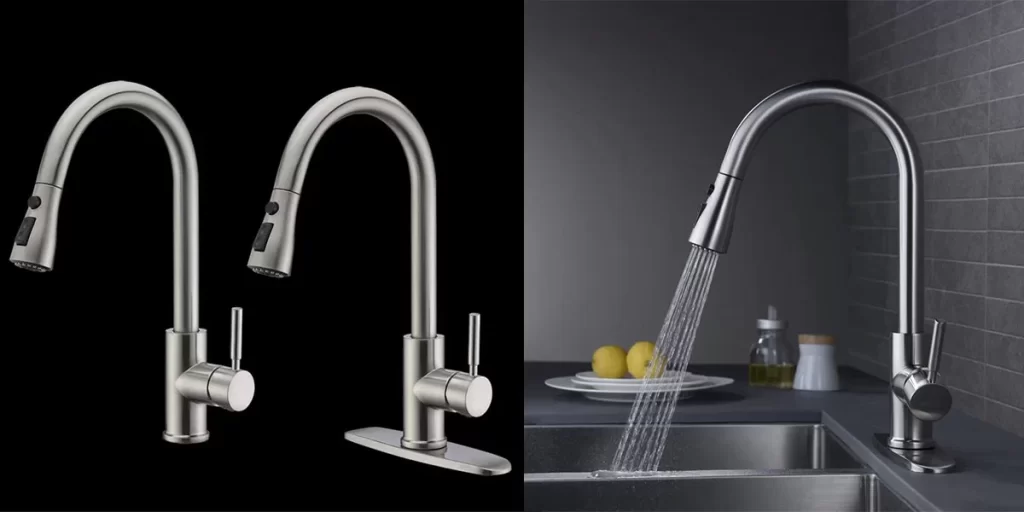 The popularity of brushed nickel lies in its softer look and subtle finish that suits stainless steel kitchen appliances perfectly. The golden and brownish tones mix well with stainless steel which has a faint blue color contrast. 
The brushed nickel faucet offers a muted shine with a slightly matte appearance. A brushed nickel faucet with a stainless steel sink is a better bet to give a traditional vibe and cool feel to your kitchen. 
Also, it helps to remove heavier tarnish by maintaining a realistic look. A grayish color and matte look with stainless steel sink is the most popular trend.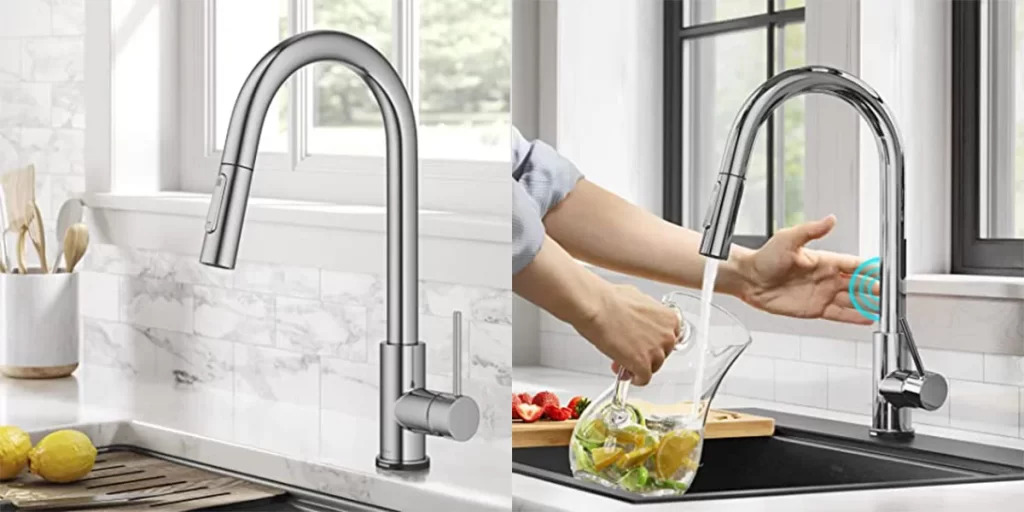 The color represents the same as gold-tone without showing high profile, glossiness, and shininess. But gives you a classy, authentic, and glamorous look in a unique way. 
If you want to design a traditional and modern kitchen interior, a brushed brass faucet with stainless steel sink can be a perfect match.  
A warm golden effect without a luxurious vibe gives you an elegant and soothing feel every day. Some prefer this metallic combination to display a finely sanded pattern.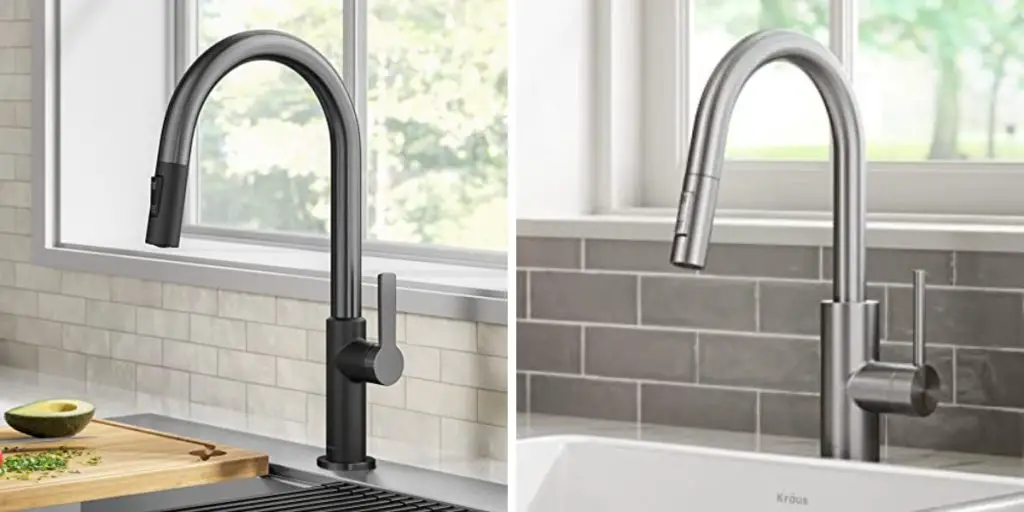 The spot-free stainless steel is famous for its silver-gray color tone with a classic view. For this reason, it suits almost every home and kitchen fixture and style.
Stainless steel faucet with a stainless steel sink offers a luxury, elegant shine, and minimalist design. Also, you can experience extra durability and a rust-free kitchen sink. That means it complements most home and kitchen styles.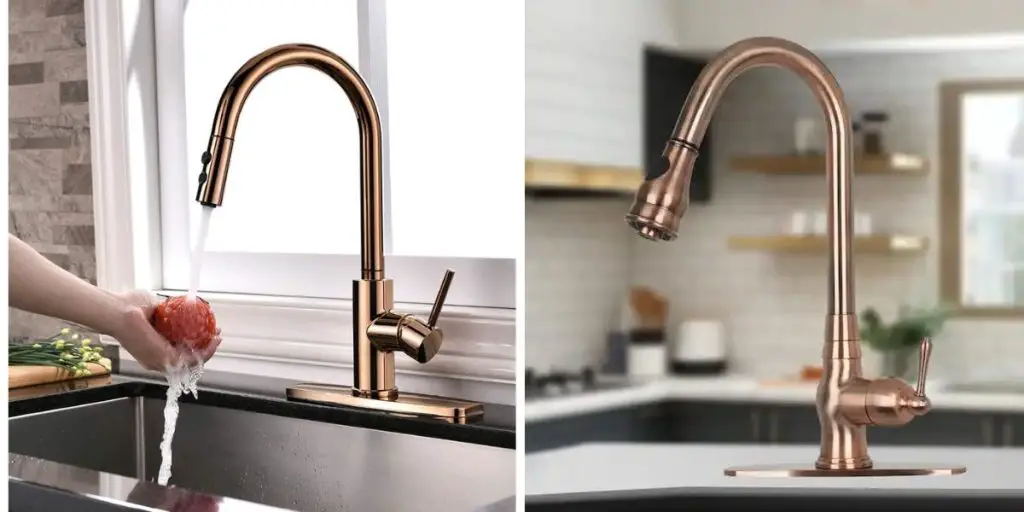 From lighting fixtures to appliances need proper interior design planning to build a pleasant and positive vibe in our home. And there, mixing metals adds an extra value. 
Yes, colors have their beauty and charm. But every perfection needs clear design intent. 
For this reason, before choosing a perfect match for stainless steel sink, you need to identify the metallic color combination. The copper kitchen faucet is another one to give an eye-catching reflection with a metallic view.
What faucet goes with stainless steel sink? – Top 8 Ideas
In the modern era, the most fashionable trend is kitchen renovation, where the faucet gets a higher priority. Also, it plays a vital role in our daily tasks like cooking, cleaning, washing dishes, and many more. With the perfect stainless steel sink faucet, you can change your kitchen's style. 
The types of stainless steel kitchen sink faucets depend on different factors like functionality, stylish features, and technological advancements. In this section, we cover almost all types of faucets.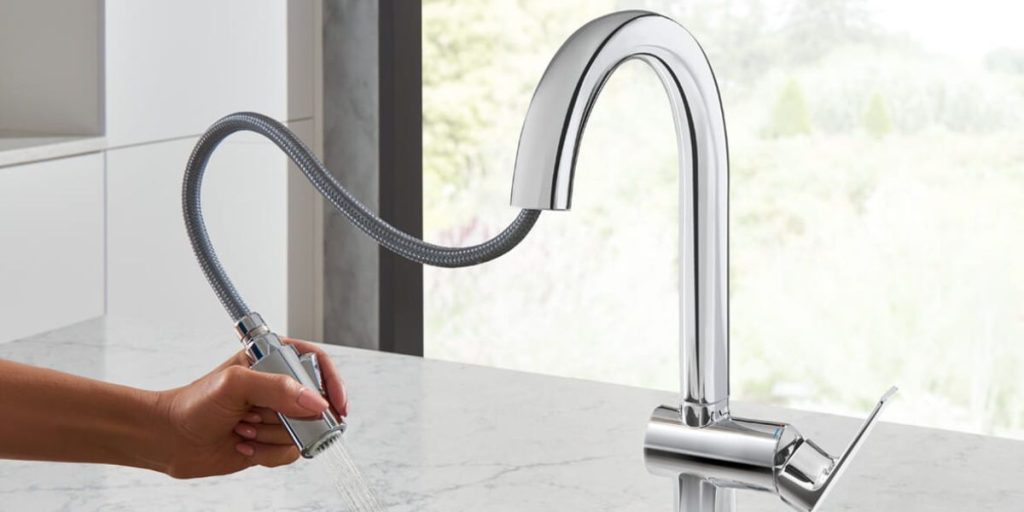 Pull-out faucets or down spray faucets offer a nozzle and hose that gives moving flexibility in different directions when you use them. Also, you get the freedom to fill pots, pans, and water plants that are on your countertop. 
The faucets give your kitchen an ultra-modern and traditional look. The spray head is smaller than the hand sprayers, which means there is less risk of heavy splashing. 
It is the best fit for a small space because the spouts are much shorter than other types of faucets. You can use it with under-mount or top-mounted kitchen sinks.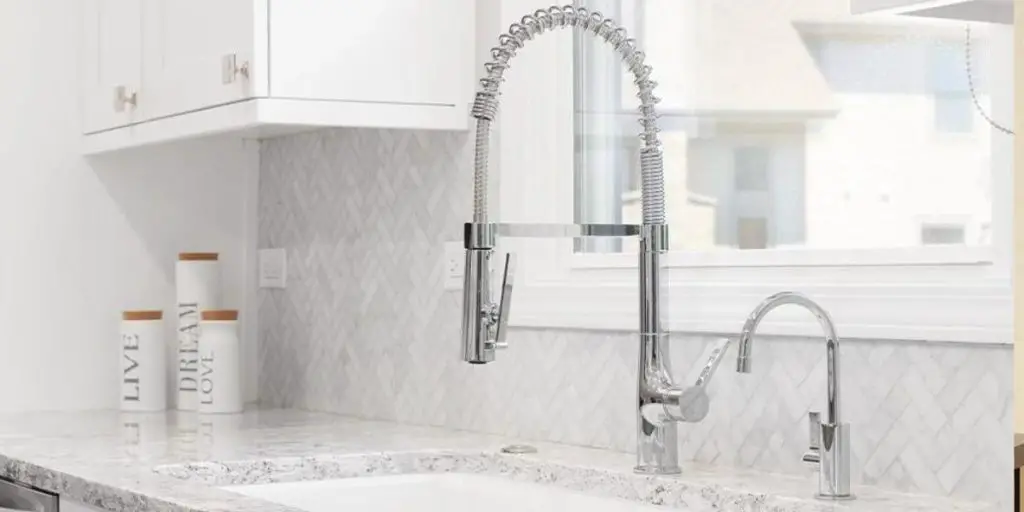 Pull-down faucets come with stylish and trendy designs. Also, it gains popularity for its high arcs features that allow more workspace with the latest technology and innovations. With the help of touch and motion sensor features, you can conserve water too.
Many homeowners prefer this type of faucet for its variety of spouts and spraying patterns. You should install it in a deep kitchen sink because it is not suitable for small spaces and sinks. Also, you can not get flexibility for moving in different directions. 
The pull-down faucet is also known as a "gooseneck". Many people like the hand sprayer option for its limited water pressure.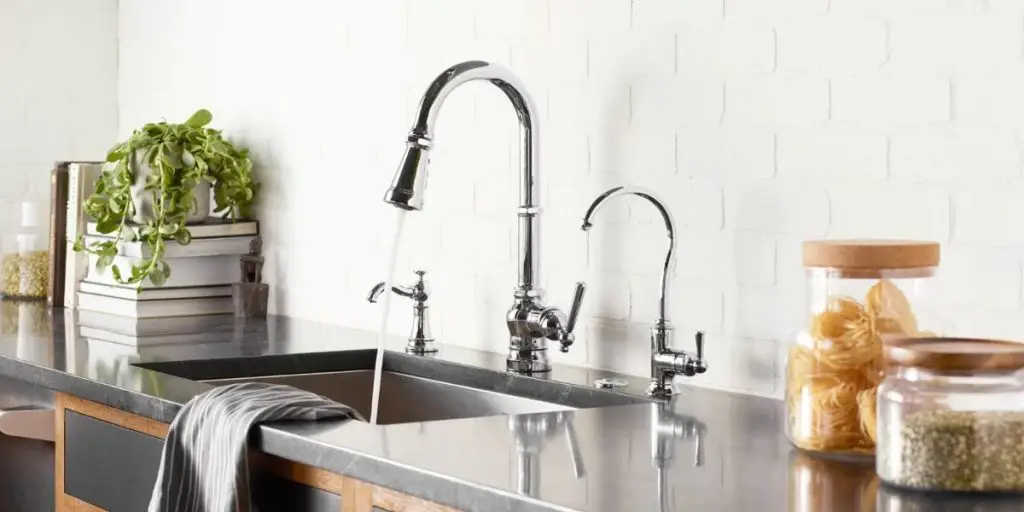 The one-handle faucet is also known as the single-lever faucet that offers amazing styles and finishes to match your style. It is the best fit for stainless steel sinks. Also, it controls both temperature and water pressure perfectly. 
The installation process is simple and hassle-free. For this reason, it becomes the best fit for small spaces, but you can choose them for large basins. Also, this type of faucet is helpful for folks with disabilities, arthritis, or a limited range of motion. 
However, you do not face any difficulties with cleaning and random replacement. Faucets with one handle require a single hole in the sink deck or countertop.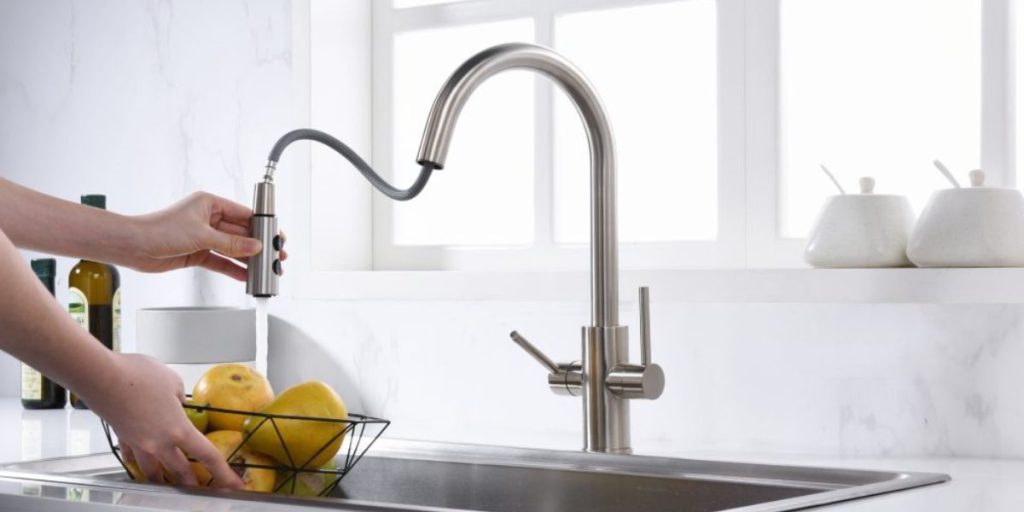 The dual or two-handle faucet has separate handle features where one is used for cold water, and the other is used for hot water. This type of faucet matches both traditional and country-style kitchens for its stylish look.  
This option needs a minimum of three holes on your countertop when you install it. However, the advantages of using these faucets are you get two vale options. When one is turned off, the other will be fully functional. 
The faucets work with two-lever handles. For this reason, the installation process is easier than others. The plumber only needs to shut off the valve to replace the worn part.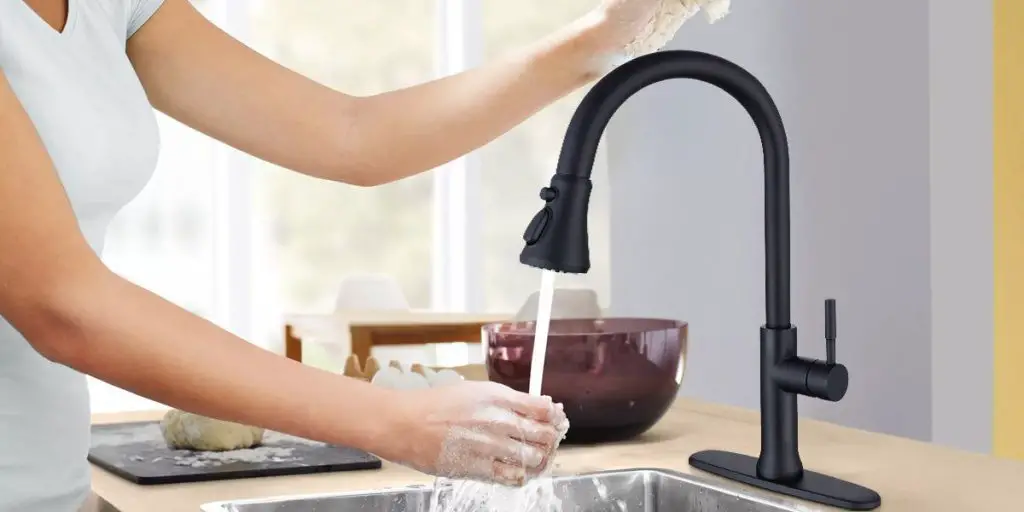 A touchless kitchen faucet comes with modern technology and a fancy style that fits a stainless steel kitchen sink. Also, you can control the flow of water with a simple wave of the hand because it has a motion detection sensor.
Moreover, it gives you a hygienic solution by reducing the spread of bacteria and preventing random uses. You can use it during a power outage because of its manual functionality. Also, you may use the battery to increase energy usage.
However, touchless kitchen faucets are often used in commercial kitchens with rare leakage options. It conserves time and water compared with traditional faucets. Also, they are beneficial to disabled people.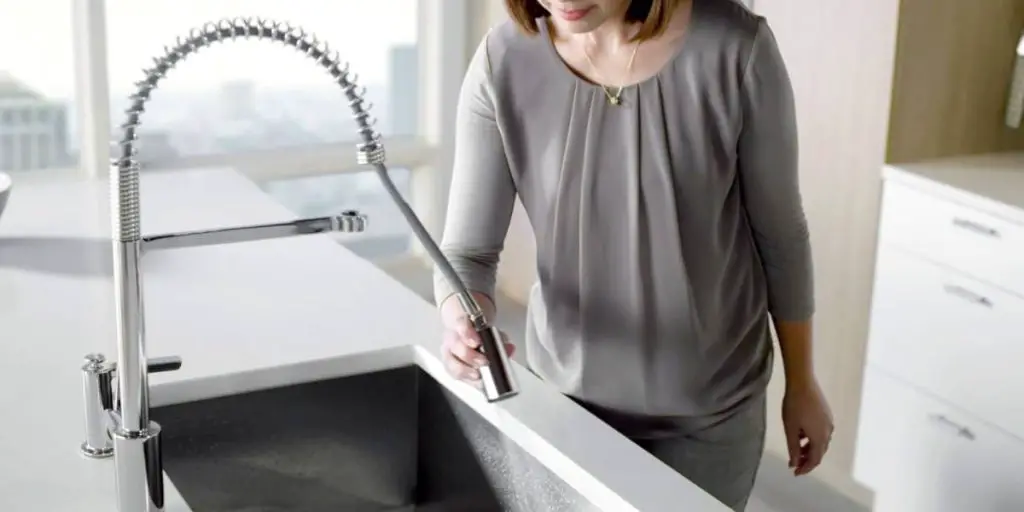 Pre-rinse faucets offer an industrial style that suits a stainless steel kitchen sink. This type of faucet has a high-arc spout with a high-pressure pull-out spray nozzle so that you can wash and clean dishes quickly and smoothly. 
The eye-catchy design makes your kitchen more attractive. Also, it is easy to maintain and durable. For this reason, it is used for commercial and restaurant purposes. 
However, these types of faucets last longer than the general ones. Easy to install, and different brands offer various styles with a long-time performance warranty.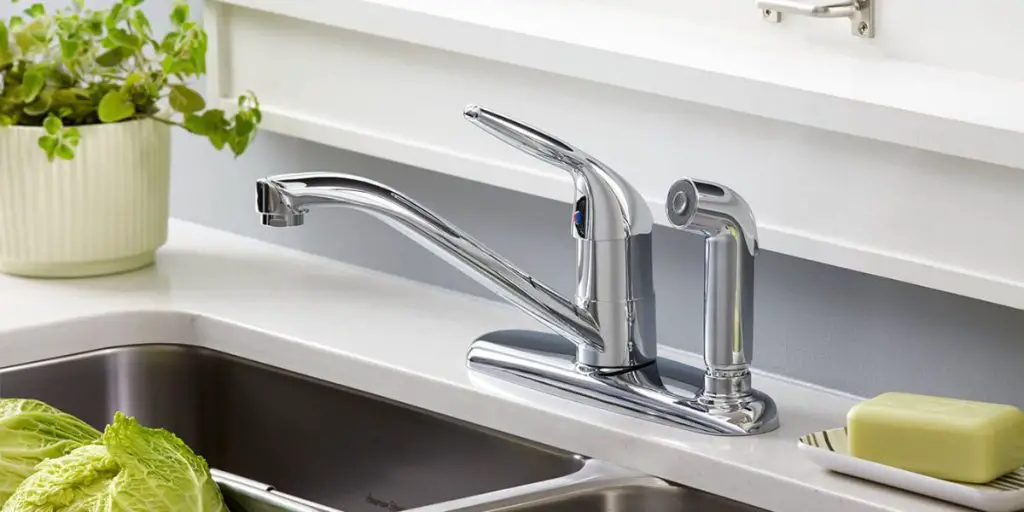 The faucet is designed without an integrated spray head that gives a small faucet look. These types of faucets are useful for cleaning larger dishes and places that are tough to reach. Side spray kitchen faucets offer a modern design, classic and traditional look that suits stainless steel undermount sinks.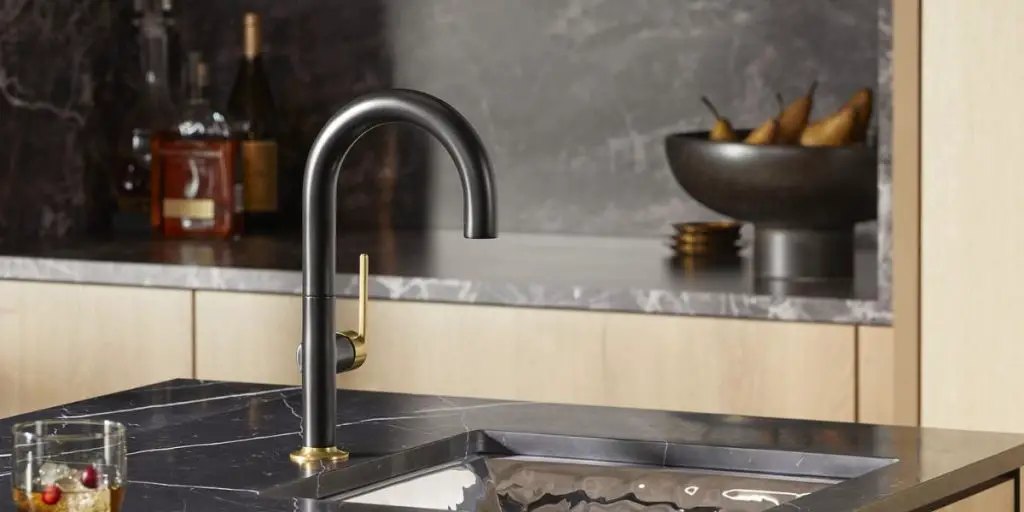 Prep or bar faucets offer single-handle and two-handle traditional models. You can also enjoy pull-out or pull-down spray spouts features.
Some bar faucets offer touchless controls to control the flow of water. However, the bar faucet comes with an advanced voice mood so that you can experience it uniquely. 
Before choosing one, you should also focus on the standard kitchen sink sizes and colors. Because of the beauty of the kitchen expresses your taste.
Frequently Asked Questions (FAQ's)
How many faucet holes are in the stainless steel sink?
Well, the faucet holes in the stainless steel sink depend on your preferable faucets and appliances. More features of faucets need more sinkholes. 
How long should a good kitchen faucet last?
A good and branded kitchen faucet can last around 15 to 20 years. Though the lifespan depends on some factors like:
Frequency of use.
Model & material.
Water flow quality.
Proper installation.
Plumbing maintenance.
What color faucet looks best with stainless steel sink?
Some suggested brushed or satin nickel faucets are the best match for stainless steel sinks. Others think black or chrome faucet suits them perfectly. The color selection depends on the kitchen interior and the stainless steel sink. 
Which kitchen faucet is the most suitable for stainless steel sinks?
The most suitable and branded kitchen faucet for stainless steel sinks are:
Wewe Single-Handle High-Arc Pull-Out Faucet
Delta Touch Kitchen Faucets with Pull Down Sprayer
Moen Arbor touchless one-handle pull-down Faucet
Kohler Sous Pro-Style Single-Handle Pull-Down Sprayer Faucet
Moen kitchen faucet Touchless pull-down sprayer 
Kraus Pre-rinse Faucet
FORIOUS Kitchen Faucet with Pull Down Sprayer
Matte Black Bar Faucet or Prep Kitchen Sink Faucet with Single Handle 
OWOFAN Kitchen Faucets Single Handle Pull Down Sprayer 
Delta Trinsic Single-Handle Pull-Down Faucet
What is the best kitchen faucet brand in the USA?
The best kitchen faucet brand in the USA is:
DELTA FAUCET
Moen
Kohler
Elkay
Kraus
Pfister
American Standard 
Brizo
Sigma Faucets
Pfister
Where can I get the best kitchen faucet?
You can get the best kitchen faucet from the top online store like:
Amazon
Lowes
Wowow Faucets
Principle Faucets
KOHLER
The Home Depot
Wayfair
Moen
Delta
Build.com
Conclusion
Installing a new faucet with a perfect color combination is not an easy task. For choosing the right one for your stainless steel sink, you need to follow some factors like the purposes of your sink, kitchen materials, and functionalities of the faucet. 
To find out the best faucet for your stainless steel sink, we have listed the most popular color combination with different faucet types. We hope this article will help you.