Linear shower drains have become top-of-mind because of their luxurious design, long-lasting services, and incredible flexibility. You probably need a linear shower drain for your bathroom but can't decide whether it would be good. This informative article is then for you.
We discussed the pros and cons of linear shower drains, including their definition, comparison with other gutters, purchasing and installation costs, and how to choose the right ones. Moreover, you will also get a comprehensive review of linear shower drains and their brands.
So, no more talking; let's get started!
What Is A Linear Shower Drain?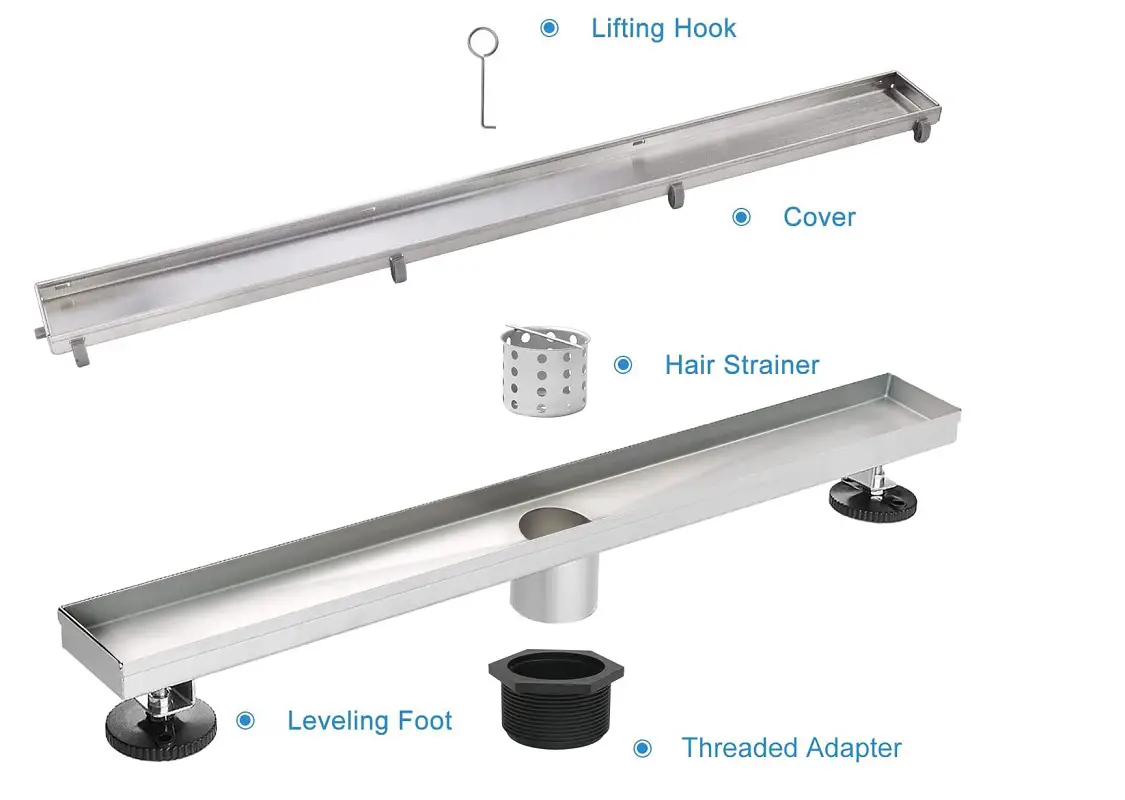 Linear shower drains are a type of rectangularly shaped, long, and narrow drains that you can easily install at the entrance, along the wall, or in the center of the shower floor. These shower drains make water flow through the drain and the channel under the shower floor.
They are well-known for providing more placement flexibility and giving more advantages over other drains because they are easy to clean. Linear shower drains also contain removal debris baskets, which helps to prevent clogging pipes.
Linear Vs. Center Shower Drain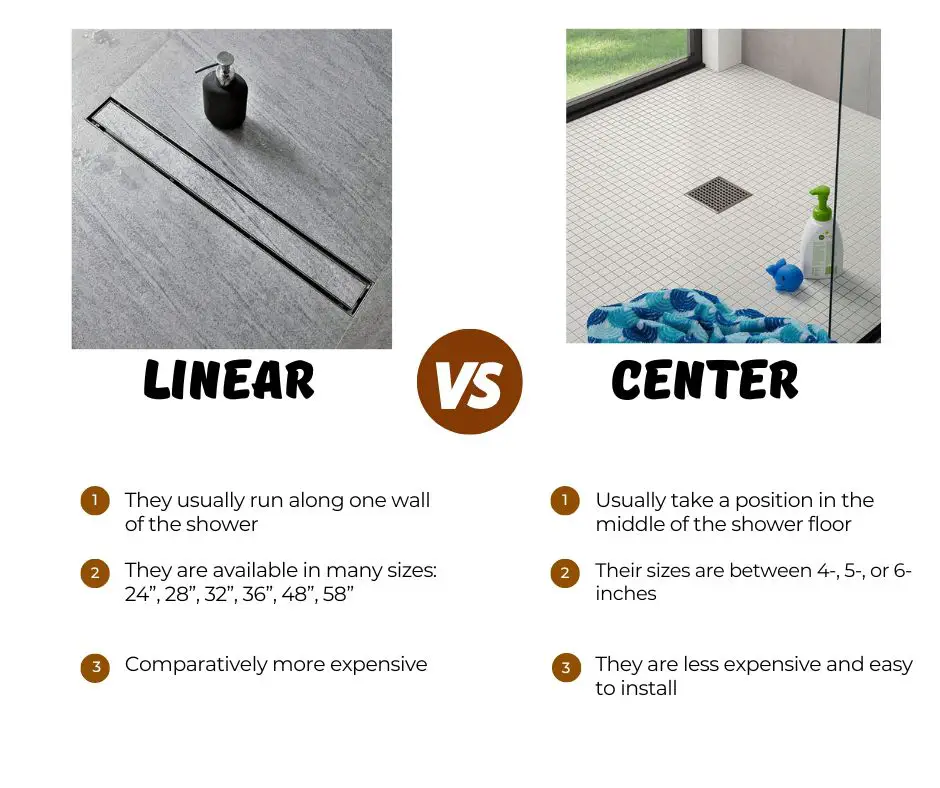 There are numerous types of shower drains, like liner shower drains and center shower drains. Both have some distinct characteristics.
Center Shower Drain
Center shower drains usually take a position in the middle of the shower floor, and their sizes are between 4-, 5-, or 6-inches. These shower drains contain a cover on the drain that catches debris and hair. They are typically large with a wider grate.
Moreover, center shower drains are very traditional in look with sizes and styles. Also, they are less expensive and easy to install, so they are more common in homes.
Linear Shower Drain
On the other hand, linear shower drains are extended and narrow-shaped. They don't take place in the center of the tub; instead, they usually run along one wall of the shower. Linear shower drains provide better and continuous water flow to the drainpipes, which decreases the risk of water pooling on the floor during the shower.
Linear drains are comparatively more expensive as they are luxury items. Their installment cost is also higher than center drains.
Square Vs. Linear Shower Drain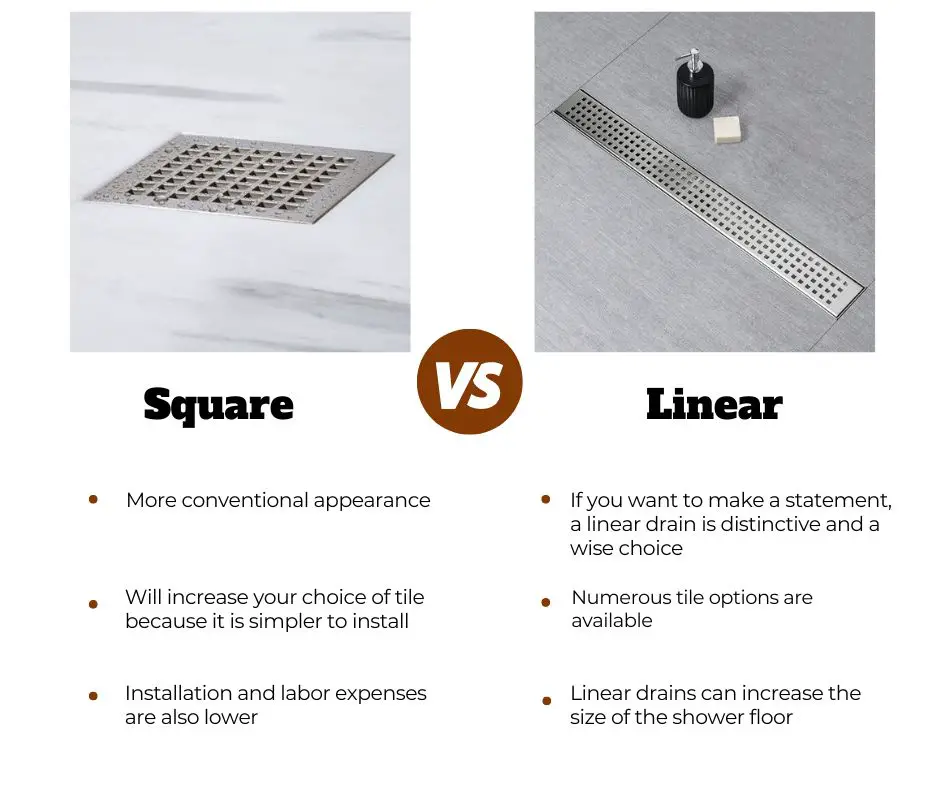 There are also some differences between square shower drains and linear shower drains regarding costs, excellent looks, maintenance, and other factors. Let's take a look!
Square Shower Drain
A center square drain will be your best try if you want a drain with a more conventional appearance. However, choosing a central square drain does not need you to forgo fashion. Numerous square gutters offer classy cover styles that complement any décor and requirement.
Since most tile is square, using a square drain instead of a circular one will increase your choice of tile because it is simpler to install. As a result, the tiler won't need to carve a circle out of the tile.
A square drain has more grout lines where mold can grow, necessitating more upkeep and scrubbing. Center square drains are often far less expensive than linear drain systems. Since square drains require less material, customization, and onsite changes, the installation and labor expenses are also lower.
Linear Shower Drain
The choice between a linear and a square drain may be a personal preference for style and form. A linear drain is the way to go if you want opulent, spa-like, high-end aesthetics. If you want to make a statement, a linear drain is distinctive and a wise choice.
Thanks to the linear drain, numerous tile options are available, which also reduces grout lines. A linear drain enables tilers to use big-scale tile and solid surface materials to produce an unbroken flow from the rest of the bathroom to the shower by removing the four-way slope in the shower pan.
As previously mentioned, linear drains will lessen the number of grout joints and seams where mildew, mold, and filth can grow by allowing for more oversized format tiles.
Additionally, linear drains can increase the size of the shower floor, which encourages complete water evacuation in curbless enclosures. As a result, there is less probability of water pooling and leaking into the washroom through the shower door.
A linear drain will significantly improve your family members' showering experiences if they are recovering from surgery, have special requirements, or suffer from mobility.
Should I Install a Linear Shower Drain?
The above discussion would clarify your confusion about whether you should install a linear shower drain or not. Despite this fact, I am explaining the matter in more detail.
Tiles have no size restriction because a linear shower drain has a single-direction pitch. As a result, you have a lot more possibilities while making your design. Because linear drain showers frequently lean toward a wall, you can incorporate large format tiles into your design.
On the other hand, the positioning and 4-sided pitch of traditional circular shower drains restricts the tiles used on the shower pan. As a result, you can only fit a maximum of two 2″ x 2″ tiles in the pan.
Here are more specific reasons why you should install a linear shower drain.
Different Installs: When working with a linear shower drain, you have choices for placement, size, and installation style, unlike when using a traditional round or square drain.
Wall-to-Wall: Installing a linear drain from wall to wall is one approach to maximize drainage and guarantee it is done correctly. This type of installation is a problem because the grate and channel must be trimmed precisely to the final wall.
Along a Wall: A Fixed Flange Series is produced by Infinity Drain and is intended for placement flush against a wall. To connect to the wallboard, this sort of installation is designed to be employed with a liquid or fabric type of waterproofing.
Installation on a Curb or a Curbless: When considering incorporating a linear drain into your design, choosing between a barrier-free (curbless) installation and a barrier-free threshold installation is crucial. Which installation is feasible can be determined with the aid of your design-build expert.
Installation Threshold: The ideal choice for a threshold installation is to build a drain that precisely runs wall to wall to stop any water from exiting the shower or wet area.
A shower drain can be installed without a curb, barrier, or threshold, giving the wet area a continuous appearance and straightforward access. To create the ideal impression, the floor heights inside the shower area (wet area), outside the area (dry area), and the next room should all be similar. What is required will depend on specific circumstances.
Choosing the Right Shower Drain: Exploring the Pros and Cons of Linear Shower Drains
If you are still confused about which shower drains you should choose, buy a linear one. Here I will explore some pros and cons of linear shower drains that will clarify your hesitations.
Linear shower drains Pros: The key advantages of linear shower drains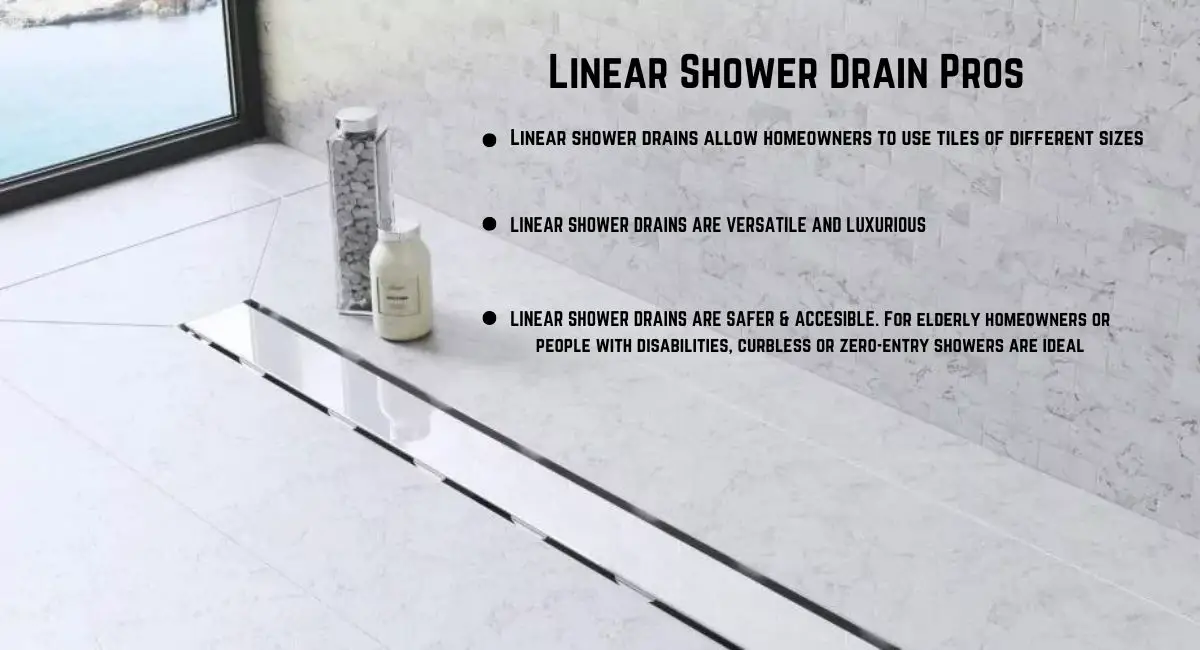 To explain the positive views of purchasing linear shower drains, we will find that this shower drain contains many advantages, including more tile options, versatility and luxury, and safety and accessibility facilities. Let's take a look at some of the top benefits.
Various Tile Options
Linear shower drains allow homeowners to use tiles of different sizes. As they tend to lean toward a wall, tile installers can use larger tiles because all tiles depend similarly. On the other hand, you need to use small tiles in the shower pan to use different types of shower drains.
Versatile and Luxurious
While center drains are more visible, linear drains frequently run along the perimeter of the shower floor. Therefore, you'll only see your gorgeous tile work and how luxurious your shower feels.
In addition to accommodating different tile sizes and shapes, linear shower drains are more adaptable than traditional center drains. This simplifies constructing unique shower layouts that fit your taste and price range.
Safety and Accessibility
The effectiveness of linear shower drains is they perform great in a walk-in, roll-in, and curbless shower. For elderly homeowners or people with disabilities, curbless or zero-entry showers are ideal. They considerably lessen the chance of slips and falls and make the shower accessible to those who are in wheelchairs or have mobility issues.
Since curbless showers lack a ledge to collect water, linear shower drains are the best option. Linear shower drains cover the surface area for water drainage.
Linear shower drains cons: The key common problem of linear shower drains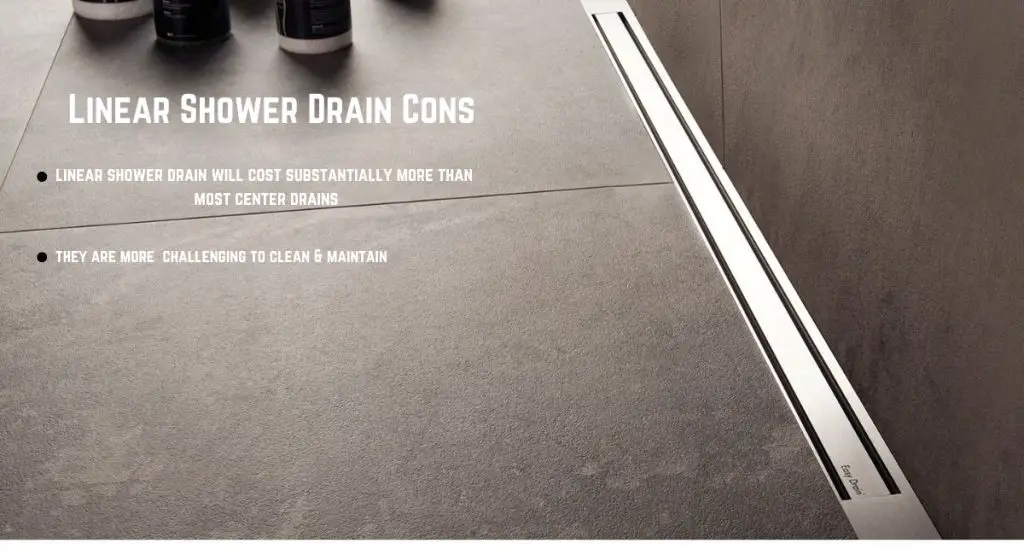 Alongside multiple advantages, linear drain showers have drawbacks, such as high prices, maintenance, and cleaning.
The Cost
A linear shower drain will cost substantially more than most center drains. Home improvement stores offer Center shower drains for as cheap as $20. Although some are available for as little as $50, most linear shower drains cost $200 or more.
Maintenance and Cleaning
Common issues with linear shower drains; they are more challenging to clean since they are installed flush with the wall or floor and collect more dirt than a typical drain. Because of the extra debris, blockages could happen more frequently.
Linear Shower Drains: Understanding the Price and Installation Costs for Your Bathroom Upgrade
The purchasing cost of a linear shower drain varies according to its brand identity, size, manufacturing elements, and others. Here is the average cost of buying and installing linear shower drains. 
Most linear shower drains cost around $200 or more to buy. Though you can get some of them at just $50, they will be low-quality and not durable. Moreover, you need to pay around $100 more as installation cost.
The Top Linear Shower Drain Brands: Discovering the Best Options for Your Bathroom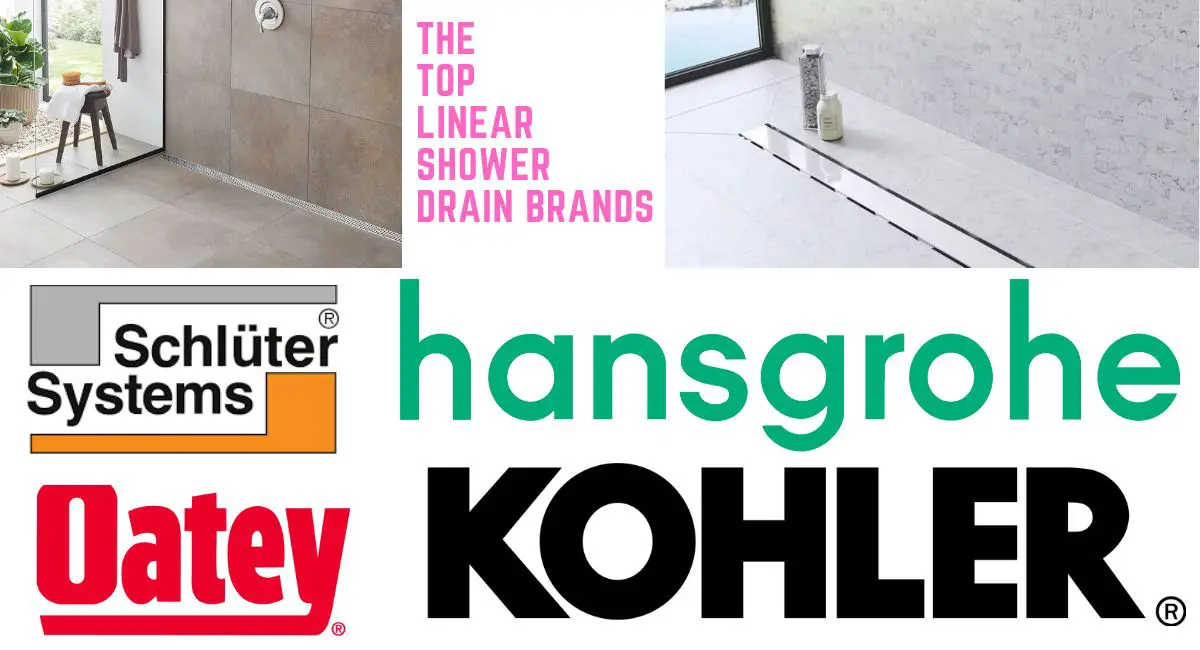 Numerous brands manufacture different types of linear shower drains. Here I will enlist the top-seven linear shower drain brands and their best products with good reviews. So, take a look!
Oatey linear shower drain
Oatey designs and manufactures different shower drains to enhance the function, flow, and feel of your space. The Oatey linear shower drains are made with a variety of durable materials and connection types, which makes the shower drains ruggedly dependable and easy to install.
Though this company manufactures a variety of shower drains, I would recommend buying the Oatey Designline Linear Shower Drain. This model will give your shower a functional touch of elegance. 
The 304-grade stainless steel used in constructing this stylish shower drain helps avoid rust for many years of use. Its length and width were carefully constructed to provide the finest fit, form, and functionality in a tile shower.
Schluter linear shower drain
Schluter is one of the most popular shower drain manufacturing brands, which provides luxurious linear shower drains at affordable prices. Its low-profile linear shower drains will make your tiled shower more attractive as they are ideal for curbless bathrooms. 
Schluter also manufactures different types of shower drains, but the best model is  Schluter's KERDI-LINE. This shower drain is a low-profile linear floor drain capable of being installed in showers, wet rooms, and other drainage applications and puts next to walls or in middle places.
Kohler linear shower drain
KOHLER is a well-known brand in manufacturing kitchen and bath shower drains. This company celebrated its 150th anniversary, and the variety of its product in shower drains brought it to the top-branded position around the world. 
Kohler makes a lot of linear shower drains. The most popular model of the Kohler linear shower drain is its 2-1/2″ x 36 "-60" linear drain channel. This tool is more flexible and easy to install and provides the best-in-class quality solution. ts outlet adapter is attachable to the drain pipe for simplified installation and access to couplings.
Kerdi shower pan linear drain
KERDI is also a popular shower drain manufacturing brand, named the KERDI-SHOWER-LTS. To facilitate the installation of curbless showers, Kerdi includes a linear drain template on the perimeter of the pan with lower perimeter heights.
The most popular and luxurious shower drain made by Kerdi is Schluter®-KERDI-LINE, which is a low-profile linear shower drain, specifically designed to allow connections to Kerdi or other load-bearing, bonded waterproof membranes.
Sanitemodar linear shower drain
SaniteModar is a dedicated bathroom and kitchen tools manufacturing company around the globe, which made a perfect combination of modern design and traditional tools.
Sanitemodar is famous for manufacturing different types of linear shower drains, but the Linear Shower Drain 12 Inch is the most popular. It provides a high displacement facility, including easy cleaning and anti-clogging performance. Get more details on it.
Hansgrohe linear shower drain
Hansgrohe linear shower drain contains German engineering and spray design, which gives the newest technology for an amazing showering experience. Its RainDrain drainage system provides maximum comfort in the shower and is designed in one go. Check more details here.
Specific Information
Hansgrohe is the world's top bathroom and shower tools manufacturing company that prioritizes both quality and modern design. Its first-class products, award-winning design, sustainable production, and excellent service will definitely make you rely on this company.
Hansgrohe linear shower drain contains German engineering and spray design, which gives the newest technology for an amazing showering experience. Its RainDrain Match Linear Shower Drain for 27 5/8″ provides maximum comfort in the shower and is designed in one go.
Linear Shower Drain Buying Guide: Things to Consider Before Buying Linear Shower Drain?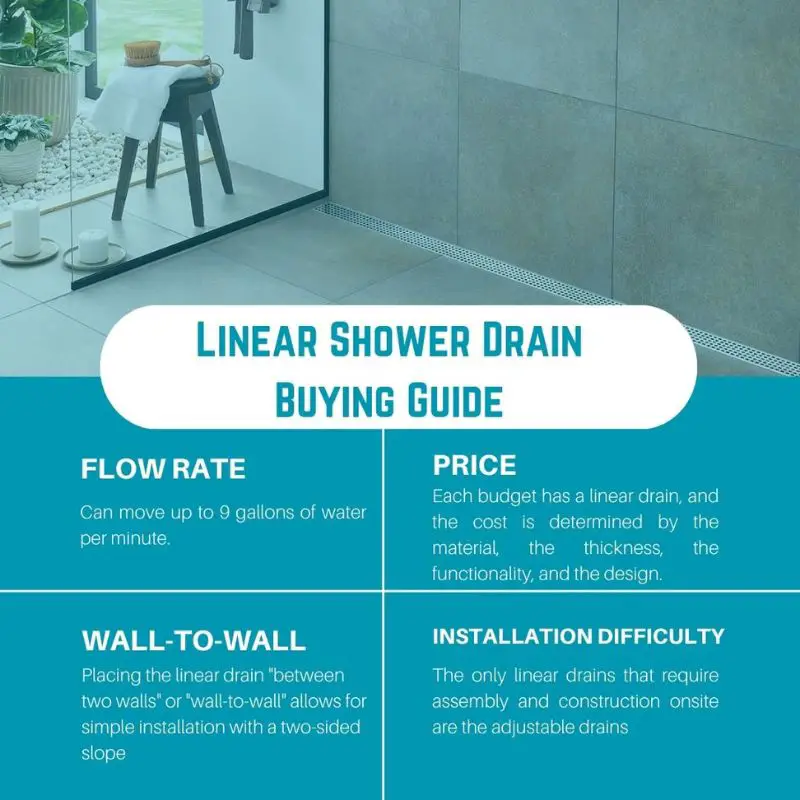 We recognize that it can be challenging for you to determine which linear drain is best for your project. Here we explained some facts that you should consider before buying linear shower drains.
Shower Layout
The length and location of the linear drain will probably depend on the size and design of the shower enclosure. You will have some design freedom if the project is new construction. On the other side, a remodel can encounter some site-specific obstacles that could restrict what is feasible.
Flow Rate
Early in the planning stage, flow rates for the specified shower fixtures must be calculated. The combined flow rate of all the shower fixtures fitted must be supported by the linear drain. For instance, a shower might include a regular shower head, a hand-held shower head, and a rain head, all of which have a 2.5 GPM flow rate.
Standard linear drains connect to a 2′′ waste line and can move up to 9 gallons of water per minute. A flow rate of 21 gallons of water per minute can be accommodated by high-flow variants that connect to a 3′′ waste line.
Free on the floor/against the wall
Choose the location for your (linear) shower drain. A "free in the floor" installation or an "against the wall" installation are both options. Installing your shower drain "against the wall" is what we advise.
By doing this, you just require a one-sided slope, which makes installation simpler, requires fewer tile cuts, and produces a smooth finish. Keep in mind that a shower drain that is "free-in-the-floor" must have a four-sided slope that is directed towards the drain.
Wall-to-wall
Placing the linear drain "between two walls" or "wall-to-wall" allows for simple installation with a two-sided slope. For a wall-to-wall installation, almost any linear shower drain is appropriate (when using the extension set). The Easy Drain Diamond is the finest option if you want a free in-floor installation with two-sided sloping.
Price
Each budget has a linear drain, and the cost is determined by the material, the thickness, the functionality, and the design. The standard size strikes the ideal balance in terms of cost. You should choose what you like.
Installation Difficulty
The only linear drains that require assembly and construction onsite are the adjustable drains; otherwise, installing a linear drain is just as simple, if not simpler, than installing a normal square drain.
Important Questions About Linear Shower Drains You Need to Know!
Are linear shower drains worth it?
Due to their sleek and refined appearance, linear drains stand out from standard square or circular center point drains. However, they also offer other useful advantages to homes, such as improved accessibility, safety, and installation and design flexibility.
Are linear shower drains hard to clean?
Depending on the manufacturing material, linear drains are simple to clean. Cleaning should be done with water and soap.
Is a linear drain more expensive?
A linear shower is relatively more expensive compared to the other types of showers but significantly more luxurious and flexible.
What type of drain is best for the shower?
There are different types of drains for the shower, such as square, central, and linear drains, but the linear drain will be the best choice due to its luxurious look and design.
Is a linear drain better for a shower?
Linear shower drains are more flexible and luxurious, and they are definitely a better option for showers.
Do linear drains get clogged with hair?
The major drawback of linear drains is their increased susceptibility to blockage compared to conventional shower drains. Of course, any drain can become clogged with hair and debris, but I've discovered that most linear drains do, in fact, clog more quickly and easily.
Where should a linear drain be placed in a shower?
Linear shower drains are so flexible that you can place them anywhere you want in the washroom.
What is a linear shower drain vs. a standard drain?
A linear shower drain has a slightly bigger rectangular shape than a conventional circular or square drain. It can be positioned in a variety of ways, including flat against the wall or along the edge of the shower.
Where to buy linear shower drains?
You can buy linear shower drains both offline and online, such as at Amazon, Lowes, and other platforms.
The Final Verdict
Linear shower drains have become the most popular shower drains due to their luxurious design, long-lasting services, and incredible flexibility. In this article, you learned in-depth information on linear shower drains, which I think helps you decide why you should choose linear shower drains instead of other types.