Moen is a trusted and renowned company in the world of faucets. They make different types of faucets, starting from shower tubs to kitchen ones. All of their products maintain a different standard and unique design that makes them easy to use.
Al Moen launched this company back in the 60s to renovate the faucet world, and he has rightly done so. If you ask plumbers to name two of the best Moen cartridges for replacing broken faucets, then the names of the two models–Moen 1225 and 1225B–would come up. But which one should you buy?
To solve the debate of Moen 1225 vs 1225b, we have prepared this article listing the features, pros, and cons of both. Read ahead to know more and make your choice!
Are all Moen Shower Cartridges the same?
Of course, not!
Moen shower cartridges aren't all the same because the company uses different shower valves for the different showers. For example, when you hold both old and new shower cartridges, your mind is blown up, which seems to be the same length but apparently is not. The reason is that it offers a wide range of shower cartridges depending on their features, sizes, and compatibilities. Even Moen replacement parts are reasonably priced.
It is necessary to choose the right Moen shower cartridges that are compatible with the shower model and satisfy your individual requirements.
To make sure you choose the right Moen shower cartridge for your shower system, you should first consult the manufacturer's website or a plumbing expert.
Don't forget to read: How do you find Moen cartridge number?
Moen 1225 Cartridge – Recommend by Plumbers
How Is Moen 1225 Cartridge?
Moen 1225 cartridge is the perfect replacement choice for any Moen one-handle faucet leaking or facing any other issues. The only problem with this model is its incompatibility with any tap with the PosiTemp and ExactTemp valves.
This Moen 1225 cartridge review will give you a brief idea about its uses and all the other accompanying details you need to know about it to make your decision:
Users
Suppose your kitchen or bathroom sink comes with a Moen one-handle kitchen or bathroom faucet, and it is facing any sort of operational issue. In that case, you can use the Moen 1225 cartridge on it as a replacement valve and solve your problem.
Correct Time for Implementation
If you face any issues like difficulty turning the faucet on, regulating the flow of hot and cold water, or leakage with your Moen one-handle kitchen or bathroom faucet, you can use the Moen 1225 cartridge to fix it.
Where to Use it
This valve system will only work on Moen manufactured items. Make sure to put it on Moen's one-handle faucets to obtain optimum results. However, it does not work on any Moen faucets that use the PosiTemp or ExactTemp technology.
Top Features
If you face plumbing issues with any of your Moen faucets, this cartridge will work as a significant replacement part for it. Since this valve system is made of brass, it does not get rusted and remains in good condition for a long time.
Therefore, if you want a durable product, you should go for it. Besides, the installation process to put this into place is also very easy, which saves you from the trouble of calling a plumber. You will get a twisting cap along with its package, which will facilitate the installation process.
Has an affordable price
Simple installation procedure
Brass construction enhances its quality and durability
Package contains a twisting cap to assist in the installation process

Suitable for use on Moen one-handle kitchen and bathroom faucets
Only limited for use on Moen products
2. Moen 1225b Cartridge – User's Choice
How Is Moen 1225b Cartridge?
Moen 1225b cartridge is almost identical to the Moen 1225 cartridge except that it is made of plastic instead of brass. Another difference lies in the packaging, but both are quite similar to each other in terms of features. This model, too, can be used as a perfect replacement choice for any Moen one-handle faucets.
We have reviewed the Moen 1225b cartridge in detail below to give you a better understanding of how it works and when you should get it:
Users
Anyone who is using a Moen faucet can use this item if their kitchen or bathroom one-handle faucet has broken down. This product works as a great replacement valve.
Correct Time for Implementation
Sometimes when the faucets become old and worn out, they start to leak water, the handle gets stuck, or the desired temperature of the water cannot be maintained. In this situation, you can replace the existing valve with the Moen 1225b cartridge.
Where to Use It
This valve system, too, is only compatible with Moen manufactured faucets and shower tubs. But just like the 1225 model, it does not work on any Moen faucets that use the PosiTemp or ExactTemp technology.
Top Features
Calling a plumber to replace a valve system can incur additional costs that might prove to be too heavy on your budget. Keeping this in mind, Moen makes the installation process of their 1225b replacement cartridge very easy.
Moreover, this product is made of plastic, which is less likely to get stuck during the time of removal in comparison to a brass cartridge. It comes in the bulk package, for which its name contains a 'b.'
Has an affordable price
Simple installation procedure
Brass construction enhances its quality and durability
Package contains a twisting cap to assist in the installation process

Suitable for use on Moen one-handle kitchen and bathroom faucets
Only limited for use on Moen products

Does not support the PosiTemp or ExactTemp Valve technology
What Is the Difference Between Moen 1225 and 1225b Cartridges?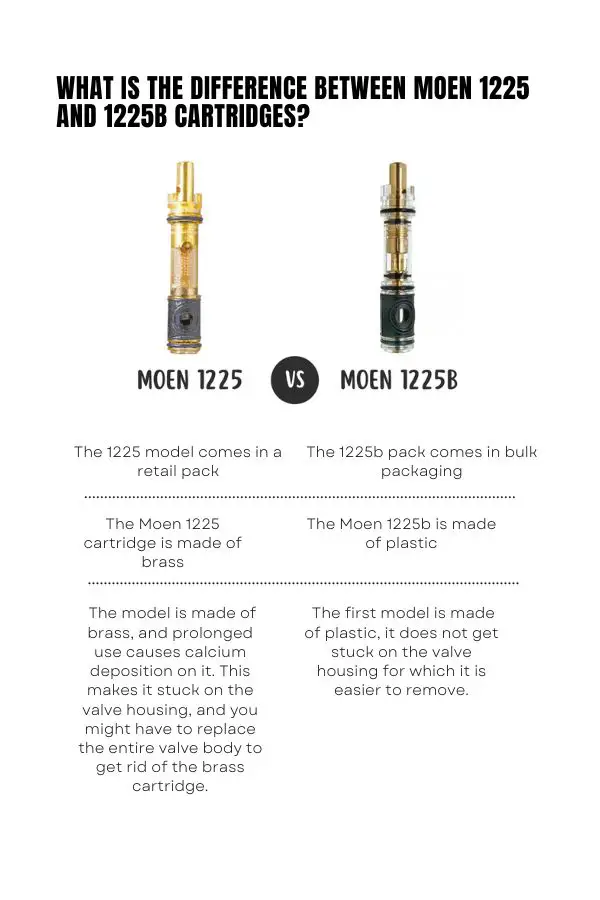 The main confusion that you might face when you see the model numbers of these two products is whether they are the same or if there is any difference or not.
Although most of their features are identical, there are some decisive factors that create some differences between the two. We have tried our best to clear your doubts by pointing out the clear distinctions between the two products:
Packaging
Although, at first glance, the packaging of the two might seem to be the same, it has some differences.
As a matter of fact, the main difference between these two models lies in their packaging. The 1225 model comes in a retail pack, whereas the 1225b pack comes in bulk packaging. And the letter 'b' stands for bulk packaging.
Construction
How a product is constructed determines its life and longevity to a great extent. It also plays a huge role in its performance. If the construction of a product is made with quality items, then it lasts for a long time and gives the user a smooth experience.
On the other hand, if a product is made with cheap materials, it breaks down easily and does not perform well.
To ensure durability, the Moen 1225 cartridge is made of brass. This gives it a strong and durable finish. Brass is a material that does not get damaged easily.
Moreover, since the valve system will frequently come in contact with water, there is a possibility of rust formation. To prevent that, brass is a great material as it does not get rusted easily.
On the other hand, the Moen 1225b is made of plastic, which makes it lighter and easier to carry.
Process of Removal
Once the life of a cartridge ends, it needs to be removed to be replaced with another. What puts the Moen 1225b ahead of the 1225 model is its ease of removal.
Since the first model is made of plastic, it does not get stuck on the valve housing for which it is easier to remove.
On the other hand, the 1225 model is made of brass, and prolonged use causes calcium deposition on it. This makes it stuck on the valve housing, and you might have to replace the entire valve body to get rid of the brass cartridge.
Moen 1225 vs 1225b Cartridge – Head to Head Comparison
| | | |
| --- | --- | --- |
| | | |
| | | |
| | | |
| | | |
| | | |
| | Replacement Parts or Service Kit | |
| | 8.50 x 2.50 x 1.00 inches | 7.00 x 2.00 x 1.00 inches |
| | | |
| | | |
How to Replace Moen Shower Cartridge?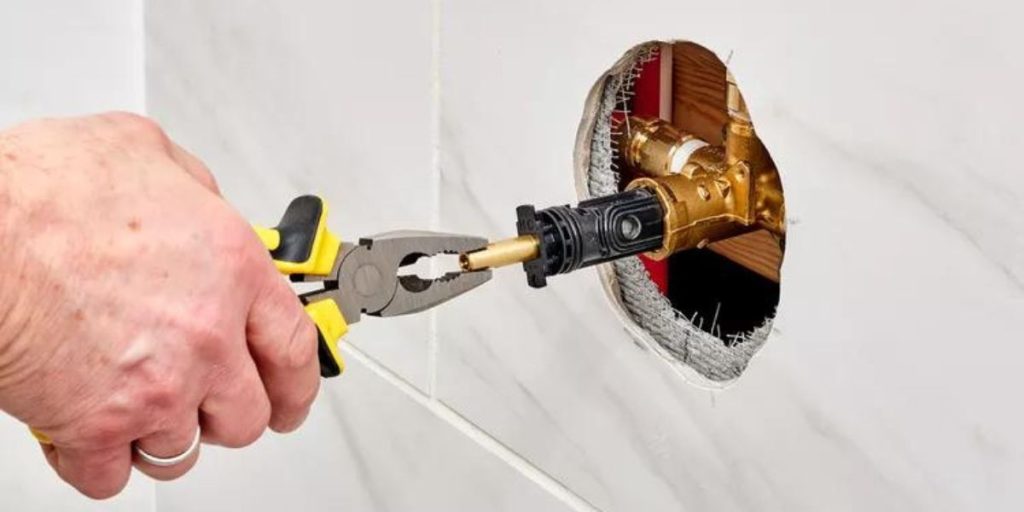 Working time: Estimated 1.5 to 2 hours
Skill Level: Beginner to Mid-Level
Estimated shower cartridge replacement cost: Minimum $20 to maximum $50
When you find leakage on the shower valves and can't control the hot and cold water pressure, fix it or replace it as soon as possible. Before you begin to think about its replacement, you need to choose a Moen shower cartridge that is designed for both residential and commercial purposes.
Let's see how you replace it and fix the leakage issue!
Tools you'll need to replace the shower cartridge-
Flathead screwdriver
Phillips-head screwdriver
Needle nose pliers
Moen cartridge puller(If necessary)
Allen Wrench
New Moen replacement cartridge
Scraper
Rag
Instructions you need to follow-
Step 1: Shut the water off: Shut the main valve of the water supply and run the faucet for 30 to 60 seconds to reduce the water pressure and let it flow into your pipes. Cover the bathtub drain with a rag or tape if you have a hub in your bathroom.
Step 2:Remove the handle: Every handle is different; it's better to research it online, but I can give you two more ideas about it. When the screw is attached to the shower handle, use a flathead screwdriver to force the cap to come off the shower handle. Another idea is to use an Allen wrench to lose the screw underneath and remove the handle when the shower handle has a single lever.
Step 3: Take off the escutcheon: While removing the shower handle, turn to take off the escutcheon, a piece of the ring- or sphere-shaped metal covering the shower's wall hole. Unscrew it using a Philips-head screwdriver or choose the screwdriver depending on the screw hole.
Step 4: Remove the cartridge holding clip: Make sure to note where the cartridge clip is located to reinstall it precisely. Use needle nose pliers to grip the top of the clip, pull it straight up, and set it aside.
Step 5: Remove the old and leaky faucet cartridge: Now it's time to pull the old, leaky cartridge so that you can use the Moen cartridge puller or not. Grip the adapter with the pliers, rotate it back and forth, and pull out the cartridge.
Step 6: Install a new replacement shower cartridge: Check the valve body's interior for debris to see if it prevents the installation of the new shower cartridge. Use silicon grease to lubricate the rubber parts of the cartridge. Push it into the shower valve body after inserting it. Now reinstall the cartridge holding clip into a perfect position, then move a bit with the adapter or cartridge puller, and assemble the shower handle.
Step 7: Turn on the water for testing: Turn the valve after everything has been put in place to see if there is a leak. Check each fixture to make sure it is tight.
Safety Measures-
Turn off the water supply before disassembling the shower cartridge or you scald because of the hot water.
After the replacement, use caution when testing; turn the hot water supply on gradually so that you can turn it off before it gets hot enough to scald.
You may replace it alone if the leakage is small, but if it is complicated, call the home improvement experts.
You can watch this video to understand each and every step carefully and apply it accordingly.
Moen cartridges FAQ: Answers to Commonly Asked Questions
How long do Moen cartridges last?
The Moen cartridges have a lifespan of 20 to 30 years. So, if you use them properly, you can go with one cartridge for more than a decade.
What is the procedure to remove a Moen 1225 and 1225b cartridge?
At first, a hex wrench is needed to unscrew the connection of the handle with the faucet. Next, the adapter needs to be removed in order to pull the entire handle system out. Lastly, you have to pull the faucet escutcheon to find the old cartridge and discard it.
When should I replace the cartridge of my Moen faucet?
If you face issues like water leaking, inability to move the handle smoothly, disruption of the flow of hot or cold water, then you should immediately replace its existing cartridge with a new one.
What is the main difference between a Moen 1225 and a Moen 1225b cartridge?
Although both the models are identical in terms of their features, the 1225 model is made of brass, whereas the 1225b model is made of plastic.
What should be the deciding factor to determine whether to buy the Moen 1225 or the 1225b model?
If you do not prefer a sticky cartridge that will require you to replace the entire valve system, then you should go for the plastic cartridge, which is the Moen 1225b model. However, if you would like something more durable, then the Moen 1225 model made of brass is the wiser choice.
How do I know which Moen shower cartridge I need?
Check your older series or your Moen shower faucet number with the newer one so that you can find the exact one which you look for. When you won't find one you look for contact with Moen's customer service for assistance or at the nearest hardware store.
When to replace a Moen shower cartridge?
The time you notice leakage, reduced water flow, or difficulty adjusting the temperature, you need to replace your existing one with the newest one.
Are Moen shower cartridges interchangeable?
Not all Moen shower cartridges are interchangeable instead Moen 1200 and Moen 1225. So you just need to know the model and the age of the Moen shower faucet. Even you can consult with the plumbing professionals to ensure that you're selecting the correct cartridges.
Where to buy a Moen shower cartridge?
You can buy the Moen Shower cartridges at the nearest hardware stores, home improvement centers, and online retailers like Amazon, Walmart, Home Depot, and Lowe's or even directly from the Moen site.
Final Words
Now, that we have explained where the main difference lies in the Moen 1225 vs. 1225b debate, there should not remain any confusion regarding your purchasing decision.
So, depending on whether you prefer a brass cartridge or a plastic one, you can make your final pick.