Open, functional, clean, and decorated with stylized or monochromatic colors are the hallmarks of modern kitchen interior design.
However, decorating the kitchen countertop with a sink in a minimalistic manner is one of the most popular. No one wants messy counters, clogged aerators, or leakages because they lead to expensive repairs, replacements, and medical costs.
Numerous kitchen sinks are available in various sizes, styles, and price points, but undermount sinks are the most popular. Do you know why undermount sinks are so popular and useful to you? Less counter and cabinet space is needed, eliminating the need for a large sink.
Well, this guide will show you how to decorate your modern kitchen countertop aesthetically while saving space and effort to clean.
Is it better to have an undermount sink for renovating your kitchen?
Of course, without a doubt!
Undermount sinks are installed with a pre-cut hole in the bottom of the tabletop, whether made of granite, marble, quartz, stainless steel, or concrete. The sink tends to be more profound and heavier, but it is easier to rinse off the heap of dishes without making any clutter on the tabletop.
As you know, there are several types of kitchen sinks out there which are differentiated by size, style, shape, material, and mounting, so undermount sinks are no different.
For example, when comparing an undermount sink to a top mount sink, the undermount sink has an invisible lip that makes it much easier to clean. In contrast, the top mount or overmount has an obstructive lip lining edge that traps debris and prevents it from going directly to the sink.
On the other hand, if we compare the undermount sink with the farmhouse kitchen sink, the undermount requires minimal maintenance, whereas the farmhouse or apron front kitchen sink requires regular maintenance.
From a material perspective, the undermount kitchen sink is made of high-quality materials to ensure durability. It can't damage or sag easily because of its weight and stain resistance, so the debris can be easily removed from the corners and crevices.
Are undermount sinks going out of style and worth it to buy?
Undermount sinks never lose their charm in kitchen renovation ideas. It can remain popular among homeowners, the way it was before.
It's never going out of style because it not only embellishes the ravishing look of the kitchen but also its functionality puts it above the rest.
Let's find out why undermount sinks worth it
Create a seamless look to the kitchen interior.
Its gorgeous look incorporates the kitchen decors trends which will enjoy the homeowners over the year.
It allows more countertop space and won't have edges, making it easier to use appliances, cutting boards, dish drainers, and small items on the counter.
The pros and cons of undermount sinks
The seamless, modern design of undermount kitchen sinks offers a variety of features. Designs for kitchen sinks that can be used in private homes and businesses. In this case, every sink has its own strengths and drawbacks, and an undermount sink is no different.
No troublesome lips: The dirt can be dumped directly into the sink from the corners and crevices thanks to its underside mounting, making cleaning the countertop hassle-free.
Resale value: Its stylish design and functional features never lose their color or durability, and it blends in with any kitchen interior and increases the chance of resale value.
Manufactured with sturdy materials: Undermount sinks are frequently made of enameled cast iron, granite, quartz composite, and even stainless steel. It ensures durability and prevents rust and corrosion, extending its lifespan.
Difficult installation: The weight of the sink can be the main barrier to seamless installation. Apart from this underneath installation of the faucet and drainage can be more rigid. So it requires a professional hand to make solutions before plunging into any leakage issues.
Top undermount kitchen sinks in 2023
| | | | | |
| --- | --- | --- | --- | --- |
| | | | | |
| | | Undermount  sink kitchen faucet | | |
| | | Double bowl  kitchen sink with faucet | | |
| | | Undermount kitchen sink with drainboard | | |
| | | White quartz undermount  kitchen sink | | |
| | | Gold undermount kitchen sink  | | |
Upgrade your kitchen: Top 14 stunning undermount sink design inspirations 2023
Upgrading your kitchen sink has a positive impact on your home, kitchen interior, and even your lifestyle. Since the kitchen sink is the busiest place for preparing meals, rinse the pile of dishes so that it might sometimes be banged up or get cracked, in this way remodeling is required.
There we've given the top 14 stunning ideas that transform your kitchen from traditional to the modern look.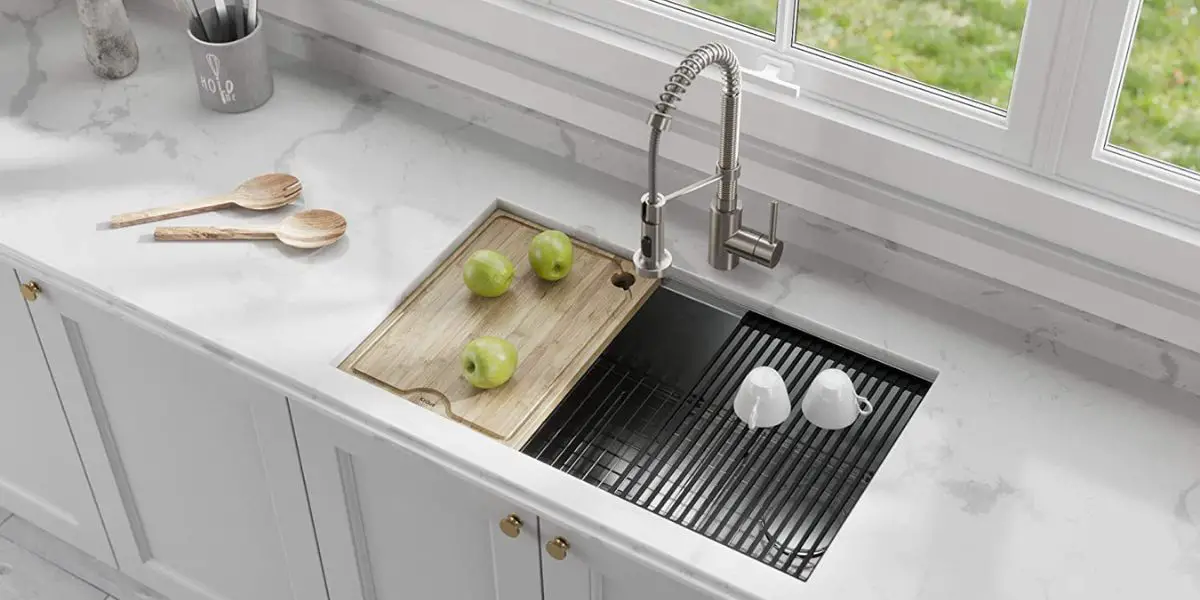 A workstation sink with a pulldown kitchen faucet is an amazing duo for kitchen countertop tasks. Most of these undermount sinks are wide in size and attach to multiple levels, like a cutting board, veggie washing stations, meat and knife racks, and even strainers.
The pull-down kitchen faucet installed with the sink lets you use its versatility for your daily tasks in comfort. Its sprayer spout will reduce the hassle of removing dirt and slime from dishes and adorn the kitchen with a stylish design. This kitchen sink style is best for small kitchens so that any homemaker can complete their tasks hassle-free.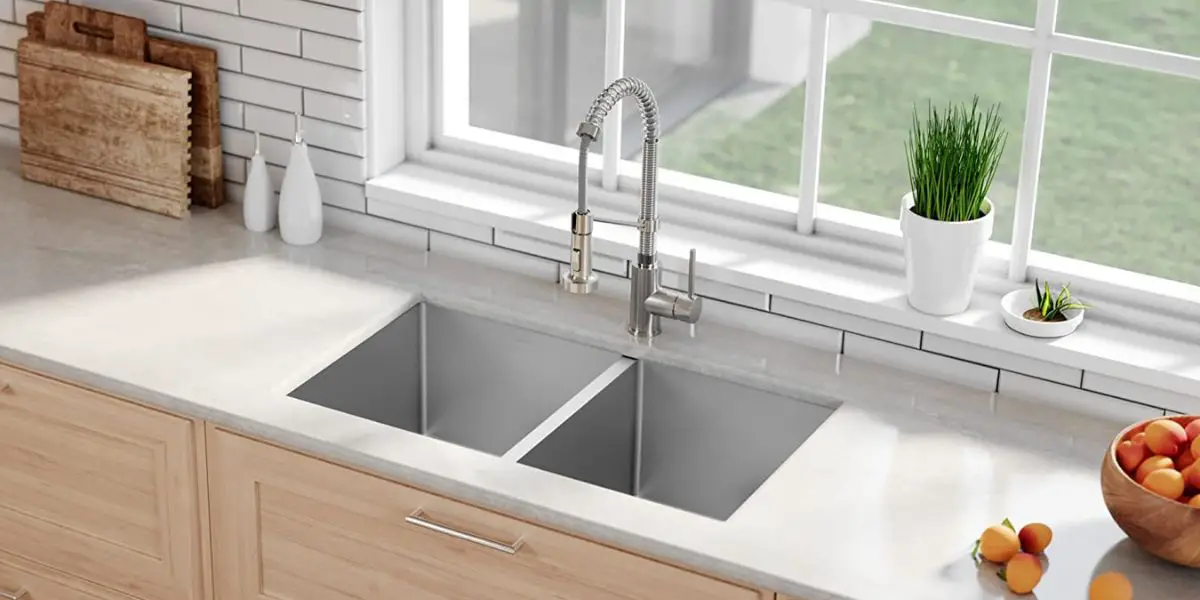 A double bowl with a faucet can be a reliable pick for busy kitchens, especially for restaurants and extended families. With a double bowl, your everyday kitchen tasks can be completed more quickly than with a single sink that only allows one-task-at-one-time.
When using a double-bowl sink, one bowl is used for dishwashing with soapy water, and the other is used for rinsing with clean water, making it easier to multitask.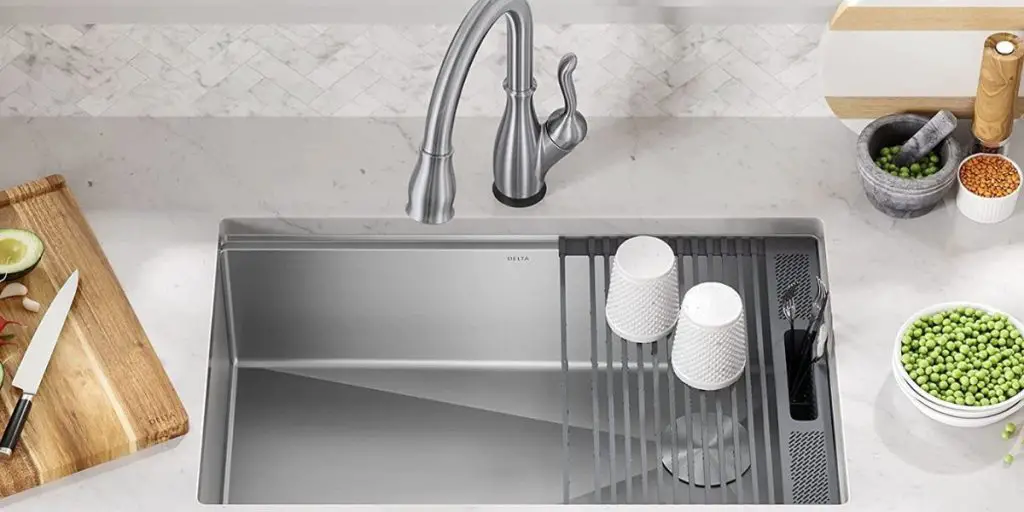 An undermount kitchen sink with a drainboard is ideal for sleek and modern kitchens. The drain board is generally a sloped surface with grooves beside the undermount sink, usually on one side but sometimes on both sides. You can let the dishes dry with the drainboard sink and allow leftover water to drain directly.
The most common material for a drainboard sink is stainless steel, but you can also find it in Corian. So if you choose the kitchen sink first to decide why you want to buy, a drainboard kitchen is a convenient place to use a cutting board for meal preparation, and for those who struggle to lift heavy pots, this can be a useful option for resting heavy pots.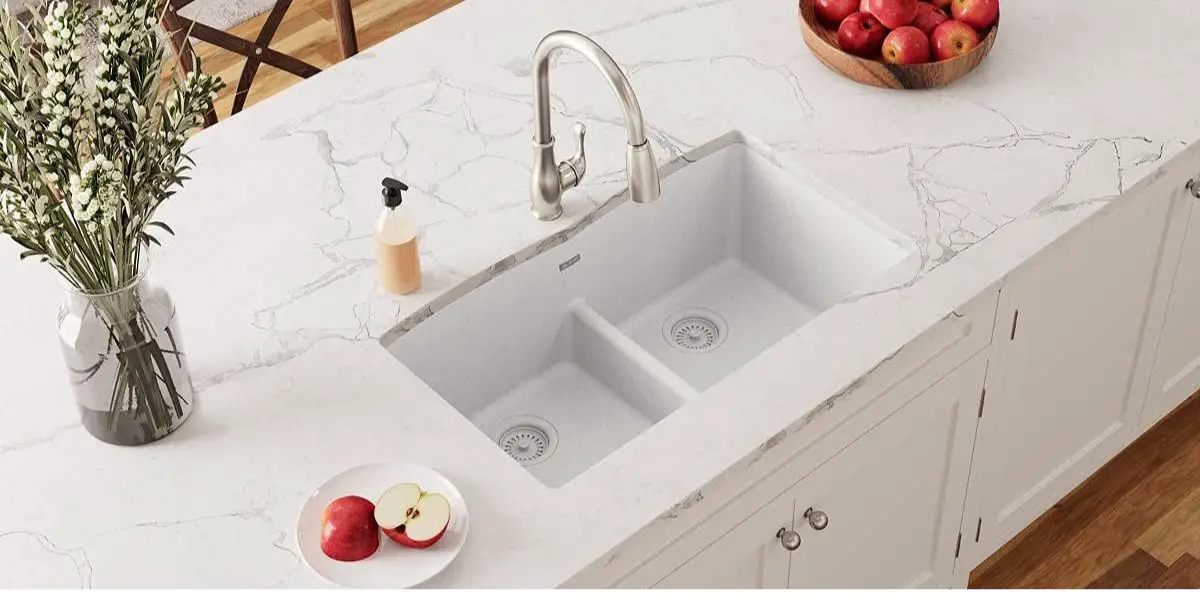 White quartz kitchen sinks are an intelligent choice for any restaurant or homeowner. It is one of the most popular tabletop colors because it can go with anything. It is far superior to stainless steel in terms of design and durability. This sink adds a variety of texture that adorns the countertops beautifully.
It would be the cherry on top of the double bowl undermount sink was that it was made of white quartz and came with a drainer. So you can be assured of the product's durability and maintenance while giving your kitchen a beautiful look.
5. White porcelain undermount double bowl kitchen sink with strainer and bottom grids
A white porcelain undermount sink is the best option for families with young children because it is made of an anti-allergic substance. If the sink has two bowls, you can multitask on your countertop, from food preparation to washing the pile of dishes. White porcelain tends to scratch because of its shiny surface.
So the sink bottom grid ensures that items stay intact by keeping pots, pans, and other utensils at the bottom of the sink. Food peels and other debris can cause leaks in the plumbing system, so strainers help prevent this.
6. White granite undermount single bowl kitchen sink with pull-out faucet
White granite undermount kitchen sinks can be the top choice for luxury households. White granite colors don't have to be pure; they can be mixed with beige and gray, enhancing the texture around the countertops.
Moreover, the single bowl with a pull-out faucet mostly gives a convenient look for a single kitchen countertop and less chance of heavy splashing. If you've got a single or mid-sized luxurious kitchen, this idea can be fruitful.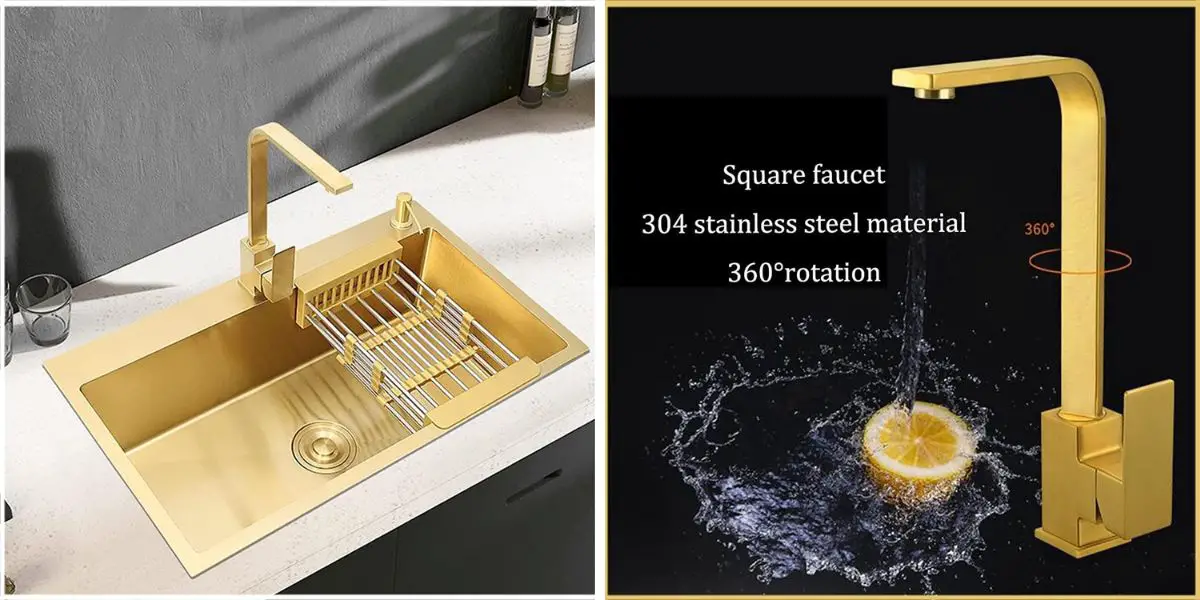 Gold kitchen sinks appeal to the kitchen interior beautifully. It is incredibly resilient and perfect for busy kitchens. If the gold sink has accessories, it not only frees up space in your workspace but also improves the productivity of household chores.
For example, if the sink comes with sink grids, holders, veggie racks, knife racks, and garbage disposal, it can keep the countertop things organized and prevent damage, making it more durable.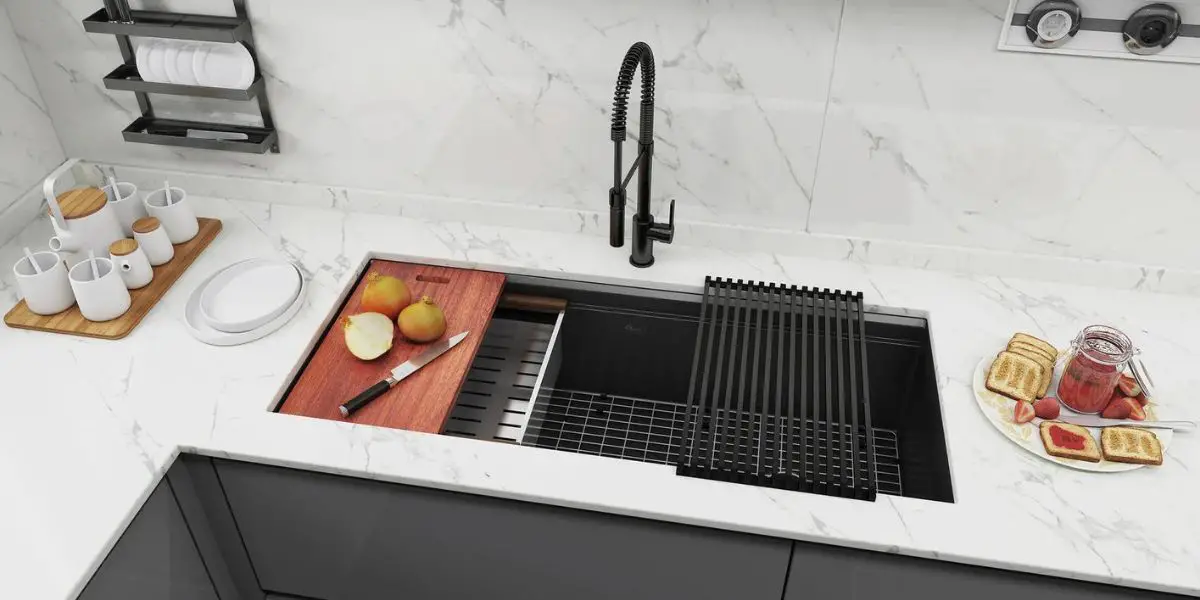 Stainless steel is one of the most popular materials used for undermount kitchen sinks due to its durability and capacity to resist corrosion and rust. If the stainless steel kitchen sink is coated with black oxide, that also enhances the smudge-proof ability. It might be ideal for areas that experience a lot of wear and tear.
There we've put together the best undermount stainless steel kitchen sink list so that you may aesthetically beautify your classic kitchen.
If you think the coating peels off and question its reliability, we would answer that its surfaces are less prone to minor abrasions. Workstations made of black stainless steel and ledges are timeless because they not only improve the kitchen's aesthetics but also free up counter space and enable multitasking.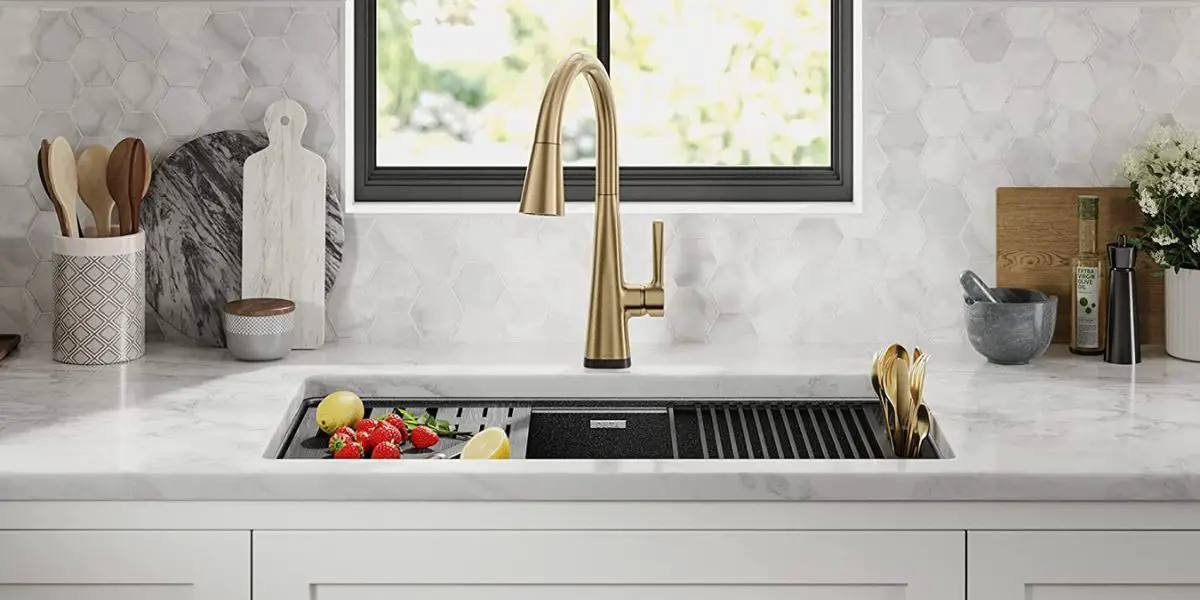 The black granite sink with a gold faucet perfectly harmonizes the kitchen's interior design. Sinks with darker colors and gold faucets are an elegant combination. Black granite is a renownedly durable material that lasts a lifetime with proper maintenance.
If the sink is installed perfectly, it can be the star of your kitchen. No matter how messy your counter is or how many dirty dishes you have piled up, it won't get stained or scratched, and it will be simple to clean up after use.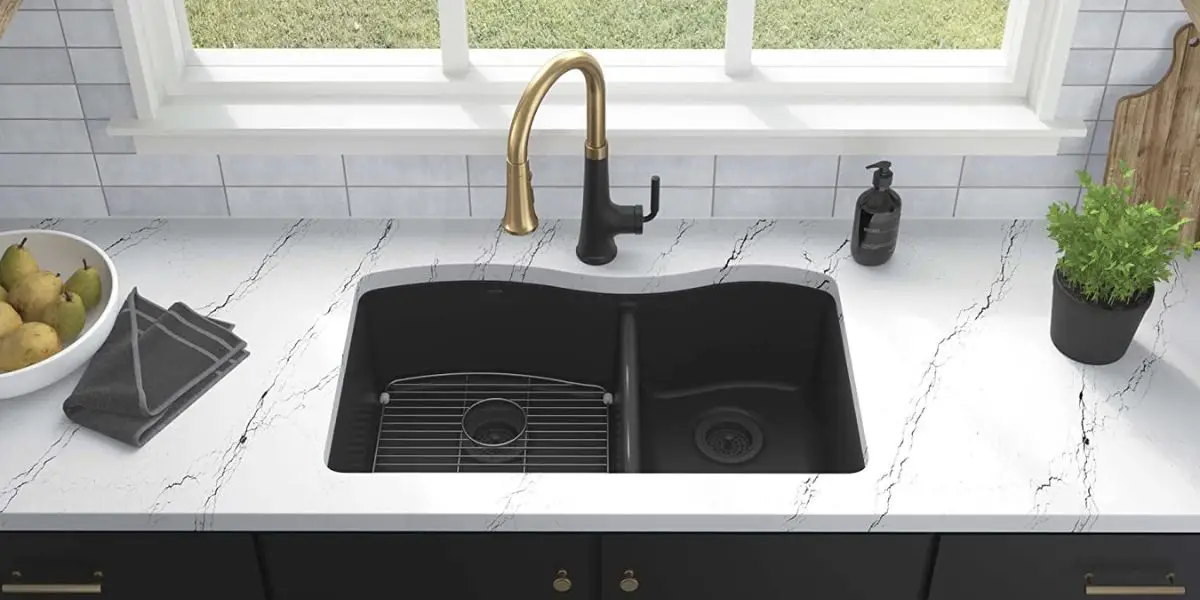 Matte black undermount sinks are incredible ideas without spending so much money. They are typically made with non-porous surfaces, which promote hygiene and help you fight off microbes.
If you are thinking about purchasing the matte black double undermount kitchen sink, it can be a positive point if it has a bottom grid. Because the bottom grids provide great value to the sink by saving it from scratches or peel-off coating, making drainage maintenance easier.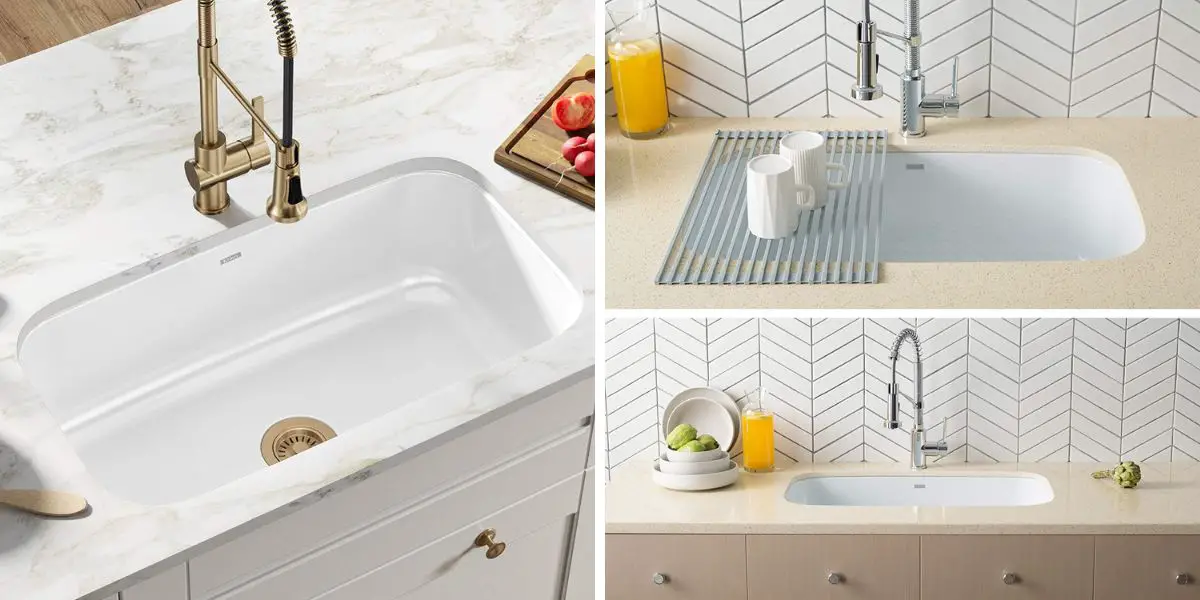 A white enameled stainless steel single bowl kitchen sink offers a high-end, durable look. The strength of the steel and the enamel coating make it stain resistant, and it beautifully matches any classic or modern kitchen interior decor.
They mostly come with a thick rubber dampening pad that reduces noise while washing the pots and pans. This single-bowl white enameled sink can give a seamless look to the countertop and makes it easy to wipe water directly onto the countertop.
Explore our best single-bowl kitchen sink guide in the hopes that it won't leave you in the dark if you have a small-ish kitchen and agree with the concept of a single-bowl sink.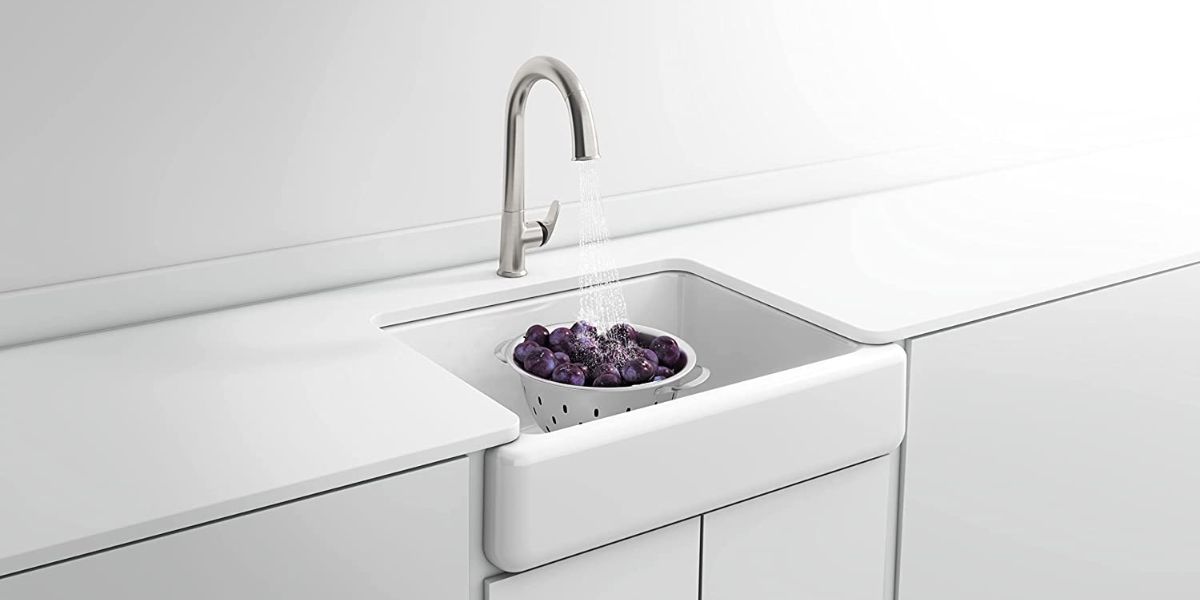 Since farmhouse undermount sinks are typically large and heavy, so they require structured support. So the short apron front helps to prevent cabinet damage. They can offer a generous workspace to do household tasks.
Generally speaking, farmhouse kitchen sinks are scratch and thermal-shock-resistant, making them suitable for daily use. It can be the icing on top of your kitchen decor to upgrade your kitchen countertop with farmhouse kitchen sinks.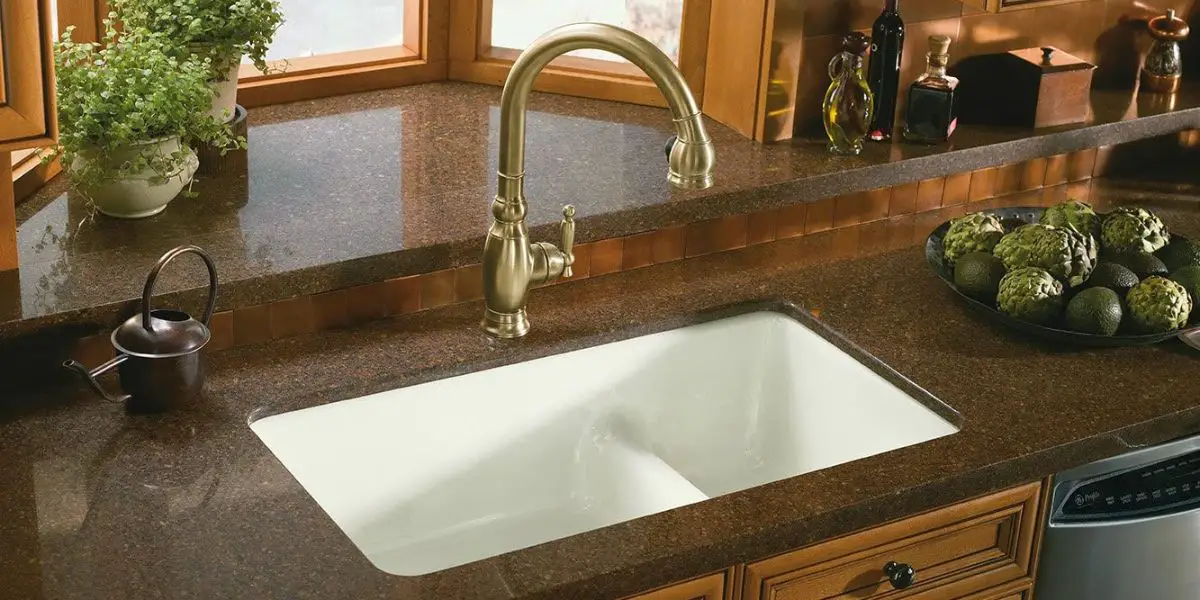 Every homeowner with a limited budget might find that a cast iron undermount sink with a smart divide is the best option. Durability and attractiveness are the main reasons to buy this sink.
Cast iron can be molded into any shape because it is an alloy of iron and carbon. The sink with the smart divide makes it look amazing and enables multitasking. It has two compartments to keep the dishes separated and help with food preparation.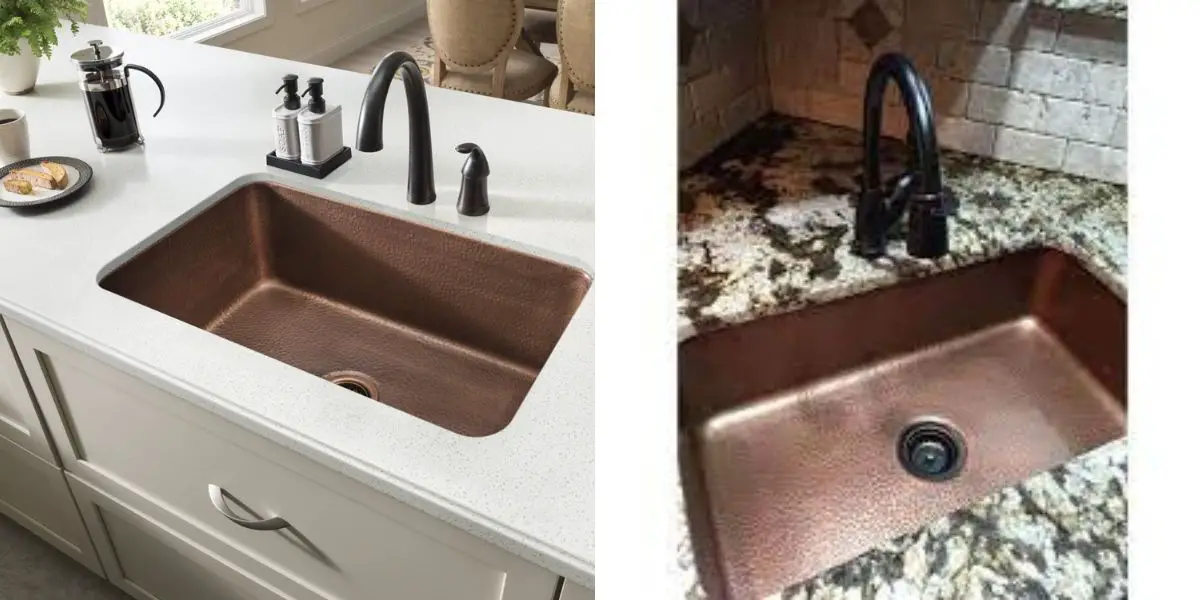 A copper undermount sink with a commercial kitchen faucet makes your sink safe and allows the dishwasher to wash the dishes quickly. Because commercial faucets are made of heavy-duty materials, it is better to know that leakage issues are rarely found.
Even the copper sink doesn't require special maintenance or care, but it still enhances the beauty of your kitchen's interior.
Kitchen sink brand: The most highly rated undermount kitchen sink brands 2023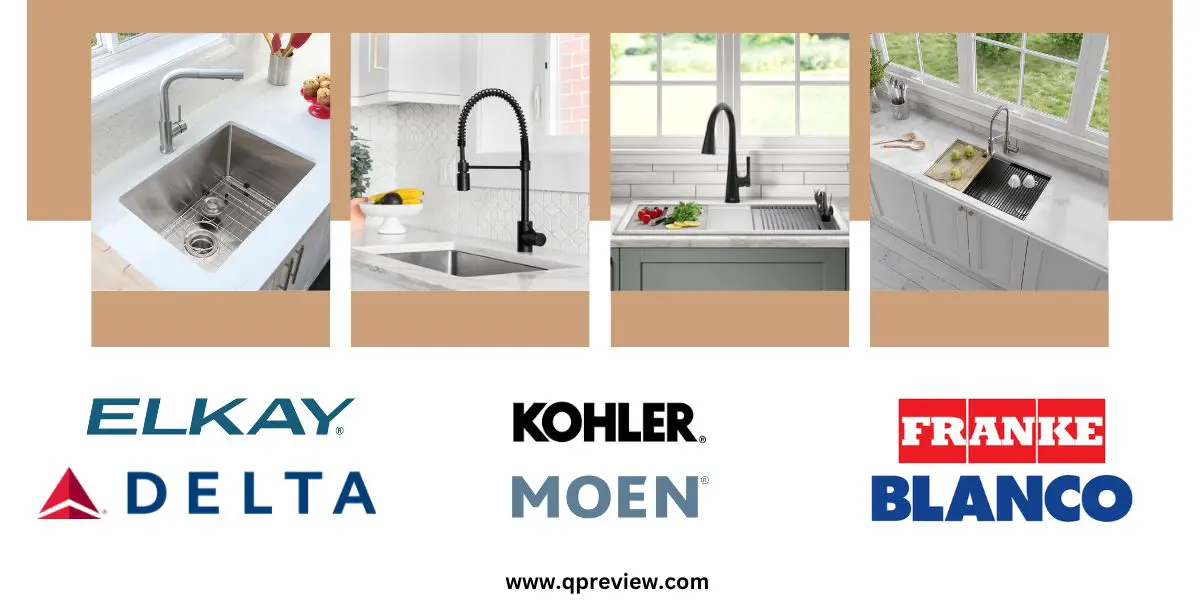 To take innovative twist-and-turn steps for renovating your kitchen countertop, it's hard to decide how, but not impossible, right? There are several good kitchen sink brands, but not all of them make the best quality product.
We've put together a list of highly-rated undermount kitchen sink brands that neither underestimates your choice nor your budget.
Kohler Undermount Kitchen Sink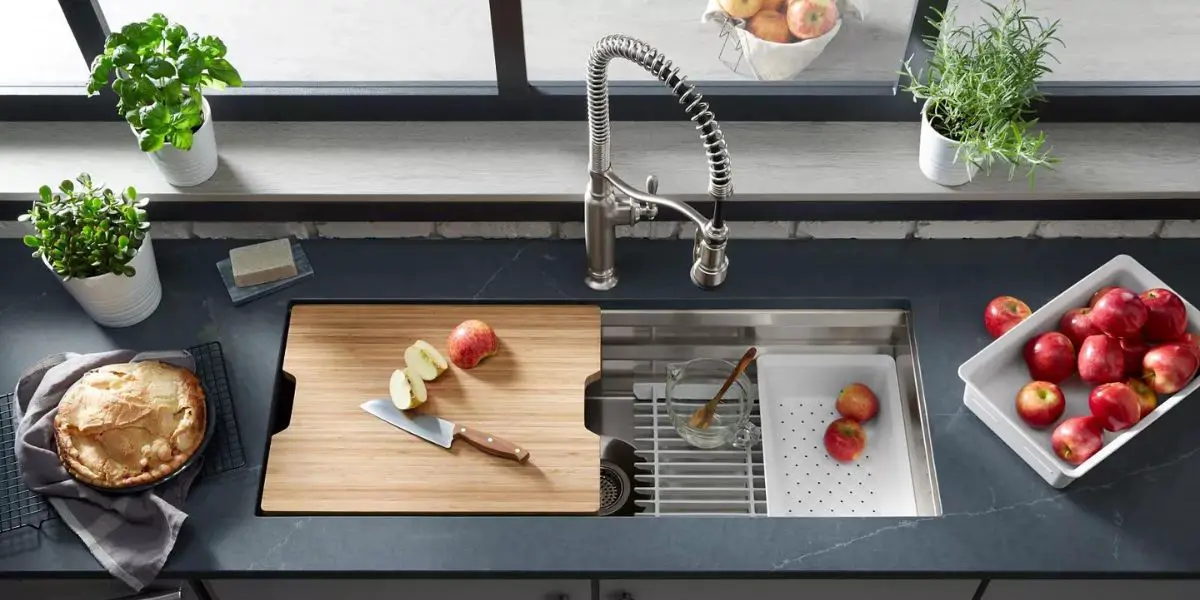 Kohler is the oldest plumbing manufacturer and boasts over 100 years of providing top-line products. The company is renowned for its utility sinks, professionalism, and precise design.
No matter your budget, Kohler offers the highest-quality products in minimalist designs. The materials they use to create the highest-quality undermount sink make it sturdy, resistant to rust and corrosion, and easily covered for 10 years.
Top-rated Kohler Undermount sink to consider:
Blanco Undermount Kitchen Sink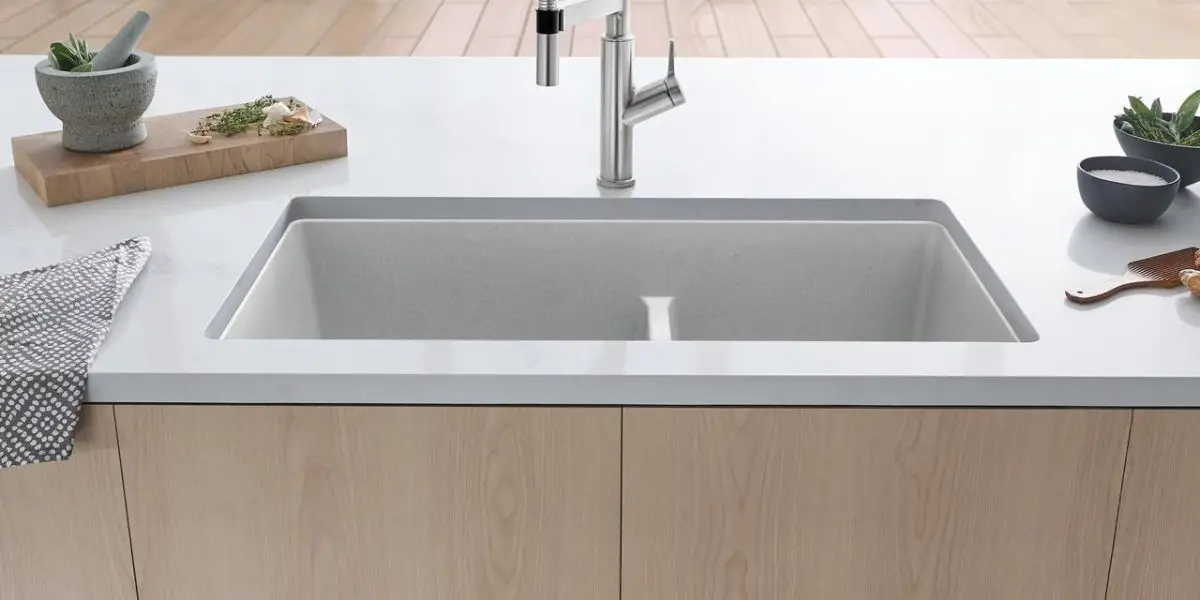 Blanco's products are made in Canada but engineered in Germany. It is one of the most positively reviewed kitchen sink brands because of its unique and durable composite sink material, Silgranit.
Kitchen sinks evolve along with the design of the kitchen.
As a market leader in the kitchen product sector, they know how to improve the interior and use products to simplify simple kitchen tasks. Blanco's undermount sinks are mostly known for their durability, customizability, functionality, innovation, and attention to detail.
You may be surprised that Blanco's product is a leading choice for several interior designers, homeowners, and contractors.
Top-rated Blanco Undermount sink to consider:
Elkay Undermount Kitchen Sink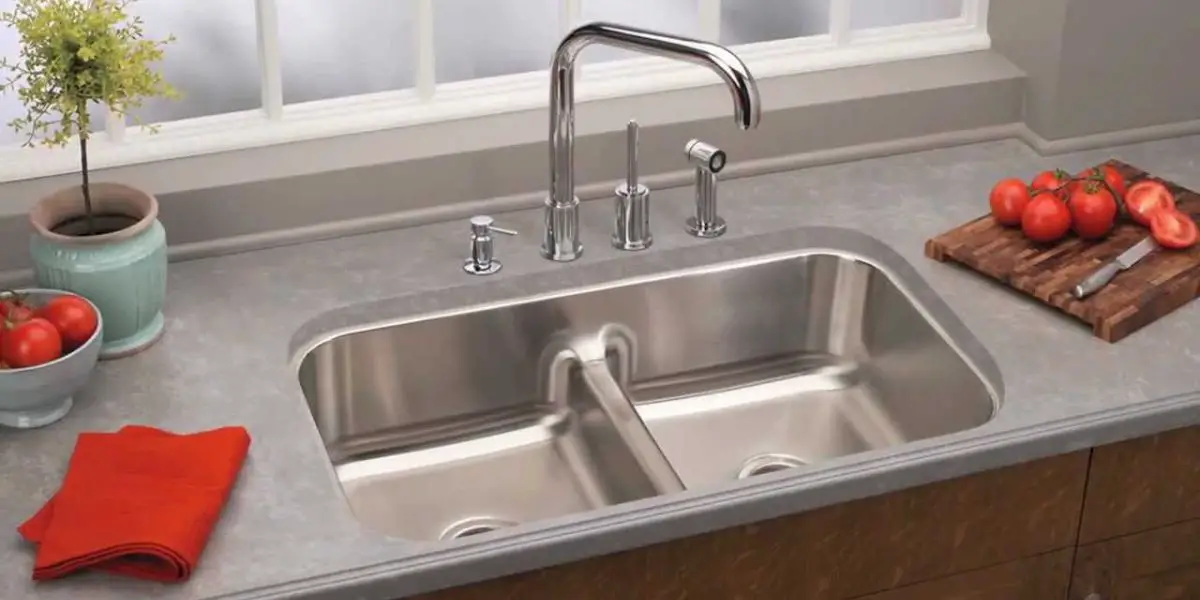 Elkay has been America's leading manufacturer of kitchen sinks since 1920. Elkay's USPs are its consistent product quality, inventive design, and adaptable functions.
Elkay's product materials ensure product durability and reduce sink damage, and its stylish design complements the kitchen workspace.
You can't even resist buying this product due to its non-porous material. It prevents food residue from sticking to the sink and prevents bacteria from spreading.
Top-rated Elkay Undermount sink to consider:
Moen Undermount Kitchen Sink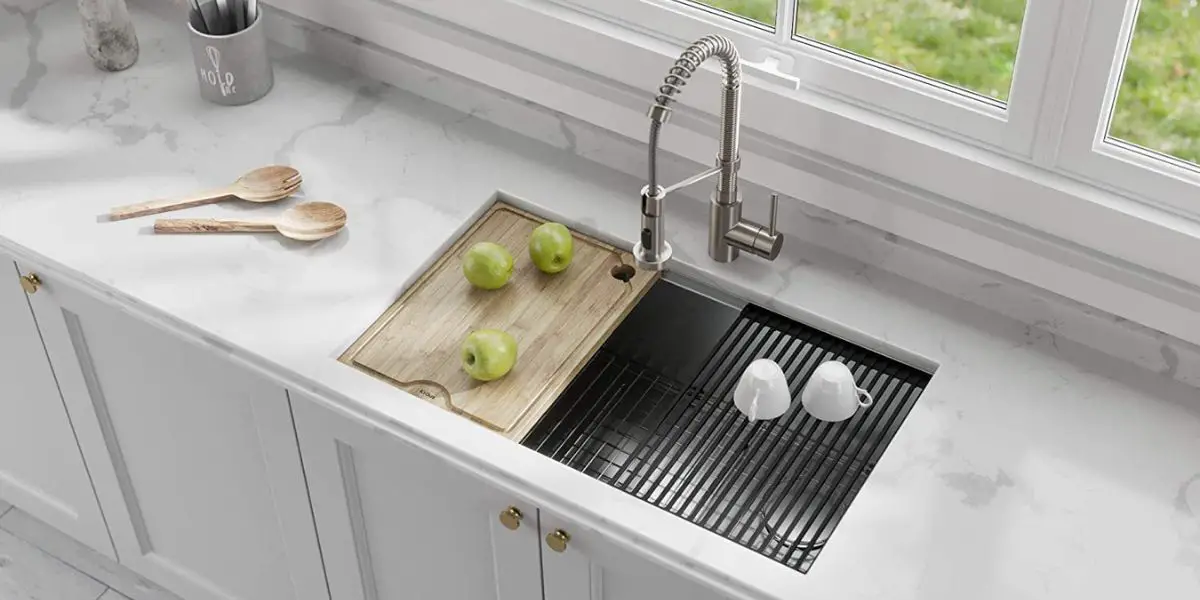 Moen manufactures high-quality sinks that can easily withstand your demanding household chores, whims, and heaviest pots and pans. It ensures both aesthetic appeal and practicality.
Apart from making durable-quality kitchen sinks, Moen is also the manufacturer of faucets, bath fixtures, and shower plumbing accessories. The company is renowned worldwide for its build quality and elegance in design.
Top-rated Moen Undermount sink to consider:
Delta undermount kitchen Sink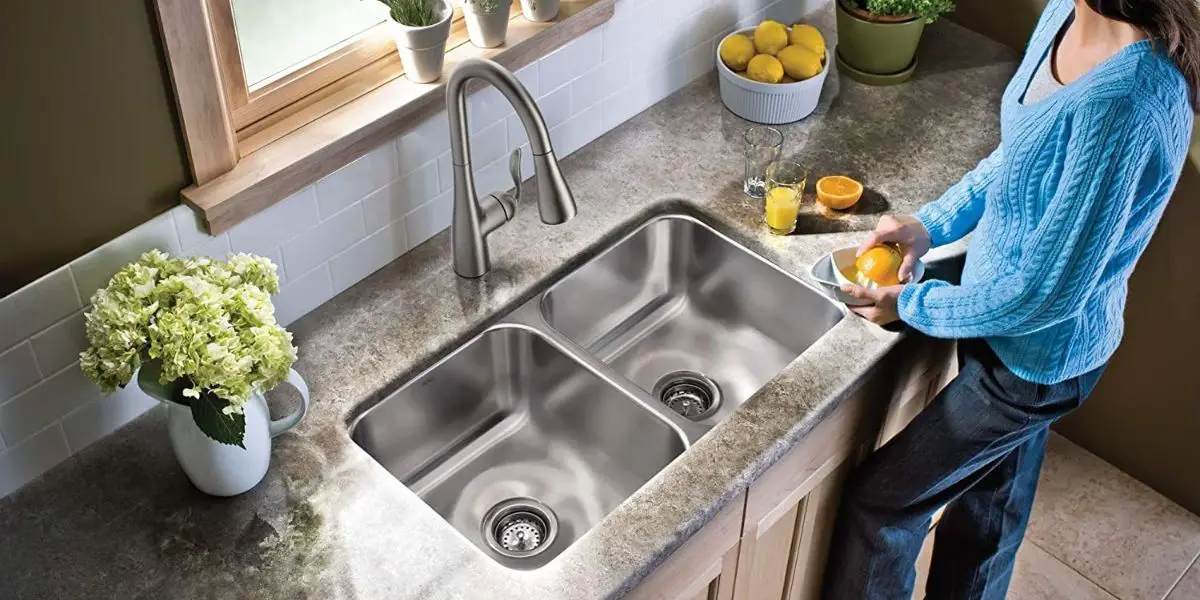 Delta Faucet is a market leader with a strong track record of growth in the kitchen products and faucets industries. The company has global manufacturing facilities from Indiana, USA, to Panyu, China.
The material finish, innovative new designs, better build quality, and versatility of the products for baths and kitchens are the USPs of Delta Faucet. The interiors of the kitchen and bathroom look amazing with Delta's products. Its undermount sink aims to give you a better experience with water usage without wasting it and save your counter space to do more heavy tasks efficiently.
Top-rated Delta Undermount sink to consider:
Franke Undermount Kitchen Sink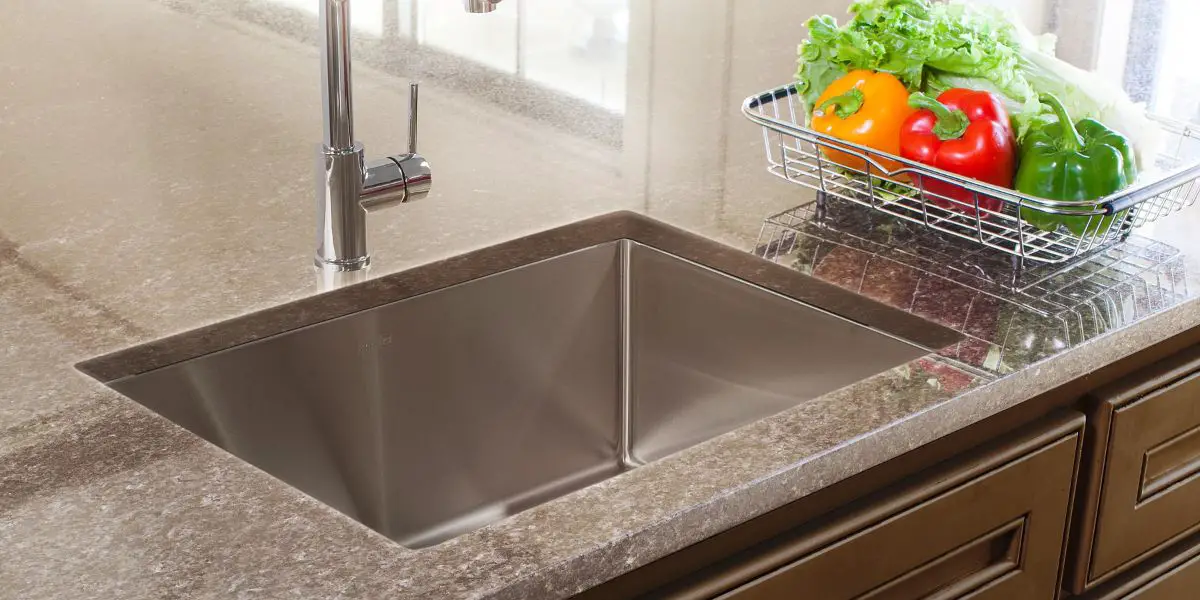 Franke was established in 1911 as a small craft business and transformed its path to becoming the leading player in the kitchen industry.
Their kitchen sinks were developed for families by combining style with environment-friendly. Its noise reduction performance, innovative design, rust-and-corrosion resistance, and generous 50-year warranty make it different.
Top-rated Franke Undermount sink to consider:
Common concerns about undermount kitchen sink
Are undermount sinks harder to clean?
No, the smaller countertop space makes wiping down the counter much easier.
Do undermount sinks ever fall out?
Unfortunately, yes. It can sag over time because of the weight, moisture, and garbage disposal vibration. As a result, whenever you sense your undermount sink pulling away from the counter or creating a gap, you must hike back and secure it in place.
Which is better top mount or undermount sink?
From the perspective of cleaning and exposing the edges, the undermount can be a better option than the top mount. But if low installation costs and an adaptable design are important to you, a top-mount kitchen sink is unquestionably the best option.
Should I do an undermount sink with a granite countertop?
Undoubtedly yes! Natural stone, such as granite, can be your best option for an undermount sink because it is much more durable and needs less maintenance.
Do undermount sinks come with faucet holes?
No! It doesn't come with a pre-drilled faucet holes or other attachments like others. So there, you need to make a hole in the countertop for installing the faucets.
What is a good size for an undermount sink?
A good size for the undermount sink would be 22 inches long by 30 inches wide and 8 to 9 inches deep. The undermount sink size also depends on the base cabinet and the installation process.
Is it more expensive to install an undermount sink?
Installation for undermount sinks is slightly more expensive than overmount and drop-in sinks. Undermount sinks are made of strong materials, so installing them is typically challenging due to their weight and need for additional support. They also need sturdy countertops to prevent water damage.
Does a plumber install an undermount sink?
Without a plumber, there is no doubt that you will be unable to install the sink accurately, due to its being too heavy to carry and its aberrant mounting process. So plumbers must either grout or attract the sink to the studs for leakage-free installation.
How much does it cost to install undermount sink?
The weight and degree of installation complexity affect how much it will cost to install an undermount sink. When we arrive at the correct valuation, it will range from $400 to $2000, labor costs included.
What should I look for in an undermount sink?
There are several things to consider while looking for an undermount sink, but having enough width, fitting within your existing cutout, and balancing the sink size with the available space are necessary.
Which is the best undermount sink?
It is hard to say which undermount sink is best because a long line of popular brands like Ruvati, Kohler, IKEA , MR Direct and Kraus made the best sinks.
It's a wrap-up
Kitchen decor and kitchen sinks complement each other. Whatever your kitchen's interior, our top 14 incredible ideas will work for you and make your next remodeling look gorgeous.
For more inspiration on kitchen remodeling, visit our Best Undermount Kitchen Sink blog to learn which undermount sink is best for you.
Don't forget to let us know your thoughts in the comments below.