Having a hard time organizing your bathroom towels? It happens if you aren't familiar with the technique of how organizing bathroom towels properly. Just like other exquisite, well-organized bathrooms, you can make your own bathroom quite appealing by following some clever methods; and this is what I'm going to show you today.
Just imagine; your bathroom has everything needed like cabinets and a high-end shower bar with a perfect blend of top-notch bathtubs. But guess what? If things aren't organized in the way required, then your bathroom won't appear to be that much classier.
So let me break down the secrets behind making your bathroom organized by following the super-effective methods, from installing a towel bar to choosing a floor cabinet.
How to Organize Bathroom Towels: Installing a "No-Drill Towel Bar"
To be frank, I've seen many people who find it annoying to install a straight bar by drilling. In fact, the majority of them believe they're slightly ruining the beauty of their exquisite bathroom walls. But if you're one of those, then the technique I'm going to show you is exactly what you're searching for.
Here, I'll teach you how to install a towel bar, and that too without any drilling equipment. All you need to do is collect only a couple of necessary tools given below:
Tools Needed:
A top-notch straight bar
A piece of black marker pen
Adhesive glue
A measuring tape (optional)
Once you've collected all the nooks and crannies mentioned above, you're just a single step away from starting the real action. So let's get started without more chit-chat:
Step 1: Picking the Right Spot
The very first thing you need to do is to determine the right spot to install your straight towel bar. Near the bath fixture or sink is undoubtedly a good spot to fix your tower bar, and that should be around 40 to 48 inches above the surface of your bathroom floor.
Step 2: Measuring the Wall
It's time to get your hands on the marker pen that you've collected. After determining the spot, mark the area where you're going to install the straight bar.
Step 3: Applying Adhesive Glue
Target the mounting brackets or the rear part of your towel bar in terms of applying adequate amounts of adhesive glue. Pressing them as firmly as possible is what you'll do into the desired area. Stay away from applying too much adhesive while doing it, and don't forget about taking the manufacturer's guide to getting the work done.
Step 4: Removing the Residue
Have you done applying the adhesive? If yes, then you'll notice there might be the residue of extra beads of glue; and this is what you need to take off. Now, your duty is to wait till the bar gets strongly attached to the wall of your bathroom. Voila! You did it even without drilling your exquisite bathroom walls!
Best Ways to Organize Bathroom Towels – Top 10 Towel Organization Ideas
Believe it or not, it's possible to get your bathroom 2x more elegant by doing nothing but organizing bathroom tiles! But in that case, you need to learn how to organize towels in bathroom and that too in the most effective ways possible. This is what I'm going to teach you right now.
So sight tight, let's get familiar with the towel organization ideas:
Get the guide: Small corner cabinet ideas for bathroom
1. Try Floating Shelves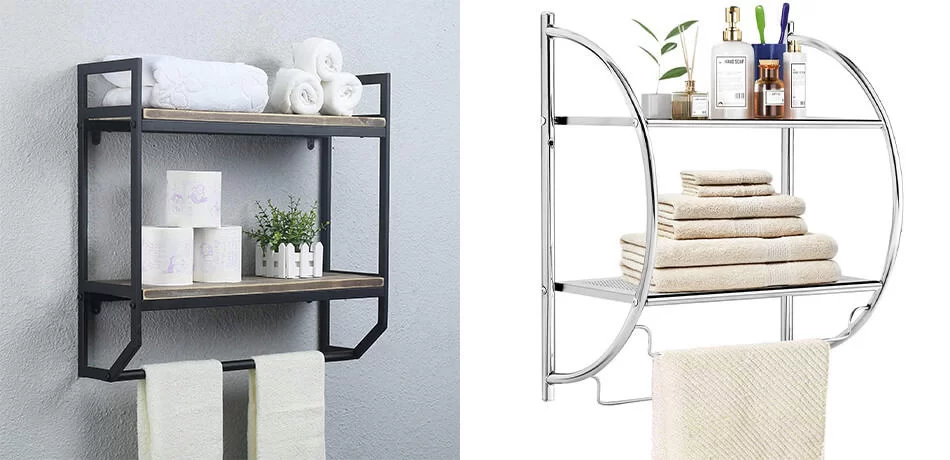 Let it be your open sink, under mount sink, bathroom toilet, or even over a toilet set; floating shelves can get hung in almost every single place. So, in order to get a towel organizer, floating shelves should be placed in a strategic way. But if you're someone who doesn't fond of the appearance, concealing them either in a storage bin or a basket is a wise idea on the shelf.
2. Pare Down Over the Door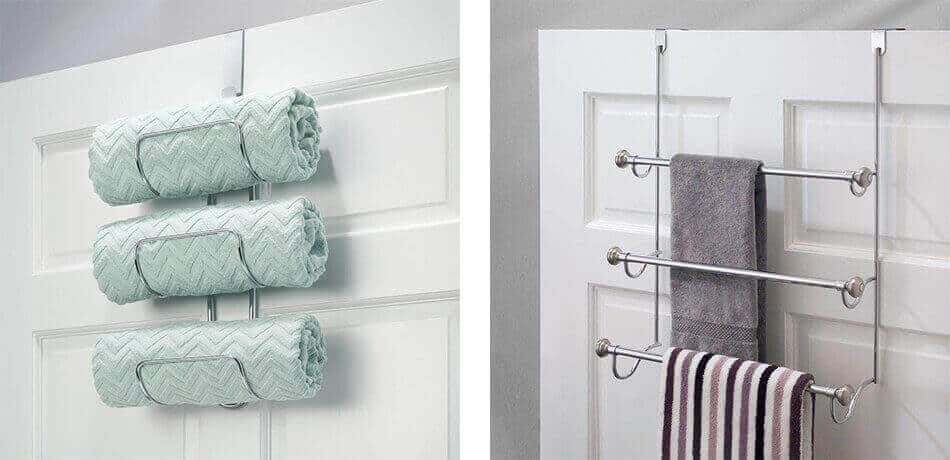 If you love to do-to-yourself, then paring down over the door might be one of the great ideas in terms of organizing towels in your bathroom. Get your hands on the "over the door" area for cutting off a certain amount of size. By doing so, you can add an extra towel rack or organizer out there.
And guess what? Those metal frames will stay in a hanging position over the top, and the bar will stay hung in a downward position inside the door in terms of holding towels in an organized way!
3. Rethink Convenient Mounted Towels Organizer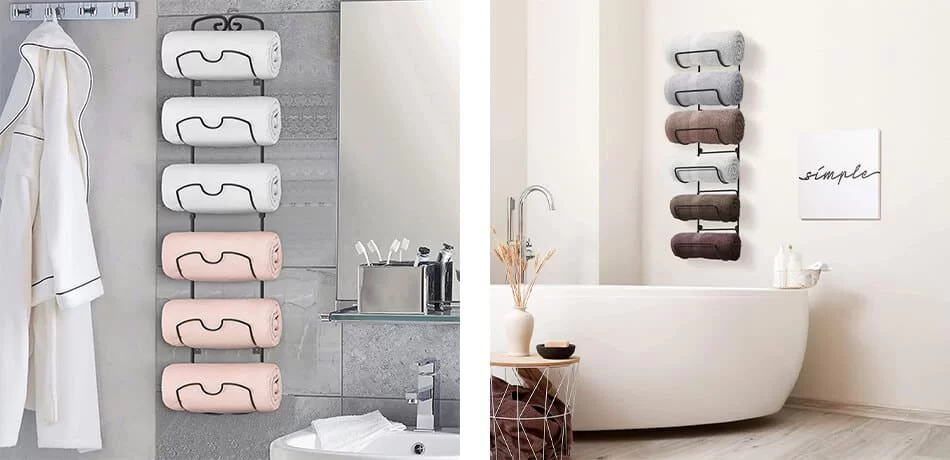 Hands down, a wall-mounted tower bar comes in handy to keep those stuff organized. Although you may have to take a bit of help from any plumbers to adjust it in your bathroom, still you'll get benefits once you set it up. Afterward, you're allowed to store a couple of towels together, and that too without ruining the appearance of your bathroom.
Surprisingly, this technique can be utilized as well for those who want to get a DIY idea on how to organize towels in a small bathroom.
4. Install Flat Bathroom Towel Bar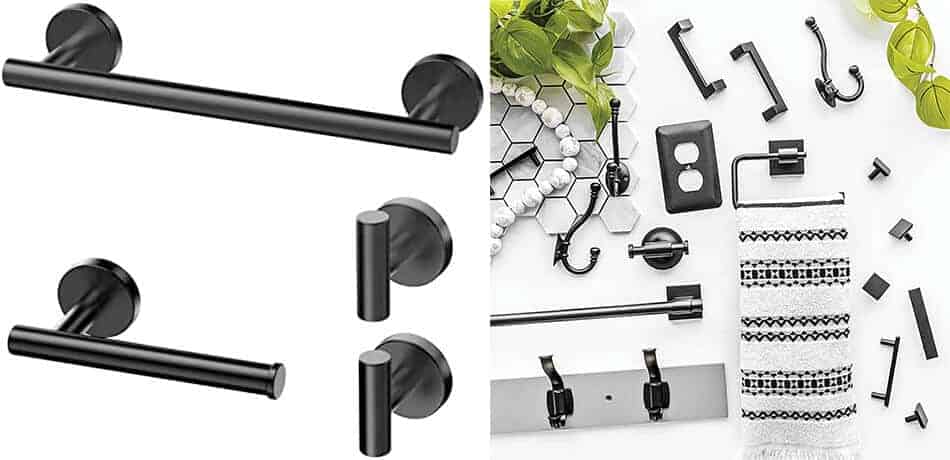 In my opinion, it's one of the most common yet effective techniques to install a flat/straight towel bar in terms of organizing towels. In general, traditional towel bars can be situated close to the bath fixture or sink; even you also set them up near the shower bar if you want to.
These days, almost every modern bathroom is well-equipped with such a towel bar that requires no fancy method for assembly. But if you aren't familiar with the knows-hows, feel free to click here and learn the most basic way of installing a towel bar.
5. Select Free Standing Towel Organizer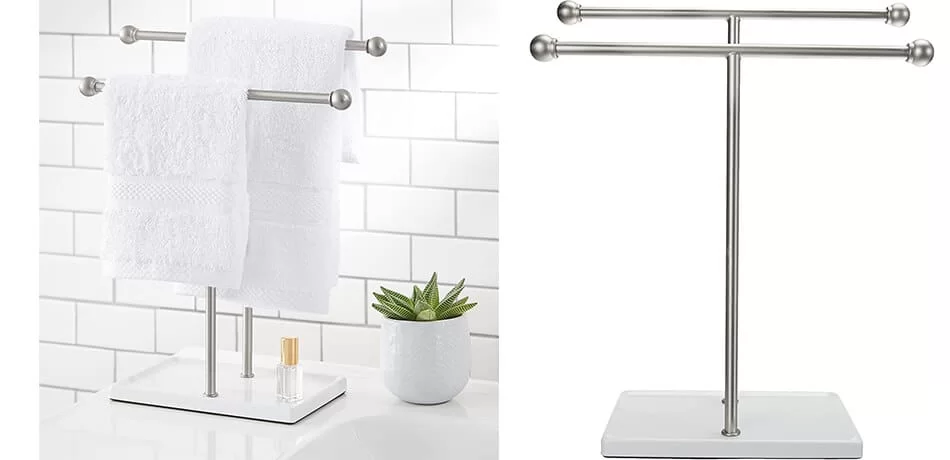 From plastic to stainless steel to aluminum, there are lots of different types of free-standing towel organizers available, which will not only keep your towels and necessary clothes organized but also make your bathroom look way classier than before. And talking about the adjustment, it is pre-assembled stuff that can be placed anywhere you really want!
6. Vertical Bathroom Shelves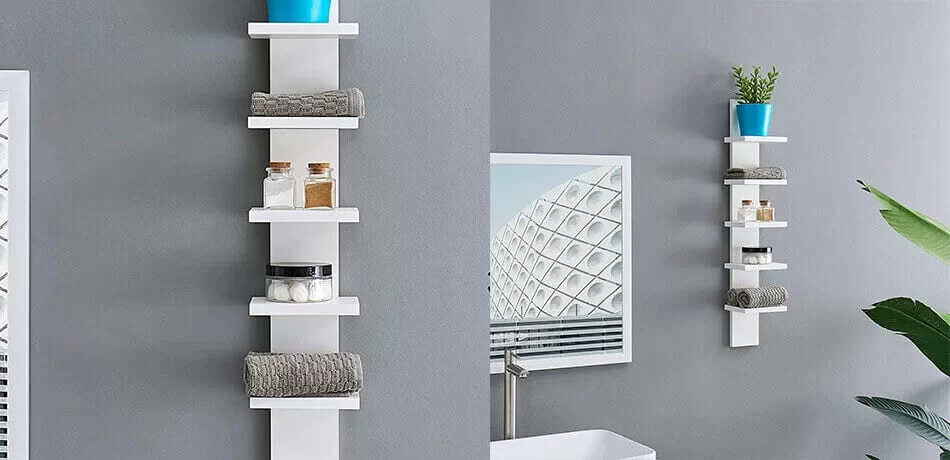 Don't you have an adequate amount of space to store? A single storage shelf will do the job that should be raised vertically instead of horizontally way. Whether it is rolled towels or even folded ones that you need to store, wall-spine bookshelves can be your cup of tea to get the work done.
Although they're designed for storing books, you can still get the best result from those things by organizing towels right there, trust me!
7. Add Linen Tower Freestanding Cabinet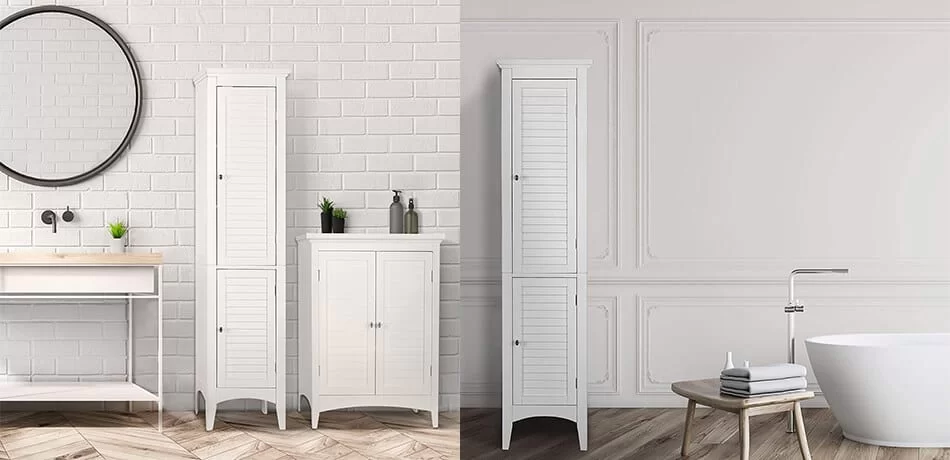 Whether it is built-in shelves or deep drawers, freestanding linen tower cabinets work just fine to store a variety of domestic linens; this includes sheets, tablecloths, and more importantly, towels! Speaking of the assembly, this can be placed or adjusted almost everywhere inside the bathroom.
No need to get worried even if you have space issues; a tall, narrow linen cabinet is quite friendly with tight areas as well!
8. Opt for Wall Cabinet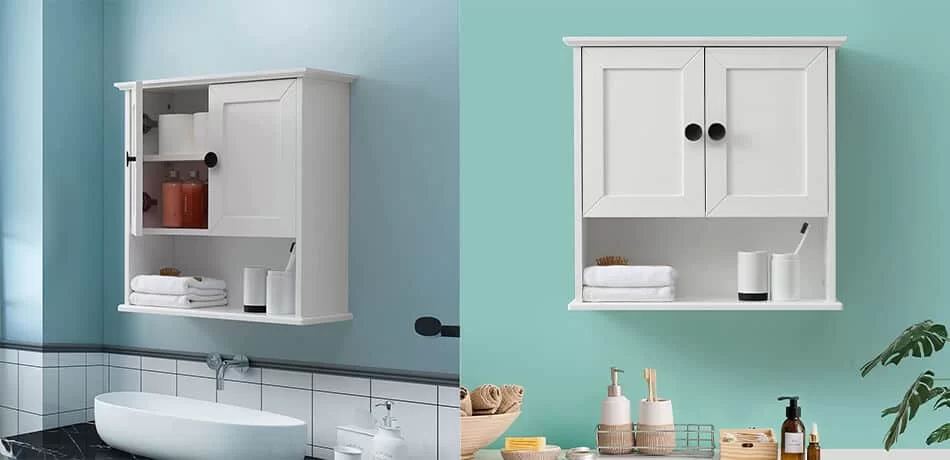 This is by far the best technique to store your bathroom towels in case you have too little space on the floor yet an adequate capacity for the wall of your bathroom. Just you need to make sure you've selected the right-sized wall cabinet that is anywhere between 9 to 48 inches in terms of width. And note that 30" is the most standard side width, especially if you're hungry for plentiful storage by adding either double-door or side-single-door cabinets.
Another thing to consider is that the approximate distance between your wall cabinet and bathroom toilet should be at least 2 feet or even more if possible.
9. Choose Floor Cabinet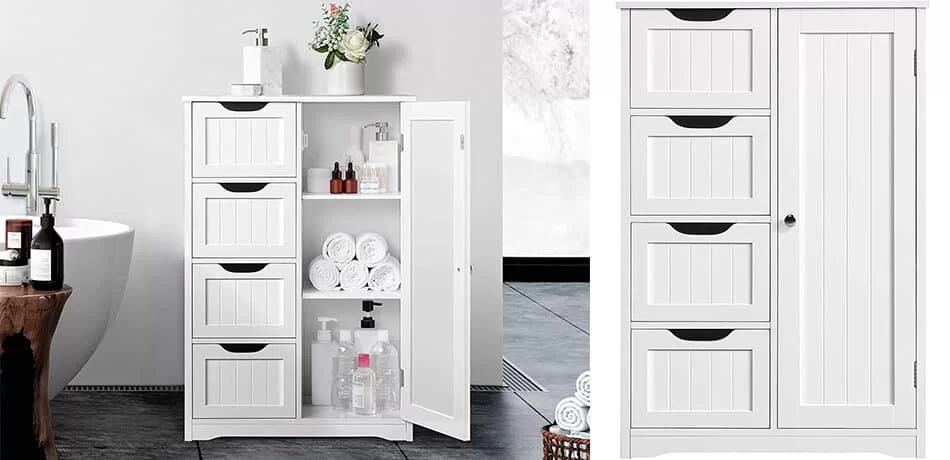 In contrast, floor cabinets are a favorite choice for those who have issues with the space of the wall. The majority of manufacturers are offering pre-assembled floor cabinets, meaning you can just set it up in the place of your bathroom that you find most suitable!
10. Rock a Rolling Cart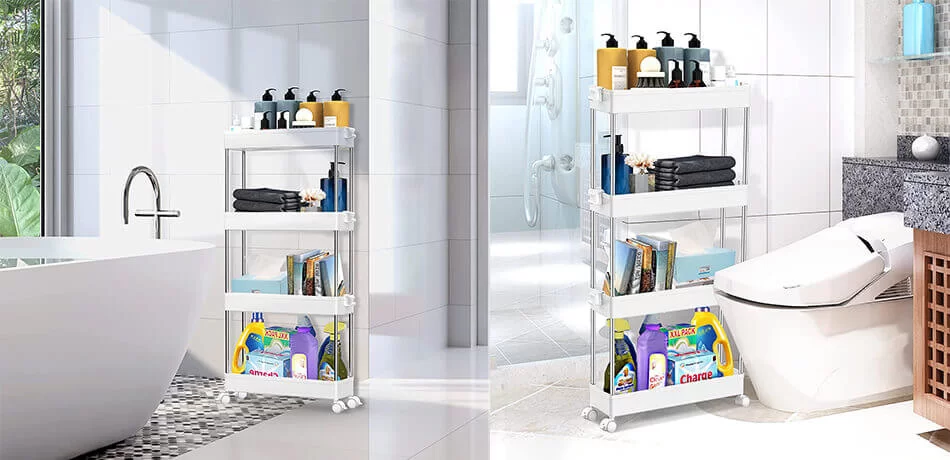 The best part of having a rolling cart is that it's quite portable and can be placed anytime and anywhere you prefer. Despite being easy to move, a rolling cart has the ability to store as many things as possible, depending on the size you get yourself. I'd say it's a good deal to spend your bucks on it in terms of storing not only towels but also other toiletries, like tissue paper, toothbrushes, hand wash, face wash, shampoo, soap, and so on!
Important FAQ of Organize Bathroom Towels
How high is it to mount the towel bar in the bathroom?
Although there is no strict rule in terms of height, I'd say around 40 to 48 inches above your bathroom floor is considered the standard height. And speaking of the robe or towel hooks, they should have a height of no less than 70-inch above the surface of your bathroom floor.
Where to hang the towel bar in the small bathroom?
As I've mentioned before, either close to the bath fixture or sink is the exact right spot when it comes to hanging a standard flat towel bar. By doing so, you can have your towels immediately near to you after you've done taking a shower.
How many towel racks are best in a bathroom?
If you have a small bathroom or issues with space, a single towel rack is recommended to organize only a couple of towels together. Whereas, if your bathroom is free from space issues, I'd suggest getting at least two towel racks where one should be relatively bigger and the other can be small.
Where to put the hand towel ring in a bathroom?
Unlike the towel bar, a towel ring tends to be round, meaning it may take a bit more space compared to a straight bar. Considering this fact, it's recommended by expert plumbers to install it at least 50 inches above the floor of your bathroom, for which towels can stay hung independently.
What are the best ways to organize towels in a small bathroom?
A couple of smart ways are available these days when we talk about organizing towels in your small bathroom, from sticking on a linen cabinet to installing bathroom cabinets to organizing under the bathroom sink!
What are the best ways to organize towels in a modern bathroom?
Modern bathrooms tend to be a little bigger than usual. So you're allowed to incorporate floor cabinets, standing bathroom towel organizers, or horizontal shelves right there for complete storage of bathroom towels and necessary toiletries.
What are the best ways to organize towels in the master bathroom?
Get your hands on a wicker basket coming in a rounded shape for rolling a number of towels together and placing them right there. Besides, a square basket is another good option that can be placed under the sink after holding your bathroom towels in the master bathroom.
Wrapping It Up!
If you know how to organize bathroom towels, nobody can't stop you from keeping things stored in your exquisite bathroom, and at the same time, making it look way classier than before. Try to stick to any one of my above-written methods if you love to keep towels spick-and-span!
But if you have issues with space, installing either a wall-mounted cabinet or a straight towel bar can be a wise idea I guess.