If a good man is hard to find, then a good faucet is even harder to buy. With so many plumbing brands all over the world, which one do you trust? More so, how do you know where to buy kitchen faucets?
We know that it can be overwhelming to go faucet shopping in the States. You can easily rest your worries now. Whether you are a plumber, an interior designer, an architect, a sanitary engineer, or just someone who is looking to find the right faucet for your needs – this article encompasses all that information in one place.
Without further ado, let's begin!
Who Makes the Best Kitchen Faucets? Best Kitchen Faucet Brands in 2023
The following list contains some of the brands with the best kitchen faucets 'to date. Starting from hotels, resorts, and casinos all the way to homes and offices, you'll find them being used in the USA.
There are various technologies ingrained in each faucet with a branded title. These technologies are important functionalities added to the faucet, which increase its effectiveness, provide a better user experience, and create innovative solutions for prior kitchen-related problems.
No matter what the branded title is for each technology – MotionSense, Touch2O, etc., most of these functionalities are present in all of the companies listed below, with either a different brand title or no special title at all. It's just that some manufacturers specialize in certain functionalities better than others with their unique concepts and design.
Thus, if technology is specifically highlighted for a company, it doesn't mean that it's the only one providing it. It only means it specializes in that particular area.
Now that we have that out of the way, let's begin with an introduction to the best faucet companies in the USA.
(You may think, "all I want to know is where can I buy faucets." For that information, you can just skip this section. But we do feel it's good to have an idea of the manufacturers before purchasing anything. Before sinking our feet into the water, it's better to know how deep the trenches are).
Get the idea: The Top 15 Farmhouse Kitchen Faucet Ideas
Moen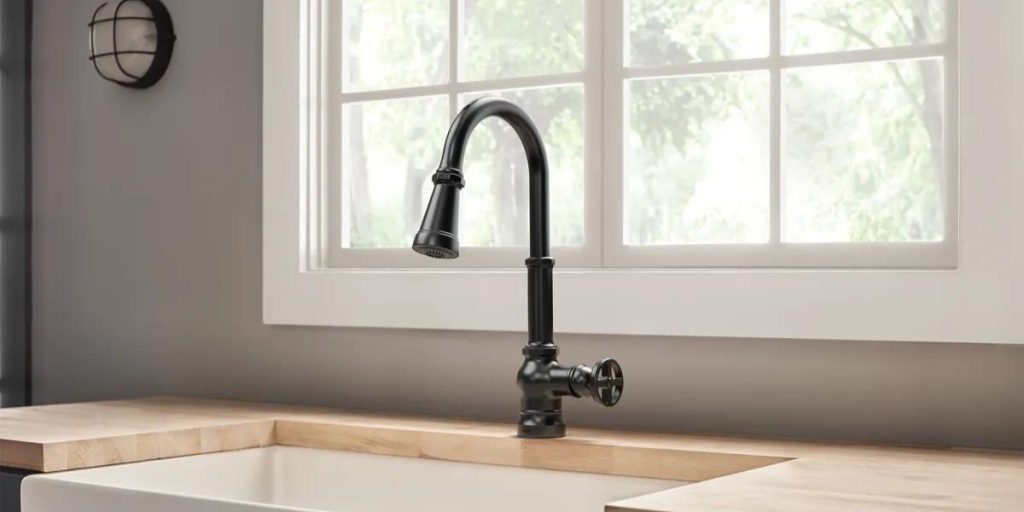 The invention of smart electronics has made all of our lives easier, automating minor tasks that we shouldn't be worrying about. Moen has been one of the advents of smart faucets in the kitchen fitting industry. Don't believe us? Take it from its Amazon store, where all its Kitchen Faucets have a combined average rating of 4.5 stars.
Moen has a wide variety of kitchen faucets, ranging from $85 all the way to $1700! Whether you want a two-handle faucet, low arc faucet, high arc faucet, pullout faucet, a smart faucet with MotionSense technology, or just a traditional faucet with rotary handles – Moen manufacturers all!
Founded in 1937 by Al Moen, Moen has been an industry innovator in plumbing equipment ever since. Al Moen was the first person who invented and patented the single-handle faucet. Having won over a hundred awards in its 80+ years of existence, Moen proudly upholds its motto of "design for water". It is headquartered in Ohio, United States.
Delta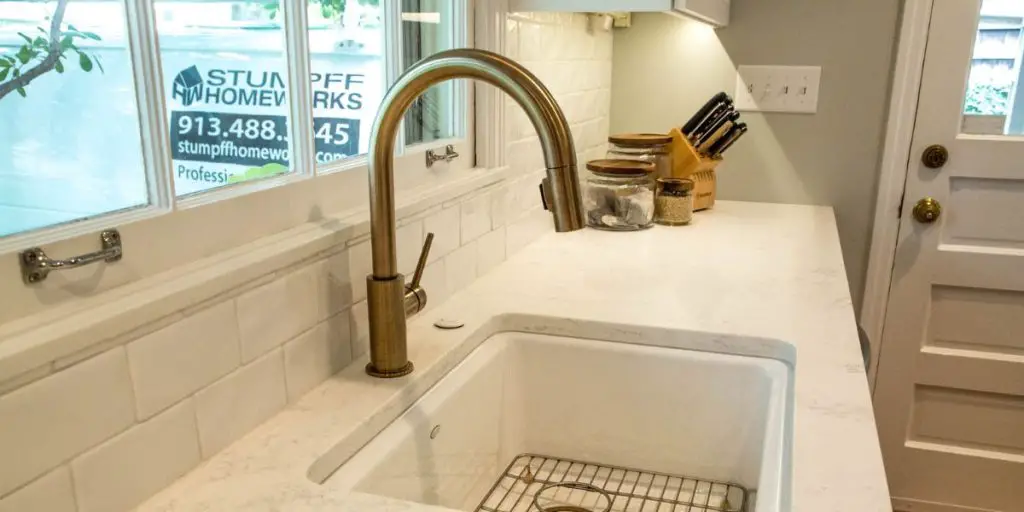 Delta is no less of a competitor in the plumbing industry. Similar to Moen, Delta has smart faucets which feature its patented Touch2O technology. This technology enables you to turn your kitchen faucet on and off with just a touch anywhere on the faucet's body or handle.
Its kitchen faucets feature pull-out, pull-down, wall mounts, and more. There are quite a few installation categories within its specialty faucet range. Known for crafting incredibly stylish faucets with a wide variety of polishes, Delta kitchen faucets have a combined average rating of 4.5 stars among users.
"Water has the power to transform the way people feel every day" is an integral part of Delta's company mission. It was founded in 1954 and is currently headquartered in Indiana, United States. Delta Faucet Company has received EPA's Sustained Excellence Award Winner for 2015, 2016, and 2017.
Kohler
Similar to the two companies above on this list, Kohler faucets have been the go-to brand for premium faucets. Starting from $200, Kohler faucets are not for the economical, but for the lavish.
Having said that, Kohler is not all glam and glare. Its kitchen faucets are one of the top-rated in the world, averaging a combined rating of 4.5 stars among users. 
It is also no novice in the smart appliances market, featuring multiple Touchless kitchen faucets in its repertoire. You heard that right – a faucet that works with just a wave of a hand or object, requiring no touch!
Kohler is the oldest company on this list. It was established in 1873, almost 150 years from now! For any company to sustain that long with a good record is beyond impressive. In addition to its premium products, Kohler is actively involved in anti-racism campaigns. Its motto isn't certainly limited to being just a top-tier company. The company is headquartered in Wisconsin, United States.
Kraus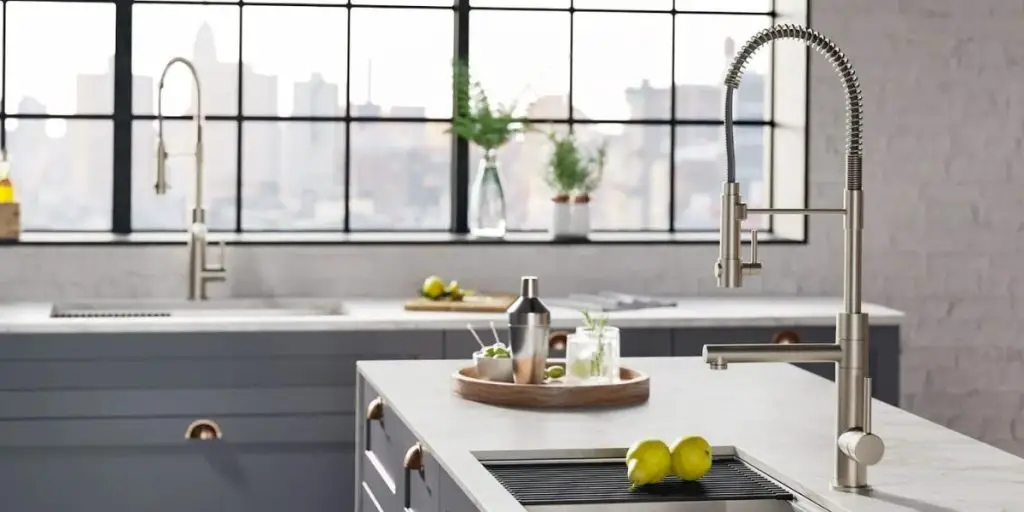 Kraus is another rising plumbing brand. They have the most consistent ratings out of all the products on this list, with a minimum rating of 4.5 stars in each of their kitchen faucets.
Its kitchen faucets can be classified as an in-between of a balanced price: quality ratio. It provides hi-grade faucets within a decent price range, spanning from $170 up to $700.
Kraus also specializes in crafting commercial-style 2-in-1 drinking water faucets, featuring a water tap with the flick of a switch. Even though it's in the same faucet, the water lines and tap holes are completely independent, eliminating any cross-contamination. This functionality is quite handy because there is no need for a separate drinking faucet.
Kraus is a new player in the industry but no less of a top performer. It was established in 2007 "to create the most exceptional kitchen and bath experience possible, for an everyday life that's beyond the ordinary.". Even though the company title resembles a German name, it was founded and is headquartered in New York, United States.
APPASO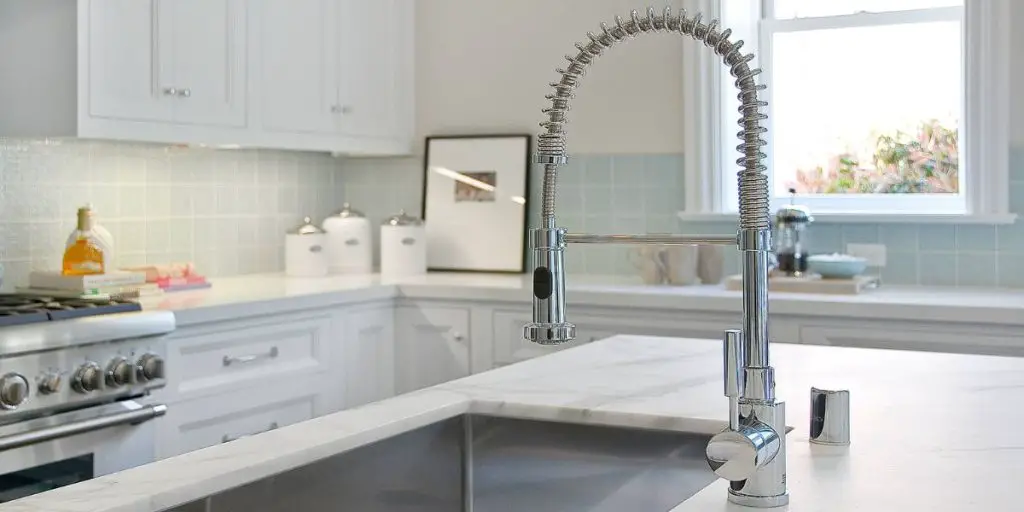 Prime faucets are not for everyone. Some people just want a quality faucet with all the essential functionalities at an affordable price range. Where to buy cheap kitchen faucets with the good build quality and functionality? Presenting, APPASO.
Starting from only $55, APPASO brings into the market no other manufacturer can – a highly competitive price. Their most premium smart faucet featuring touchless technology is a mere $130 dollars, over 5 times less compared to some others in this list!
This is further complemented by the fact that such an affordable faucet has a 5-star rating based on 700+ reviews! Despite the price, their quality is not cheap at all.
APPASO initially started its journey as an OEM manufacturer of premium faucet brands. Having established itself as a brand in 2018, APPASO had taken the faucet industry by storm with its cost-effective pricing. Now it sells its products all over the world, with headquarters in the USA and China.
The Best Place to Buy Kitchen Faucets
If you're living in the states, you might be looking for the correct website to purchase these faucets. No problem! We have prepared a comprehensive list of all the best stores in the USA. Global customers can utilize this list, too, as most of these stores provide global purchasing and shipping.
Kitchen Faucets at Amazon
If you want to know where to buy kitchen faucets with just a click, Amazon is for you. It has a seamless online shopping experience with nearly the entire world as its delivery region. Amazon.com is undoubtedly the best for shopping kitchen faucets online.
Why do we recommend Amazon for kitchen faucets?
Apart from the online experience, we like amazon a lot for its affordability. It provides the most discounts and lowest prices among all the stores on this list. Amazon's free shipping options in the USA and referral programs make it an ideal candidate for the most affordable faucet store.
Kitchen Faucets at Walmart
You may need to buy other necessities like faucet accessories, plumbing tools, fittings, etc. Walmart is best for this practice as you can easily book your faucet and purchase other necessities whilst you go to pick it up.
Though most other websites have accessories available, some people prefer to physically touch and feel the products before purchase, which is possible with Walmart.
Why do we recommend Walmart for kitchen faucets?
Walmart also features the quickest expediting and shipping, which is something we love. It provides same-day delivery, a service that most other stores don't provide. Although same-day deliveries are mostly applicable to groceries, some of the kitchen faucets in Walmart can be delivered right the next day, depending on their eligibility. If not, the latest it would take is the second day, which is still blazingly fast.
Kitchen Faucets at Build
Want to build? That's what build.com is for. It is the ideal site for everything related to home improvement. Starting from flans, floorings, pipes, thermostats, cabinets, shower drains, fireplaces, stoves, toasters, and of course faucets, Build has an incredible variety of these items.
Why do we recommend Build for kitchen faucets?
Build features a learning center on their website, which enables you to learn everything there is about the kinds of products they sell. It's a part-blog, part-instruction-themed approach, being a fantastic resource for all kinds of consumers.
Want to learn about a specific faucet technology of a particular company? Knowing where to buy kitchen faucets isn't enough for some, as they would like to carry an in-depth knowledge of faucets. Build's learning center may help you.
As bloggers ourselves, we love this incentive of building to educate the mass, alongside promoting their products.
Kitchen Faucets at Lowe's
Lowes is the second-largest hardware-chain company in the world, which is why you can blindly trust them to receive quality kitchen faucets. They have over 300,000 employees working tirelessly to serve their customers with the best products possible.
Why do we recommend Lowes for kitchen faucets?
Lowe's isn't just an e-commerce site, it is a retailer with over 2000 stores in America. This is why we recommend them, as you can visibly examine the products before purchasing.
It is similar to Walmart except scaled much larger and focused specifically on home improvement and hardware niche. Where to buy kitchen faucets alongside home improvement, decor, and hardware products? Lowe's – with both in-store and digital options!
Kitchen Faucets at Wayfair
Wayfair specializes in home appliances like refrigerators, microwaves, blenders, etc. Yes, you will find home appliances on other websites as well, but no other site will have such a vast collection as Wayfair's. This is great if you plan to purchase anything else for your kitchen alongside a faucet.
Why do we recommend Wayfair for kitchen faucets?
We like Wayfair for the deals that it provides. Kitchen faucets, home appliances, furniture – there is always a sale going on for most of these categories. They also have a unique "Open Box" feature, in which they sell returned items in brand new condition. None of the defective items pass through to Open Box sales; thus, you may be able to purchase a premium faucet at two-thirds of the price!
Frequently Asked Questions (FAQs)
Why are kitchen faucets so expensive?
Kitchen faucets have a vast pricing structure. This list contains faucets of all prices, so you can purchase safely without worrying about the expense. However, most faucets are indeed expensive as it is critical equipment that contains a rigorous manufacturing process, thus making them more expensive to produce.
What are the best kitchen faucets?
It depends. Some prefer smart faucets for easy use; some prefer pull-out faucets for wider sinks; some prefer all-in-one faucets. The best is the one which is suitable for you.
Where can I buy kitchen faucets?
You can buy kitchen faucets either in-store or online. It's available in most home-improvement and hardware stores, including all the stores listed above.
What are the best brands of kitchen faucets?
Delta, Moen, and Kohler are worldwide leaders in quality Kitchen faucets. Other brands like APPASO and Kraus are great too.
What kitchen faucets are made in the USA?
Delta, Moen, Kohler, and Kraus are all popular brands with manufacturing processes in the USA.
Who makes the best quality kitchen faucets?
Hard to pick a winner, but Kraus has to be it. They provide the best-rated faucets with a wide variety of styles and functionalities, with a very attractive price range.
Conclusion
Now that you know where to buy kitchen faucets, which faucets to buy, and how to buy them, you can happily go about your kitchen shopping journey! This article has been compiled with an incredible amount of research. Thus, if it does help you, please do share!