Like every family and every human, every house is unique. At least, that's what we strive to achieve when we decorate it. And it's no surprise that Agreeable Gray by Sherwin Williams is one of the top choices for classy interior decor. It's the perfect neutral greige.
However, it's easy to get confused in this pursuit of DIY design, especially when it comes to kitchen color ideas. Table, chair, faucet and cabinet colors for Agreeable Gray walls are nearly impossible to find!
You can rest all your worries, as we have compiled the ultimate kitchen cabinet color ideas alongside kitchen color schemes suiting Agreeable Gray, to the dot!
In a nutshell, the 10 best cabinet colors for Agreeable gray walls that we recommend are –
Sleepy Blue
Aged Purple
Borscht (Dark Red)
Quiet Pink
Grayish Green
Midnight Blue
White Smoke
Charcoal
Rosy Brown
Olive
Cabinet's color matching is so important for elegant decoration. For purchasing kitchen cabinets online choose wisely because this investment affects both your present project as well as decoration. If you want further details on each of these colors, keep reading!
Picking the Right Cabinet Colors that Go with Agreeable Gray Walls
A variety of white or gray walls do not go "on the house," as some may think. Merely painting your walls with Agreeable Gray is a start, but isn't enough.
It needs to be paired delicately with matching furniture and cabinets. How you mix those elements together with the chosen color scheme will ultimately give your home a timeless yet contemporary feel.
Below is a list of such colors that can help you achieve that feel, especially when used in cabinetry.
Get the guide: What color faucet goes with stainless steel sink?
1. Sleepy Blue Cabinets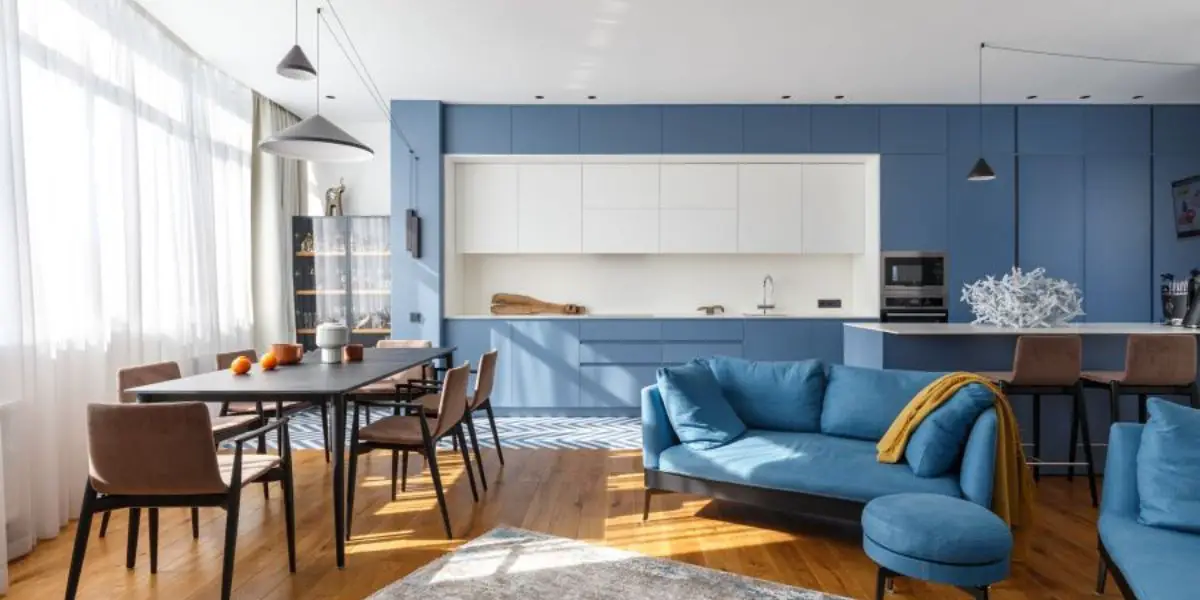 The Sleepy Blue color is one of the most unique among blues, with a soft royal hue. The term "sleepy" hints at the calming tone of this blue, alongside the fact that it is perfect for bedrooms, baby rooms, and nurseries.
That doesn't mean you cannot use it for cabinets. You certainly can, and you should.
When combined with Agreeable Gray walls, Sleepy Blue cabinets will give your kitchen/room a fresh and serene look – a combination that is worth staring at all day!
2. Aged Purple Cabinets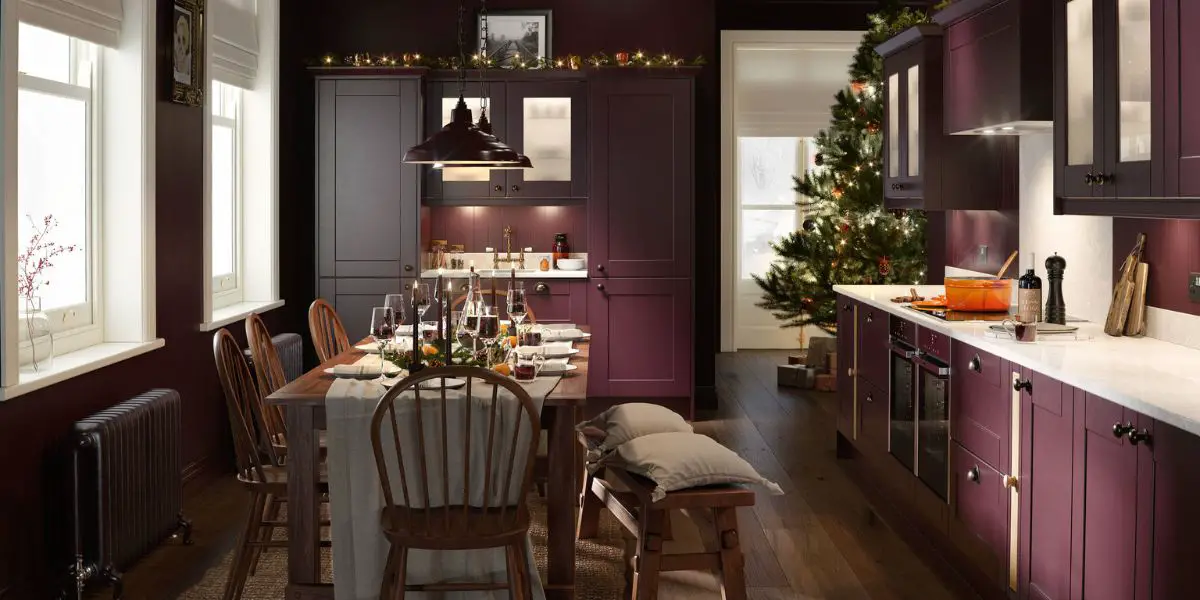 At its heart, the Aged Purple color is a deep violet with a warm hint of teal. But when light hits it at a different angle, a hint of rose catches the eye – making it the perfect shade for everything ranging from soft blankets to a pair of shoes to cabinets!
Aged Purple is essentially a recoloring of platinum, for which it coordinates beautifully with grayish jewel tones. Thus, it can be easily partnered with Agreeable Gray.
Colors like these can usually be applied to any furniture item, not only cabinets.
Get the guide: New age cabinet review
3. Borscht (Dark Red) Cabinets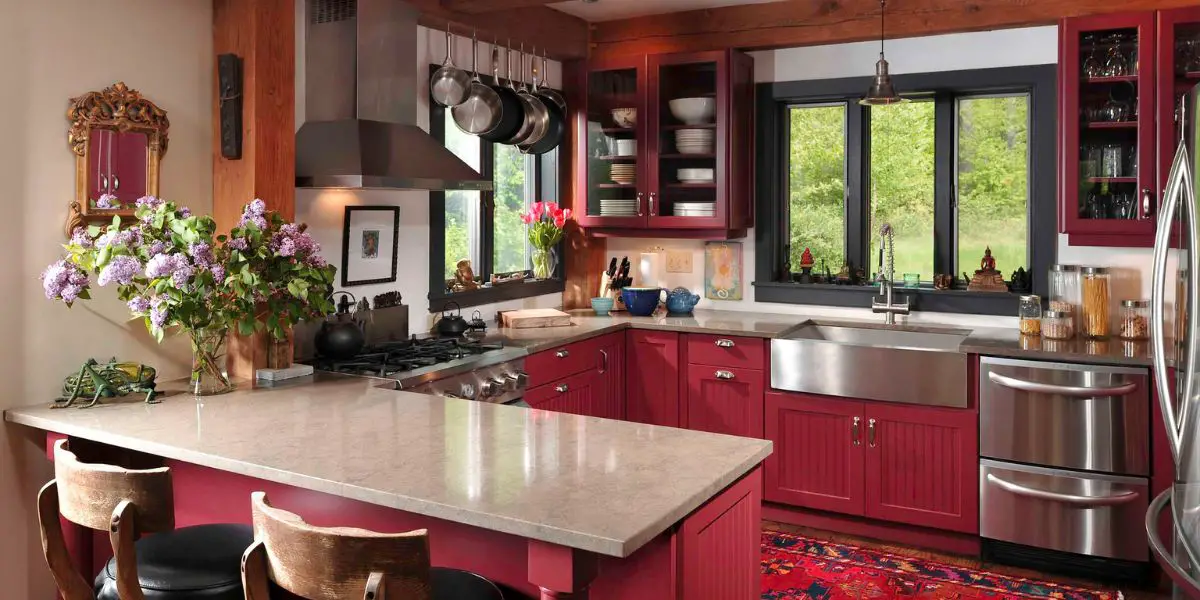 Dark Red, or more specifically, Borscht, is a hue created from an amalgamation of the colors magenta, scarlet, and fuchsia. This color is named after a soup served in Eastern Europe.
It is a fun, fiery shade of red that will add a bold touch to your cabinets. When paired with a color from the gray spectrum, it blends seamlessly. Agreeable Grey walls serve as a golden undertone, accenting the Borscht cabinet gracefully.
Because of the lovely warmth attained by a Borscht cabinet with Agreeable Gray walls, you can expect the end result to be unique from any other Red-Gray combination.
4. Quiet Pink Cabinets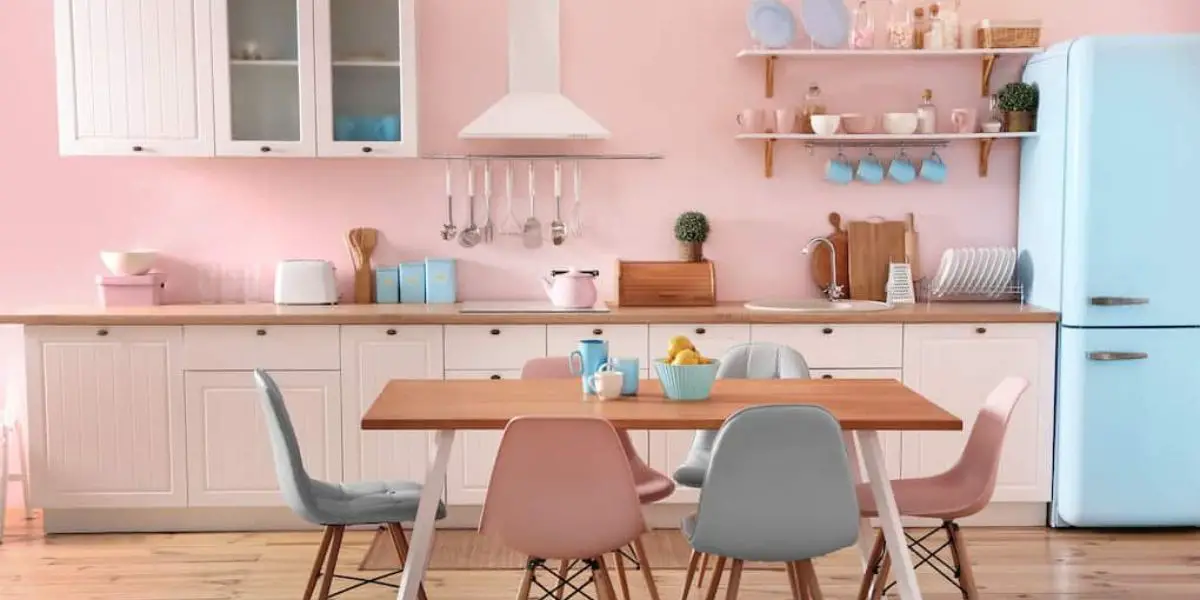 Quiet Pink is a pale pink, a faint color with a hint of purple and blue. The color is bright and warm at the same time.
For a pampered, relaxed, and rejuvenated vibe in the kitchen, combine Quiet Pink cabinets with Agreeable Gray walls. The softness of this combination gives the room an aesthetic, feminine feel, with added spiciness of the pink overtones.
Pink is the first choice for many but can be somewhat unpleasant due to it being "too loud". With Quiet Pink, your cabinet will still speak volumes – quietly.
Get the guide: Bathroom corner cabinet ideas
5. Grayish Green Cabinets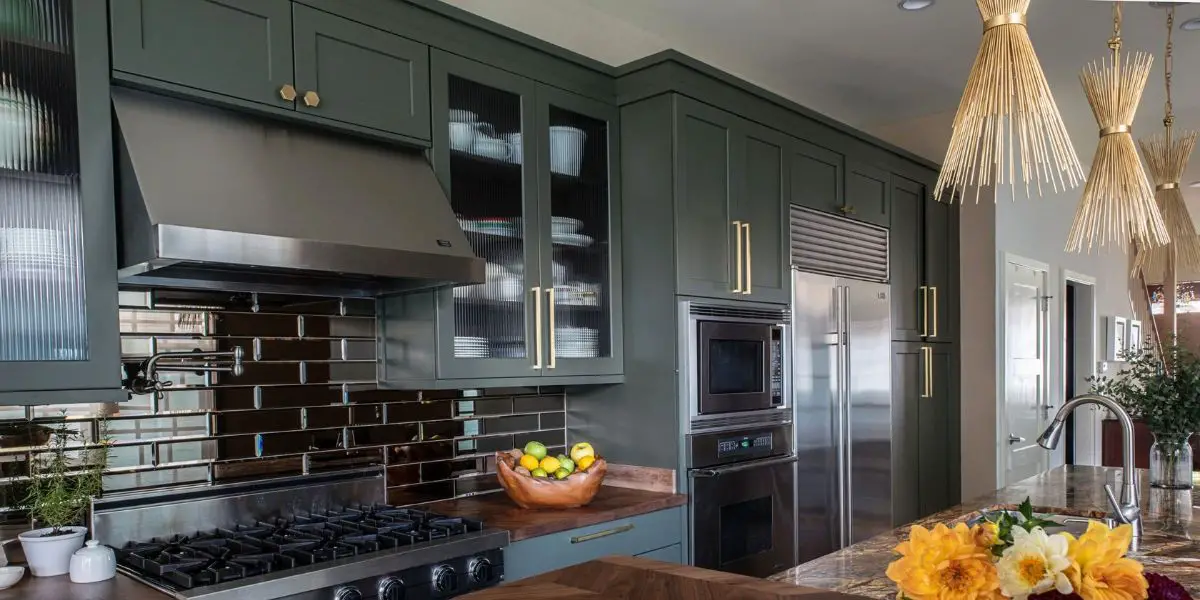 Imagine one early winter morning, when you're sitting under the shade of a large oak tree. A cool breeze blows over the leaves, creating shadows that dance around you. You're sitting motionless, with your eyes closed, reflecting on yesteryears.
The grass is covered with dewdrops that are bright and glittery, yet there's no luminosity in the sky. When you open your eyes to catch the foggy light reflected off the grass, what you see is not green. Nor is it gray.
It is Grayish Green.
Grayish Green is one of the "greige" groups of colors that define an area between the hardened grays and greens. This color is softened by its grey undertones but also looks deeper than many green colors.
Due to this, Grayish Green cabinets with Agreeable Grey walls work well in interior design when you need a mellow theme that isn't too gray or too green. It creates perfect neutrality in your space.
Much like peering into the winter morning grass, the stability of Grayish Green and the warmness of the Agreeable Gray provides a fresh twist on an old favorite.
6. Midnight Blue Cabinets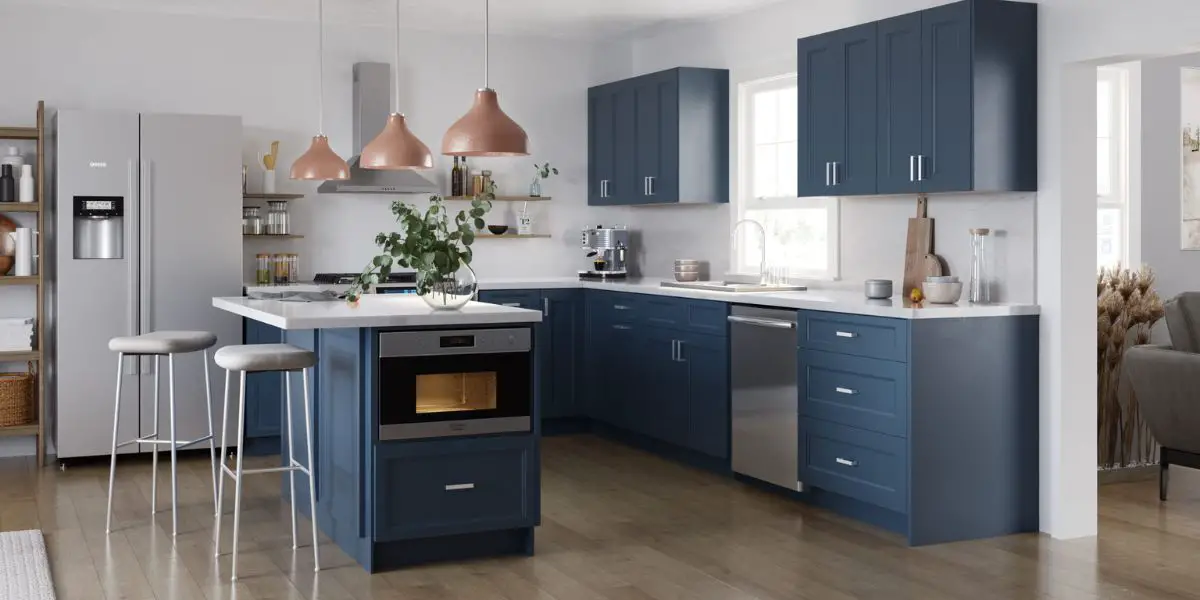 Meet Midnight Blue – a color that brings the beauty of an ocean sunset into your home. This rich, brilliant color can either be subtle or bold, depending on how much you want to show off!
For generations, Midnight Blue has been a popular choice for luxury bedroom suites. Now, the sophisticated color can be used effortlessly on cabinets.
The sharpness and depth of this blue suit are awesome with Agreeable Gray walls. When you want to try something different and avoid traditional blue, you can opt for Midnight Blue. It's a great alternative to the orthodox blue furniture that can be seen in most homes.
Certain dark-colored kitchenware, including bronze and nickel, also pair well with Midnight Blue cabinets.
7. White Smoke Cabinets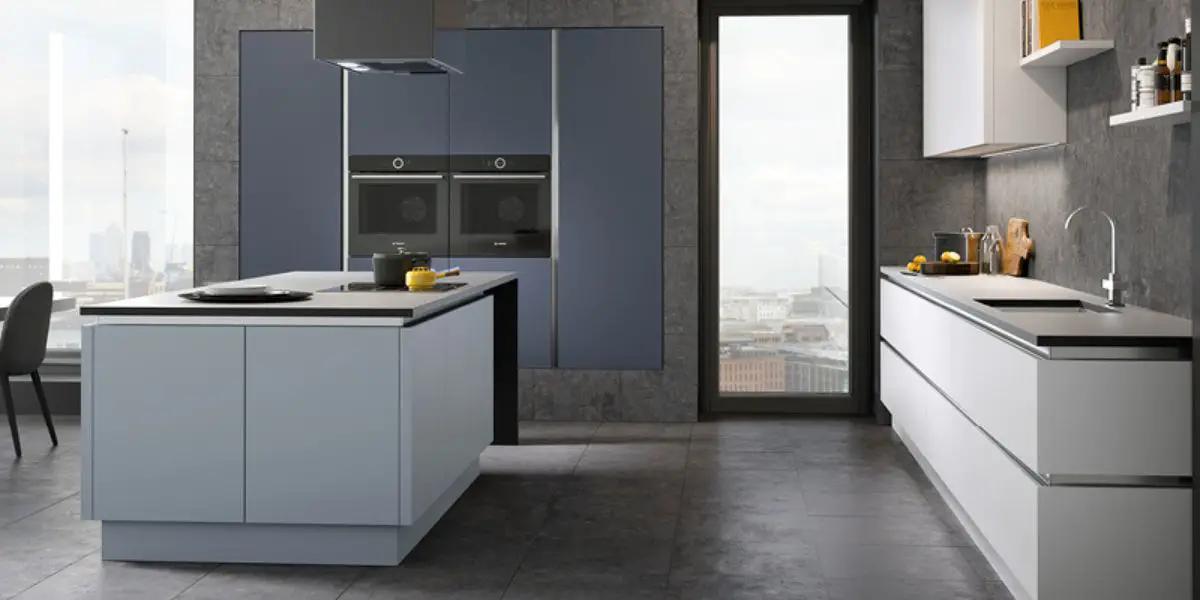 A lovely white with a slightly grey hue, White Smoke is a timeless and versatile color that would look great in any room, especially kitchens and living rooms.
It is a pale grayish color that has an ethereal or ghostlike quality.
When paired with Agreeable Gray, the clean lines and bright finish of White Smoke cabinets add depth and dimension to your space. It also helps hide other thematic imperfections in the room (shh, don't reveal that to your neighbors!).
This color was discovered after the first nuclear test in New Mexico, where the atomic bomb emitted light a million times brighter than the Sun. The aftermath of that explosion is referenced as the famous White Smoke color that we know today.
Get the guide: Best Black Wall Cabinet for Bathroom
8. Charcoal Cabinets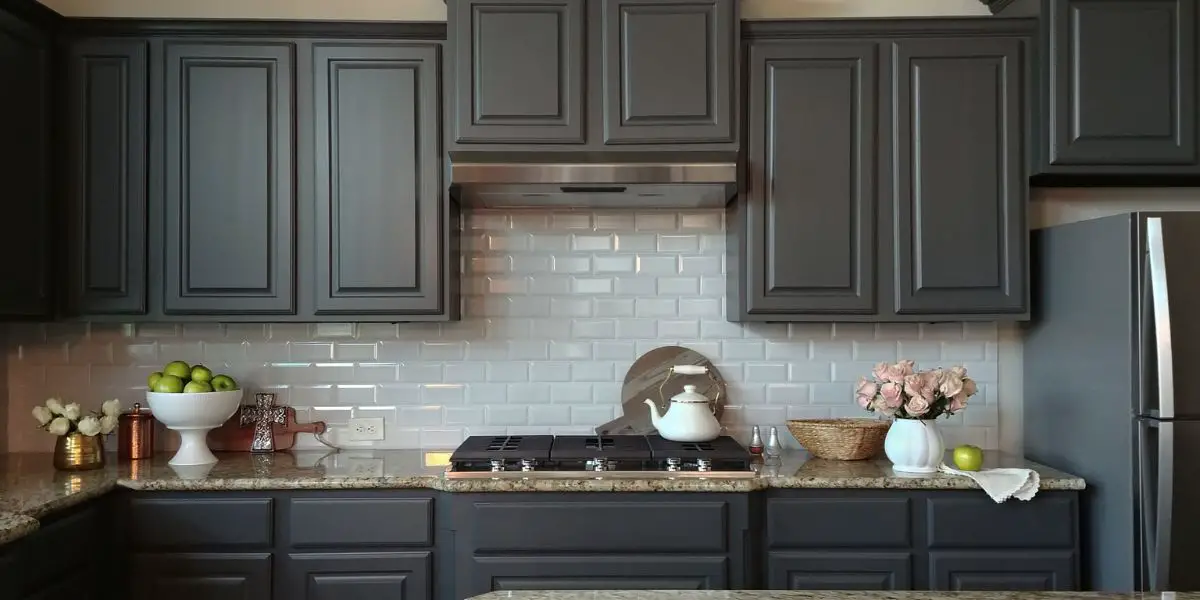 Charcoal has been used as a pigment in various forms for thousands of years. The Romans, who mined it from shallow pits, named it after the skin color it produced in statues. This color doesn't reflect any light unless your cabinet has a glossy finish.
It's quite frequently mistaken for graphite and grey, but in reality, Charcoal is a unique shade from all its counterparts. The tones provided by a Charcoal cabinet can be termed as cool or "high-tech", due to most modern gadgets having similar shades.
Additionally, this color has a warm affinity to it, pairing perfectly with Agreeable Gray. Credit should be given to the color itself though, as Charcoal-colored furniture seems to pair well with everything!
It is incredibly versatile, making it perfect for furniture, walls, accessories, and floors.
The finest choice for black-grey combinations, Charcoal is effortlessly chic. If you want to choose a cabinet that'll pair well with mixed wall colors, including Agreeable Gray, this shade is the way to go.
9. Rosy Brown Cabinets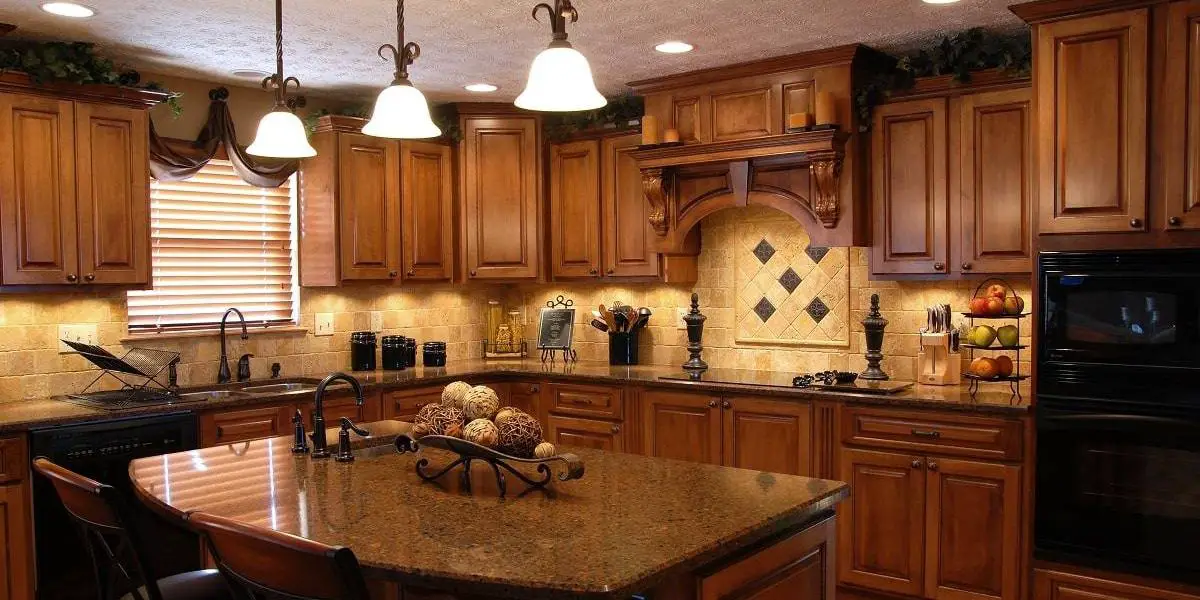 A natural auburn, a spunky strawberry blonde, a dark copper red – any way you look at it, Rosy Brown is divine. It's a perfect marriage of brown and red, without any harsh intervention of both those colors.
This color is perfect for an understated room as it can give your space a strong but restful vibe. Whether it be the warm-brown hue or its low-maintenance attitude, it will have you turning heads as it brings a touch of refinement to your space.
Designed by the renowned colorist, Sally Hershberger, Rosy Brown is lush and alluring. Cabinetry of this color with walls of Agreeable Grays – ah, elegance personified!
10. Olive Cabinets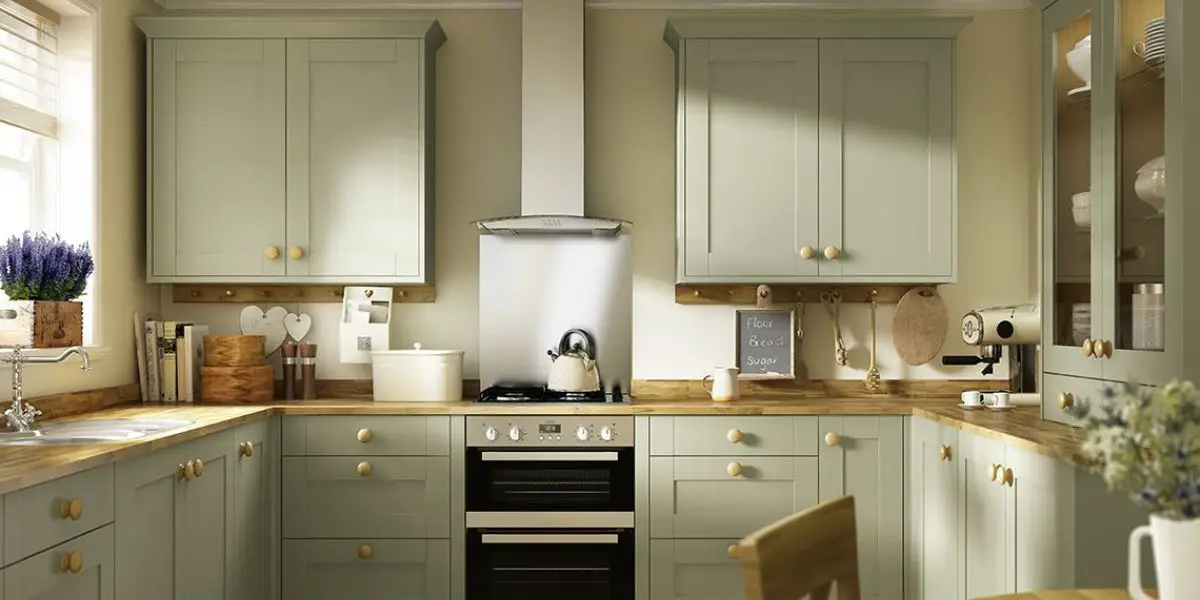 The last color in our list is as pure as a puppy's heart – Olive!
This is an exceptionally composed color, eagerly waiting to be complemented by neutral tones. Hence, it works well with black and white, as well as Agreeable Gray.
Olive comes from the Latin oleum, which means oil. It is associated with conjuring up visions of romance, adventure, mystery, courage, as well as maturity. The softness of its yellowish shade with greenish-brown undertones makes it a good alternative for green, as green does not pair well with agreeable grey!
The applicability of Olive isn't just limited to cabinets – it works well on other kinds of furniture, floors, and walls.
When you combine Olive cabinets with Agreeable Gray walls, you can expect a fresh breath of air in your space without appearing "too trendy". It'll add balance and harmony.
Frequently Asked Questions (FAQ's)
What colored cabinets go with gray walls?
Charcoal, Olive, Rosy Brown, Midnight Blue, and all of the other colors mentioned in this article go well with gray walls.
What colored cabinets go with repose gray walls?
Borscht, Aged Purple, White Smoke, and all of the other colors mentioned in this article go well with repose gray walls.
What colored walls go with gray kitchen cabinets?
Just like you can pair colors like Charcoal, Olive, Borscht, Aged Purple (and more in this article) with gray walls, you can also flip it around! All of these colors can be chosen for walls to suit gray kitchen cabinets.
What colored stains can be used for kitchen cabinets to go with light gray walls?
Darker cabinet stains like Charcoal, Rosy Brown, Borscht, and Aged Purple go well with light gray walls.
What colored walls go with gray/white counters with dark cabinets?
Since the counter is light and the cabinets are dark, a stark contrast already exists in the room. Thus, the wall color should complement these two colors and serve as an unheeding background. Ideally, this color would be Agreeable Gray, but you can use Off-White as well.
What colored kitchen rug would go with oak cabinets and gray walls?
A Dark Khaki colored kitchen rug would suit well with Oak Cabinets and Gray walls. Or, you can choose a safe option and use gray rugs to match the walls.
What stain of wood cabinets would go best with functional gray walls?
Linen or Pastel-Beige stained cabinets would provide a beautiful contrast with functional gray walls.
Conclusion
Neutrals are always on the right track and suit most houses; they just class up the place. With them, you have endless ways to decorate your kitchen and home space to have an appealing, functional look.
But with specific neutrals like Agreeable Gray, you need to be a bit sensitive. Thankfully, all the cabinet colors for agreeable gray walls in this list are sensible-enough choices to act on.
And if you have benefited from these choices, don't forget to share them with your friends and family!