Traditionally, the kitchen is where you make meals and store all of your homeware tools. However, this area holds many memories for us; roots can be traced back to our youth. Like, every mother's and child's finest memories are made there. So, obviously, we sustain it in a well-furnished and elegant manner. 
However, when we go into the nooks and crannies of the kitchen, you must admit that the kitchen sink is a vital component of the kitchen where you wash heaped dishes and veggies for making meals. We use the sink the most in the kitchen; therefore, it must be lasting and enhance the aesthetic appeal of the kitchen.
Here we can discuss Ruvati and Kraus, two of the leading plumbing fixture brands in the United States. So, let's figure out, Which brand is ideal for making your kitchen beautiful and exciting to look at?
Comparing Ruvati and Kraus Kitchen Sinks: A Comprehensive Overview
When we come to the point of designing or remodeling your kitchen, selecting the right sink is always the most concerning part. As we all know, a kitchen sink is an essential component of every kitchen. But, after purchasing a kitchen sink, we thoroughly checked it because of its quality, size, or substance, which was frequently rusted or affected by corrosion.
By analyzing the other kitchen sink brands, Ruvati and Kraus are the most popular and durable ones. Both brands come in several sizes, materials, and styles with their wide range of high-quality kitchen sinks. Their dignified quality and wise design push them to popularity in the world of the plumbing fixture industry.
In this review article, we'll take a closer look of Ruvati and Kraus kitchen sinks by comparing their features, quality, durability, and design to help you choose your next kitchen sink with accurate information.
Reviews on Ruvati kitchen sink: Is Ruvati a good brand?
If you are here to look for an answer to "Is Ruvati a good brand?"
Yes, of course, it is!
When you go in-depth with the Ruvati sink reviews, you'll notice these kitchen sinks can't let you down with their quality, durability, and design, but they may scratch easily. Although it is not scratch-resistant, some products, such as Ruvati single-tier track cutting board for 32-inch kitchen sinks, can alleviate your concerns about scratches.
Let's look further at Ruvati kitchen sink reviews and judge by yourselves.
What Makes Ruvati a Trusted Kitchen Sink Brand?
Ruvati has created the most stylish plumbing fixture products since 2009; even the artistry and elegance in the products have not faded.
If you look closely at their products, you can uncover the most durable materials they've utilized to make them. Some examples are fireclay, porcelain, stainless steel, granite, and many others. But there are several brands, so how can you trust them?
Because they have some consistent quality that makes them trustable. As an example-
Superior workmanship and unrivaled performance
Consistent dedication to excellence for long-lasting attractiveness
Delivered high-quality, safe, and environmentally standard products
Penetrate the market in the most ethical way
Shipped in pristine condition
Discovering Ruvati Most Popular Kitchen Sink Styles
Ruvati, a well-known brand in the kitchen sink market, has been made with high-quality materials and styles. We've compiled a list of the different styles of kitchen sinks and their features.
Farmhouse Sink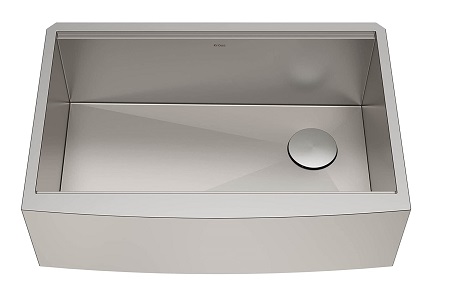 Ruvati farmhouse kitchen sinks add a classic and timeless touch to the kitchen's interior design. It reflects a rustic feel.
Their single apron-front basin and aesthetic design can complement any kitchen layout, whether open, one-wall, galley, or L-shaped. Ruvati kitchen sinks are available in several materials and styles, with undermount and top-mount most popular.
Undermount Kitchen Sink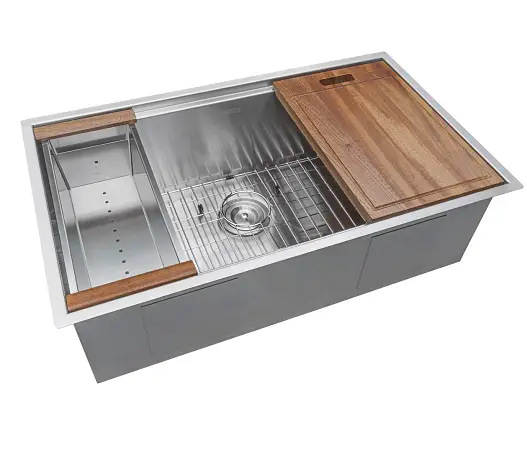 Undermount kitchen sinks are clipped to the bottom of the counter and allow countertop water to sweep straight into the sink. It provides a seamless and modern look in kitchen designs. Their smoother look mainly attracts homeowners, home chefs, and even restaurant chefs.
Ruvati undermount kitchen sink is made with several materials, like stainless steel, granite, copper, and so on. They designed their undermount with soundproofing technology to minimize noise and vibration during use.
Drop-In Sink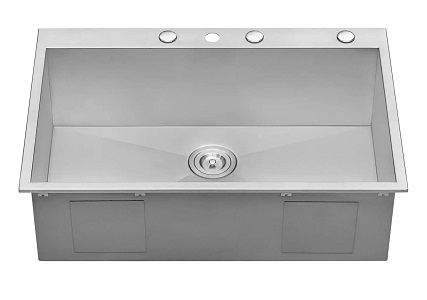 For quick and simple installation, drop-in sinks—also known as self-rimming or top-mount sinks—are a popular kitchen product line from Ruvati.
They come in a variety of finishes, including fireclay and stainless steel. The kitchen sinks can be installed on most countertop materials and come with a pre-drilled faucet hole. It is popular among DIY homeowners.
Stainless Steel Sink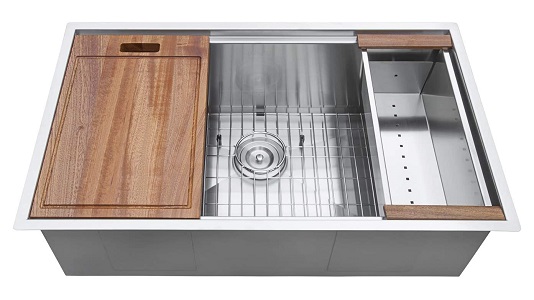 The stainless steel kitchen sink material is the most popular among the others. It offers quality, durability, low maintenance, and heat-and-stain resistance. Ruvati stainless steel sinks come in several styles, including, undermount, top-mount, workstation, and apron-front.
Ruvati kitchen sinks are mostly made with a thicker, less likely to dent and scratch, 16-gauge, which is comparatively better than industry standard 18-gauge stainless steel. It is an ideal option for every homeowner who wants a sustainable, professional look for their kitchen interior.
Fireclay Sink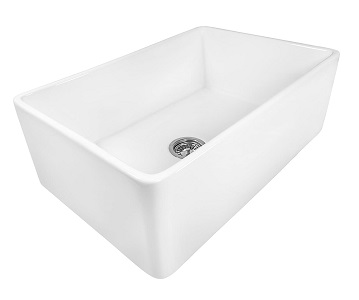 From Ruvati's line of kitchen products, the fireclay sink is extremely strong and attractively designed. The blend of clay and glaze makes it scratch, dent, cracks, and heat-resistant.
Ruvati's fireclay sinks are available in various styles, including farmhouse and undermount. It is the best choice for a rustic farmhouse-style kitchen.
To sum up this point, Ruvati kitchen sinks have a large product line. Whatever your preference in design, quality, creativity, or technology, you can get it.
Upgrade Your Kitchen in 2023 with These Top 3 Ruvati Sinks
Ruvati has recently captured the majority of the commerce and manufacturing markets. Here are the top four most popular kitchen sinks:
Stainless steel kitchen sinks with drainboards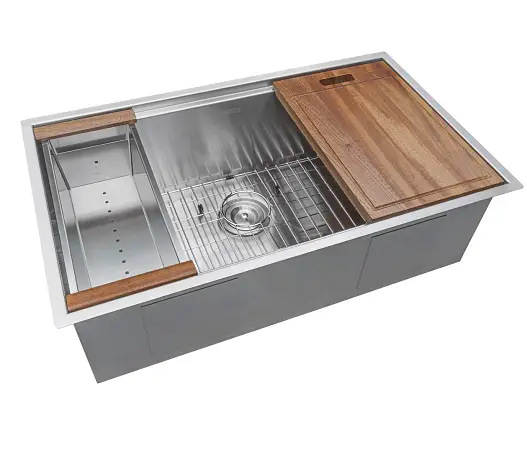 The Roma Pro range from Ruvati introduces a 32-inch workstation sink to the market. Its single-tier track made work easier for you, and the superior coated 16 gauge T-304 grade stainless steel never tarnished.
It has a slightly 10mm radius curved bowl edge for quick cleaning, as well as a 36″ minimum base cabinet and 3.5″ drain ports for a better drainage system.
Stainless steel workstation sink with low-divide design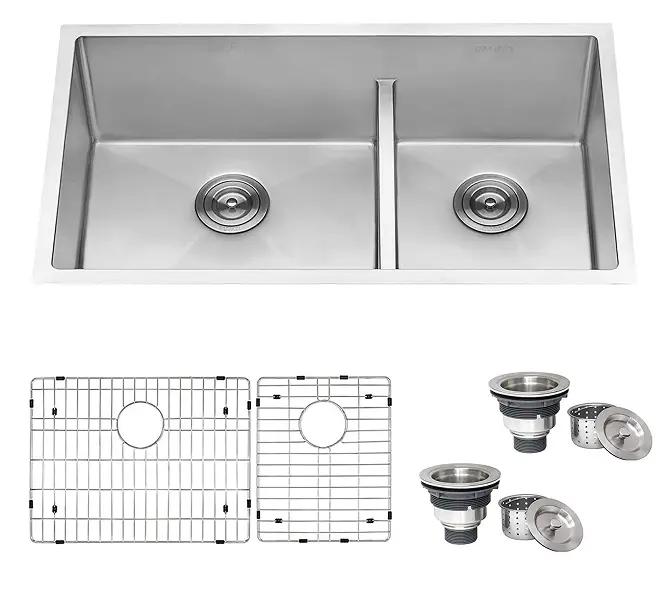 Consumers keep choosing Ruvati 33-inch low-divide undermount stainless steel sink. This is part of their Urbana collection.
Lower the barrier between two bowls by 4″ from the top so this divider makes it easier to do a lot of work at once, such as washing dishes and cleaning veggies.
As traditionally, their most-used 16 gauge T-304 grade stainless steel, soundproof undercoating, and thick rubber make it unique and impeccable to users.
Ruvati fireclay farmhouse sink with decorative fluted design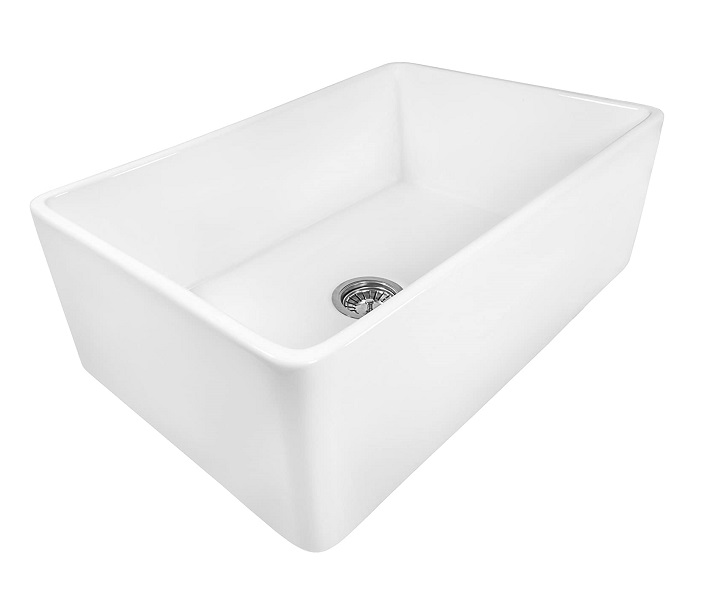 Ruvati fireclay sink is up to standard in terms of style, elements, and kind and is a stylish and long-lasting product. One of the reasons for its authenticity is that it was created in Italy.
They use a specialized type of white clay that is fired at 2900 degrees Fahrenheit to give it extreme toughness. Its stainless steel grid protects the bowl from damage and also installs a deep flange garbage disposal unit. You can find this product on Amazon.
Where to Buy Ruvati Kitchen Sinks: Authorized Retailers to Consider
Imagine you saw some decent home décor stuff on Amazon, and you now live in a place where this product is never usually spotted. However, if there is an authorized store that has been formally designated by the manufacturer to sell the product, you may be able to get this product and fulfill your intent.
As we can see, Ruvati is the USA's plumbing fixture brand with a flourishing company across the world, but no retailer ever shakes their hand to retail their produced products. It can't be simple to get international and local fame at that point.
Their most reliable and authorized retailers are as follows:
The Home Depot
Lowe's
Menards
Ferguson
Wayfair
Build.com
Overstock
Amazon
Better Homes and Gardens
Appliances Connection
Kitchen and Bath Authority
Northern Stone
Dream Maker Bath & Kitchen
Zoro.com 
Pros and cons of Ruvati kitchen sinks
While looking for a product, it's better to know its pros and cons so that you can make effective decisions and avoid wasting money on the wrong product. Though Ruvati made a premium quality product.Here are some of the pros and cons of Ruvati kitchen sinks.
Durable materials: Ruvati sinks are made with high-quality materials, such as stainless steel, granite, and fireclay, that are durable and long-lasting.
Wide range of product: Ruvati offers a variety of premium product lines, including farmhouse, undermount, drop-in, bar, laundry, and more, to suit your preferences and kitchen design.
Soundproofing technology: Ruvati's sinks feature soundproofing technology that minimizes noise and vibrations during use, making them ideal for open-concept kitchen designs.
Simple to clean: The non-porous surfaces of Ruvati's sinks are stain- and bacteria-resistant, making them simple to clean.
Accessories: Ruvati's several kitchen sink models come with some important accessories like sink grids, basket strainers, cutting boards, and so on.
Higher price: Ruvati sinks can be more expensive than other brands on the market, which limits some customers' access to their products.
Overall, giving an overview of Ruvati Kitchen Sinks can be a great investment for those seeking premium quality, durability, and stylish looks that embellish their kitchen decor. While it's true that they cost more, there is no denying that the advanced technology and premium materials used in their manufacturing make them last longer. It can be a choice for every homeowner who values quality and design over price points.
Reviews on Kraus Kitchen Sinks: Is Kraus a Good Sink Brand?
If you are concerned about whether Kraus kitchen sinks are good quality or not, drop your tension because their appealing and sturdy quality is not only rust-and-corrosion resistant but has a minimal environmental impact.
Let's go into more depth about Kraus sink reviews. You might be able to determine whether Kraus is a good brand or not.
What Makes Kraus a Trusted Kitchen Sink Brand?
They are concerned with improving and making our way of life more affordable. From environmental protection to the creation of new concepts and professional craftsmanship is impeccable.
So, the most appealing and sturdy products that are simple to clean and have a minimal environmental impact are developed in their industry. Besides these, They also have a constant quality, which makes them a more trustable brand. These are:
Strive for 3 things: quality, innovation, and design.
Produced with cutting-edge technologies and high-quality materials
Skillfully crafted products with widespread appeal
Fit all types of lifestyles and budgets
Committed to the long-term viability
Discovering Kraus Most Popular Kitchen Sink Styles
Workstation Sink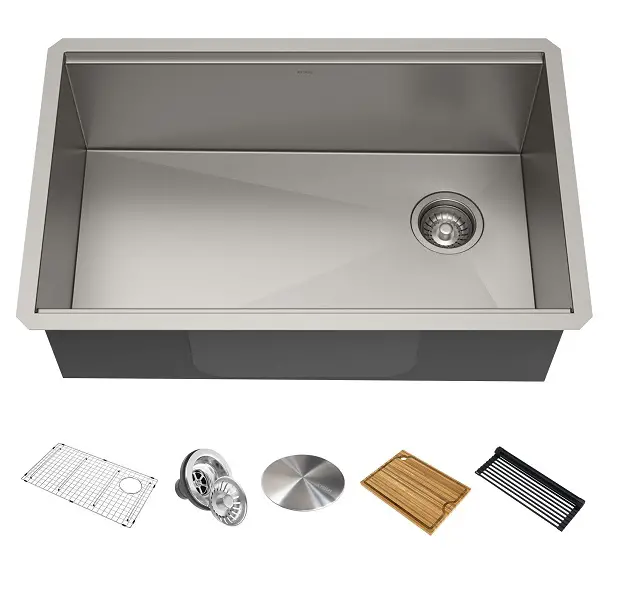 Kraus workstation sink incorporates in-built accessories with a minimalistic and practical design. It is made of a variety of materials, the most popular of which are stainless steel and granite composite.
This sink style lets you provide sufficient space and flexibility for food preparation and cleanup. It is an ideal renovation solution for every homeowner with a small-spaced kitchen.
Farmhouse Sink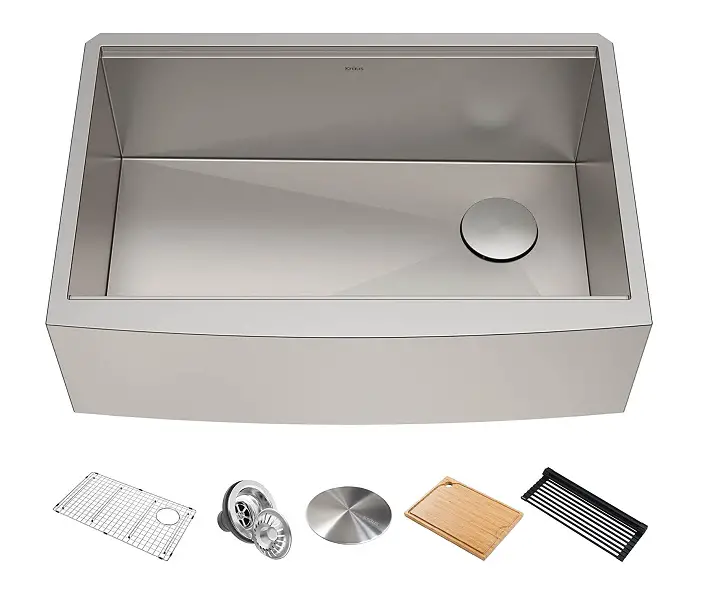 Kraus's modern farmhouse kitchen sinks preserve the originality of the previous century. Their handcrafted kitchen sink exudes a traditional and rustic aesthetic.
Their farmhouse deep basin and exposed front extend beyond the edge of the countertop, making it more comfortable for users to perform large and messy tasks. Since it comes with a wide variety of materials like stainless steel, porcelain, and fireclay, it can be the ideal choice for big families, home chefs, and those who love to spend more time in the kitchen.
Undermount Sink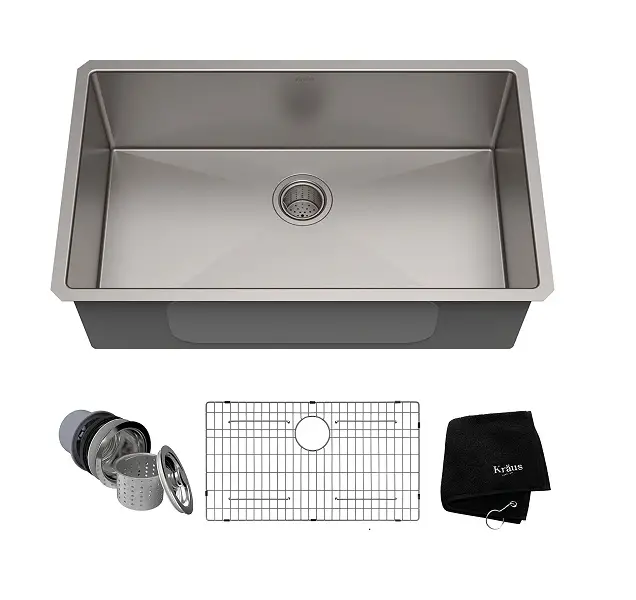 Kraus undermount kitchen sinks are mounted underneath the countertop and leave the edge of the sink flush with the countertop surface. They are made with a wide range of materials, including stainless steel, porcelain, granite, and soundproofing technology. It is the perfect choice for those who seek a seamless and streamlined kitchen countertop
To conclude this topic by saying that whether you want functionality, durability, or the design of your kitchen countertop, Kraus premium and a wide variety of product lines won't let you down for sure.
Kitchen Perfection: The 5 Best Kraus Sinks to Buy in 2023
Kraus is the industry leader in producing moderate kitchen sinks. It creates its products with an eye for fashion as well as function.
Kraus stainless steel kitchen sink with contemporary design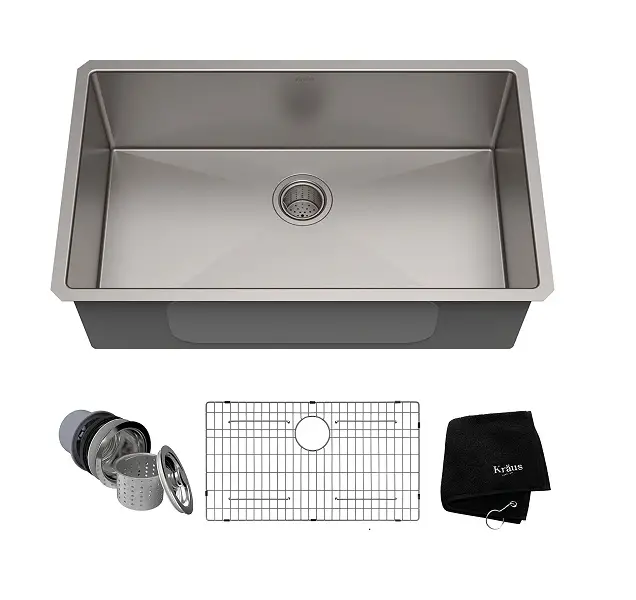 Kraus kore workstation sink with ultra-functional design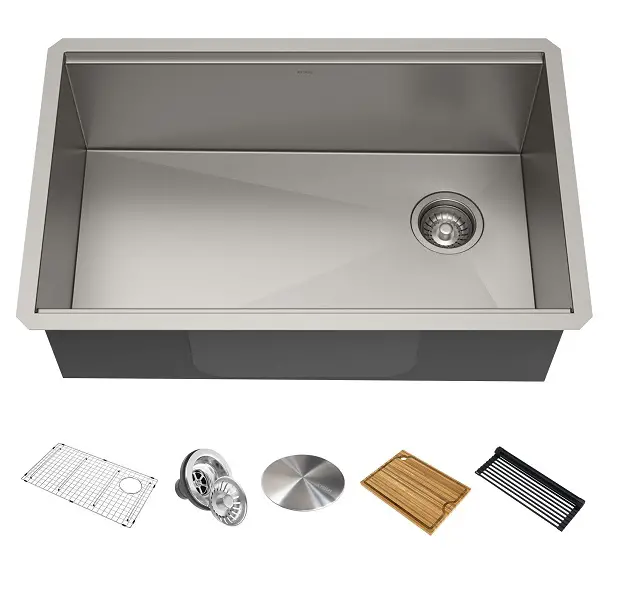 Kraus's kore series workstation sink allows you to renovate in an outstanding way.
Its integrated ledge and customizable accessory sink make it easier to prepare meals and clean up without taking up valuable countertop space.
Its roll-up dish drying pack is useful for washing and drying a stack of dishes while also protecting the tabletop from hot items.
Kraus farmhouse sink with apron front design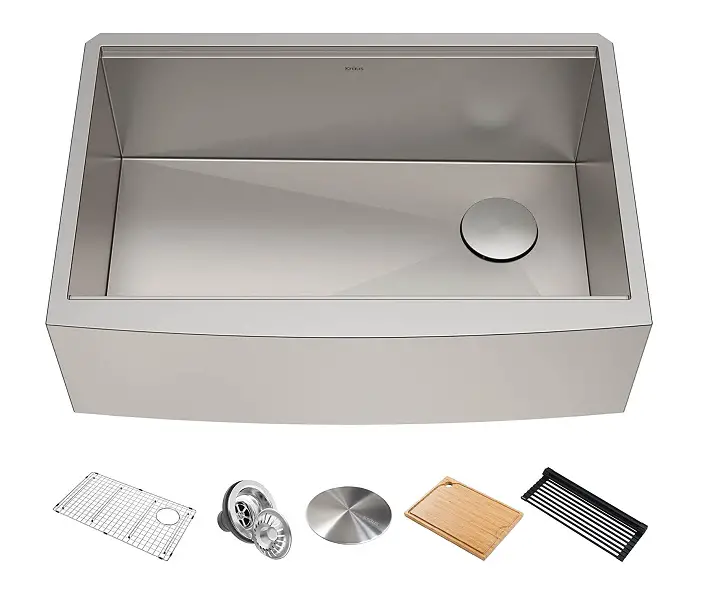 Kraus farmhouse sink with apron front design allow the users to interact over the sink and minimize the space of the kitchen. Its installation lets your kitchen operations facilitate meal prep to serve and cleaning. This sink comes in a variety of sizes and is best for small kitchens.
TRU16 extra thick 16 gauge grade stainless steel is used in it to make its durability for a long time. Many accessories have been found with its packaging, like Cutting boards, dish racks, colanders, mixing bowls, and serving board sets.
Kraus drop-in sink with seamless design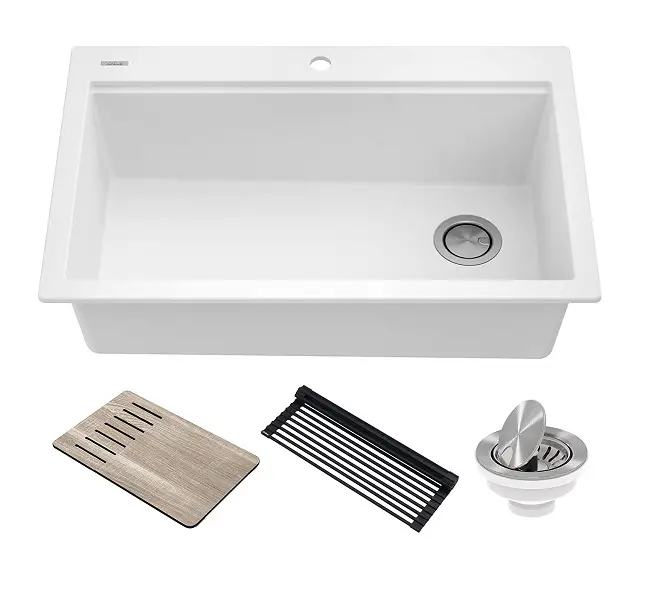 Kraus Italian handcrafted Belluci series kitchen sinks are a stunning blend of modernism, authenticity, and innovation.
It takes your kitchen décor to a whole new level. It is less likely to be scratched, and its cutting-edge granite sink is both firm and smooth, with a non-porous surface that reduces waste particles.
Also read: Best top mount kitchen sinks
Where to buy Kraus kitchen sinks?: Authorized retailer
Similarly, discover that some prominent online or offline market holder is a retailer, bringing their global and local appeal into their grasp. These authorized retailers make their work simpler and easier.
We have several listings of Kraus-approved retailers as follows:
Amazon
The Home Depot
Lowe's
Wayfair
Build with Ferguson
Overstock.com
Houzz
Walmart
Direct Sinks
Ajmadison 
Pros and Cons of Kraus Kitchen Sink
Quality, creativity, and design are Kraus' three top priorities. It also reflects on their product, but instead of prioritizing it, they may need to correct some things on it as well. There, we walk through some pros and cons of Kraus kitchen sinks that homeowners need to know before buying a product.
Durability: Kraus kitchen sinks are made from high-quality materials like heavy-duty stainless steel, granite, fireclay, and enamel, and the use of German engineering makes the product last longer.
Variety of product: Kraus offers a wide variety of sink styles, including undermount, top mount, and farmhouse, allowing homeowners to choose a sink that fits with their kitchen decor.
Accessories: Several Kraus kitchen sinks come with some accessories such as cutting boards, colanders, and drain covers which help you with meal prep and clean up easier.
Sound insulation: Kraus made their product by applying sound insulation, which is an effective way for an open-concept kitchen to have a soundproof kitchen sink.
Price:

Kraus sinks can be expensive but are a worthwhile investment because of their high-quality materials and durability.

Limited Color Options: Kraus offers a variety of sink and bowl styles but only a few color options.
Overall, the Ruvati kitchen sink review demonstrates that they can be a worthwhile investment in terms of quality, design, and German engineering technology. The constant quality and skillfully crafted kitchen sinks can fit all types of lifestyles and even budgeting and make it appealing to look at your kitchen decor.
Kraus vs Ruvati: How Does Kraus Compare to Ruvati?
While you read all of the segments carefully, you're still confused about which brand to buy and which product to buy.
However, we have some pretty fantastic suggestions to help you answer your confused thoughts. Okay, then read the information and make your decision.
Get the guide: Where to buy kitchen sinks?
1. Ruvati vs Kraus kitchen sink: Material & Finish Type
You can find Italian aesthetic vibes in Ruvati's kitchen plumbing products.
Its materials are mostly stainless steel, granite, and fire clay, and it is designed to be one of the most fashionable things out there. Its product will have a brushed, pearl white, gray, black, distressed, or satin texture.
Kraus products, on the other hand, are formed of stainless steel, granite, porcelain-enameled, fire clay, steel, and quartz. There are some products with Italian vibes, but most are great value for money. Gray, black, distressed, matte, and satin textures are also featured. 
2. Ruvati vs Kraus kitchen sink: Quality
There is no international as well as local brand that misses the mark on product quality.
So why go behind this sort of challenging market where no one stands for a long time?
By following Italian heritage, Ruvati never compromised to produce a great quality product with an exquisite design and flawless execution. Its workstation sink has come with several built-in tools. You can easily turn a single sink into a workstation where you can wash the pile of dishes and slice or rinse the veggies easily.
The Kraus brand balances quality and price. They have a large choice of kitchen sinks since they have all of the customers in their grasp. As a result, you have a variety of options for their products.
3. Ruvati vs Kraus kitchen sink: Installation
The major feature of both the Ruvati and Kraus brands is that they come with all of the mounting equipment and tools for the installation of the kitchen sink. They both implemented 16 gauge T304 grade stainless steel to prevent rust and corrosion.
Ruvati occasionally has a variety of composites to use in their sink.
The curved or inside corner edges of Ruvati workstation sinks make them easy to clean and use.
It features a plethora of attachments that allow it to function as a multi-tasker.
Kraus kitchen sinks have also made extensive use of composites.
However, its stainless steel form is more cost-effective and long-lasting. Kraus also provides additional accessories in terms of budgeting.
4. Ruvati vs Kraus kitchen sink: Style
There are several brands of kitchen sinks. Ruvati and Kraus are the most popular kitchen sink brands.
Ruvati included a single bowl, double bowl, apron front sink, workstation sink, slope bottom, and stainless steel color options. We were very much surprised to find their product range of great quality but occasionally a bit pricey but most durable.
Kraus features a single bowl, under-mount, drop-in, apron front, granite sink, fire clay, enameled bar sink, laundry sink, and workstation sink options. It intended to touch every consumer all over the USA and also the world. As a result, their company has a wide range of options out there.
5. Ruvati vs Kraus kitchen sink: Durability 
Ruvati installed premium 16 gauge T304  and non-PVD stainless steel and a special fire clay from Italy that makes their product more durable.
Kraus applied top-grade 16 gauge thick or extra-thick TRU16 true 16 gauge. It may stay for almost a year without being damaged. Its suitability for harsh use is outstanding. However, drainage faults might cause dampness and rust.
6. Ruvati vs Kraus kitchen sink: Price
When we are going to buy something, the most significant factor is the price.
It mostly depends on the material, size, and type, and it even varies in quality.
Ruvati charges between USD 360 and USD 580 for their product, which includes all accessories. For moderate users, It is the best option.
Kraus, on the other hand, offered their product for a price ranging from USD 270 to $500, including all necessary accessories. It is suitable for budget users.
7. Ruvati vs Kraus kitchen sink: Customer service 
Customer service is essential in every product business. If they please their clients, their business will gain its pinnacle. As a result, both organizations have a high-quality customer service staff that are cooperative, responsive, and efficient.
However, they occasionally solve the difficulty of delivering via third-party platforms. So they make a choice to resolve it as quickly as possible.
Kraus and Ruvati both offer a limited lifetime warranty.
8. Ruvati vs Kraus kitchen sink: Supplier
After product manufacturing, every business owner seeks a reliable supplier. So here we've already described 2 companies, Ruvati and Kraus.  
Ruvati has 14 reliable suppliers in the United States who take responsibility locally. It established contact with the e – retailer Amazon. It has added a wholesale local and international facility.
On the other hand, Kraus has 10 reliable suppliers both in the United States and associated with online giants such as Amazon and Walmart. As a wholesaler, it does not ship its product. 
However, both companies products are available in the local market in the United States.
Side by Side Comparison of Kraus Vs. Ruvati kitchen sink brand
| | | |
| --- | --- | --- |
| Criteria | Kraus | Ruvati |
| Sink Material | Stainless Steel, Granite, Ceramic, Fireclay | Stainless Steel, Granite, Fireclay, Copper |
| Size Options | Multiple sizes available | Multiple sizes available |
| Style Options | Undermount, Drop-in, Farmhouse, Apron-Front, Bar Sink | Undermount, Drop-in, Farmhouse, Apron-Front, Bar Sink |
| Noise Reduction | Soundproof undercoating, padding | Soundproof undercoating, padding |
| Accessories | Offers essential accessories at all price points | Comes with basket strainer, mounting hardware |
| Reputation | Highly regarded for quality and durability | Well-respected for quality and value |
| Customer Reviews | Mostly positive with a few negative reviews | Few negative reviews |
| Innovation | Offers various innovative features such as nano coating | Offers various innovative features such as soundproofing |
| Sustainability | Committed to eco-friendly practices and materials | Committed to eco-friendly practices and materials |
| Design Options | Offers unique and stylish sink designs | Offers modern and contemporary sink designs |
| Most significant feature | Stylish, modern, and premium designed sinks that appeal | Value-for-money kitchen sinks that are ideal for rough use |
| Installation Hardware Included | Yes | Yes |
| Number Of Basins | Single, double and triple basin | Single and double |
| Sound Dampening | Yes | Yes |
| Country Of Origin | Germany | Italy |
| Warranty | Limited lifetime warranty | Limited lifetime warranty |
| Price Range | $250 to $500 | $300 to $500 |
Who Comes Out On Top? User Interest of Ruvati and Kraus kitchen sink
Which is better, Kraus or Ruvati?
You've already read the aforementioned descriptions, and if you look at our verses segment, you'll see that there are just minor variances.
As you can see from our description sections, there is only a relatively small variation between the two brands of kitchen sinks, and oftentimes the costs are the same. You should choose based on your budget and quality preferences.
However, it is now up to you to decide which product is ideal for you.